HotLogic vs RoadPro: Ultimate 12v Oven Comparison Guide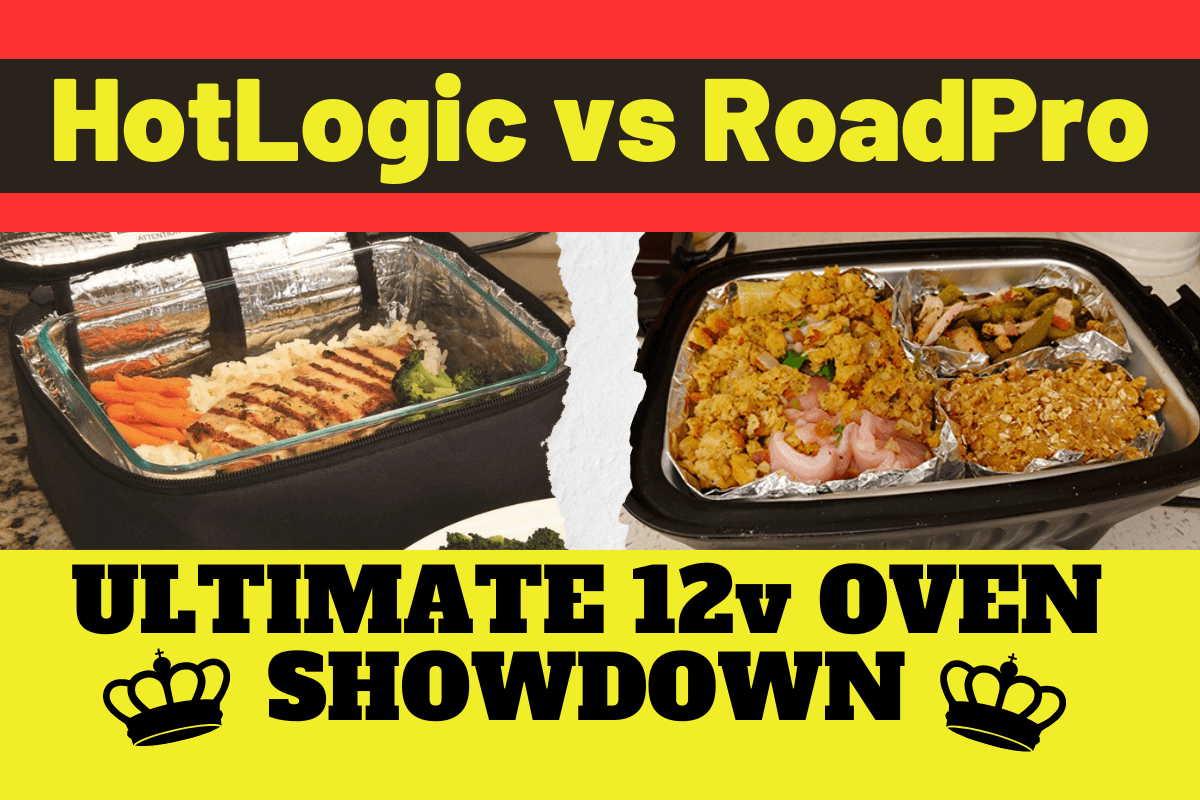 HotLogic vs RoadPro, which one comes out on top?
When you live on the road and need of a hot meal, a 12-volt oven can be a game changer.
Two popular options for portable ovens are the HotLogic Mini and the RoadPro Lunchbox.
Both claim to make cooking and heating food in your vehicle a breeze, but which device truly stands out as the best option for your needs?
In this comparison, I'll be discussing the features, pros, and cons of the HotLogic and RoadPro 12-volt ovens.
From size and weight to cooking performance and energy efficiency, we'll explore why each of these portable ovens might be the optimal choice for you.
Let's get cooking!…
I recommend certain products because they're genuinely helpful, and I own many of them myself. As an Amazon Associate, I may earn a small commission if you grab something using my referral links. However, there's never any extra cost to you, my fellow nomad.
---
HotLogic and RoadPro: An Overview
HotLogic Mini 12v Portable Oven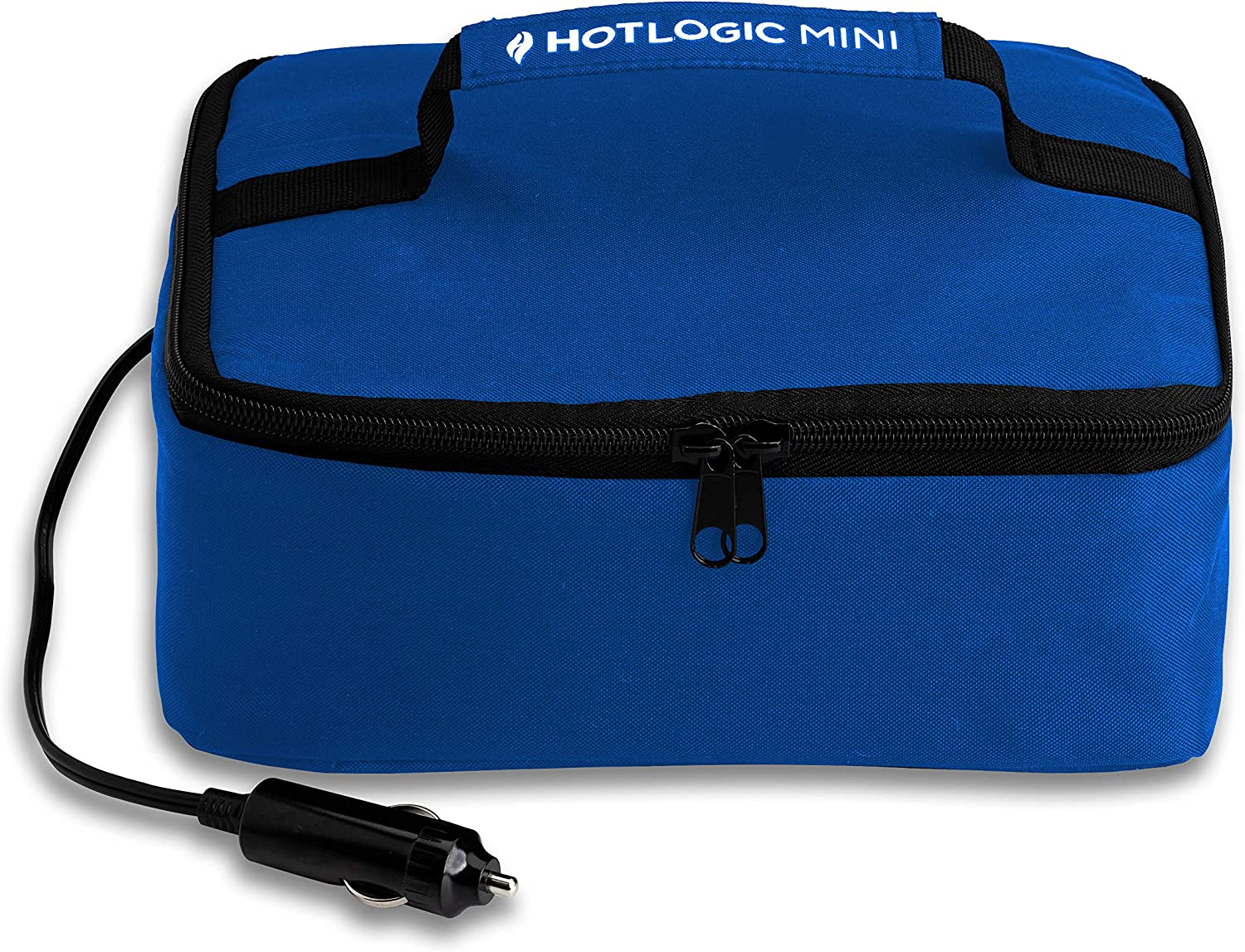 HotLogic Mini 12v Oven
Check Amazon's Price
The HotLogic Mini is a 12-volt portable oven and food warmer that offers a convenient solution for those on the go.
It's designed to provide you with a hot meal just by plugging it into your vehicle's cigarette lighter (12v) port.
The oven has a compact design, making it perfect for nomads, campers, or anyone else who needs a warm meal while away from home.
The HotLogic Mini operates at a low temperature, ensuring your food is evenly heated and cooked without overcooking or drying out.
Its unique design includes a patented heating element, which maintains a constant temperature for food warming and slow-cooking.
With the HotLogic Mini, you can reheat leftovers, cook frozen meals, or even cook raw food like chicken, fish, or meat.
Some features of the HotLogic Mini include:
Temperature limit: keeps food hot without burning or drying out
Compatibility with various containers, such as Pyrex or plastic/metal dishes
Lightweight and compact design
Simple usage: place your food inside, plug it in, and wait for your meal to be done
The HotLogic also comes in a larger size, which is their casserole model. Chances are, if you're a car-dweller like me, you want the mini, which is this one.
---
RoadPro 12-Volt Portable Oven Lunchbox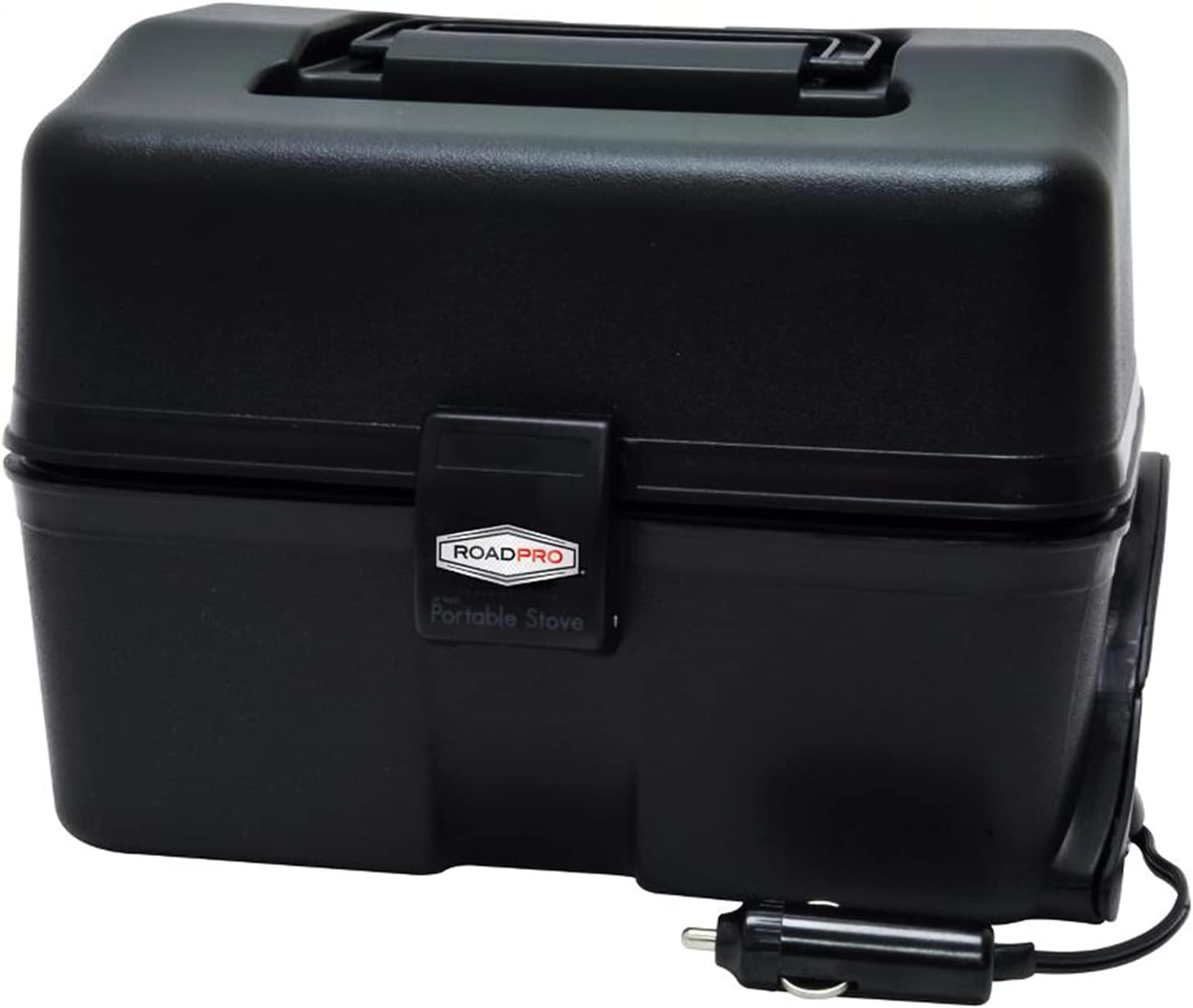 RoadPro 12v Oven Lunchbox
Check Amazon's Price
The RoadPro 12-Volt Portable Oven Lunchbox is another excellent option for those in need of an easy, practical cooking solution while on the road.
This 12-volt oven connects to your vehicle's cigarette lighter and provides you with the ability to cook and/or warm up your meals.
It was designed for truckers and long-distance travelers, but it's suitable for anyone seeking to cook while on the move.
The RoadPro oven uses a heated baseplate, which warms your food evenly and keeps it at the right temperature. It has a compact and durable design, with a convenient handle for easy transport.
Furthermore, the RoadPro oven can accommodate disposable aluminum pans, which makes it a versatile option for meal preparation.
Notable features of the RoadPro 12-Volt Portable Oven are:
Lightweight and portable design: ideal for nomads, long drives or camping trips
Aluminum pan compatibility: allows for easy clean-up
Heated baseplate: ensuring even heating and cooking
Simple to use: just plug it into your cigarette lighter and place your food inside
---
Key Features Comparison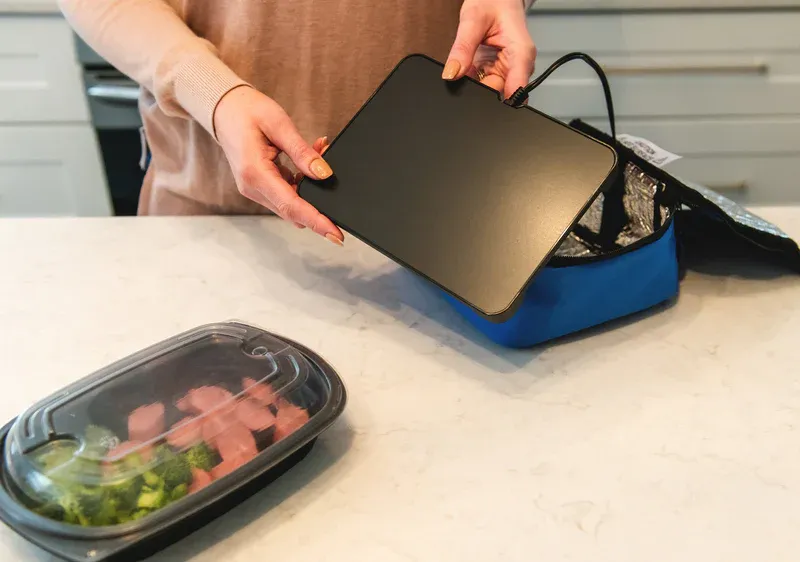 Power Source and Compatibility
Both the HotLogic mini portable oven and the RoadPro are designed to be used in a vehicle, so it requires a 12 volt power source. This means drawing power from the cigarette lighter socket.
They can also be powered by a portable power station like a Jackery, Bluetti, EcoFlow, etc.
The HotLogic pulls 45 watts compared to the RoadPro's 120 watts.
If purchasing, be sure to get the 12v version when buying a HotLogic, because they also sell corded units that can be plugged into a wall. These are tougher to use in a vehicle.
💡
The RoadPro pulls about 3 times as many watts at the HotLogic! Since most 12v ports on cars have 10amp fuses, the maximum wattage you can use is about 100-120 watts. Because the RoadPro pulls the max wattage, you must be very careful not to blow your fuse. I highly recommend using the RoadPro only with a portable power station.
Bottom line: If you're looking to use less power from your power station, or maybe are concerned about running your car's battery down or blowing a fuse, the HotLogic is the clear winner since it uses less watts.
---
Portability, Size and Cooking Capacity
In terms of portability and size, both products have their pros and cons…
The Hot Logic mini oven is compact and lightweight, making it an ideal choice for vehicle-dwellers. The cooking plate is contained within a polyester carrying case that features a handle, which makes it easy to carry.
It has a 1.5 quart capacity, which might not sound like much, but a 6 cup glass Pyrex baking container fits perfectly in the mini, and trust me, it can fit a lot of food! It's a great unit if you usually share meals with another person.
The RoadPro 12v oven only has a 1 quart capacity, which might be better for feeding a single person. It is also MUCH bulkier when compared to the HotLogic oven.
If you have a very small car or are tight on room, the lunchbox style RoadPro might be harder and more cumbersome to store.
Bottom line: If you want an oven that is less bulky and can hold a larger amount of food - say for 2 or 3 people - go with the HotLogic.
---
Temperature Control and Heating Element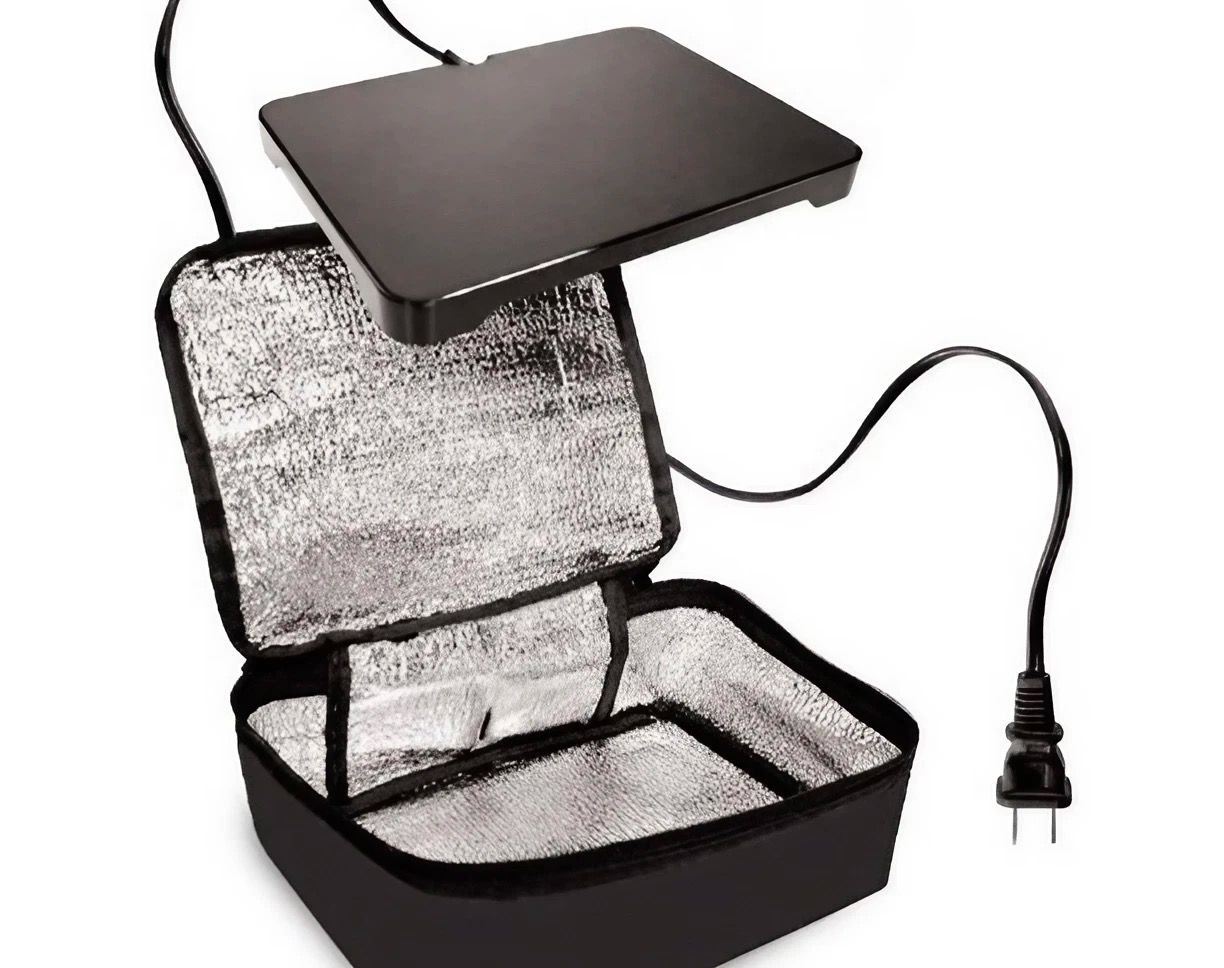 When it comes to temperature control and heating elements, both ovens offer unique features. In addition, both contain "hot plates" inside, which is the mechanism that actually heats/cooks your food.
The HotLogic features a "smart shelf" technology that evenly distributes heat up to about 165 - 170°F, preserving the taste and nutrients of your meal.
This temperature means that food will never burn, even if left in the oven for the whole day. Matter of fact, one of the product's main selling points is just this ability.
The RoadPro 12v oven on the other hand provides a consistent temperature up to 300°F, making it more suitable for cooking foods in a faster manner. The downside however, is that due to the higher temperature, foods can burn or dry out if cooked too long.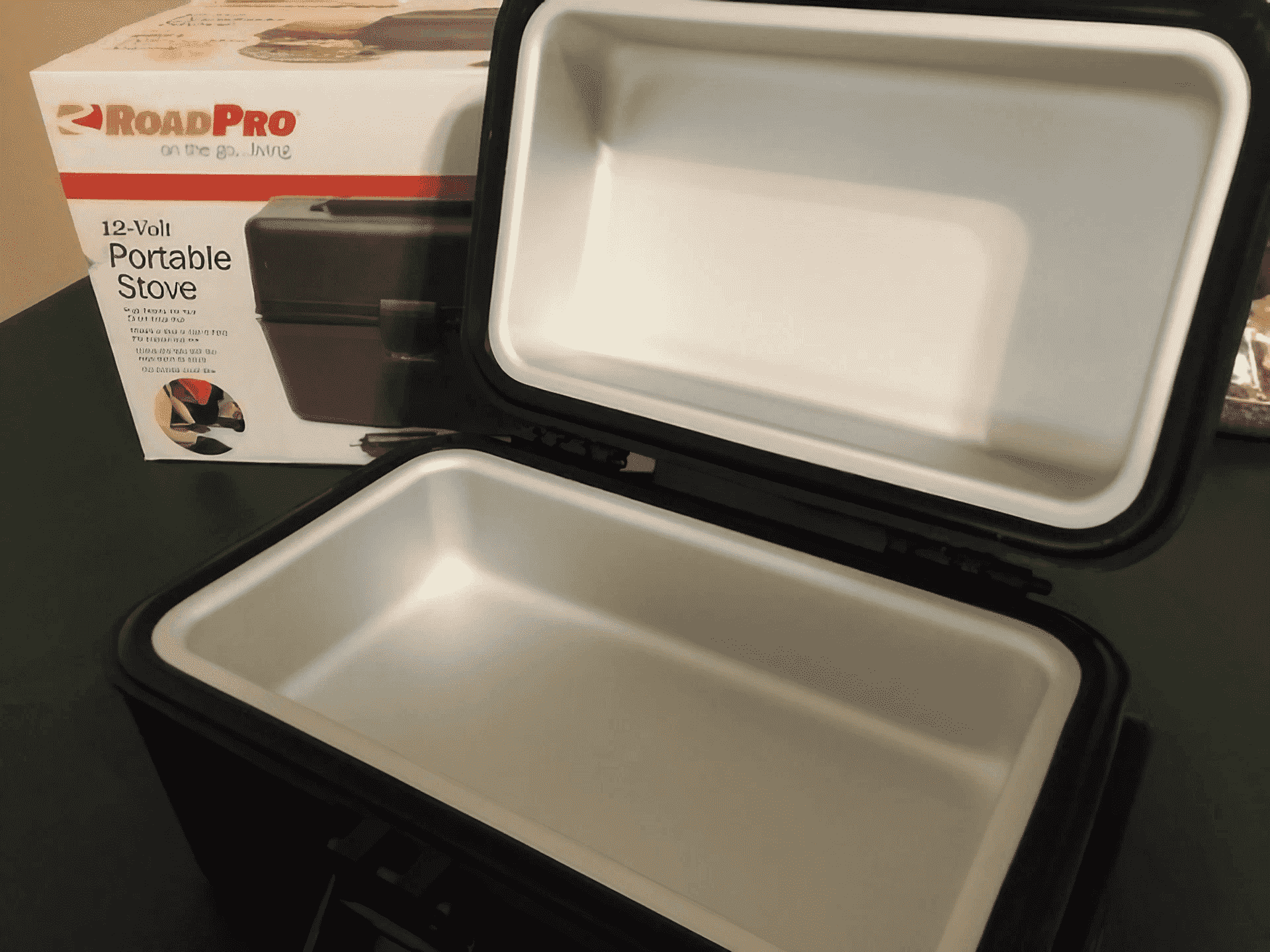 Bottom line: If you want your foods to cook quicker, the RoadPro comes out on top. But if you wish to leave your meals in the oven all day without burning or drying out, then go for the HotLogic.
---
Material and Build
The material and build quality of both ovens are both very good, but in different ways…
The HotLogic mini oven's carry case is made from soft-sided polyester with a heat-reflective material inside, ensuring efficient heat distribution once the case is zipped close.
In comparison, the RoadPro 12v oven is made from a sturdy aluminum and ABS plastic construction, which can endure any drop, bang or accident.
Bottom line: While both units are well-made and durable, the RoadPro is built more like a tank, and can survive any fall, bump or other damage due to its unique lunchbox-style design.
---
Cooking Capabilities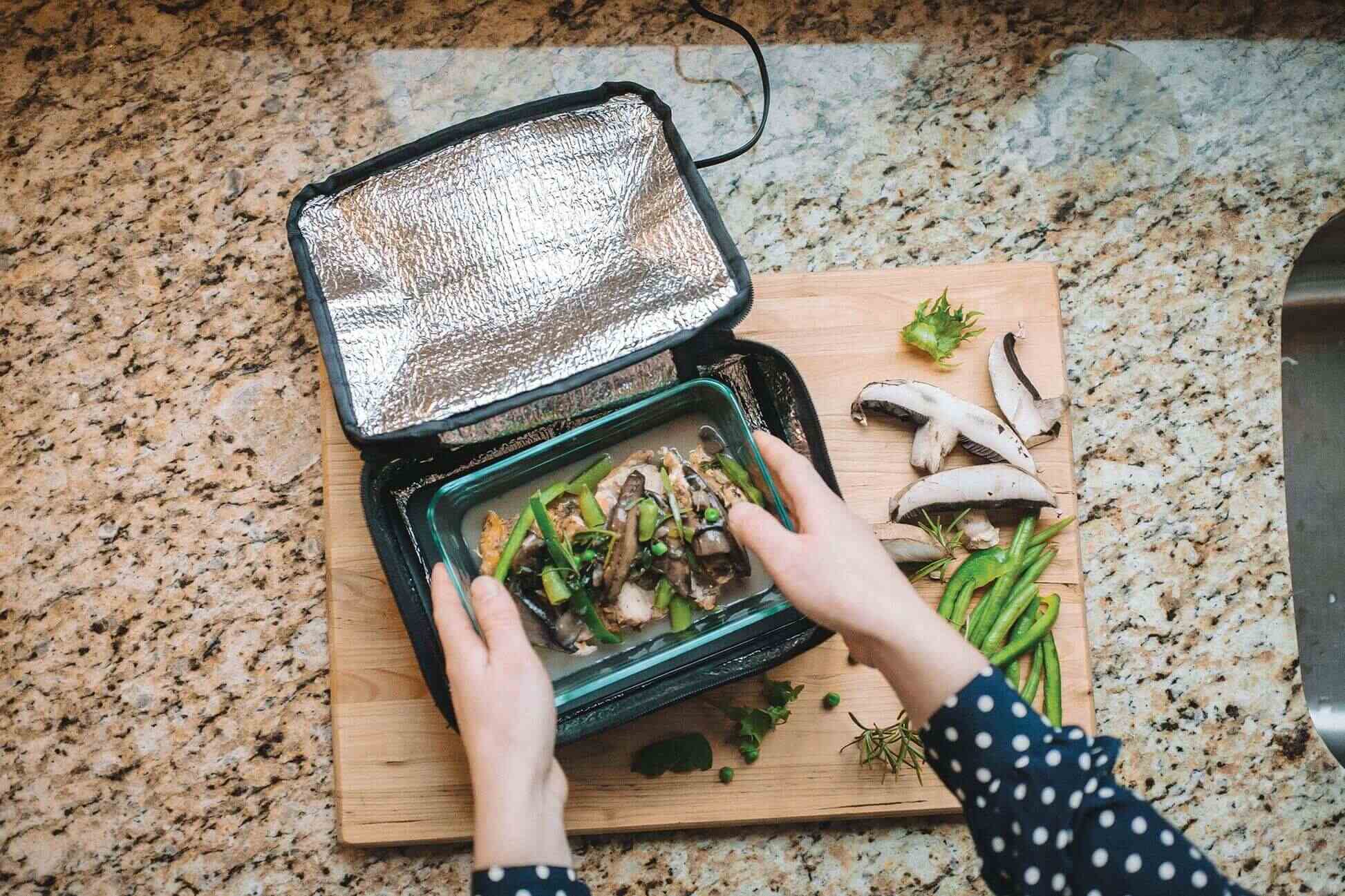 Meal Types
The HotLogic and RoadPro 12v ovens can both cook an endless variety of meals, in addition to simply warming items up or reheating them.
Whether it's breakfast, lunch, or dinner, each can make stews, soups, and even cook frozen meals. And yes, fish, poultry, and meat can be done, too!
These ovens are also ideal for those seeking healthier homemade meals, as they don't fry foods in oil and grease. See some sample dishes and recipes in the Q&A section down below.
The only types of food that both ovens aren't great at cooking is anything starchy (rice, pasta, potatoes, carrots, etc.). It CAN cook them, although, not as well as on a stove or in a household oven.
Bottom line: Both units will cook almost any type of food or meal you wish. This one is a draw.
---
Cooking Time
When it comes to cooking time, the HotLogic definitely takes longer. This is because it only reaches a peak temperature of 170 degrees, versus 300 degrees on the RoadPro.
Below are some estimated times it will take to prepare various meals:
Breakfast: 30-60 minutes
Lunch: 45-90 minutes
Dinner: 60-120 minutes
Rice: 65-90 minutes
Stews: 90-120 minutes
Since the RoadPro 12v oven heats food faster than the HotLogic, this makes it ideal for people in a hurry or those who need a quick meal. Here are some average cooking times for RoadPro:
Breakfast: 20-40 minutes
Lunch: 30-60 minutes
Dinner: 45-90 minutes
Rice: 45-60 minutes
Stews: 60-90 minutes
Depending on your needs and preferred meal types, each oven offers distinct advantages and drawbacks. Consider your cooking priorities and personal preferences when choosing between HotLogic and RoadPro ovens.
Remember: The above times are for cooking foods, which is why they are longer. If you just wish to warm foods up or reheat them, this will take much shorter…usually 15-30 minutes max.
Bottom line: Since the RoadPro reaches a higher temperature, it will cook foods quicker than the HotLogic.
---
Ease of Use and Maintenance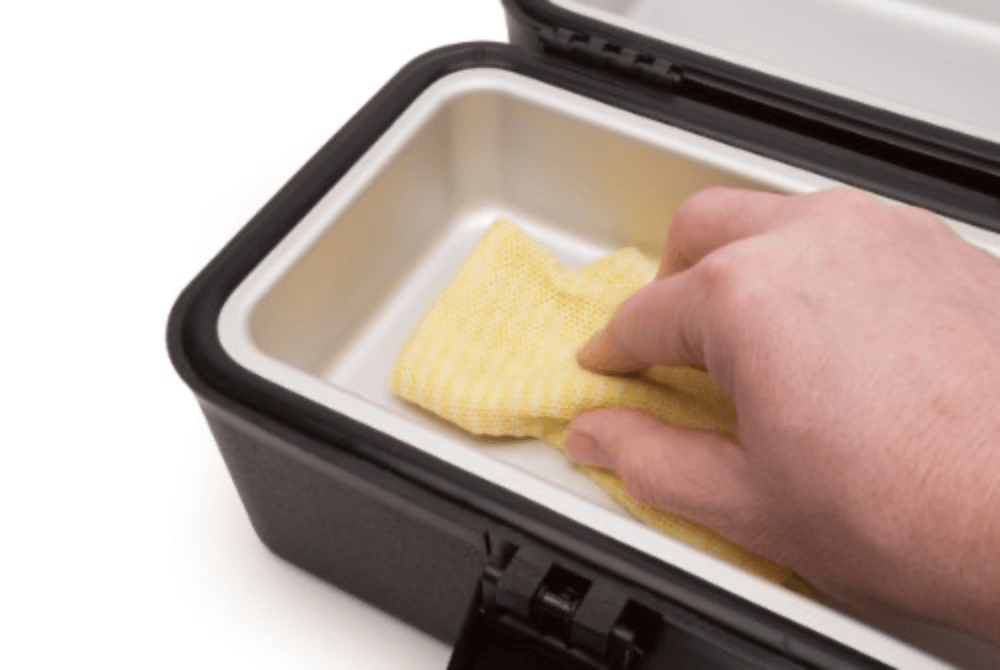 Automatic Features
When it comes to ease of use, both HotLogic and RoadPro 12v ovens are fully automatic, which will simplify the cooking process.
With these ovens, you can just plug them into your vehicle's cigarette lighter port (or portable power station) and the units will start to heat/cook your food. There are no knobs to turn, dials to fiddle with, or temperature settings and timers.
Bottom line: This one is a toss-up. Both ovens are simple to use. Just plug them in!
---
Disposable Pans and Containers
Lots of people enjoy cooking. Everyone enjoys eating. But most of us hate cleaning up afterwards!
Using aluminum pans, foil, and other disposable containers can make tidying up after noshing a breeze.
Fortunately, both HotLogic and RoadPro are compatible with these materials, though, the HotLogic is more versatile.
In the case of the HotLogic oven, it's designed to accommodate any of the following cooking containers:
Aluminum baking pans or foil

Glass baking dishes

Metal Baking Dishes

Plastic Tupperware

Cardboard containers
You can even put Ziploc bags with food in the HotLogic, they will not burn! What's more amazing, you can place a microwaveable meal (still in the box) into the HotLogic and it'll cook just fine.
As for the RoadPro, due to its unique lunchbox-style design, you will probably have to use specifically sized pans to fit inside its heating chamber. Aluminum bread loaf pans work great. Pans that are approximately 8" X 4.2" will fit perfect.
Additionally, due to the higher heat of the RoadPro, using anything other than glass or aluminum to cook with isn't advised, as they can melt or catch on fire.
Bottom line: HotLogic comes out WAY ahead on this one. You can not only use any type of container material inside of it, but the oven can cook microwavable meals (still in the box) very well…none of which the RoadPro can do.
---
Versatility and Adaptability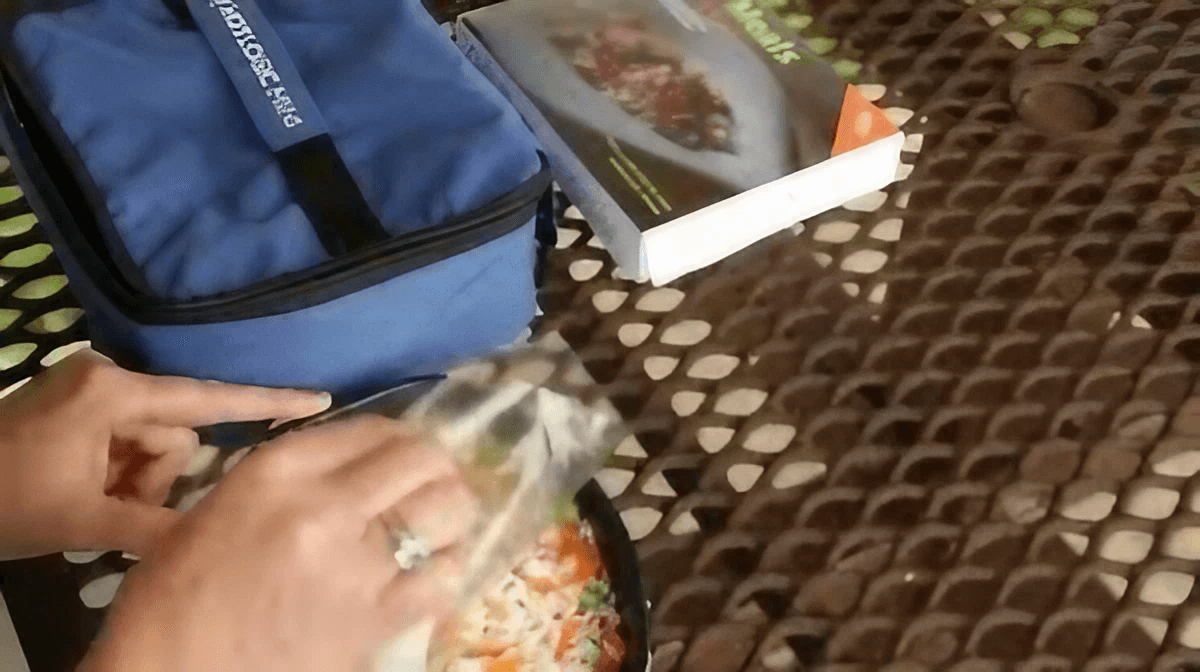 On-the-Go Cooking
When it comes to the nomad lifestyle, both HotLogic and Road Pro provide you with the convenience of on-the-go cooking.
The ability to plug these into your cigarette lighter outlet and have a delicious, hot meal cooked within an hour or two is worth the small investment.
Even if you already own a traditional camping stove - as many of us do - having one of these ovens as a backup is a huge advantage. Matter of fact, I mostly use my HotLogic for cooking now, while my camping stove collects dust!
The reasons for this are:
It can be a chore to set the stove up (especially when I'm tired or the weather is bad outside)

I might be out of propane

I don't feel like putting everything away and dealing with cleaning pots, pans, utensils, etc.
Put simply…12v ovens are just easier to use!
---
Non-Vehicle Outdoor Use
HotLogic and RoadPro ovens are primarily designed for in-vehicle use, but this doesn't mean that you can't cook with them outdoors, provided you have a power source.
These units are super compact and portable, making them ideal for camping, tailgating, hiking, and picnics.
These ovens are not only excellent for on-the-go cooking, but also for times when you need a temporary, portable solution at home or work.
Whether due to a power outage or during a renovation project, HotLogic and RoadPro ovens can be invaluable in providing you with warm meals in these situations.
Bottom line: Both HotLogic and RoadPro 12v ovens offer you the versatility and adaptability required for a range of situations, whether it's outside or inside.
---
Safety and Warranty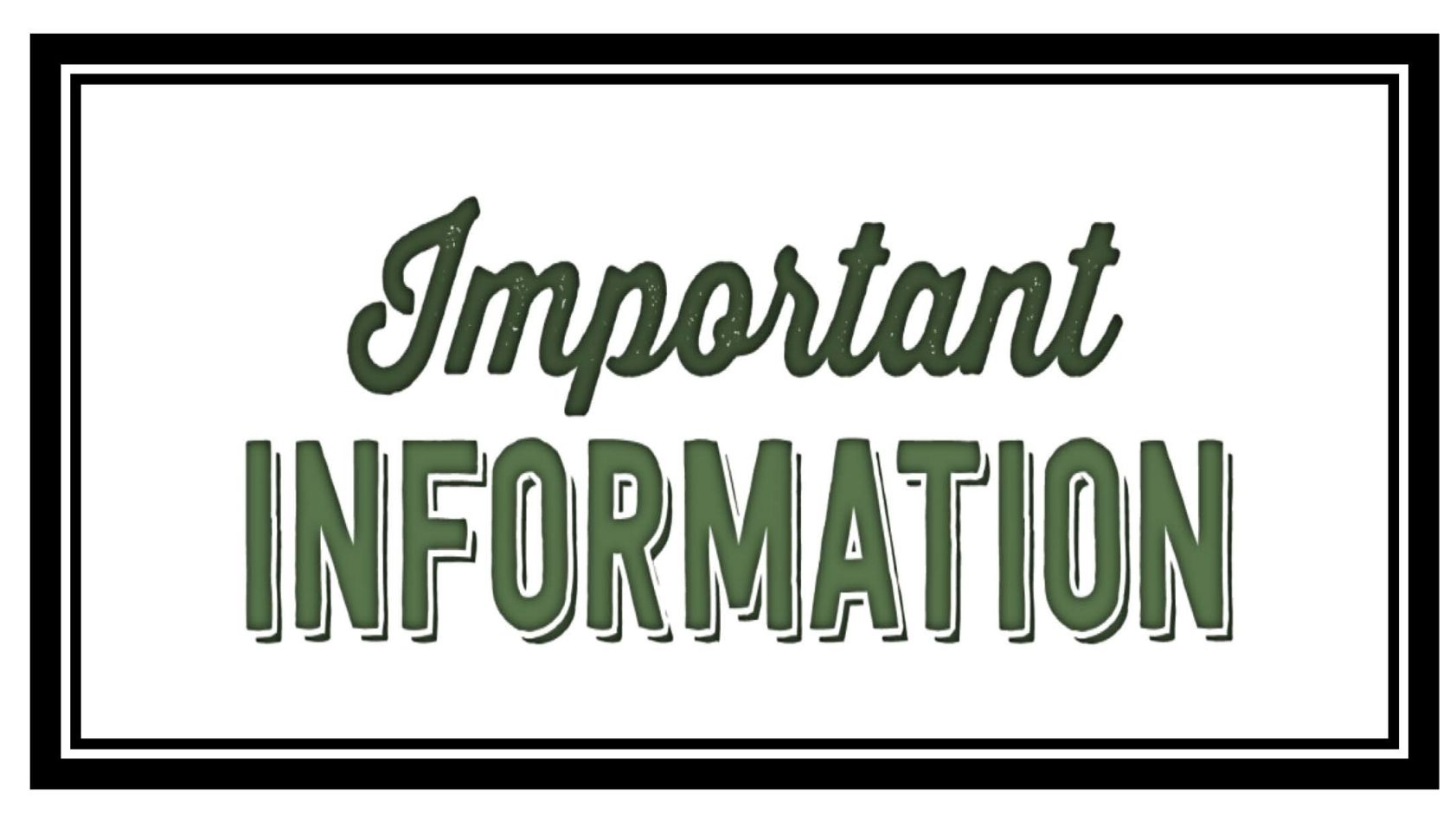 Heating Element Safety
When it comes to heating element safety, remember that both units are essentially using hot plates to heat/cook your food.
Obviously, these heating elements (hot plates) get very, very hot! Don't touch the heating elements or place any type of flammable materials on top of them.
Although both units might look like cute kids toys due to their small size and unusual design, these are REAL ovens, and you should take the same safety precautions that you do when cooking at home.
All of this being said, the HotLogic and RoadPro are VERY safe to use. In actuality, they are both much safer options than traditional propane or butane camping stoves, in my opinion.
---
Warranty Information
HotLogic offers a one-year warranty for its 12v oven, covering any defects in materials or workmanship. This means that if you encounter any problems within the first year of use, you can contact their customer support for assistance.
Warranty  Coverage: HotLogic 1 Year
RoadPro also provides a one-year warranty for their 12v oven. Like Hot Logic, this warranty covers defects in materials and workmanship. If you need to claim your warranty, reach out to RoadPro's customer service for help.
Warranty Coverage: RoadPro 1 Year
Bottom line: Both units come with great warranties. You'll probably never use them as these ovens are really well made, but it's good peace of mind knowing that you're protected.
---
Alternative 12v Ovens and Food Warmers
Koolatron 12v Lunchbox Stove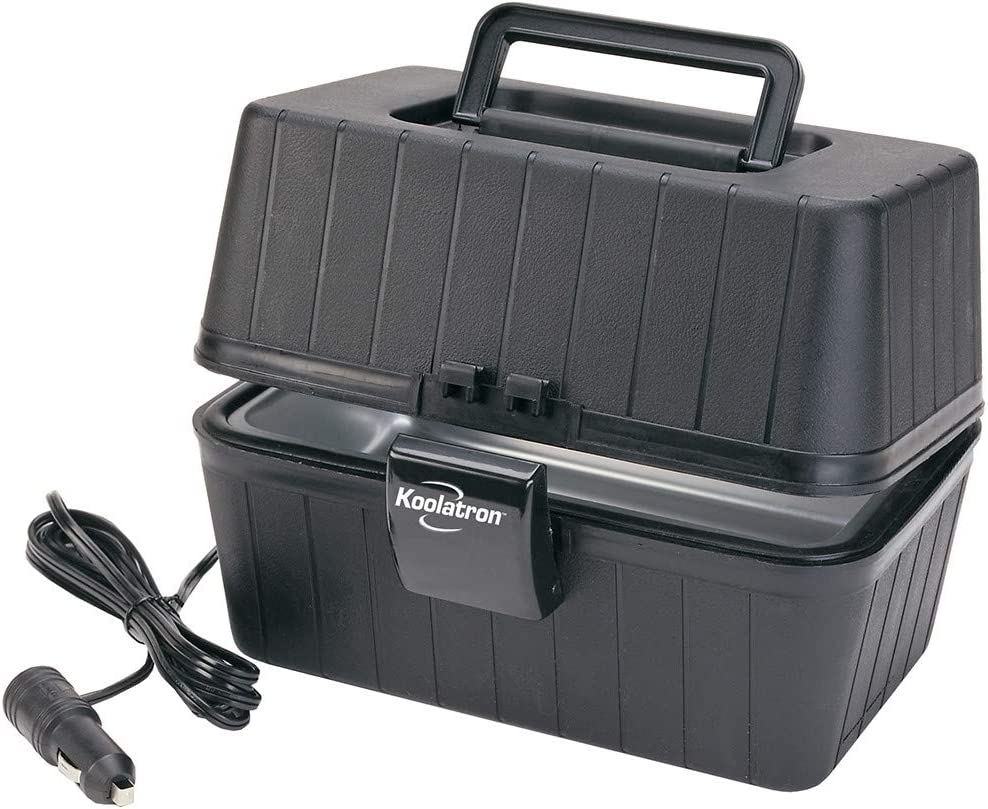 Koolatron 12v Lunchbox Stove
Check amazon's Price
If you're looking for an alternative to the RoadPro, the Koolatron 12v Lunchbox Stove may be a great option for you.
It's capable of warming and/or cooking your food to 300°F. It's perfect for making meals of almost any kind, as well as heating up leftovers.
While it's almost identical to the RoadPro, the one thing that's better is the size, as it's about 1/3 bigger. It can hold just about as much food as the HotLogic.
This oven also uses 100-120 watts of power, which means you could plug it directly into your car's 12v post, but I'd recommend hooking it up to a portable power station instead, just to be on the safe side.
Very durable construction
Easy to use and clean
Ideal for nomads, or anyone else who travels often and eats on the road
---
Vabaso Electric Lunchbox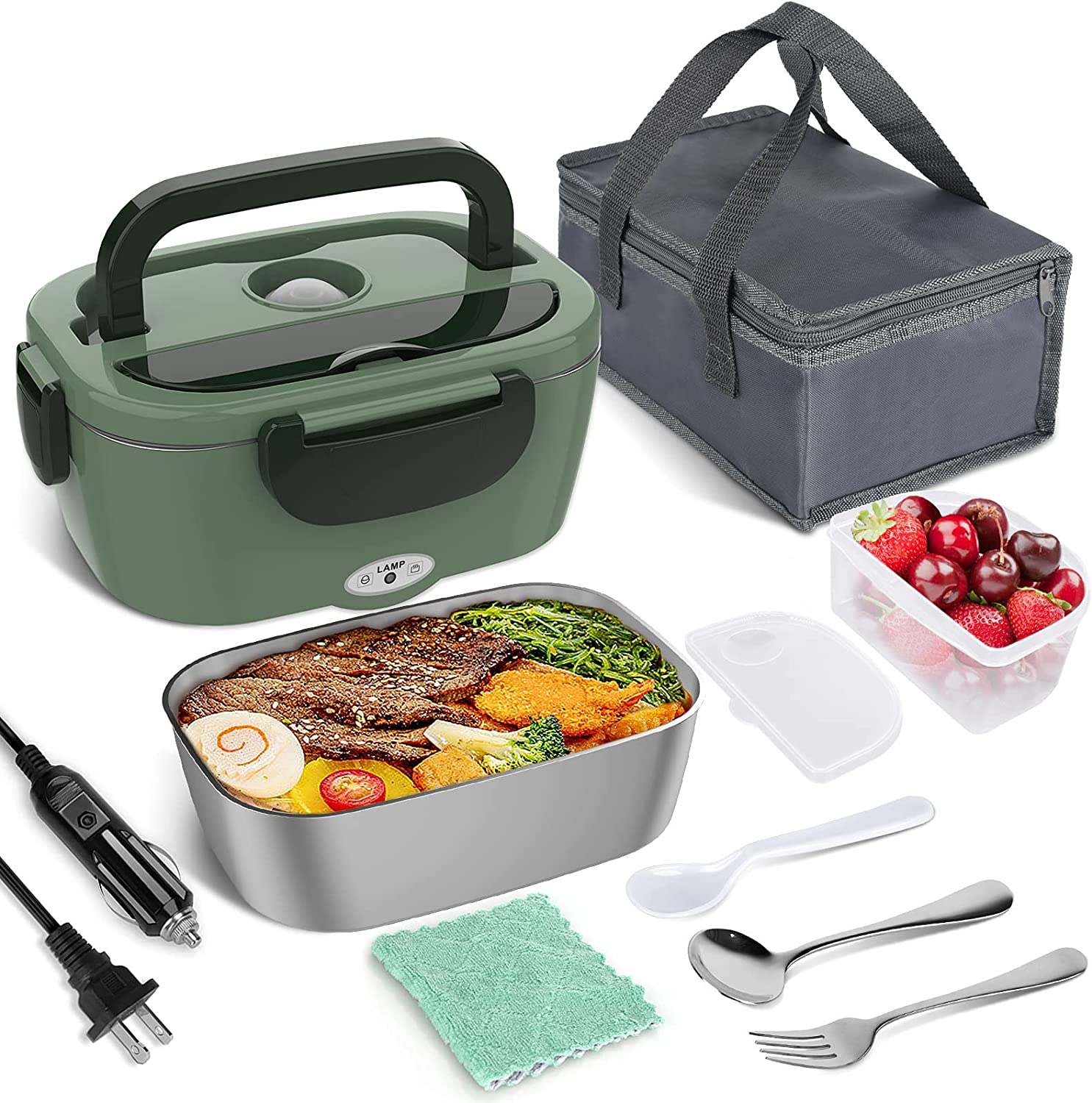 Vabaso Electric Lunchbox
Check Amazon's Price
The Vabaso Electric Lunchbox is essentially a knock-off of the HotLogic, but it actually has a big fan base, in addition to some amazing online reviews.
Believe it or not, the Vabaso oven even has some really great features that are missing on the HotLogic, like:
Comes with a removable stainless steel container to hold your food
Includes utensils, a cleaning cloth, and even a plastic divider container
Has two plugs. One for your car's 12v port, and the other a standard wall plug
The Vabaso uses about 60 watts when run off the 12v port, which means that, just like the HotLogic, any vehicle will be able to power it just fine, and you won't have to fret over possibly draining your battery or blowing a fuse.
All in all, these 12v ovens are incredible conveniences if you live in a vehicle. If you don't like using a propane or butane stove, these devices are the next best thing.
Since we can't use microwaves or real household-type stoves in our cars, being able to warm foods up, cook stuff from scratch, and prepare healthy meals on the road is absolutely amazing.
---
Frequently Asked Questions
What are some common recipes for 12v ovens?
You can easily make a variety of meals using a 12v oven like Hot Logic or RoadPro. These include reheating leftovers, cooking frozen meals, or even baking simple recipes like pot pies, lasagnas, beans, soups, and meat & poultry dishes. Take advantage of the oven's portability to cook dishes while on the go!
I myself am mostly a vegetarian, and prefer clean, light meals that only use 2 or 3 ingredients. This makes cooking fast, and clean up a breeze.
Here are some photos of dishes I frequently whip up. For all you meat eaters, feel free to substitute any of the ingredients...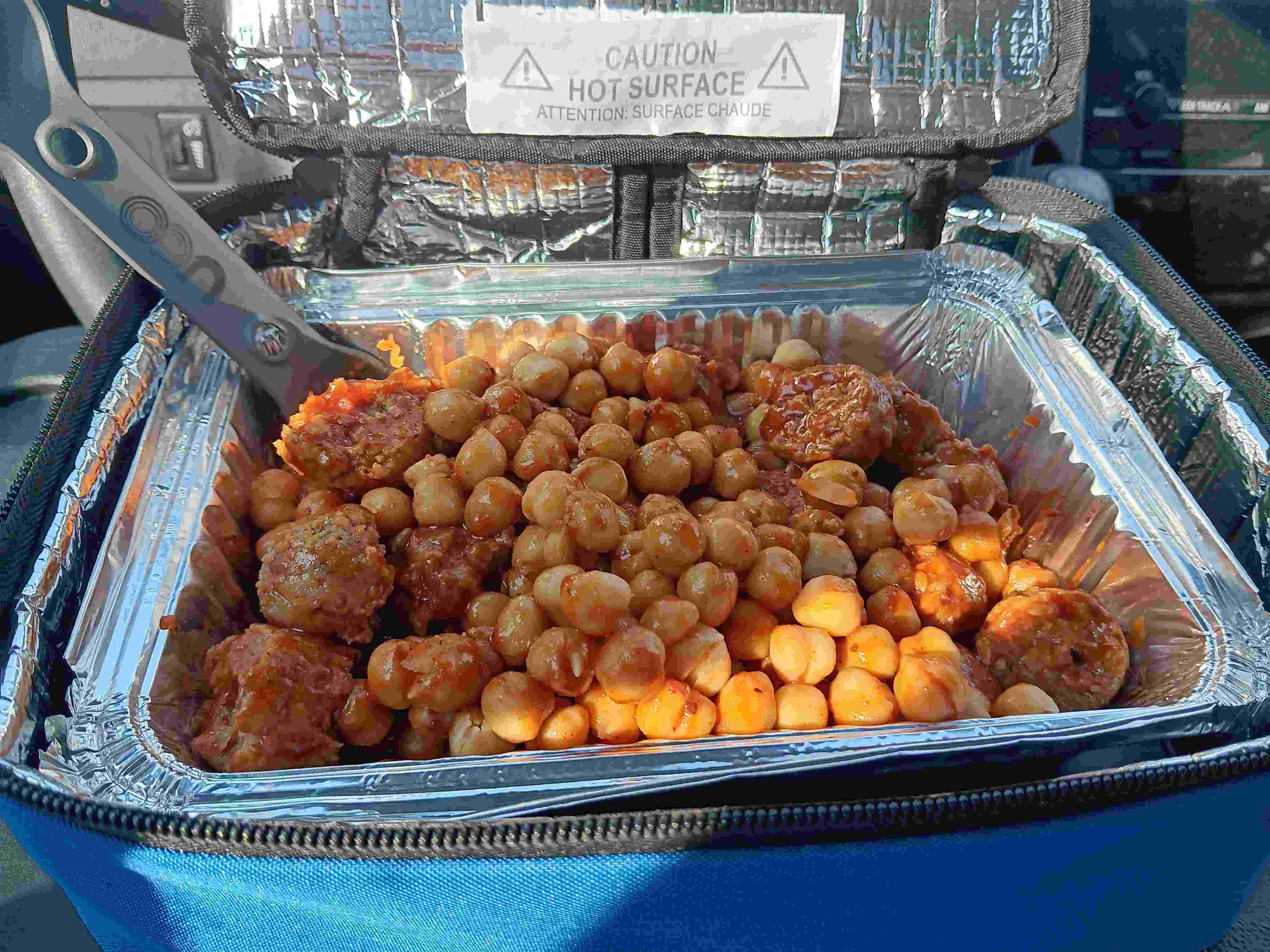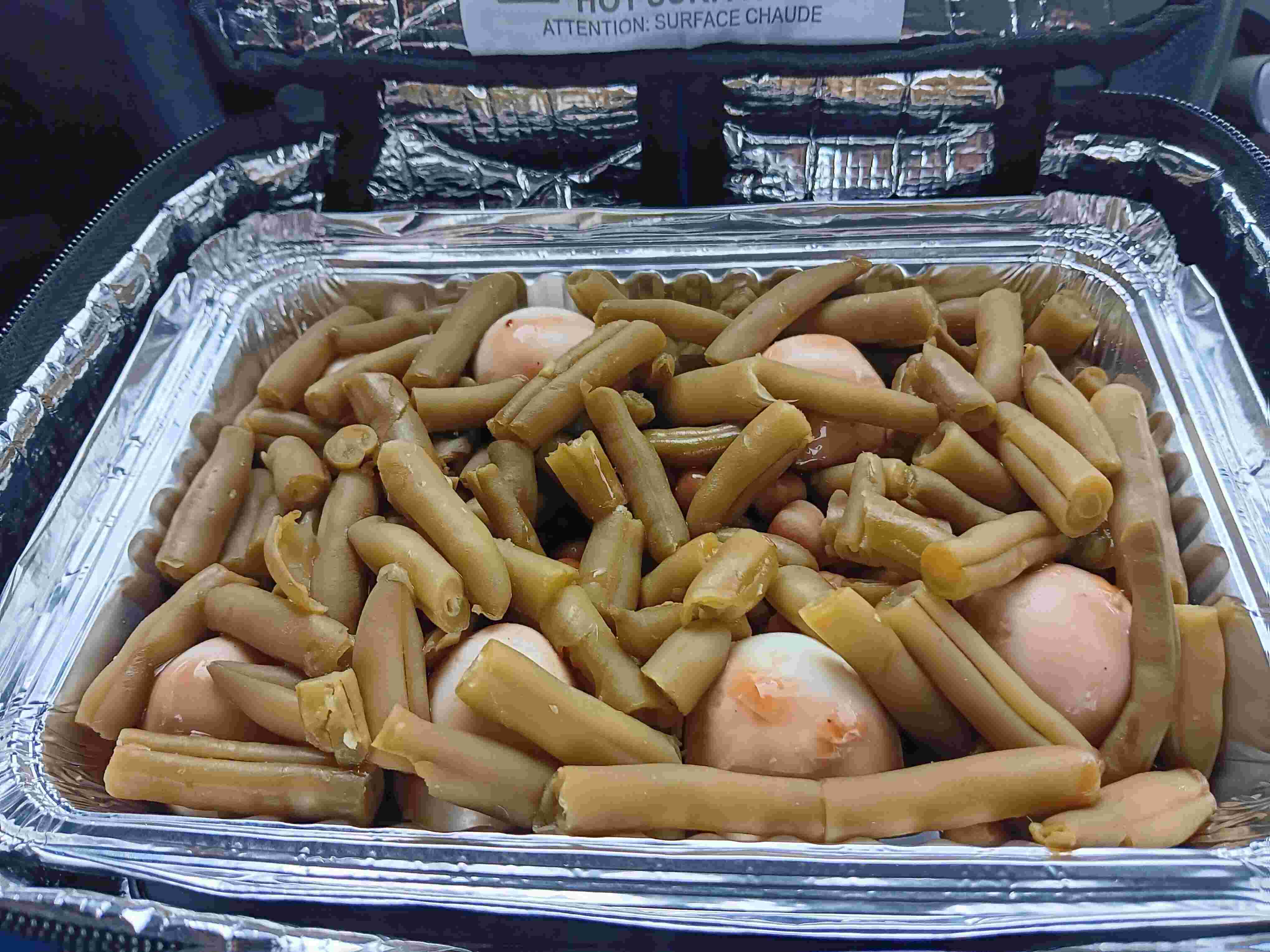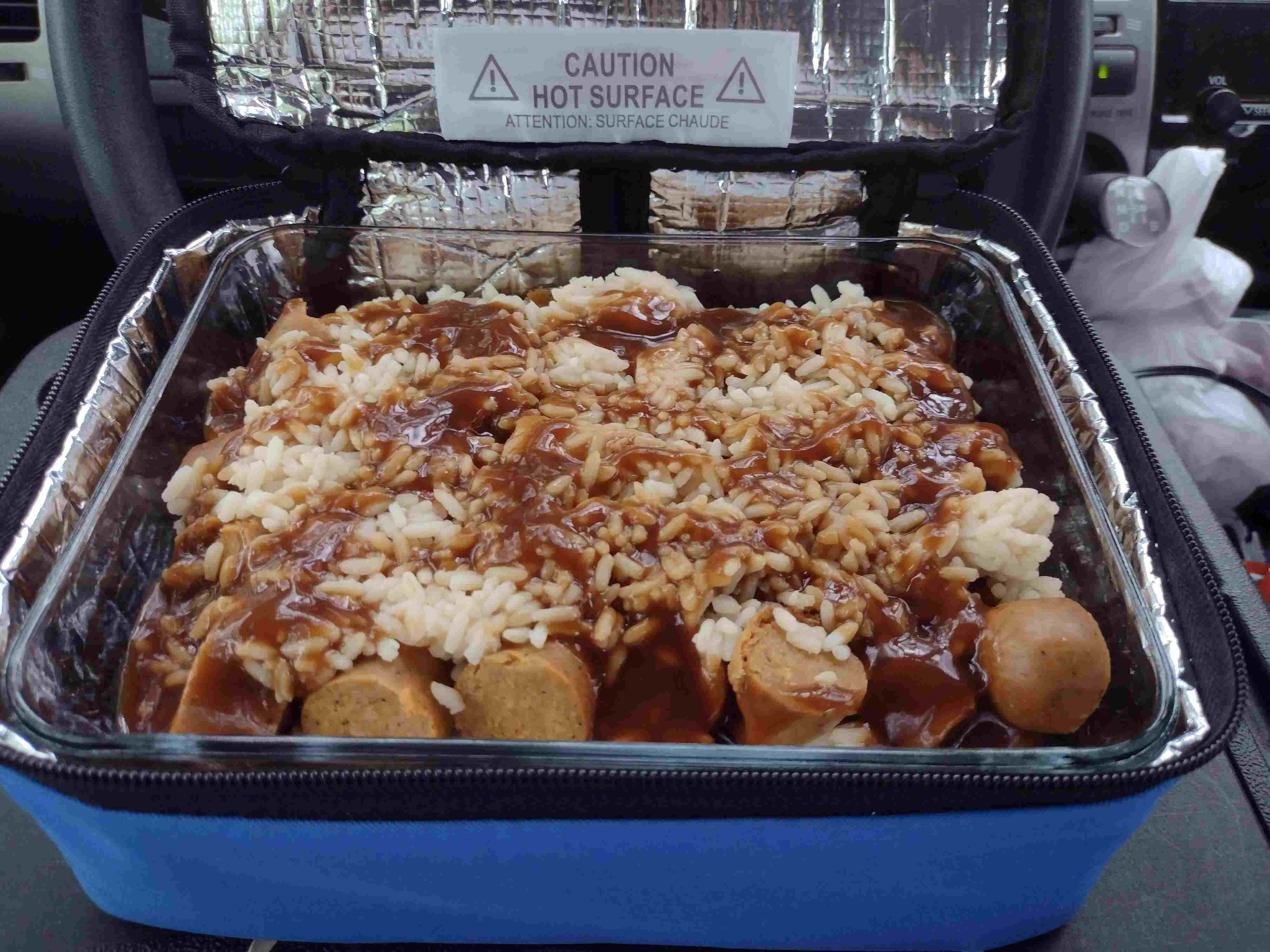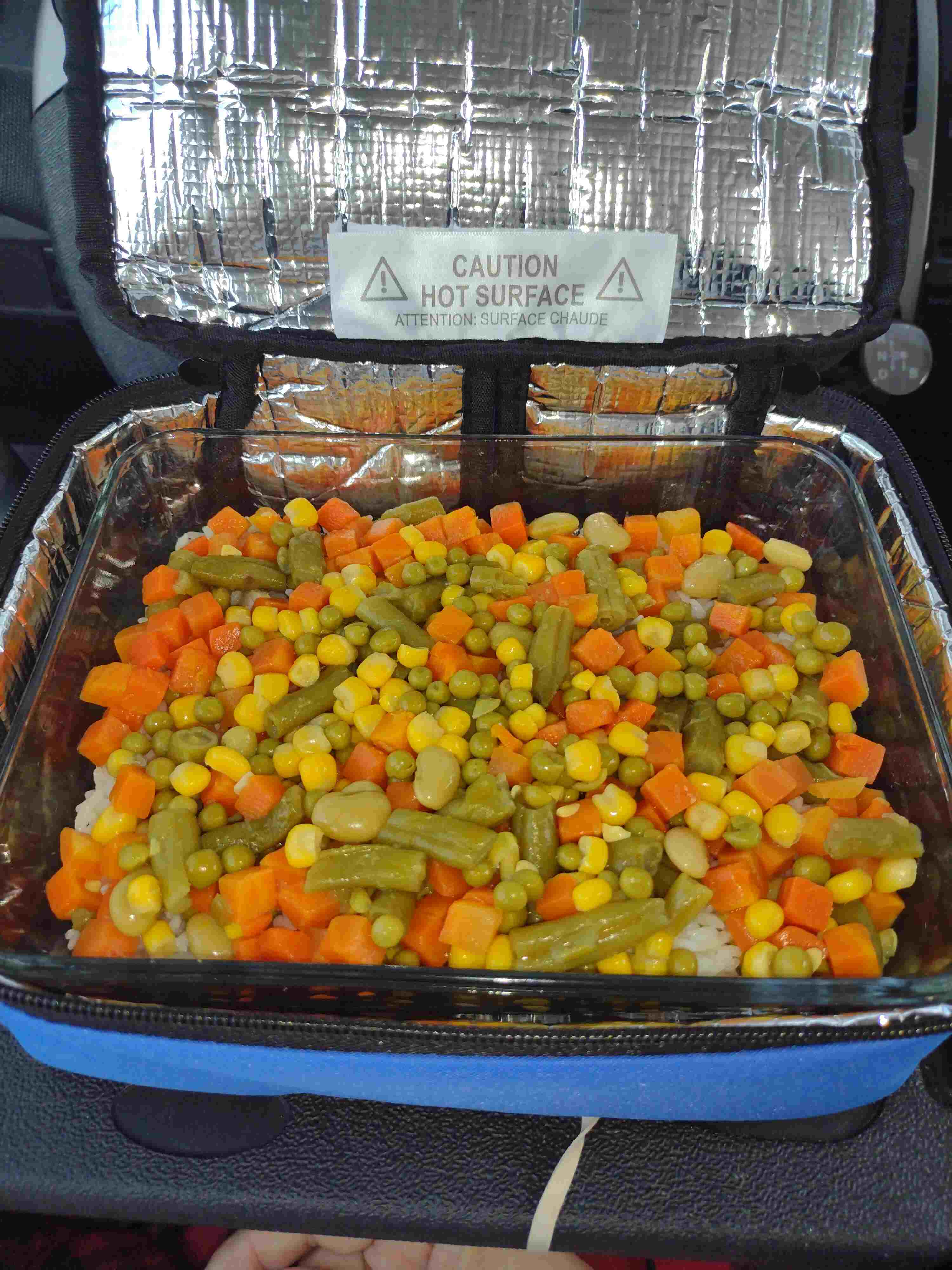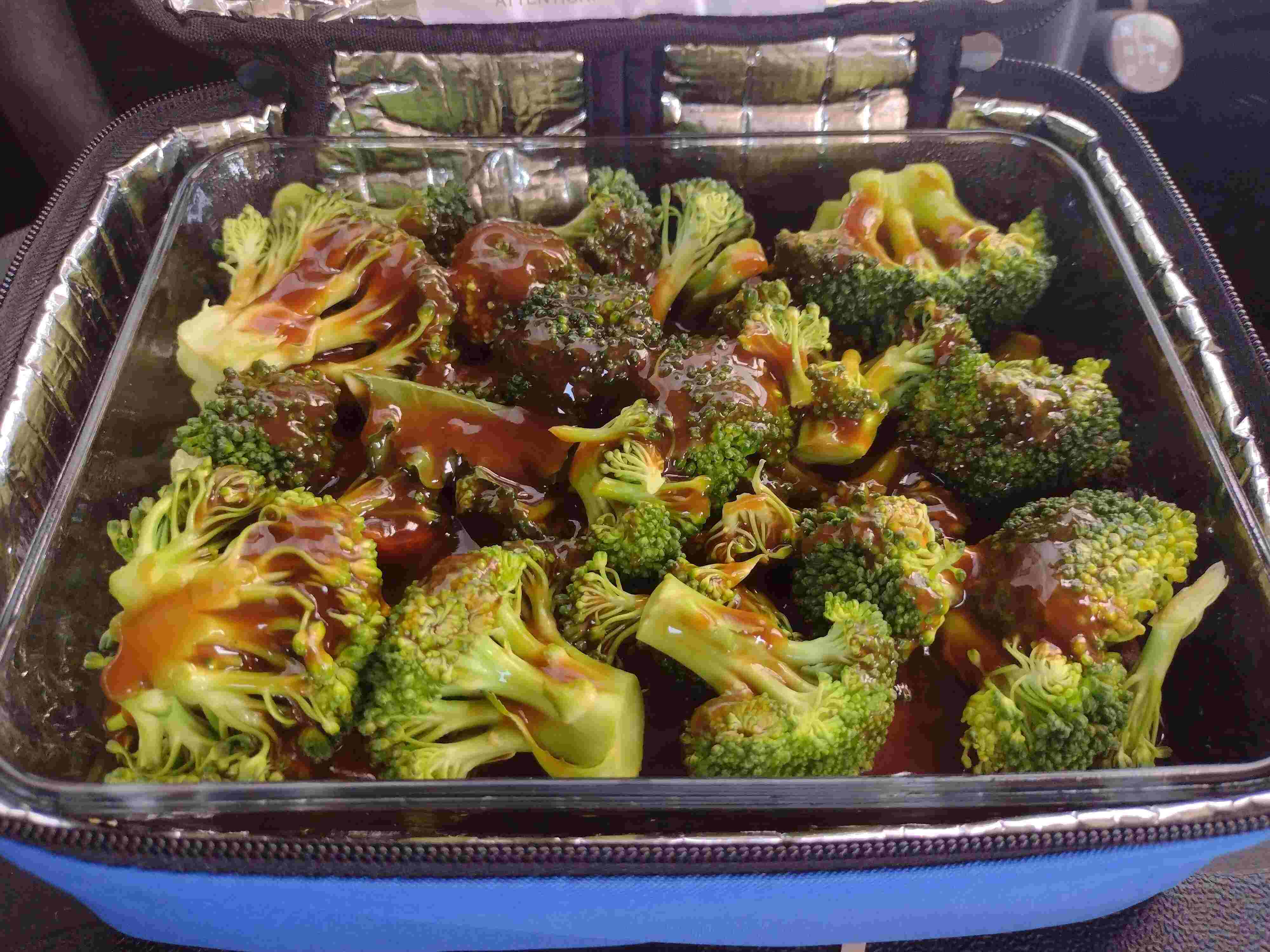 How many watts does the HotLogic and RoadPro ovens use?
The HotLogic consumes around 45 watts during cooking, while RoadPro consumes approximately 100-120 watts.
While both ovens offer similar cooking capabilities, the difference in power consumption is noticeable. Before buying an oven, consider your vehicle's energy capacity, or whether you will hook the oven up to a portable power station.
What is the typical cooking time of a 12v oven?
12v ovens take longer to cook than conventional ovens due to their lower power output. As a general rule, keep the following in mind...
Cooking times can range from 1 to 3 hours, depending on the recipe and desired doneness. It's essential to be patient and plan accordingly while using these devices.
On the other hand, if you're just warming foods up or reheating them, this can be done quickly, within about 15-30 minutes.
Here's a secret tip for 12v ovens: To make your meals faster, buy pre-cooked items like chicken, meat, canned veggies, etc. Since the ingredients are already cooked, you only have to warm the dishes up.
What size containers will fit in a HotLogic or RoadPro?
For the HotLogic, a 6 cup glass Pyrex baking dish fits PERFECTLY inside. And it can hold enough food for 2 people. I have one but don't use it often, as I hate cleaning things.
Instead, I bought a set of cheap aluminum tins with covers on Amazon. They are the same ones that are used in delis, and they work GREAT! They also hold a ton of food.
When I'm done eating, I squish the pan into a ball and dispose of it. Or, I can use them to store leftovers as they're resealable.
HotLogic includes a reusable plastic dish and cover with their oven. It works fine, but it's a bit on the small side for me, as I'm a big eater. For most people however, it should be a decent size.
As for the RoadPro - due to its unusual shape - your options are a bit more limited. The best solution is aluminum bread loaf pans. These fit just right in the RoadPro. Links below...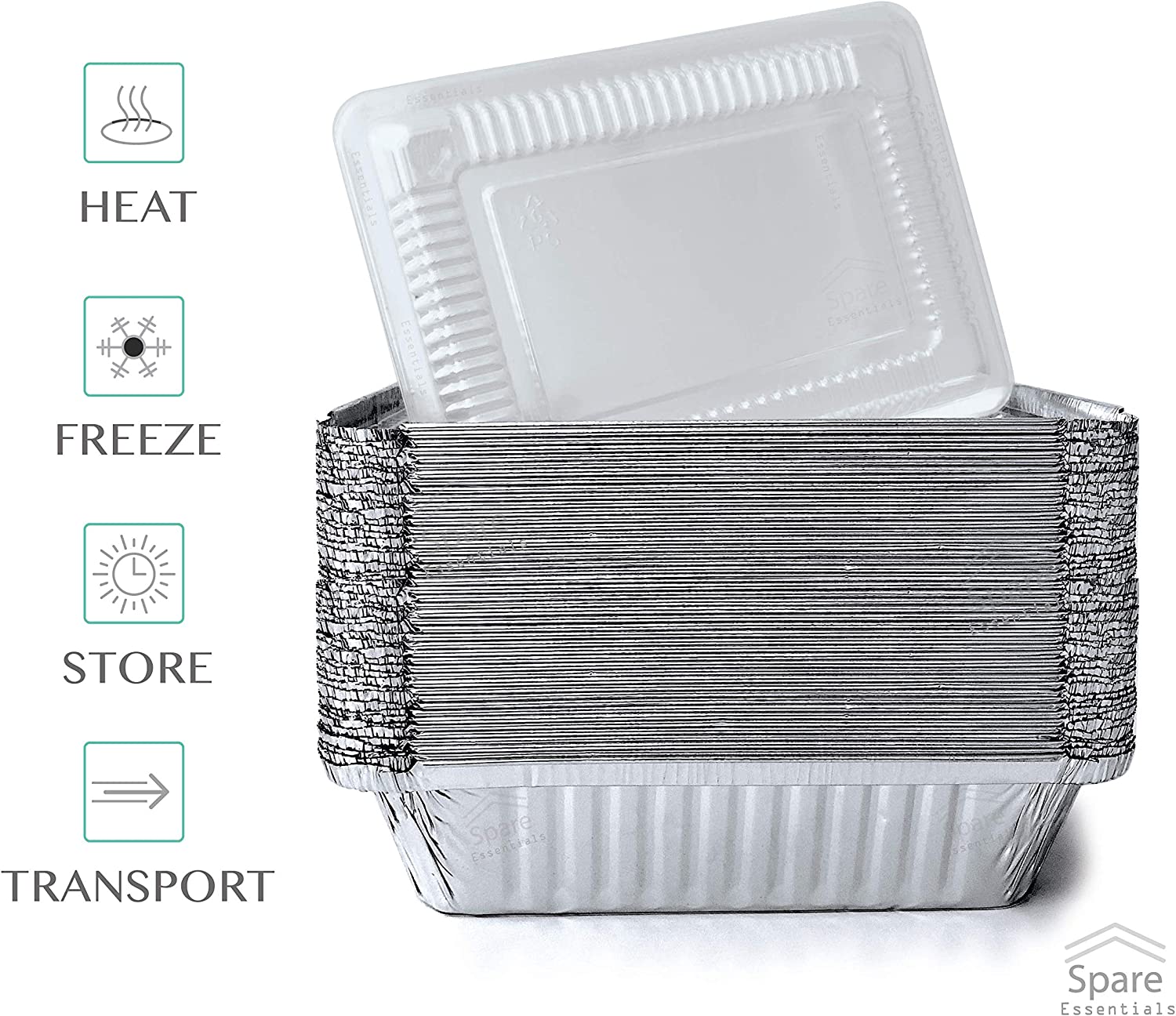 Spare Essentials (55 Pack) 2.25 lb Disposable Aluminum Takeout Pans with Clear Lids
I swear by these!!! They fit perfectly in the HotLogic, can hold a very large portion of food, and you can just toss them in the trash after eating.
Check Amazon's Price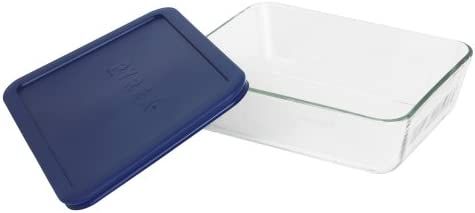 Pyrex Simply Store 6-Cup Rectangular Glass Food Cooking and Storage Dish
This dish fits just right in the HotLogic. It's very thick and well-made. You can store any leftovers in it after eating your food.
Check Amazon's Price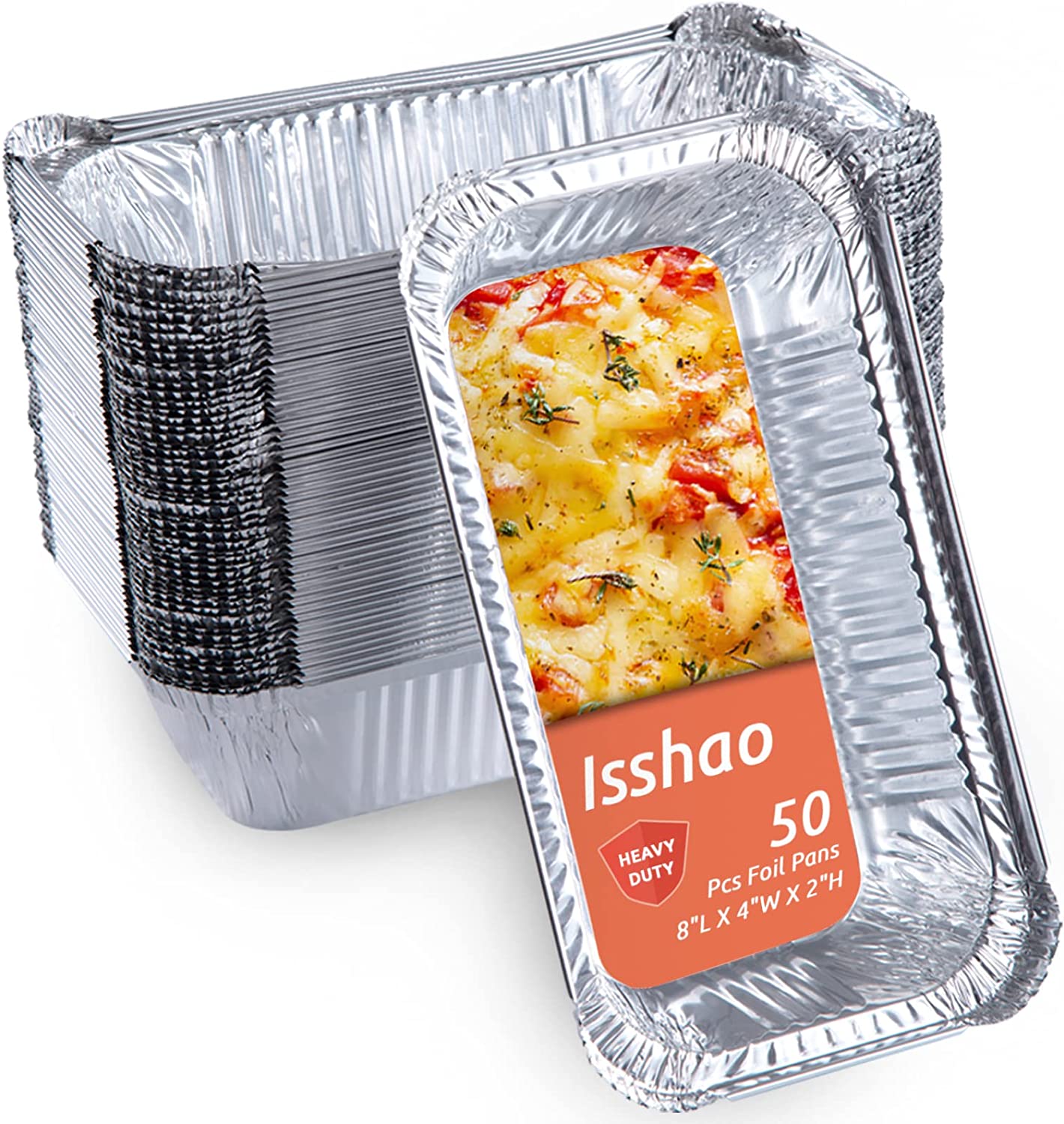 Aluminum Pans 8" x 4" (50 Pcs) Disposable Tin Foil Loaf Pans for Baking, Roasting, and Heating
These are the perfect size for the RoadPro oven!
Check Amazon's Price
What temperature do 12v ovens reach?
HotLogic and RoadPro 12v ovens each reach different temperatures. HotLogic typically maintains a constant temperature of around 165-185°F, making it suitable for slow cooking and reheating. In contrast, RoadPro can reach temperatures up to 300°F, which is ideal for grilling, frying, or baking.
Which oven has better reviews, HotLogic or Road Pro?
Both HotLogic and RoadPro have positives and drawbacks. Users appreciate HotLogic's consistent cooking temperature and energy efficiency, as well as the fact that it cannot burn foods or dry them out.
It's also a lighter device that can hold more food. Lastly, you can literally put any type of food container in it when cooking: Ziploc bags, metal, cardboard, tupperware, aluminum, etc. You can even cook microwavable meals directly in their box!
RoadPro offers more versatile cooking capabilities with its higher temperature range. In addition, it can cook foods quicker, and has a more robust build quality.
Can you cook eggs in both ovens?
Yes, you can cook eggs in both ovens. However, the method and cooking times differ. In a HotLogic, you can cook eggs by placing them into a well-greased container and letting them slowly cook over an extended period.
In a RoadPro, you can cook eggs faster, similar to using a conventional oven, but always remember to monitor the cooking process to avoid overcooking or burning.
How will I know if my meat or poultry is fully cooked?
Many nomads use pre-cooked meats in their 12v ovens, as this eliminates the need to cook, just warm it up. But lots of people also cooking with raw foods. When doing the latter, you can use a simple food thermometer to check the temperature of your food to ensure that it's fully-cooked.
Can a 12v oven boil water?
Personally, I've never tried this myself, as there are much easier ways to get this done. However, in a HotLogic, boiling water will not be possible since the oven only reaches 180 degrees, and the boiling point for liquids is 212 degrees.
The RoadPro on the other hand should have no problem, since its max temperature goes up to 300 degrees.
How do I heat soup up in a 12v oven?
Heating soup up in either of these ovens (or any other) is very easy. Just pour your soup into one of the containers I've linked to, cover it tightly with a lid or some aluminum foil, and wait about 15-20 minutes.
Can I bake using a 12 oven?
It depends. With the HotLogic you might be able to bake simpler things like biscuits, cookies, etc., but the quality mightn't be the best and it will take a while.
With the RoadPro the job will be MUCH easier and faster, due to the unit's higher temperature. Things like cakes, breads, and similar recipes are very doable in a RoadPro.
---
Final Thoughts
So who wins the HotLogic Mini vs RoadPro challenge? Honestly, as you've seen, you really can't go wrong with either of these ovens. However…
I do think the HotLogic comes out on top, which is the reason that I own it and use it regularly.
It has more capacity than the RoadPro, you can cook with a larger variety of cooking containers, it pulls less watts (which makes it easier to power), and it isn't as bulky…which will help save on space when living in a vehicle.
Of course, the RoadPro reaches a higher cooking temperature, and if having your foods cooked quicker is important to you, then this might be the better unit. Its build quality (minus the poorly shaped design) is also superior to the HotLogic.
Both cookers have excellent reviews on Amazon, Walmart, and YouTube. If you know a fellow nomad who owns one of these, perhaps try it before you purchase.
To sum it up: A 12v oven isn't a mandatory item. You can use a propane or butane camping stove instead. However, to me, for the cheap prices that these ovens go for, I believe they are HUGE conveniences to have on hand.
As long as you don't mind waiting a little longer for your food to cook, these ovens are winners. You can safely use them inside of a vehicle, which makes them perfect for rainy days, or when you're too tired to bust out the camping stove and other gear. In addition...
These ovens are such a joy to use, since you basically add all of your ingredients, then just sit back and wait for your meal to be done.
Give them a try for yourself, and you be the judge :)
LIVE WISELY, LIVE WELL!