Can You Car Camp in National Parks? [Important Info]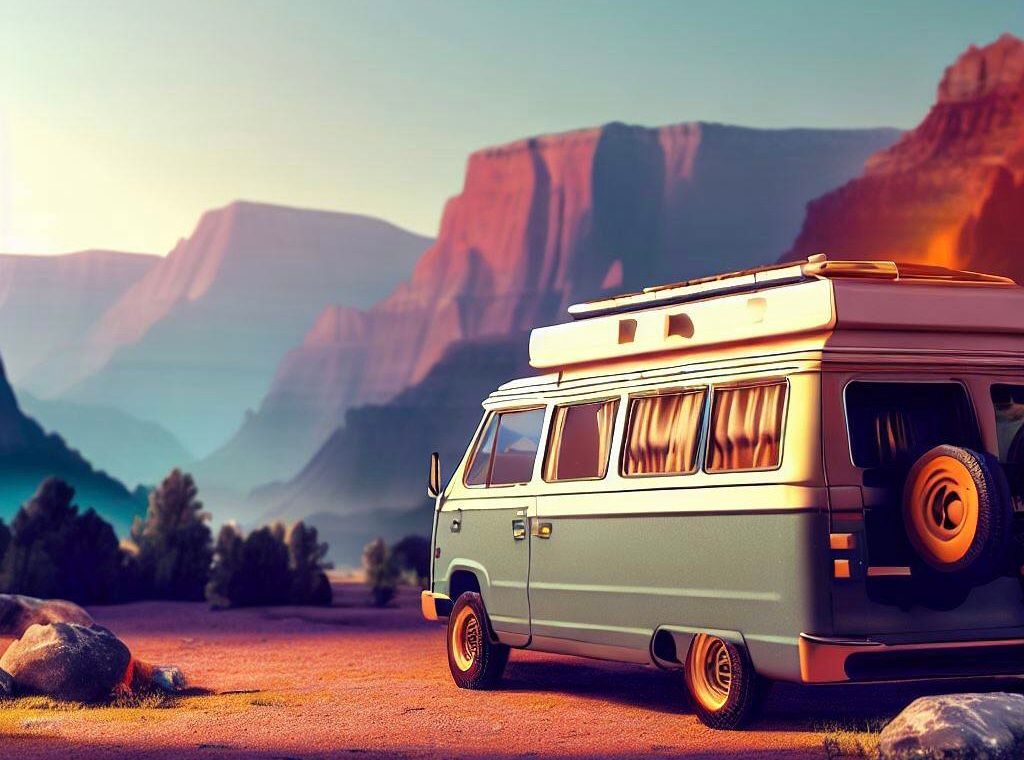 National parks in the U.S. receive millions of visitors each year. And before planning their trips, many of those visitors often wonder; "Can you car camp in national parks?"
If you have a road trip on the horizon, and you're interested in sleeping in your car (or near it) within one of these parks, then this article is for you.
I'll explain all of the major points you need to know before hitting the road, to help ensure your trip is smooth and trouble-free.
Let's jump in…
---
Key Takeaways
While car camping is permitted for a fee in specified campgrounds within the national parks, other areas may require permits and have differing rules. You must thoroughly research the particular park/s you're considering before reserving your stay.
---
Brief summary - Car Camping in National Parks
Car camping refers to using your car as a base for your outdoor camping activities, like; hauling your gear, storing your belongings inside, having a sun shade or awning on the vehicle, etc. Sometimes it can also means sleeping in the car directly itself.
In national parks, this activity is generally allowed within designated areas for a fee. It is a popular way to explore these natural wonders as it provides you with access to various amenities, such as picnic tables, fire pits, and restrooms.
When planning your trip to a national park, first determine which parks are most suitable for your experience and expectations. Be sure to familiarize yourself with each park's specific rules and regulations, as these can vary.
Additionally, keep in mind that sleeping in a car in national parks may require advanced reservations for camping spots, while others operate on a first-come, first-served basis.
---
Types of Camping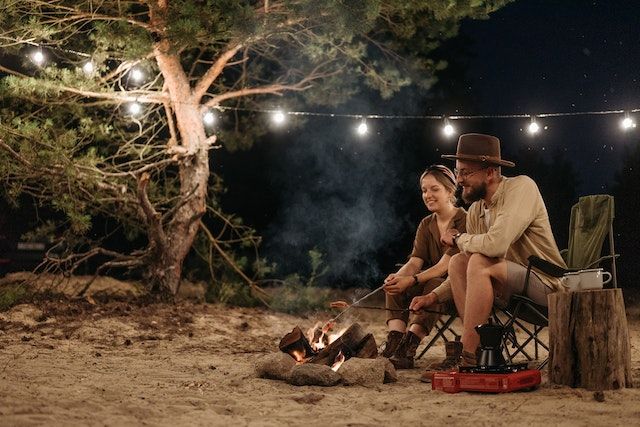 Frontcountry Camping
Frontcountry camping refers to camping at established campgrounds within a national park. These areas are easily accessible by car and often provide amenities such as restrooms, potable water, and picnic tables.
It's a popular choice for those who are new to camping or prefer the convenience of nearby facilities. When car camping in a national park, you'll usually be staying at a frontcountry campground. Remember to check each park's specific regulations and availability.
Backcountry Camping
Backcountry camping offers a more remote and adventurous experience. It usually involves hiking into the wilderness and setting up camp away from popular park areas and established, well-trafficked locales.
Unlike frontcountry camping, while parks do allow backcountry camping, this activity typically requires a permit, and amenities are limited or nonexistent. In national parks, backcountry camping typically does not allow for car camping, so you'll need to leave your vehicle at a designated parking area.
Dispersed Camping
Dispersed camping is the practice of camping outside of designated campgrounds, usually in national forests or other public lands. While dispersed camping can offer a more secluded and private experience, it also comes with increased responsibilities.
You'll need to follow Leave No Trace principles, pack out your trash, and ensure you're camping in areas allowed for dispersed camping. Car camping is possible when dispersed camping, but you should always check the specific rules and regulations for the area in which you plan to camp.
---
Camping Reservations and Permits
While there are some campgrounds that operate on a first come, first serve basis, reservations for frontcountry camping - also known as car camping- are usually required if you want to camp in (or near) your car at a designated campsite within a national park.
To make a reservation, visit the National Park Service website or Recreation.gov and look for the specific park you're interested in. Keep in mind that reservation policies and pricing will vary from park to park.
Permits might also be required for specific activities or entry times - such as Bear Lake Corridor - where permits allow entry between 5 a.m. and 6 p.m. Always check the park's website for any permit requirements related to your visit.
When you've found a suitable campground, don't forget to pay the appropriate fees and have a valid park pass if required, such as an Annual, Senior, Military, or any other qualifying entrance pass. You can typically purchase a park pass online or at the park's entrance.
I highly recommend buying a America the Beautiful pass. They can be purchased annually and offer steep discounts on entry fees to over 2,000 national parks & monuments, along with other amazing perks.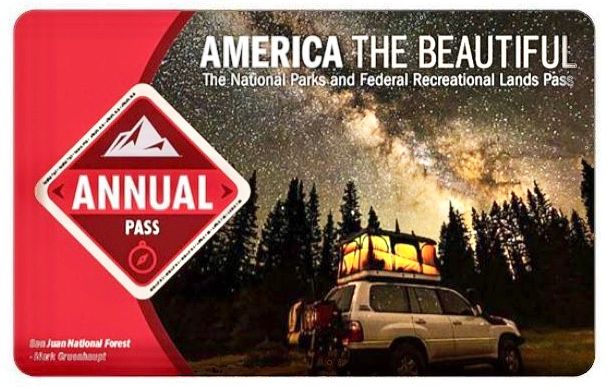 When you're planning your trip, it's important to verify and adhere to each park's rules and regulations, especially regarding check-in and check-out times, late cancellations, early departures, and modifications to your reservation.
In summary, to car camp in national parks, remember to:
Make a reservation for a designated camping spot on the National Park Service website or Recreation.gov.
Obtain any necessary permits and adhere to park regulations.
Pay the appropriate fees and have a valid park pass ready for your trip.
Following these steps will help ensure a smooth and enjoyable experience in any national park.
💡
Parks get VERY crowded during peak seasons. It's advised to reserve your stay at least a couple of months in advance if you'll be traveling during these times.
---
Rules and Regulations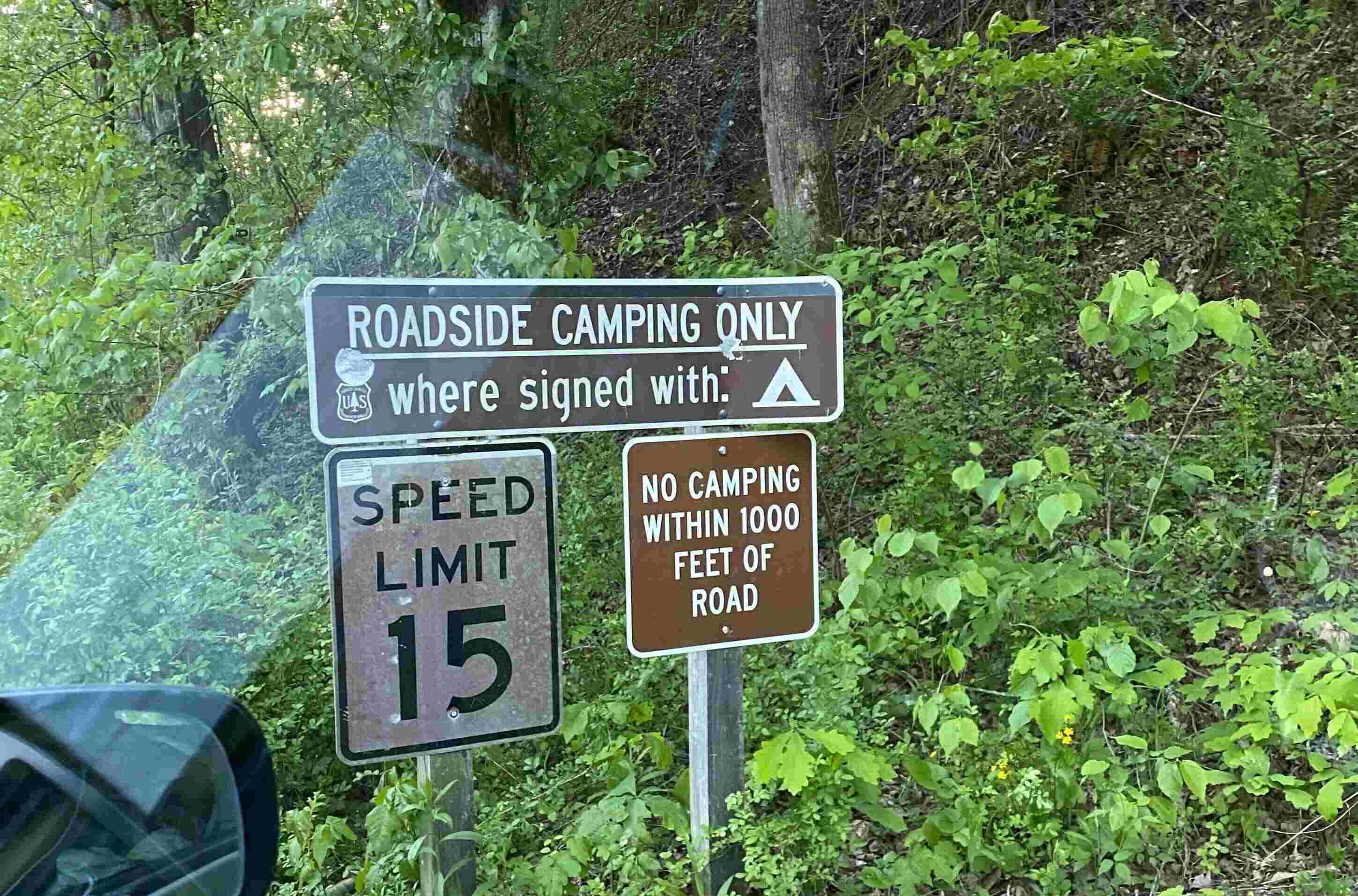 When planning to car camp in national parks, it's essential to familiarize yourself with the rules and regulations set by the National Park Service. These regulations may vary from park to park, so always check the specific park's website for the most up-to-date information.
First and foremost, Leave No Trace principles play a critical role in preserving the environment and ensuring that everyone can enjoy the beauty of national parks.
Adhering to these principles includes properly disposing of waste, using best food storage practices, minimizing campfire impact, respecting wildlife, and being considerate of other visitors. It's your responsibility to leave the park in the same - or better - condition than you found it.
Regarding permits, you may need one depending on the park and the location. Make sure you research the required permits and any group size restrictions that may apply. Obtain these permits in advance to avoid legal issues and to secure your preferred campsite.
When it comes to camping locations, your car camping spot will likely need to be within designated camping areas. This means you cannot simply park your car anywhere within the park and camp overnight. Stay within the approved zones to ensure you're complying fully with park regulations.
It's also important to pay attention to restrictions and prohibited areas within the park. Some national parks may have specific areas that are off-limits for camping, such as wildlife management areas or conservation zones.
Always follow posted signs, respect closures, and comply with any additional regulations in these sensitive areas.
---
Facilities and Amenities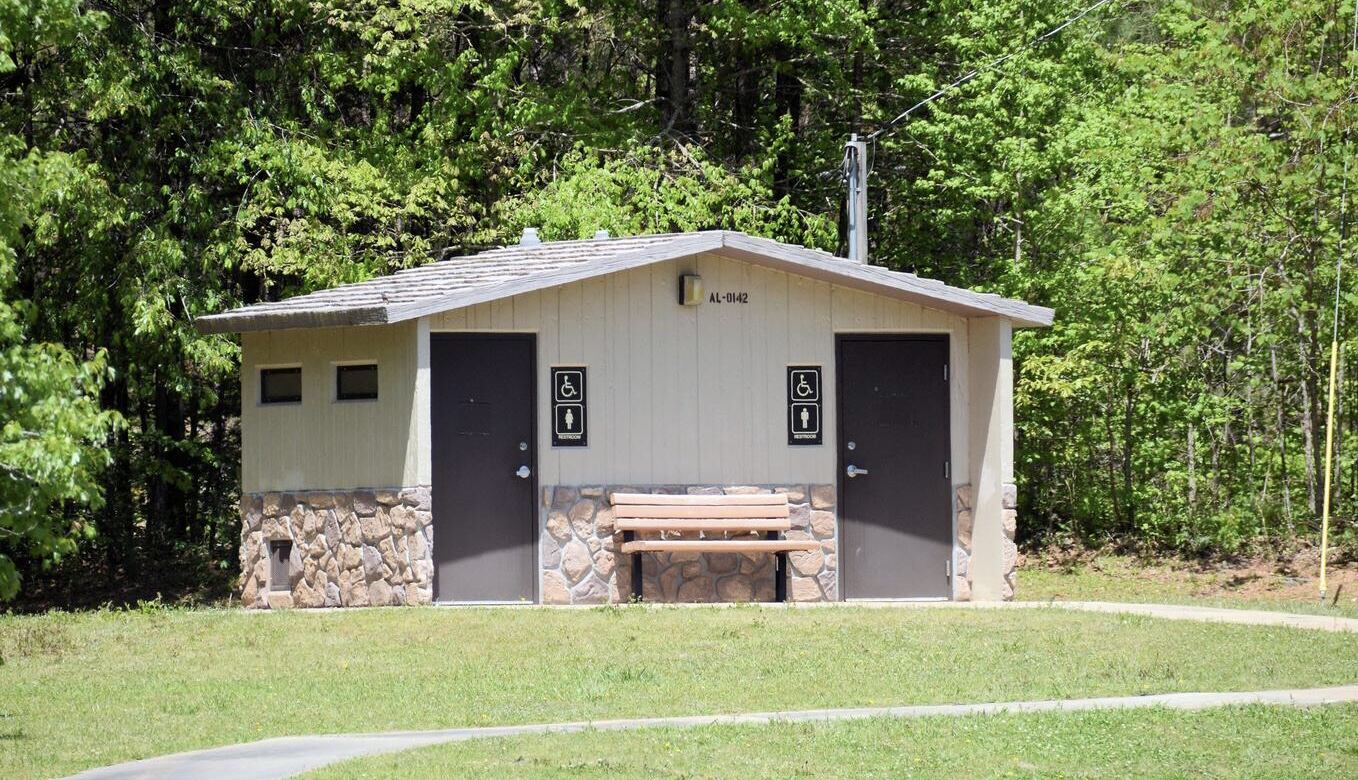 When camping in national parks, you can generally expect many amenities to be available, making your experience more enjoyable and convenient. These amenities typically include picnic tables, which provide a comfortable space for outdoor meals and gatherings.
Additionally, most campgrounds have fire rings or designated fire areas, allowing you to safely build a campfire to cook your meals or perhaps enjoy a warm fire under the stars.
At many places in national parks, you'll find vault toilets, which may not be as luxurious as modern facilities but are designed to keep the environment clean and odor-free.
Some campgrounds may not provide potable water, so it is essential to carry enough for all your needs. However, you may come across locations that have water spigots with non-potable water, which is suitable for cleaning and washing purposes but not for drinking.
Some national park campgrounds offer showers, but this is not a standard amenity in all parks. It is best to research the facilities online or by calling beforehand, so you can plan accordingly and bring necessary items such as solar showers, wet wipes, or other cleaning materials if needed.
A crucial consideration for many campers is wheelchair accessibility, and fortunately, wheelchair-accessible campsites can be found in many national parks. These campsites typically have more extensive and smoother surfaces, allowing for easier mobility, and are located closer to accessible restrooms.
Remember that the facilities and amenities available at each national park campground may differ drastically, so it's vital to research in advance to ensure you'll have all of the necessities you seek.
---
National Forests and Public Lands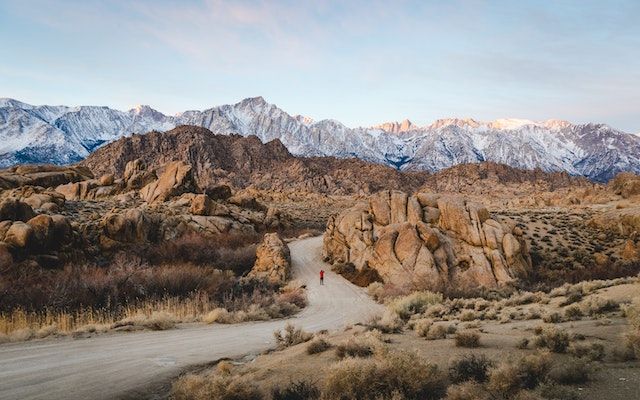 Managed by different organizations such as the Bureau of Land Management (BLM) and the U.S. Forest Service, these areas provide numerous opportunities for you to enjoy nature while car camping.
National forests cover millions of acres across the United States and often allow dispersed car camping. Unlike established campgrounds in national parks, these areas usually don't require reservations or fees and offer more seclusion. However, you need to be more self-sufficient and follow Leave No Trace principles.
The Bureau of Land Management oversees about 245 million acres of public lands, much of which offers car camping possibilities. Though facilities on BLM lands may be minimal or absent, the appeal is the vast expanses and remote settings. Research BLM regulations for the specific area you plan to visit and obtain any necessary permits beforehand.
National monuments - managed by various federal agencies - are another car camping option worth considering. These locations encompass diverse landscapes, from ancient ruins to geological wonders, each with unique attractions and rules. While not all national monuments allow car camping within their boundaries, many offer nearby campgrounds or public lands where you can stay.
Before you embark on an adventure in these locales, you must ensure that you know all the ins & outs, and travel with the right gear for the trip, as many of these destinations require more self-reliance and pre-planning.
---
Pets and Accessibility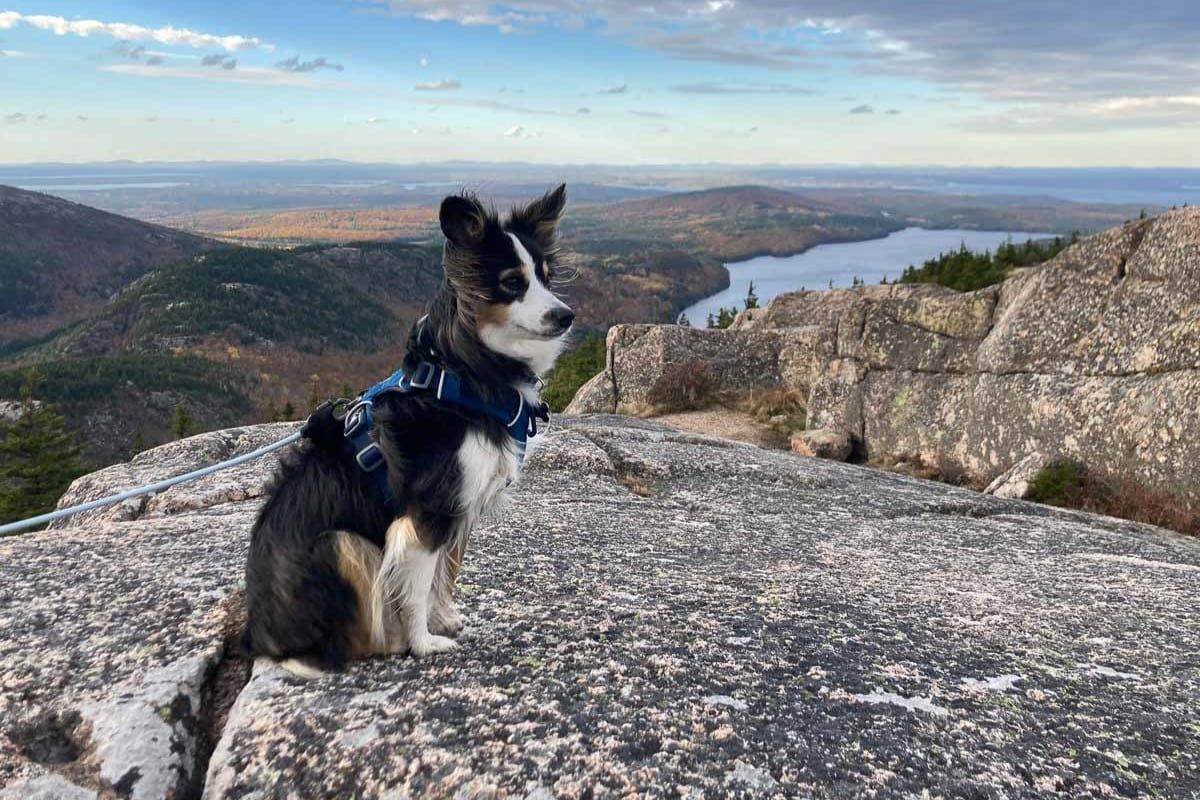 As a general rule, pets are allowed in most national parks, as the National Park Service (NPS) permits pets in many developed areas. However, always check the park regulations as these may vary between locations.
As a pet owner, you have a responsibility for your pet's safety, the enjoyment of other visitors, and the protection of park resources. By following the B.A.R.K. principles, you can ensure responsible stewardship during your visit:
Bag your pet's waste
Always put them on a leash (not exceeding 6 feet)
Respect wildlife by maintaining distance and controlling your pet
Know the park rules and guidelines before visiting with your pet
If you have a service animal, the NPS has released a revised policy aligning with the Americans with Disabilities Act, ensuring the accessibility of national parks to those who rely on the assistance of trained service dogs. Remember that only dogs classified as service animals are allowed in certain areas where pets may be restricted: https://www.nps.gov/planyourvisit/service-animals.htm
---
National Parks Camping Fees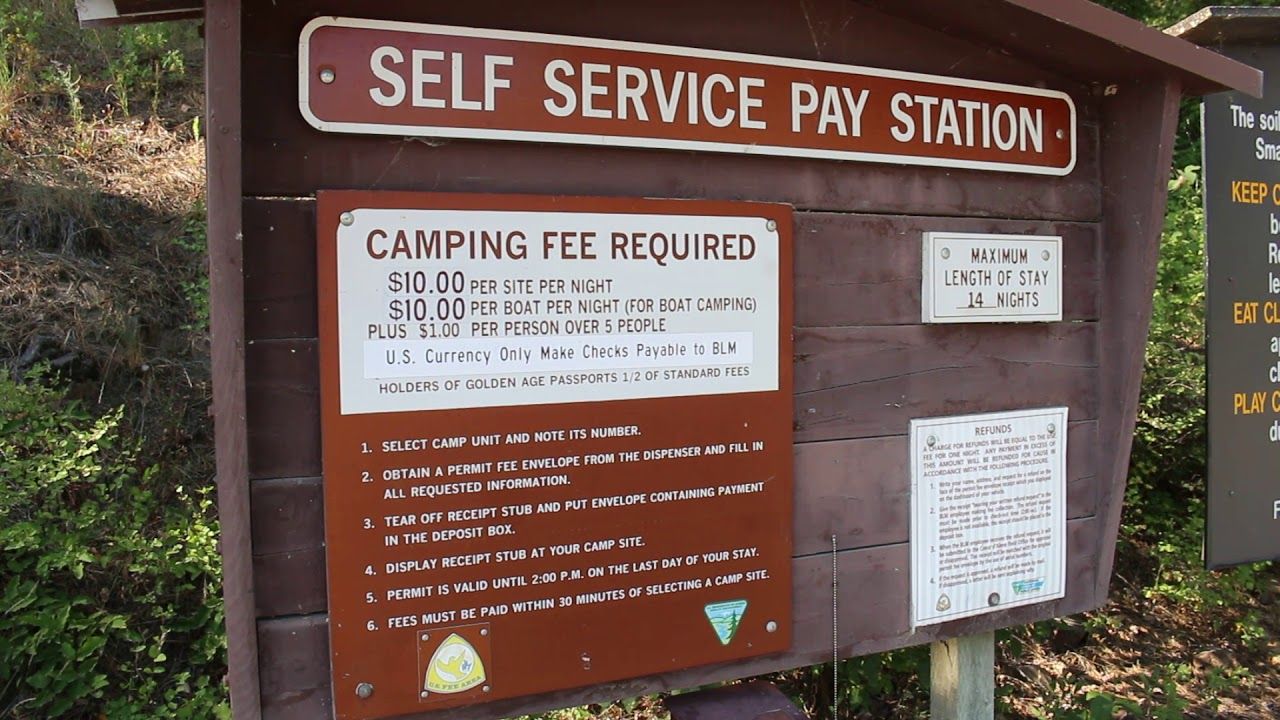 On average, you can expect to pay about $20 per night for a tent site in a national park. However, if you plan on bringing or renting an RV, the rates for RV sites with hookups can reach up to $50 per night in some places.
Before heading out on your trip, it's a good idea to research the specific national park you plan to visit. Each park has different policies and facilities regarding camping site availability. Some of the factors that can influence the camping fees and site availability include:
The size and popularity of the park
The time of year you plan to visit
The level of amenities and facilities available
In general, group camping in national parks tends to be more expensive, with fees ranging between $75 and $100 per night. When planning your car camping trip, it's important to factor in these costs and reserve your campsite in advance to ensure you have a spot to stay.
As for RVs, not all campgrounds within national parks have designated RV sites with hookups. Some parks may not have the facilities to accommodate large RVs, while others could have a limited number of sites available. It's wise to research specific RV site information and requirements for the national park you plan to visit.
💡
When car camping at a campground, some have sites strictly for cars, while others will have you stay at an RV site. Many even allow parking your vehicle on a tent site. Each place is different in how they organize and prioritize their spots.
---
Planning Your Car Camping Trip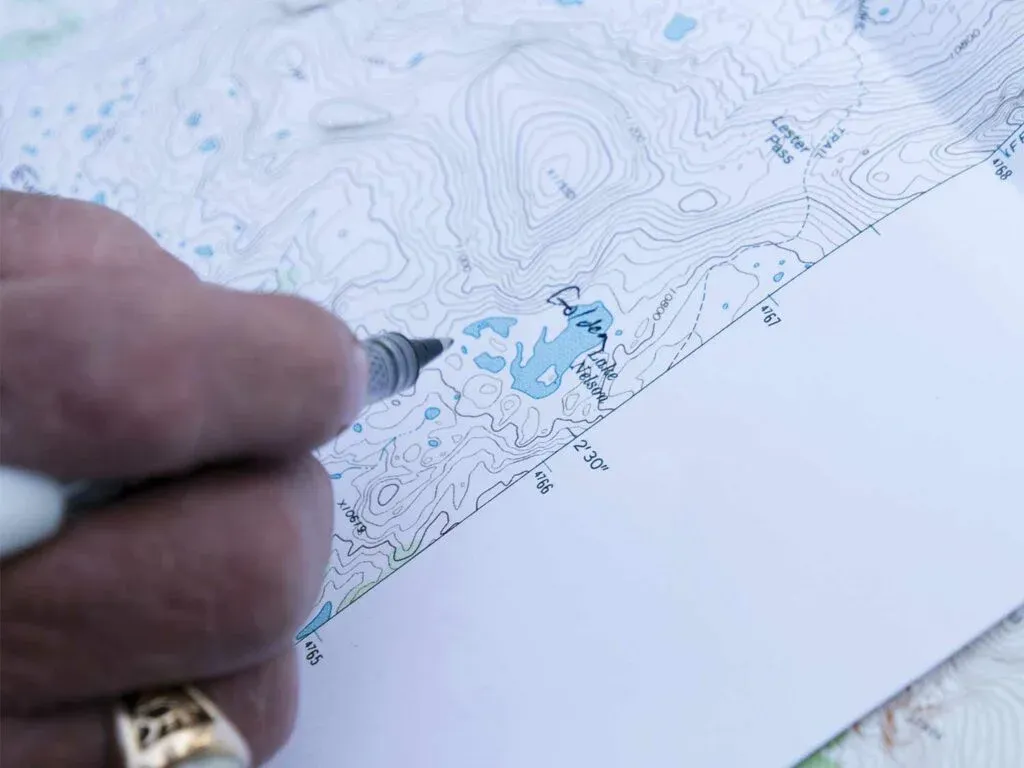 When planning a trip to national parks, it's essential to consider various aspects such as park regulations, peak camping times of year, what the fees are, etc. Follow these steps as a good guideline:
Research the regulations of the specific national park you plan to visit. Car camping is allowed in designated areas within all national parks, but you need to know the specifics, such as camping rates and other info.
Ensure you have the necessary permits for your trip. Some parks require backcountry permits if you plan on camping in remote areas. Check the national park's website for detailed information on permits and fees.
Always pack enough food for the duration of your stay. Be sure to include essential non-perishable items such as canned goods, granola bars, and dehydrated meals. Don't forget a portable stove or camping cookware to prepare your meals. Do pack sufficient water, as access to potable water may be limited.
Consider visiting national parks during weekdays or off-peak seasons to avoid large crowds. Holidays and weekends tend to be busier, which may impact your experience and the availability of campsites. If you choose to visit a national park during peak season, be prepared for increased traffic and crowded campsites.
Ensure your vehicle is well-maintained and ready for the trip. Check tire pressure, oil levels, and other vital fluid levels before hitting the road. It's also wise to bring a spare tire and basic emergency equipment, such as a tire repair kit and jumper cables.
By following these guidelines, you'll be well-prepared for any hiccups during your trip, which will lead to a more enjoyable adventure.
---
National Parks Noise and Solitude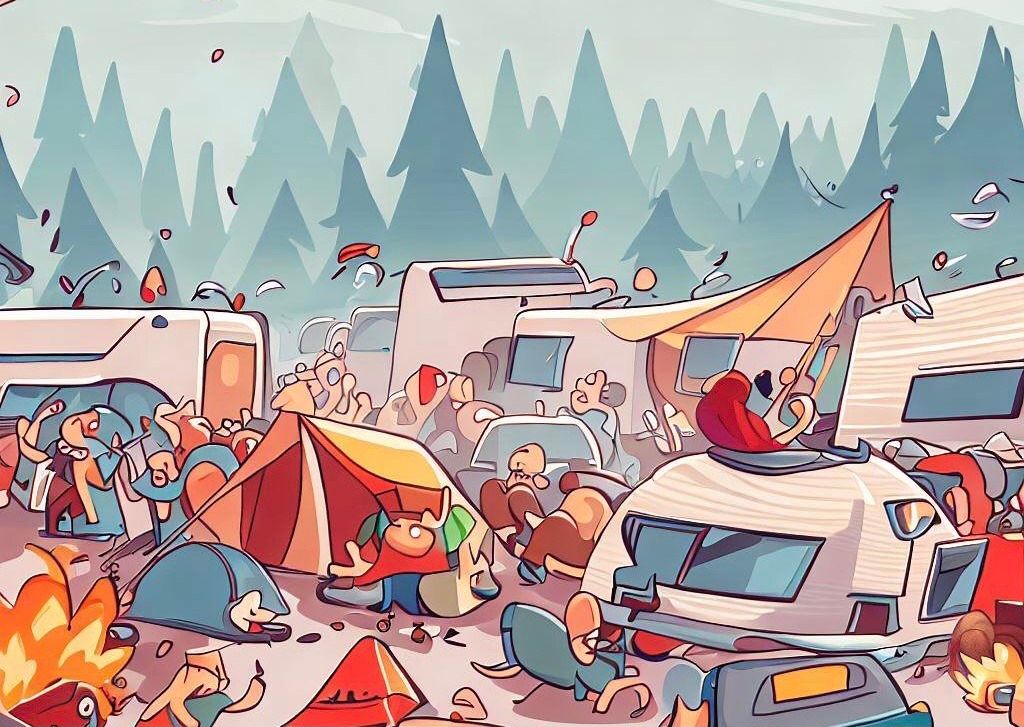 When camping in national parks, it's essential to be mindful of noise levels and the need for solitude. While these parks provide a unique opportunity to connect with nature and escape the city's boundaries, you must also take into consideration the experience of other campers and the park's wildlife.
During your car camping adventure, expect to encounter others nearby. Oftentimes, this can result in some noise, such as children playing, conversations between campers, the sound of nature, or even the distant hum of a vehicle or a generator.
Embrace these sounds as a part of the camping experience, but also take responsibility for your own noise levels. Stick to the designated quiet hours set by the park, typically between 10 p.m. and 6 a.m., to ensure a peaceful environment for all.
Keeping your noise levels low will not only respect other campers' experiences, but also minimize disruption to the park's wildlife.
Remember that your actions impact both your experience and that of those around you. By being mindful of noise levels and seeking a balance between social interaction and solitude, you can contribute to a peaceful, pleasant campsite environment.
In summary, here are some tips for dealing with noise considerations during your camping outing in national parks:
Adhere to the park's designated quiet hours
Aim for more remote campgrounds or campsites to increase solitude
Keep your noise levels low to respect wildlife and fellow campers
Find a balance between social interaction and solitude
To find more solitude while car camping, consider opting for a more remote campsite within the park. These areas often have fewer amenities, but they can provide a quieter and more secluded experience, allowing you to fully immerse yourself in the natural surroundings.
---
Alternative National Parks Camping Options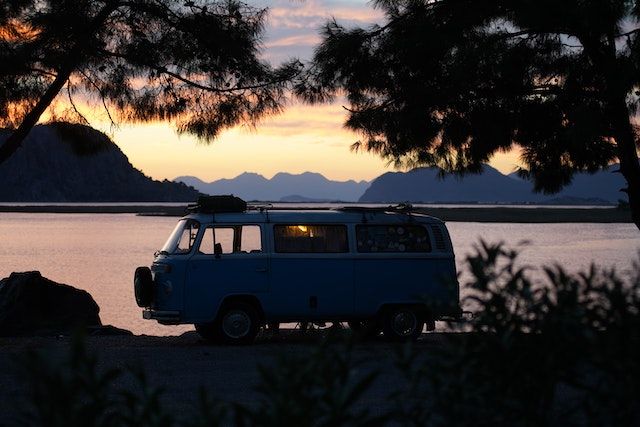 There are many times when a park's campgrounds are full, and you might not be able to secure a camping spot. And you obviously cannot just sleep on the side of the road.
But fear not, as some alternative options do exist. There are usually at least a few comfortable and affordable lodging choices that are close to the national parks.
Boondocking: This refers to camping in undeveloped areas, often on public lands. It's a great (FREE!) option for those who want a more off-the-grid experience.
While it may lack amenities such as restrooms and running water, boondocking offers a sense of solitude and connection to nature. Be sure to research rules and restrictions for the area you plan to boondock in, as regulations can vary.
Hotels: Booking a hotel near a national park is a convenient choice. Hotels can provide a cozy place to rest after a long day of exploring and often have a variety of services and facilities available, such as dining options, swimming pools, and fitness centers. When choosing a hotel, consider factors like price, distance from the park, and available amenities that meet your needs.
Private campgrounds: There are numerous private campgrounds available near most national parks. These alternatives typically offer more facilities, amenities, and privacy than public campgrounds. Some may even have electrical hookups, running water, and Wi-Fi. To find private campgrounds use online resources, apps, and local recommendations.
By considering these alternative options, you can find the perfect accommodation for your needs and preferences while still enjoying the beauty of national parks.
---
National Parks Backpacking and Nearby Attractions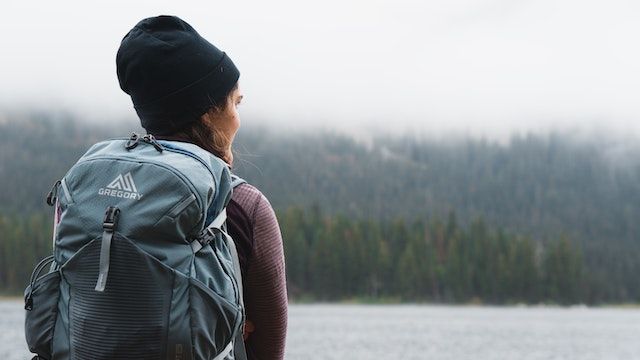 As you plan your trip to a national park, it's worth considering the backpacking and wild camping opportunities available in the area. Many parks have designated backcountry camping areas where you can park your car at certain trailheads and hike to a remote campsite.
💡
Before you embark on a backpacking adventure, make sure to check in with the ranger station to acquire any necessary permits and obtain information on trail conditions, water sources, and potential hazards.
Also, don't miss out on exploring nearby attractions. Many parks boast scenic trails, wildlife viewing spots, and beautiful vistas, which you can discover during your stay. Guided tours, ranger-led programs, and sightseeing talks that can enrich your visit are other possibilities.
---
Frequently Asked Questions
Are there campgrounds in national parks for car camping?
Yes, there are lots of campgrounds in national parks suitable for sleeping in a car. Many national parks have designated campgrounds with facilities to accommodate car campers, in addition to RVs and tents. It's essential to check with the park you are visiting for information on their specific rules and regulations.
What are the most popular national parks to visit?
Some (but not all) of the most popular and best national parks include:
Grand Canyon National Park
Yosemite National Park
Great Smoky Mountains National Park
Zion National Park
Yellowstone National Park
Acadia National Park
Joshua Tree National Park
Big Bend National Park
Arches National Park
Death Valley National Park
What are the rules for car camping in national parks?
The rules vary widely in national parks, but some general guidelines exist. Usually, car campers must stay in designated campsites, adhere to quiet hours, and follow fire restrictions.
Additionally, campers should respect the surrounding environment by leaving no trace, taking out trash, and not disturbing wildlife. Research each park's specific rules before planning your trip.
What is a America the Beautiful pass?
This pass can be purchased annually (lifetime also available), and provides great discounts on entrance fees to over 2,000 national parks & monuments. One pass can cover two people, and it also includes a bunch of other useful benefits.
Do national parks require reservations for car camping?
Some national parks do require reservations, especially during peak seasons. Others operate on a first-come, first-served basis. Reservation policies can vary from park to park, so it's essential to check with the individual park's website or contact their visitor center for specific reservation details.
Are national parks' camping facilities handicap-accessible?
Most frontcountry sites are handicap-friendly to a large degree, but this doesn't mean that all areas will be wheelchair accessible. While certain spots like restrooms, shower facilities, and similar places should be safe for those who are disabled (ramps, handrails, etc.), other aspects like hiking trails, observation points, and these types of grounds might present great obstacles for handicapped persons.
It is critically important that you research these options while planning your stay at a location. When reserving your campsite, be sure to ask about handicap-accessible sites, as there are usually a set number of these available within each camping location.
Are there any free campsites for car camping in national parks?
There may be free campsites in some national parks, however, the availability and conditions of these sites can vary greatly. As a general rule, in most cases, be prepared to pay for your camping privileges.
Which national parks have the best facilities for camping in a car?
Some of the best national parks for car camping include: Yosemite National Park, Grand Teton National Park, Glacier National Park, and Zion National Park. Each park offers a unique experience, so it's essential to consider your preferences, such as location, scenery, and available activities, when selecting a park as your destination.
Do national parks allow all types of pets?
While dogs (and usually cats) are allowed in most parks, other types of pets may not, and this will be dictated by the rules & guidelines of each specific park.
Are there bears in national parks?
Many - but not all - national parks are located in bear country. This means you should be mindful and alert at all times, especially when in the backwoods or other areas with dense vegetation.
But the reality is that bears are more afraid of humans than the other way around. Further, while bear attacks do happen from time-to-time, they are are not common occurrences.
As a general rule, black bears are mostly timid by nature and will actively avoid people at all costs. While this is also true of brown bears, they can be much more volatile in nature.
When it comes to bear safety, your best defense is a good offense. You can read more here: https://www.nps.gov/subjects/bears/safety.htm
Do campgrounds in national parks have any crime?
By and large, national parks (and the campgrounds within them), are free from major crime. Park rangers are very prevalent in all parks, and they patrol the grounds on a regular basis.
Further, many of the ranger stations tend to be centrally located in the park for convenience and visibility, which helps cut down on any shenanigans. Of course, this doesn't mean that a crime can't happen, but the likelihood of one occurring is extremely low.
Are there any safety concerns with car camping in national parks?
As with any outdoor activity, there are some safety concerns associated with camping in national parks. Basic safety tips include: storing food properly to avoid attracting wildlife, adhering to campground rules, and practicing first aid knowledge in case of an emergency. Always be aware of your surroundings and follow park regulations to avoid encountering any mishaps.
Will I get good cell phone service when staying at a national park?
The honest answer is…it depends on which park you're staying at, and even your location within the park itself. Though, do know that generally speaking, you might not always have the best signal or service. Matter of fact, there may be times when you can't get reception at all. Don't depend on your phone 100% when staying in national parks.
---
Final Thoughts
Camping in a national park is one of the greatest joys you'll experience. Being able to get away from the hustle & bustle of crowded cities to take in the gorgeous natural landscapes and to witness the pollution-free night sky is almost magical.
Even better, since car camping is allowed in national parks, you have the option of pitching a tent or sleeping in your vehicle itself. This is highly beneficial if the weather is lousy, you wish to remain bug-free, or maybe because you simply want a bit more ease & comfort.
Whether you'll be staying in campgrounds or backcountry, by following the advice in this article you'll be fully prepared and ready to roam wherever you want.
LIVE WISELY, LIVE WELL!