How to Boil Water in a Car: [Easy Heating Options!]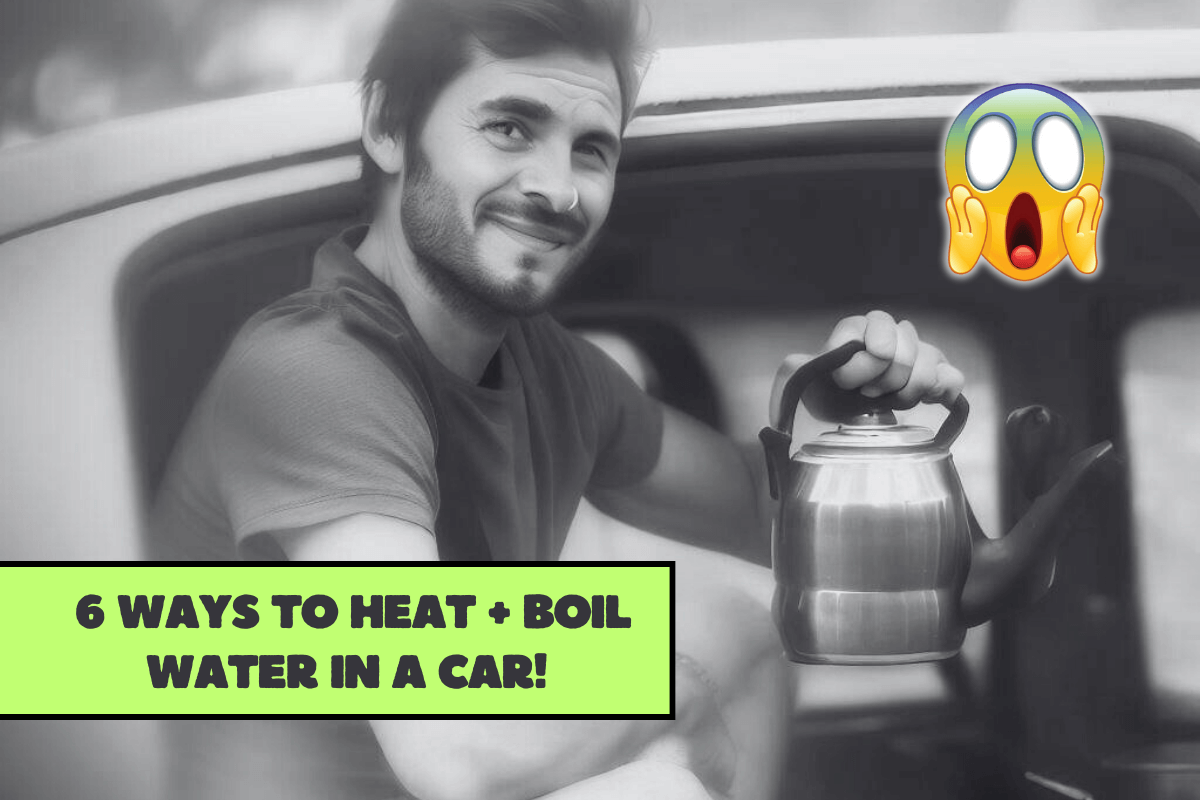 If you're planning on living in a vehicle, or maybe just doing some car camping, you might be wondering how to boil water in a car.
Boiling or heating water will be necessary to cook food, make tea, hot coffee, and even for stuff like showering outdoors.
The good news is that there are SEVERAL ways to accomplish this task. But which option you choose will likely be dictated by power source, efficiency, convenience, and budget.
I'll cover all methods in this article, and share my thoughts on the pros & cons of each, as I've personally used almost all of the options listed.
I recommend certain products because they're genuinely helpful, and I own many of them myself. As an Amazon Associate, I may earn a small commission if you grab something using my referral links. However, there's never any extra cost to you, my fellow nomad.
Let's dive in…
---
Key Takeaways
The best - and safest - methods for heating or boiling water in a car are: using an induction cooker that's plugged into a power station, or with a 12v electric kettle. Both options are fast and do not use an open flame source, which is highly dangerous in an enclosed vehicle.
---
Methods to Boil and Heat Water in a Car
Camping Stoves
When it comes to heating water up in a car, camping stoves are a popular and budget-friendly option. The Coleman stove, MSR PocketRocket and the Jetboil stove are three well-known models that can be used for this purpose.
PLUSES
Depending on the model, these stoves can be very lightweight & portable
Fairly inexpensive
Can last for years with proper care
Time to boil is very fast. Generally takes about 5 minutes for smaller amounts of liquid
Can heat up large amounts of liquid, even a liter or more depending on the size of the pot
Aside from heating water, these can make any food that requires a pot or pan
MINUSES
Fuel (isobutane or propane) needs to be constantly replenished, which can be costly and time consuming
Must be extremely mindful of the gases from these fuel sources within enclosed spaces
These devices use open flames, which are VERY dangerous to use inside of vehicles
Setting up these stoves - while simple - is a lot to do only for heating water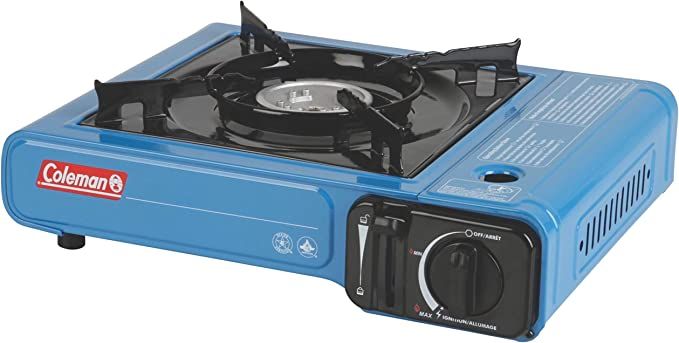 Coleman Classic 1-Burner Butane Stove, with Carry Case and Push-Button Instant Ignition, Includes Precise Temperature Control and Wind Baffle (7,650 BTUs of Power)
Check Amazon's Price
---
Portable Electric Burners
Portable electric burners, such as induction cooktops, are another method to boil water while in your car. Electric coil hot plates can be used, too. But because these devices require a large power draw (typically 600-1,800 watts), you'll need to use these devices with an alternate electrical source, most likely a portable power station.
💡
You can also install an inverter in your car - which would be able to power these heating plates - or almost any other appliance you'd like. But this is a highly technical process and I'd advise letting a professional handle it. Total cost would be about $300-$500.
PLUSES
Heats up water in a jiffy, about 5-7 minutes to boil depending on the amount
Can heat up large amounts of liquid
Aside from heating liquids up, you can also use these stoves to cook food
No open flame, which makes this much safer to use in a vehicle
No fuel to buy and spend money on
MINUSES
These devices can be bulky, heavy, and take up valuable space in your car
They can be pricey
You'll need to buy a portable power station to use these stoves, which can run from $150 - $400 or more
Once you purchase a power station, you'll then have another electronic device to worry about charging
A bit overkill using these just to boil water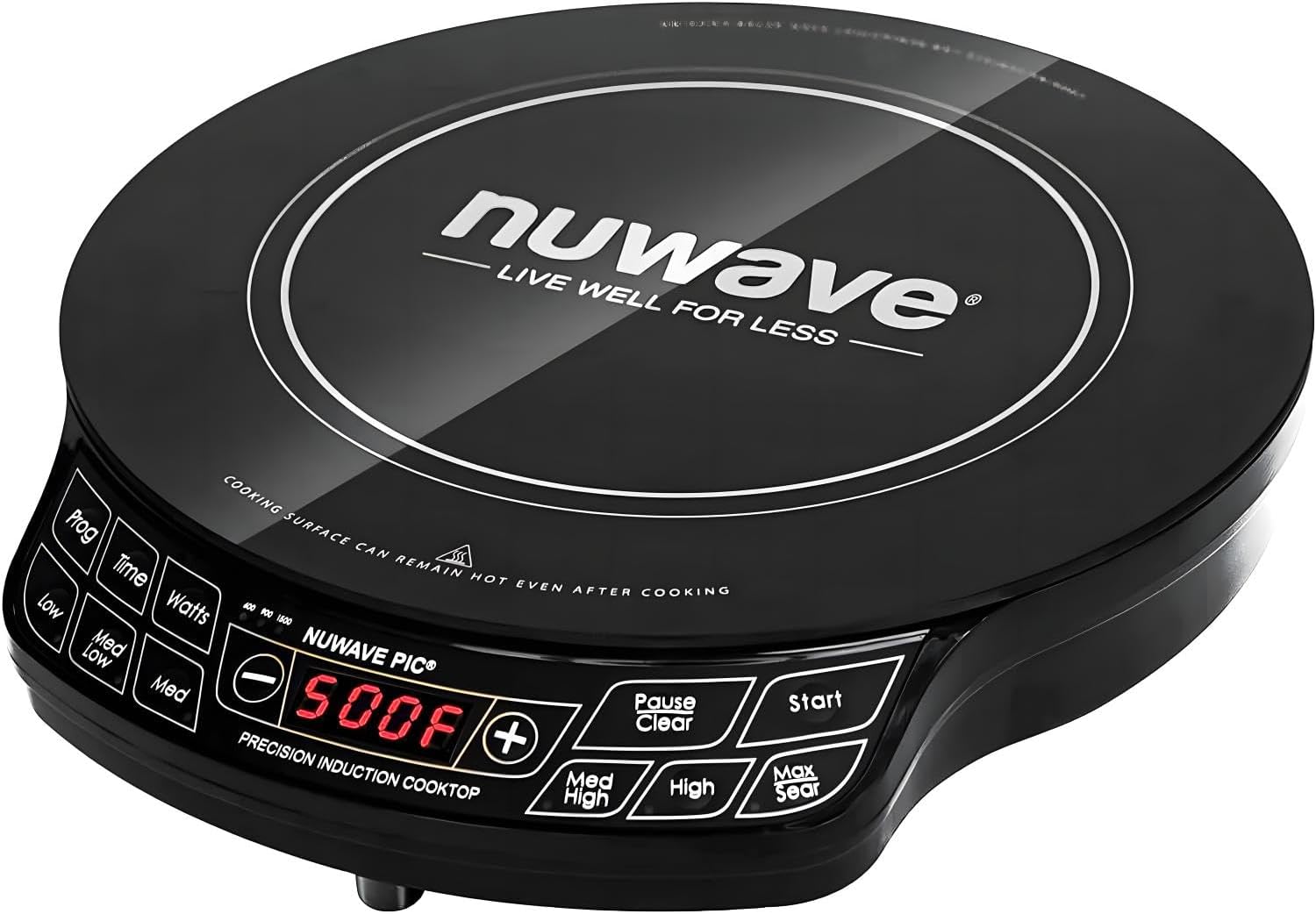 NUWAVE Flex Precision Induction Cooktop, Portable, Large 6.5" Heating Coil, Temperature from 100F to 500F, 3 Wattage Settings 600, 900, and 1300w
Check Amazon's Price
---
12v Immersion Heaters
Using a 12v immersion heater is a super simple way to heat water. Even better, you can just plug these devices right into your car's 12v (cigarette) port.
PLUSES
Inexpensive
Easy to use
Powered by your car's 12v port (free energy source)
Very small and portable. Can fit in your glove box, center console, etc.
Safer than camping stoves as no open flame is used
MINUSES
Can take a while (and sometimes struggle) to reach boiling temperature, especially if it's a lower-wattage model
Can only heat up small amounts of liquids, roughly about the size of coffee mug or cup of water
Must place a metal rod in your liquid to heat it, which many people don't like
The cords on these devices can get very hot (and sometimes even melt), which is a fairly common issue
💡
You MUST make sure to buy one that doesn't exceed your vehicle's 12v power supply. For example, the 12v outlet on my Prius can output 150 watts of electricity. Any more than this and I could blow a fuse or run my starter battery down. As a general rule, I wouldn't go higher than a 150 watt draw device. Be sure to check the max power output of your car's cigarette lighter port.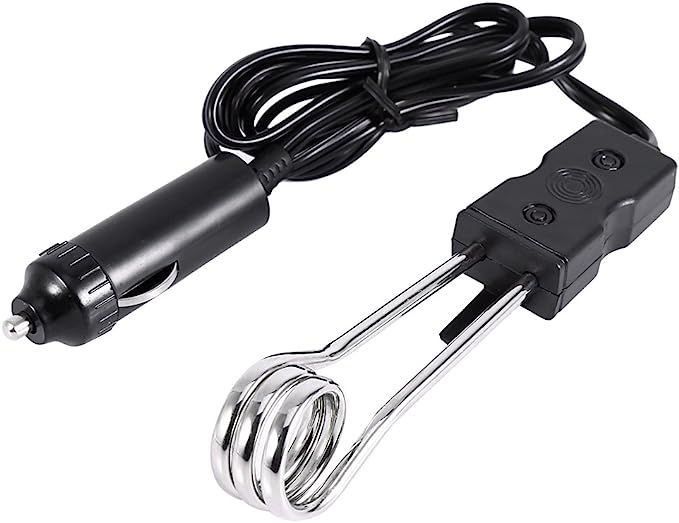 Fdit Portable 12V/24V Car Immersion Water Element, Heats Tea Coffee & Soup (120-140 watts)
Check Amazon's Price
---
12v Car Kettle
A 12v electric car kettle is a convenient water heater option, or any other liquid. Many car kettles feature sealed lids and spout valves to prevent spills, and will be insulated to keep the water hot longer and avoid burns when handling the kettle.
PLUSES
Fairly inexpensive
Convenient to use, as it is powered by you car's cigarette lighter port
Small and lightweight
Very safe, as no open flame is used
Depending on brand, these only draw about 80-100 watts. Vehicle-friendly power consumption
MINUSES
Can only boil smaller amounts, about 1 - 1.5 cups of liquid
Takes longer to reach boiling temperature, generally 20-25 minutes
Build quality on many of these units isn't the best. Might only last a few years
💡
They also sell standard corded kettles that plug into a 110v outlets, but you'll need a portable power station to use these.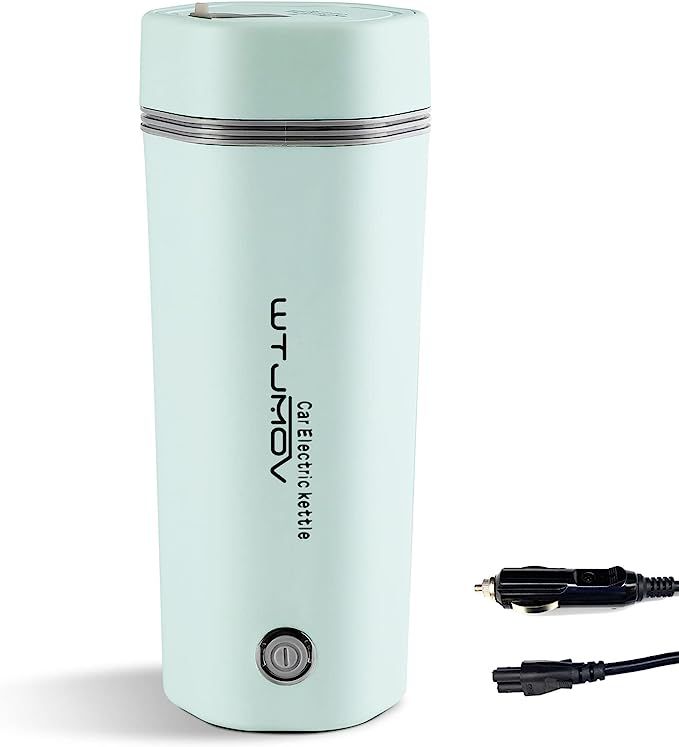 WTJMOV 12V Car Electric Travel Kettle, Portable Water Boiler & Heater with Automatic Shut-Off (80 watts)
Check Amazon's Price
---
Coffee Maker
Yes, you read that correct…there are actually some people who heat up water in their car using coffee makers!
While this does work, coffee makers pull a LOT of wattage, and you will definitely need to access power from an inverter or portable power station. Because of these factors, this really isn't the most practical of solutions. Additionally…
Without very high heat, getting water to boil is impossible, since it needs to reach 212ºF. Since most coffee makers only reach a temperature of 195ºF - 205ºF, this method is a fail, unless you just wish to heat water up.
PLUSES
Fairly inexpensive
Can heat up a large pot of water - a full liter or more
Can also be used to warm up soups, stews, chilis, and similar foods
MINUSES
Cannot boil water or other liquids, only heats them up
Coffee makers are large and cumbersome. Takes up a lot of space in a car
You will need an inverter or portable power station to run these devices due to the large power draw
💡
Unless you're a complete coffee nut, I would only recommend this method as a last resort. In my opinion, using a coffee maker to heat water is terribly inconvenient in many ways. Bottom line though, it does work.
---
12v Cooking Pot
12v electric pots are sold in many trucks stops as lots of truckers use them, but you can also buy these appliances online. They will not only boil your water…you can also cook complete meals in these devices.
💡
You should be able to use this in your car just fine, as it only draws 165 watts, but it will depend whether you have a 10 amp or 15 amp cigarette lighter fuse. Check your owner's manual to be sure.
PLUSES
Can also be used to cook food
This device is a larger-sized pot like you have at home. Can hold a lot of liquid or food
No open flame. Safer to use in a car than a traditional camping stove.
MINUSES
Bulky and heavy. Tougher to store in a car
Can take longer to heat and boil water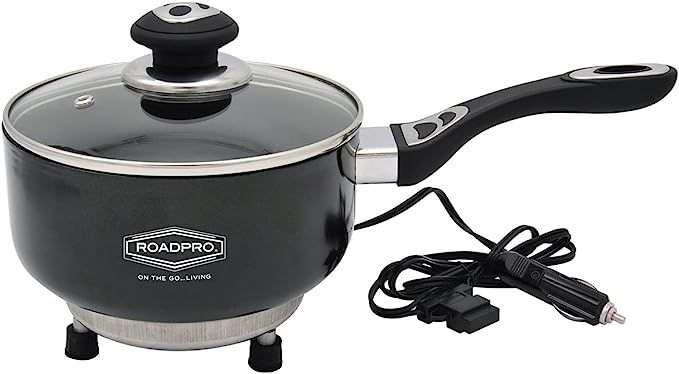 Roadpro RPSP225NS 12-Volt Portable Saucepan with Non-Stick Surface (165 watts)
Check Amazon's Price
---
Uses for Heated and Boiled Water
There are various reasons one might want to boil water while traveling in a car. In this section, we'll cover the main uses for heating water on the go: Hot Beverages, Cooking Needs, and Emergency Purposes.
Hot Beverages
Having hot water readily available in your car can be a game-changer when away from home. With a portable heating method, you can make:
Coffee: Having hot water for coffee allows you to prepare your cup of joe to get your caffeine fix in.
Tea: Tea is loaded with antioxidants, which makes it extraordinarily healthy.
Hot cocoa: Who doesn't love hot chocolate?! Perfect for those chilly fall and winter days….or any time.
Cooking Needs
Another use for hot water is when preparing meals. It's needed to make a variety of foods and snacks:
Soup: Easily prepare and enjoy a warm cup of soup to fill your belly up.
Ramen: A quick and convenient meal, requiring just boiling water to cook the noodles.
Instant Foods: There are many instant food options available such as oatmeal, mashed potatoes, or instant rice, which only need hot water to be ready.
Pasta: An inexpensive, easy-to-make staple food that hits the spot at any time.
Hard-cooked Eggs: Boiled eggs are delicious to nosh on and excellent sources of protein!
Bathing Needs
Showering: Many of us who live in cars or go camping have taken showers outside. Being able to warm water up to rinse off and get tidy is a major plus.
Emergency Purposes
In some cases, having hot water in your car can serve as a lifesaver for emergency situations:
Disinfecting: In a pinch, boiling water can be used to sterilize wounds or objects.
Potable Water: If you lose access to safe, clean drinking water, boiling can be used to make water safe to drink by killing disease-causing germs and bacteria.
---
Important Safety Considerations
Precautions to Be Aware Of
When boiling water in your car, it is essential to prioritize safety. Make sure to place any heating device on a stable, non-combustible surface to avoid accidents.
Also, be cautious when any cooker is operating, to make sure that scalding water isn't seeping or spewing, as this could lead to serious burns.
Power Sources
Your car provides several power sources to boil water. Most commonly, you can use your car's 12V power outlet with a compatible heating device, such as a portable electric stove or an electric kettle.
Additionally, you can use an inverter to convert your car's power to a standard AC outlet, enabling you to plug in a variety of heating devices. Always make sure to start your car's engine to prevent the battery from draining during the process.
Fire Prevention
Fire prevention is essential when boiling water (or cooking) in a car. Follow these tips to minimize the risk of fire:
Choose heating devices specifically designed for automotive use, and avoid makeshift solutions.
Turn off the heating device immediately after use and unplug it from the power source.
Keep flammable materials away from the heating area.
Regularly inspect your car's electrical system to ensure it is in good working condition.
Avoid overloading your car's electrical system. Check the devices' power requirements and make sure they are compatible with your car's available power.
---
Questions and Answers
Which one of these methods is the best?
There really isn't a "best", as all of the devices I've shared each have their strengths & weaknesses. It comes down to what works best for YOU. However…
I myself use - and swear by - the 12v car kettle. It's inexpensive, requires no power station or inverter, and can even boil water pretty speedy, too.
Which portable power stations will work with the induction cooker or a higher wattage immersion heater?
Comparing power stations is very involved, and outside the scope of this article.
There are hundreds of brands out there, and most of them do a fine job…even the cheaper ones.
The most important thing is to get one that can handle the wattage of the item you'll be using, for the length of time you need.
Which of the methods listed is the safest to use in a car?
The portable electric burner (induction cooktop), the 12v kettle, the 12v immersion heater, the coffee maker, and the 12v cooking pot are all pretty safe, as they don't use open flames. Do know though…
That all of these devices work very differently. Some can only heat water, some can boil water and cook food, etc. Further, you might need an inverter or power station to run some of these devices.
---
Final Thoughts
As you can see, there are many different ways to boil water while camping, or if you live in a vehicle.
But the devices I've covered here are not all equal, as some of them can only heat liquids, not boil them. This might be good enough for your needs though.
My biggest advice would be to choose a device that operates off of your car's cigarette lighter port - and doesn't require plugging into an inverter or portable power station - as this is the easiest and least expensive option.
The need to boil water when on the road is very great, as it can be used for making beverages, preparing meals, showering, and accomplishes many other tasks.
While all of the devices I've mentioned work great, some will take longer to boil than others. For most of us, a few extra minutes isn't a big deal, however, if you tend to be impatient, consider an option that can get the water hotter faster. If going this route…
Do understand that you may have to invest in an inverter or power station, because generally speaking, these devices require more power draw, which is how they reach the boiling point more quickly.
You are now armed with many possibilities. Go for the one that suits your needs the best, and let me know if you have any questions.
LIVE WISELY, LIVE WELL!