Car Camping Storage Ideas: Tips, Tricks & Hacks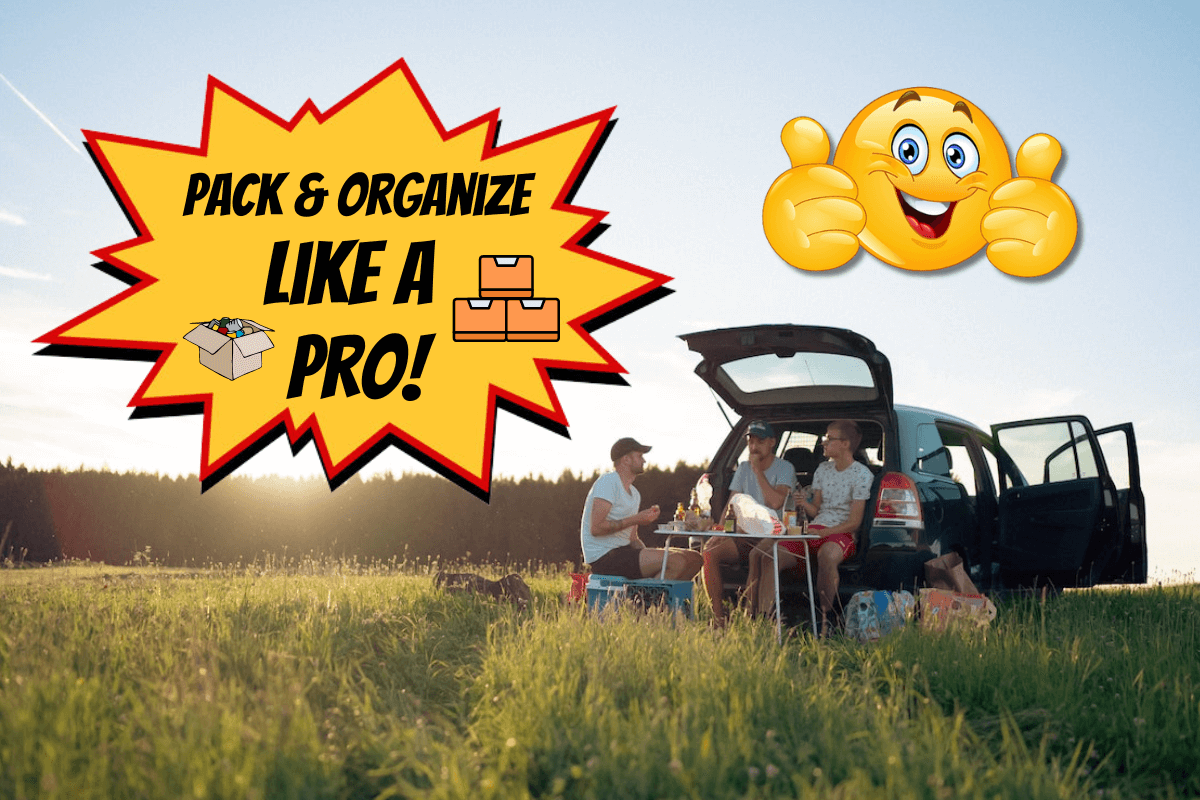 When it comes to living in a vehicle - either full-time or just on shorter camping trips - knowing the right car camping storage solutions can make all the difference.
Not only do good storage techniques help keep your gear organized, but it can also free up valuable space in your vehicle and make packing and unpacking a breeze.
In this article, I'll explore some of the most popular types of storage solutions and provide tips on how to choose the best options for your needs.
And away we go!
---
Car Camping Storage Ideas
Outer Car Camping Storage Solutions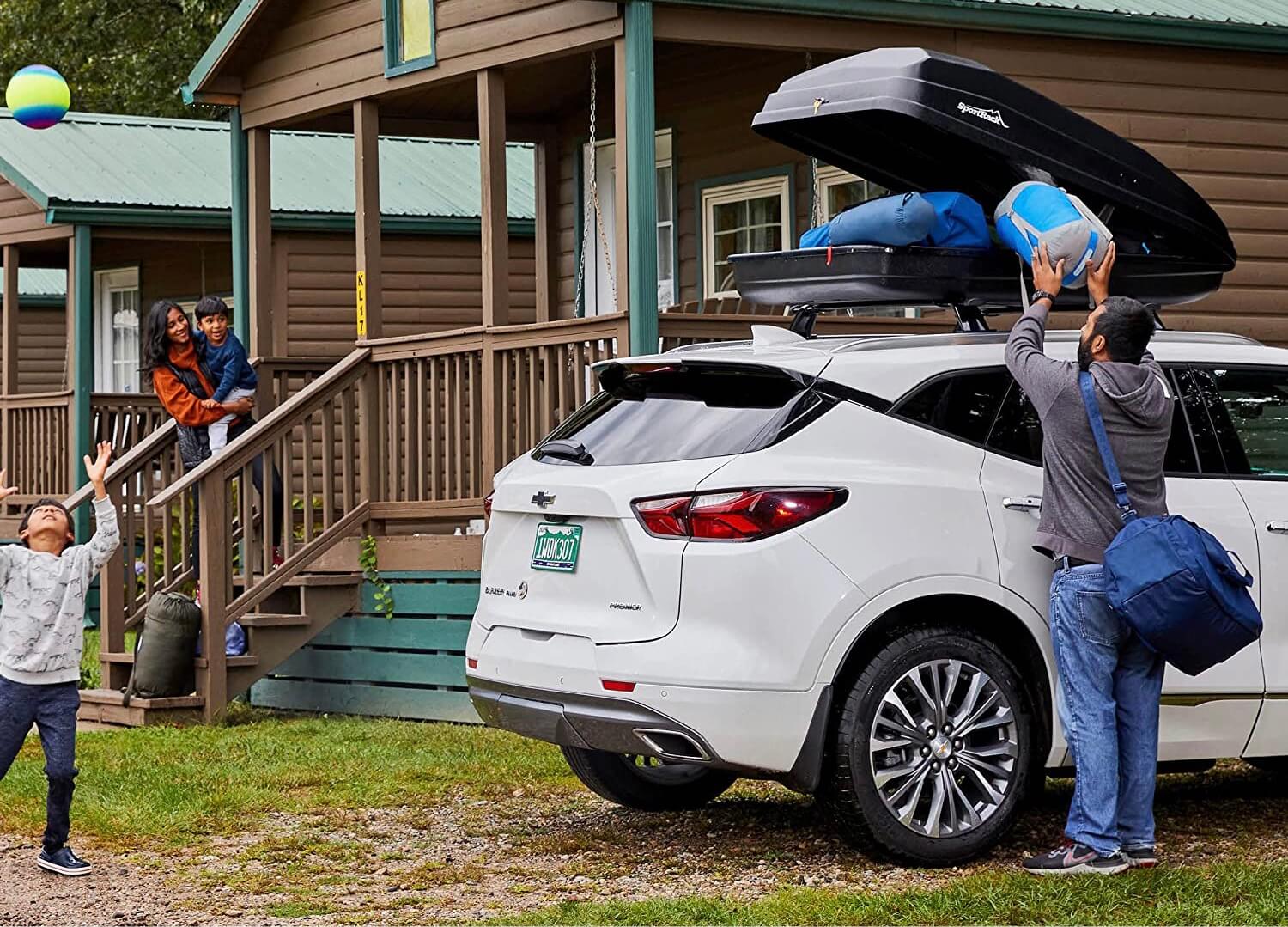 Roof Racks
One of the most common types of car camping storage options is a roof rack.
These are typically affixed to the roof of your vehicle and provide mounting points to tie down items such as tents, sleeping bags, kayaks, camping chairs, etc.
---
Cargo Boxes
Not everyone is lucky enough to travel in a big RV. If you'll be living in a smaller vehicle, there's only so much available space you'll have inside to store your belongings.
One of the best camping storage hacks is to get as much of your stuff OUT of the vehicle, and into a roof-top cargo box.
These storage boxes come in a wide variety of sizes, shapes, etc., but they all do the same thing, which is to provide a larger amount of space to stow your goods. Think of them like closets for your vehicle!
You can buy cargo boxes that are soft-sided or hard-sided, and while both will work, I strongly recommend the hard-sided types. They are a LOT more durable, easier to get stuff in & out of, and most importantly, are better at preventing theft, as they can't be cut open and usually have a locking mechanism of some sort.
---
Roof Rack Cargo Baskets
Roof rack cargo baskets are ingenious storage devices. They attach to your vehicle's roof racks, and can hold a large amount of small to mid-sized items.
You can secure your belongings with bungee cords or tie-down straps during transport.
Cargo baskets come in a wide variety of styles, sizes and shapes, depending on your needs.
The really nice thing about these baskets is that they can easily be removed when not needed, so one doesn't have to live on top of your vehicle forever.
Hitch Racks
A car hitch rack is a type of cargo carrier that attaches to the hitch receiver on the back of your vehicle.
It is designed to provide additional storage space for bulky items such as bikes, skis, or camping gear that may not fit inside your vehicle. Hitch racks come in assorted sizes and styles to accommodate different types of cargo and vehicles.
One of the biggest benefits of using a car hitch rack is the added storage space it provides. Instead of cramming all your gear inside your car or SUV, a hitch rack allows you to bring everything you need for your outdoor adventure without sacrificing comfort or safety.
A hitch rack really frees up a vehicle's interior space, making your trip more comfortable and allowing you to bring along more passengers or pets.
Another advantage of a car hitch rack is its versatility. Most hitch racks can be easily removed when not in use, and some even fold down for easy storage.
Many hitch racks are designed to be adjustable and can be customized to fit your specific needs, whether you wish to transport multiple bikes, skis, or camping gear.
---
Inner Car Camping Storage Solutions
Storage Bins
One of the most popular items to use is a plastic storage bin or container. These come in a variety of sizes and shapes, and can be placed in the trunk, the cargo area of your vehicle, or even on the seats.
They are perfect to help stay organized, and can house smaller items such as cooking utensils, clothes, food, and will help keep everything easily accessible and in its place.
Some cargo organizers even come with multiple compartments and dividers, making it easy to keep different types of gear separate and organized.
Collapsible, stackable bins are super convenient! These can be broken down when not in use to free up extra room.
Seat Organizers
Another in-car storage option to consider is a seat back organizer. These are designed to fit over the back of your car seats, and are perfect for storing items that you want to keep within easy reach, such as snacks, water bottles, electronics, toiletries, etc.
Most seat back organizers even have built-in tablet holders, making them great for watching movies and videos when sleeping or sitting in the back seats.
Cargo Nets
Cargo nets are very handy! You can attach these to the interior roof of your vehicle, and store an array of lighter items like; undergarments, washcloths, paper goods, etc.
If you will be living in a smaller vehicle like a car, cargo nets can help free up a LOT of extra space.
Pop-up Garbage Cans & Laundry Hampers
I use a small pop-up laundry hamper for my dirty clothes, and it's a lifesaver. Since it's totally collapsible, it doesn't take up any important space when not needed.
And they aren't just limited to clothes! You can store almost anything in these: dry foods, toiletries, bedding items, etc.
---
Camp Kitchen - Camping Food Storage Solutions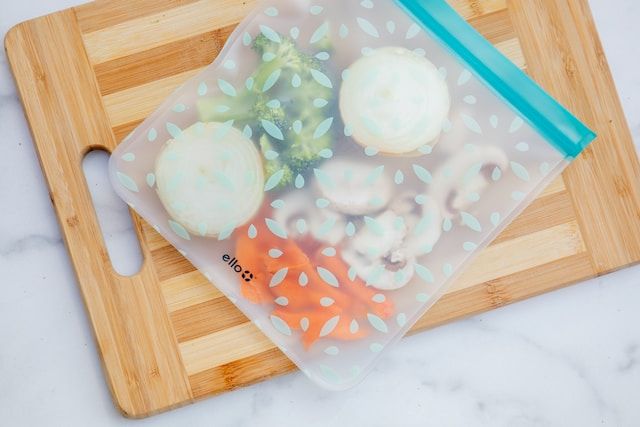 Living in a car can present unique challenges when it comes to food storage, but not anymore! Use these tips to keep everything fresh, and to help maximize the space in your vehicle.
1. Use a Cooler or 12V Refrigerator: One of the most effective ways to store your food items in a vehicle is by using a cooler or 12v refrigerator.
These will allow you to separate foods that are temperature sensitive versus those that aren't (dry goods). This is not only great for storage reasons, but will also help a lot with organization.
On top of all that, using a cooler or refrigerator will keep your food fresh and prevent spoilage.
Coolers are fridges come in various sizes, making them a popular option for vehicle-dwellers.
12V refrigerators are designed specifically for vehicle use and can be powered by your car's battery or a portable power station. They are more expensive than coolers, but they can keep your food at a consistent temperature and are better at keeping food from spoiling.
2. Use Ziploc Bags: From fruits and veggies, to condiments and leftovers, Ziploc bags are a food storage godsend to vehicle-dwellers!
These make sorting and organizing foods so much easier. They are also incredible at preventing spills, leaks and messes.
3. Use Tupperware: Plastic Tupperware containers are perfect for storing just about everything. Leftovers, pasta, rice, cereal, pre-made meals, sandwiches, etc. They help to keep your food fresh and prevent pests from getting in.
4. Plan Your Meals: Planning your meals ahead of time has several important benefits. This practice not only helps to save money by forcing you to buy less food, but it will also save space because you won't be stuck with a ton of stuff that you don't have room for.
Another bonus is that it prevents wasted food that might go bad before it's eaten.
5. Properly Dispose of Food Waste: Everything takes up space in a vehicle, even garbage.
Properly disposing of food scraps and other trash is essential when living in a car.
Food scraps can also attract pests and rodents, and will cause unpleasant odors.
---
Camping Organization - Storage Solution Factors to Consider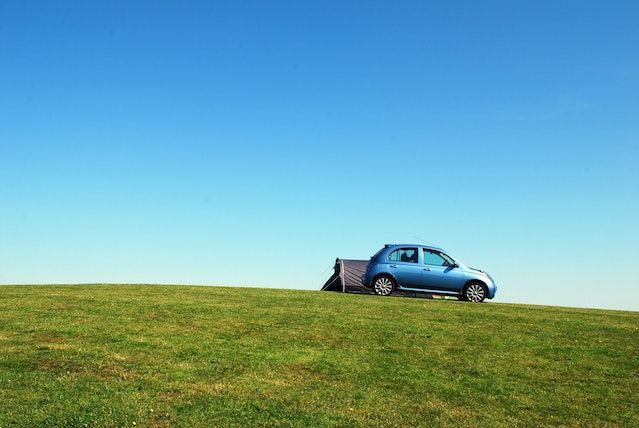 One of the most important factors to consider is the size and type of your vehicle.
If you have a very tiny compact car you may need to focus on smaller storage options such as seat back organizers or trunk organizers.
However, if you have a larger car, SUV or van, you may have more room for bigger storage options such as cargo baskets or cargo hitch boxes.
Another thing to think about is the type of camping you'll be doing.
If you usually go camping in remote areas where you have to carry all of your gear with you - tents, sleeping bags, cooking equipment, etc. - a rooftop cargo box is probably going to serve you best.
On the other hand, if you'll be camping in a designated campsite with amenities such as restrooms and picnic tables, or maybe even stealth camping in a urban environment, you should be able to get by with smaller solutions like plastic storage bins.
Make sure you choose storage devices that are both sturdy and lightweight, and avoid overpacking by only bringing the gear you really need for your trip.
---
How to Organize Your Camping Gear: 11 Ideas & Tips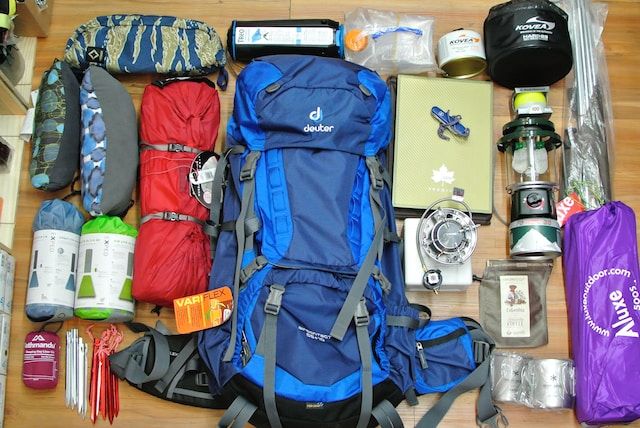 1. Pack heavier items at the bottom of your storage bins to avoid crushing lighter items.
2. Use vacuum-sealed bags for clothing and bedding to save space and keep items organized.
3. Keep frequently used items, such as water bottles, food, snacks and hygiene essentials within easy reach.
4. Use a small laundry bag or hamper to keep dirty clothes separate from clean ones.
5. Label your storage bins with clear and descriptive labels to help you quickly find what you need.
6. Use lightweight and collapsible gear, such as chairs, tables and storage bins to save space and make packing easier.
7. Pack shoes and boots in plastic bags to keep them separate from other items and prevent them from getting dirty.
8. Keep important documents and valuables such as passports, cash and i.d. cards, in a separate, easily accessible container.
9. Create a first-aid kit with essential items such as bandages, gauze, and antiseptic wipes. This should be a must on any car camping trip.
10. Pack a small tool kit with basic items such as pliers, a socket wrench, screwdrivers, etc.
11. Use mesh storage bags to allow wet or damp items such as towels and bathing suits to air out and dry.
---
Questions & Answers
Q: What type of storage containers are best for car camping?
A: The best type of storage bins are those that are durable, waterproof, stackable, and collapsible. Look for containers made from heavy-duty plastic, with secure locking mechanisms and handles for easy transport. Also, consider bins that have drawers, as these can allow you to separate items better and avoid misplacing your belongings.
Q: How do I keep my food cold while car camping?
A: The easiest way to keep your food cold is to use a portable cooler. Look for a cooler with thick insulation and a tight-fitting lid. Use ice packs or frozen water bottles to keep your food cold, and keep the cooler out of direct sunlight.
Another option is a 12v refrigerator. These are fairly inexpensive and work really well at keeping foods at the right temperatures. Of course, you will need a way to keep a refrigerator powered continuously if you'll be living in a vehicle for long periods. A portable power station is one of the best ways to accomplish this.
Q: What should I pack in my storage containers?
A: Pack essential items such as bedding, clothing, cookware and utensils, food, water, and any necessary camping gear such as tents, sleeping bags, and camping chairs. Make sure to also pack a first aid kit, insect repellent, sunscreen, medications, important documents, and any other personal items you may need.
Q: How can I maximize space when living in my vehicle, or when packing for a camping trip?
A: To maximize space in your vehicle, pack items in stackable containers and organize them based on priority and accessibility. Use vacuum-sealed bags for bulky items such as sleeping bags and pillows, and consider using a roof rack or hitch rack for larger items such as suitcases, bikes or kayaks.
Q: How do I keep my camping gear organized in the car?
A: Use storage containers or packing cubes to keep your gear organized and easy to find. Clear storage boxes are excellent choices, as you can easily see the inner contents of each box from the outside.
Label your containers for easy identification, and pack items based on their frequency of use. You can also color code your storage boxes to help remember where everything is.
Q: Can I store my gear in the car when I'm not camping?
A: It is generally safe to store camping gear in your car as long as it is kept in a secure location. Also, make sure it isn't obstructing your view or hindering your ability to drive safely.
Q: Should I invest in a roof rack, hitch rack or cargo box for all of my gear?
A: The decision to invest in a roof rack, hitch rack or cargo box depends on the type and amount of gear you plan to bring on your outing.
Roof racks are ideal for bulky items such as kayaks and bigger luggage bags. Cargo boxes are perfect for smaller items like clothes, electronics, cooking gear, etc. While hitch racks are great for bikes, wheelchairs and other equipment that can be easily loaded and unloaded.
Q: How do I secure my gear during transport?
A: Use tie-down straps or bungee cords to secure your gear to your roof or hitch rack, and make sure that all items are securely fastened before driving. Check your tie-downs periodically during your trip to ensure that they remain tight.
Cargo boxes are secure once they're shut closed and locked.
Q: How do I protect my gear from theft?
A: Keep your gear out of sight by covering it with a tarp and/or by using a locking cargo box. Park in well-lit areas and use a car alarm to deter thieves.
Q: How do I clean and store my belongings while on the road?
A: Clean your gear (clothes, bedding, etc.) regularly to prevent mold and mildew from forming. You can use a laundromat in any town or city. Another option is to wash your clothes by hand in a sink using some gentle cleanser and warm water, and then hang them up to air dry.
Q: Can I use regular household storage containers for car camping?
A: You can absolutely use regular household storage containers for storing gear, though they may not be as durable or convenient as containers designed specifically for heavy-duty use. Household containers usually aren't collapsible either.
Q: How do you store dirty clothes when camping?
A: A laundry bag or collapsible hamper can be used to store your dirty clothes and keep them separate from clean items.
Q: How can I access my belongings at night when it's dark?
If your belongings are located inside of your vehicle in storage boxes, the easiest way is to use the interiors lights on your car. Turning these on will allow you to see what you're doing, and will help you hunt down what you're looking for.
Another option is to use a headlamp or flashlight. If your belongings are outside of your car - like in a cargo box or trailer hitch - these devices will make finding things much easier.
---
Final Thoughts
Storing things properly for car camping in your vehicle doesn't have to be complicated or stressful.
Just follow the advice in this article and you'll be fine.
ALWAYS try to pack as lightly as possible, and bring as few items as you can. This will not only lead to an easier packing experience, but will also preserve more space for you to enjoy on the inside of your car.
The less things you take with you and have to fret over, the more you can soak in the travel adventure and your surroundings.
LIVE WISELY, LIVE WELL!