Coachella Car Camping: Best Tips to Rock the Festival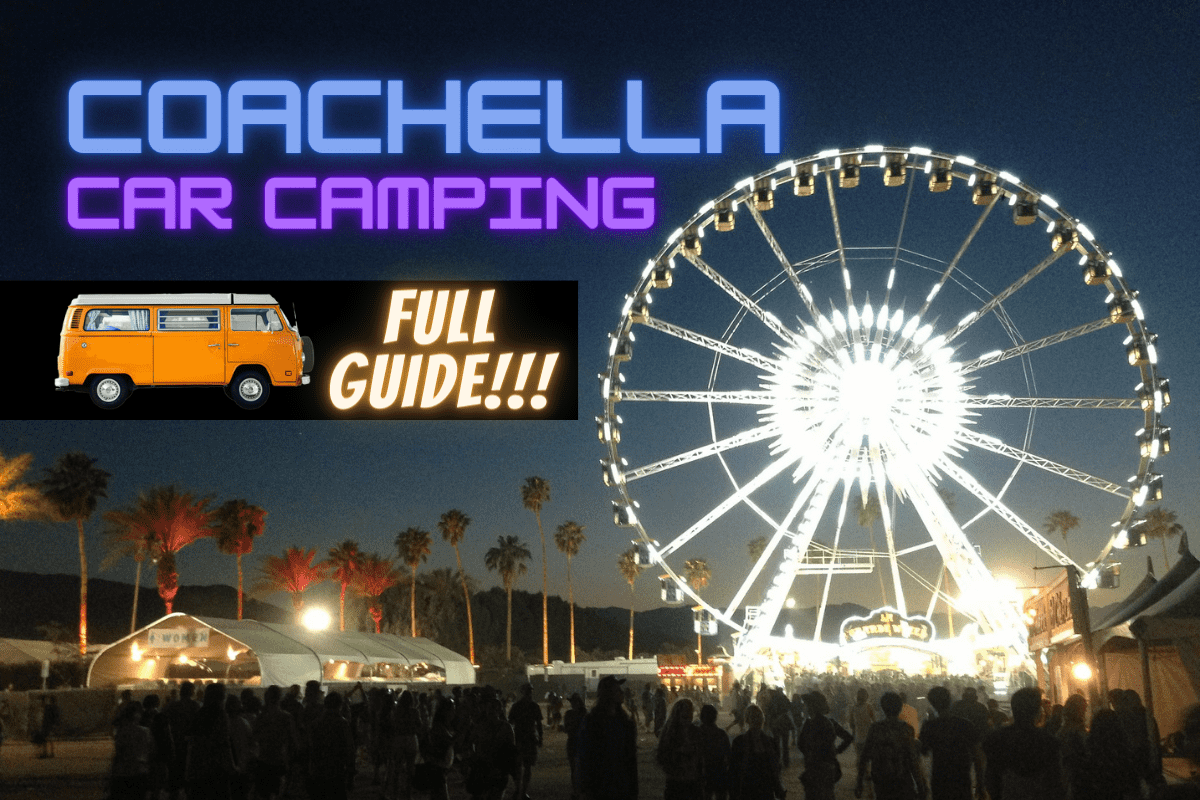 Yes, Coachella camping is a thing! More specifically, Coachella car camping. It's currently on my bucket list, as I have several friends who've been there, and according to them, it is A-M-A-Z-I-N-G!!!
If you're planning to attend this legendary event, or perhaps just looking for some more information, this helpful article will walk you through EVERYTHING you need to know.
I've gotten the entire skinny from my good friends, and trust me, their advice will ensure that your experience rocks.
Let's get into it…
Key Takeaways: While car camping at Coachella is an incredible experience, it is also a crowded, chaotic environment. Proper planning and preparation is vital if you wish to have a smooth, trouble-free trip. This includes bringing along any essentials that will provide extra comfort and convenience, like; sleeping bags, sunscreen, food, etc.
As an Amazon associate, I earn from any purchases you make at no extra cost to you.
The Basics: What is Coachella?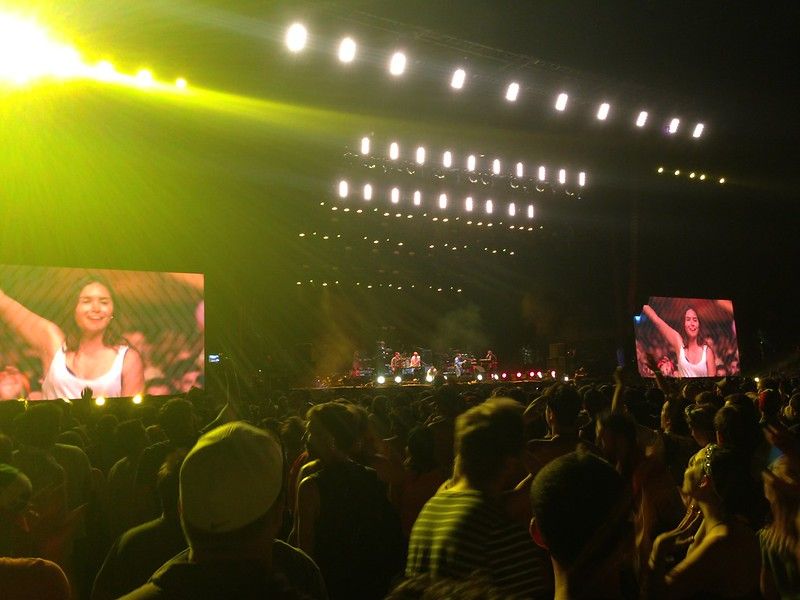 The Coachella Valley Music and Arts Festival, commonly referred to as Coachella, is an annual multi-genre music festival held in Indio, California.
Located in the heart of Southern California, it takes place over two weekends in April across a sprawling desert landscape perfect for immersive art installations and awe-inspiring performances.
As you make your way through this iconic event, you'll encounter an array of music, from rock, indie, hip hop, to electronic dance music across multiple stages. With a diverse lineup of talented artists and unique experiences, there's always something to cater to your taste and fuel your creativity.
But Coachella isn't just about music. It's a cultural experience, showcasing various forms of visual art and cutting-edge technology. From mesmerizing demonstrations to live mural painting, you'll have a chance to witness the creative spirit on full display.
A significant aspect of the festival experience is the car camping option, allowing you to create a personalized weekend oasis with your friends and fellow festival-goers. Not only does it help combat the desert heat, but it also fosters community and connection among attendees.
---
How Do Coachella Car Camping Passes Work?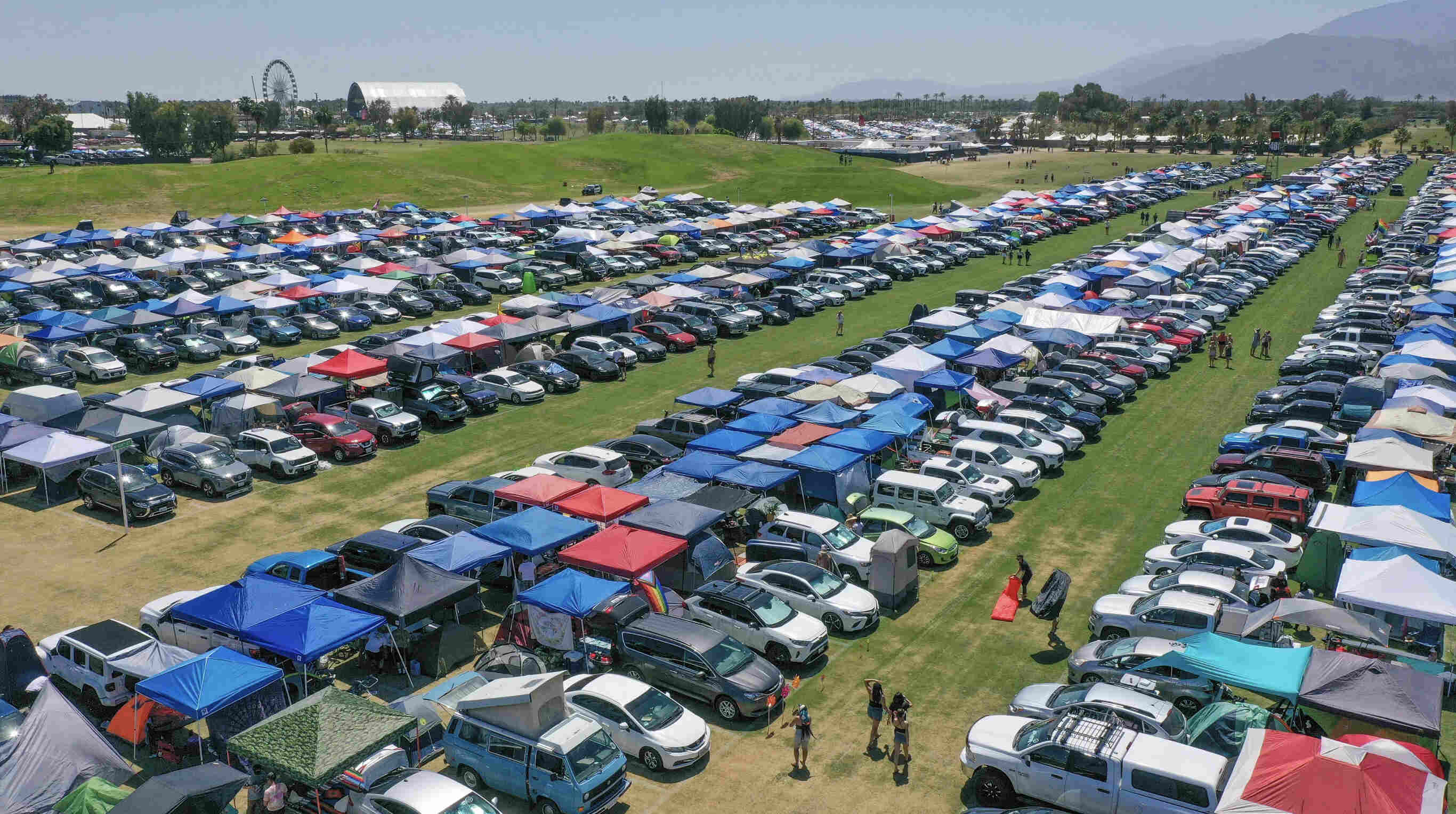 When you purchase a car camping pass, it allows you to park your vehicle at the campground and stay overnight for the duration of the festival.
Each car camping spot is 10'x30', and you only need one car camping pass per car. Once you park your vehicle at the campsite, it must remain in its spot for the entire weekend with no in-and-out driving privileges.
To access car camping, you will need a car camping pass in addition to your festival pass. Also, remember that everyone in your vehicle must have their own valid festival pass and wristband to enter the campground.
Check-in for car camping usually begins on Thursday at 9am and continues throughout the weekend. Keep your car camping pass and festival tickets handy at check-in. Once your vehicle and wristbands have been verified, you will be directed to your campsite.
If you'll be attending with friends in separate vehicles, make sure to arrive together, as there is no guarantee that you will be placed next to each other if you come separately. It's essential to coordinate your arrival and communicate with your group.
---
How Much is Car Camping at Coachella?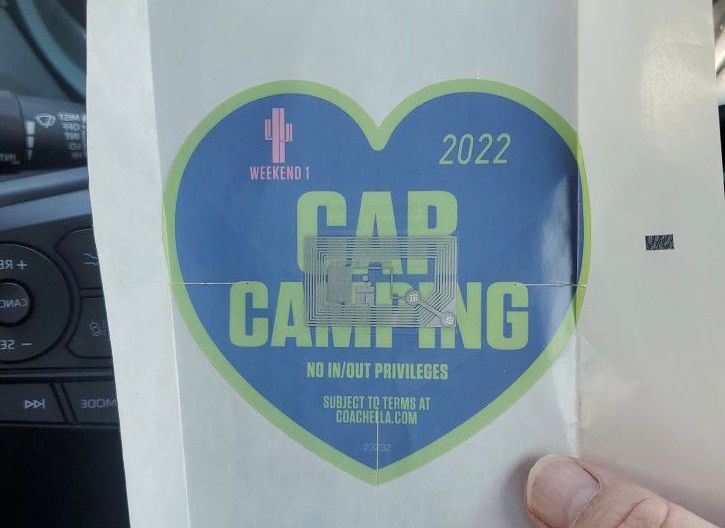 There are different types of car camping passes available at Coachella, each with varying prices. Here is a breakdown of the pass options and their costs:
💡
Remember, these are the prices only for car camping passes. Festival passes are completely separate.
General Car Camping Pass: This standard option offers a 10x30 feet space for your vehicle and tent. Prices typically start at around $149 plus fees.
Preferred Car Camping Pass: With this pass, you'll receive a designated spot closer to the festival entrance. The price for this upgrade is usually higher than the General Car Camping Pass and can be around $325 plus fees.
Car Camping Companion Pass: If you'll be traveling with friends or family, and they will be using a separate vehicle, a car camping companion pass can be purchased for $199 plus fees.
While anyone with a general festival admission wristband can enter the main campground, guests you bring that have separate vehicles cannot park there without an actual car camping pass. They will need to buy their own car camping pass to park in the main campground.
If they do not wish to do this, they can purchase the car camping companion pass mentioned above, instead. This allows parking in a separate, designated companion camping section. These sell for $199 plus fees.
Keep in mind that the cost of car camping passes may be influenced by several factors:
Time of Purchase: Pass prices may fluctuate, so it's wise to secure yours early to ensure the best price.
Demand and Availability: As the festival date approaches, camping passes may become scarce, potentially driving up prices.
Secondary Market: If you're unable to secure a camping pass through the official Coachella website, you may need to explore secondary market options, which can result in higher prices.
💡
Coachella doesn't allow RVs or motorhomes, only cars, vans, SUVs, trucks, etc. No vehicles with running water/toilets are permitted in the car camping area.
---
Best Coachella Car Camping Setup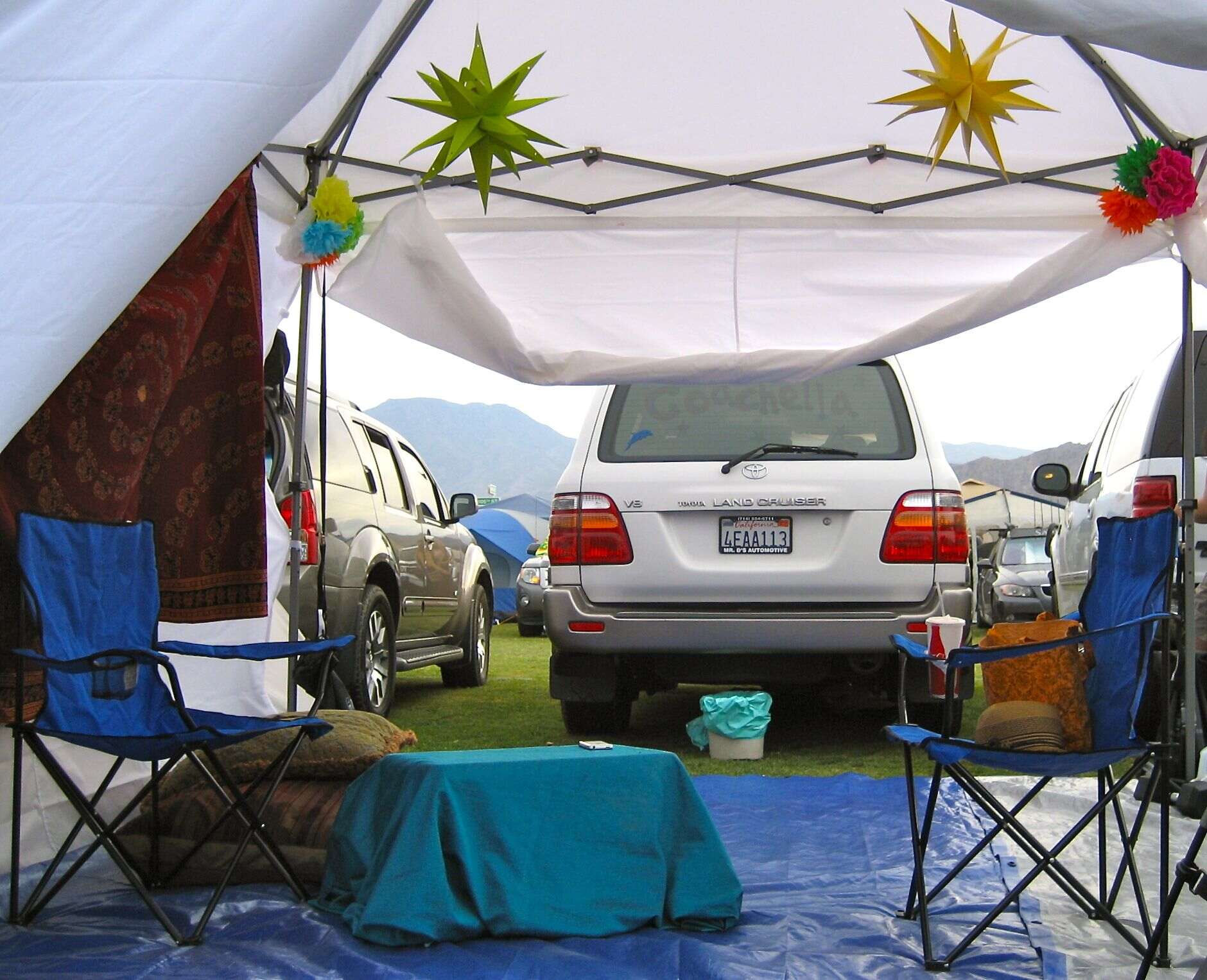 Whether you're a seasoned festival-goer or this is your first time at Coachella, having the best car camping setup as possible will make your stay much easier. Enjoying other aspects of the festival will be heightened, too. Follow these tips:
For a full list of recommended car camping gear, scroll down to the FAQ section.
Choose your camping spot wisely. Arrive early and claim a space that is closest to the venue entrance and amenities like restrooms, showers, or food vendors. Keep in mind that the car camping spots are first-come, first-served, so arriving early will make a huge difference in where you are located. Also…
Those who purchase Preferred camping passes will likely gain access to more premium parking areas. These people will snag the most convenient spots. But even if you don't opt for the upgraded passes, getting there early will still give you a huge leg up when it comes to finding good parking.
Set up a proper tent and canopy. Choose a spacious tent that is easy to set up and can comfortably accommodate all members of your group. For additional comfort and shade, invest in a straight-legged EZ-Up canopy. Make sure to stake down your canopy with plastic stakes as metal stakes will be confiscated by security. Use a mallet to secure them properly.
Stay cool and hydrated. Fighting the heat is essential when camping at Coachella. Bring a large cooler filled with frozen water bottles, which can keep your food and drinks cool while also providing cold water as they melt. Additionally, ensure you have enough water to stay hydrated throughout the festival.
Create a comfortable seating area. After a long day of music and dancing, you'll want a comfortable place to chill and rest. Bring foldable chairs, a small portable table, and a soft, durable rug to create a cozy hangout spot for you and your fellow campers.
---
Coachella Preferred Car Camping Passes: Are They Worth it?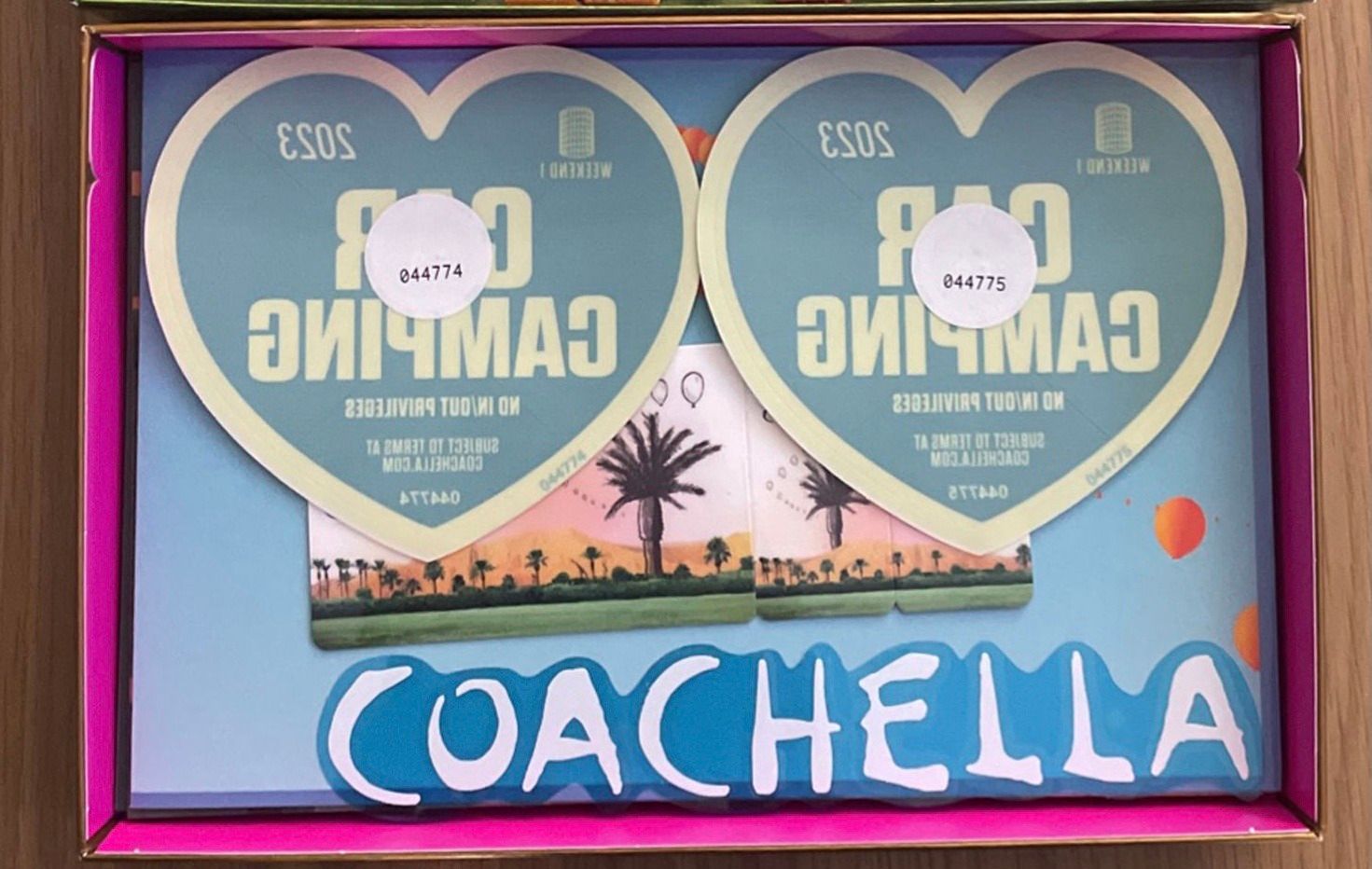 Preferred car camping passes at Coachella offers a more convenient and exclusive camping experience for festival-goers.
Purchasing these passes entitles you to certain upgrades like the luxury of parking closer to the venue entrance. This means shorter walking distances to the festival grounds, resulting in less time on your feet and more time enjoying the event. In addition…
You can also take advantage of a much faster and hassle-free entry. Some people have reported driving through the security checkpoint and parking in less than five minutes!
If you have the extra money - and can afford to spend it - buying a Preferred car camping pass will definitely save you time and stress when at the festival. Being able to jump ahead in lines and having the ability to park in more convenient areas is a major plus…in addition to any other perks you get.
---
Coachella Car Camping Rules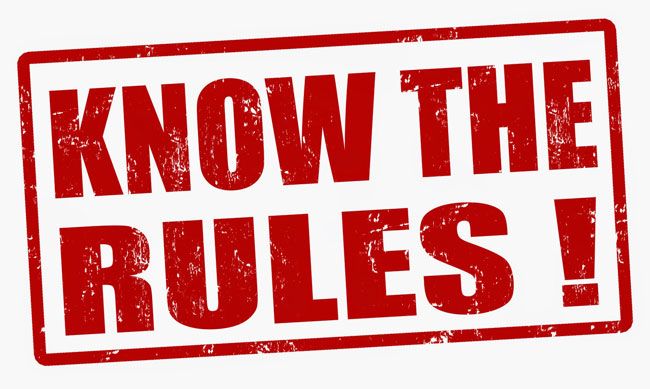 With thousands upon thousands of attendees each year, Coachella does indeed have strict rules in place. These prevent the event from turning into a free-for-all, and better helps with the organization of running such a massive operation.
As mentioned earlier, motorcycles, RVs, trailers, motorhomes, buses, and U-Haul trucks are not permitted. Only passenger cars, trucks, and vans are allowed in the designated car camping spots, which measure 10x30 feet. You can have as many people camp in your spot as you can comfortably fit.

Cooking inside vehicles is strictly prohibited for the safety of everyone at the festival.

It's crucial to respect the noise curfew at Coachella. While enjoying music and fun with friends is encouraged, being mindful of your neighbors and the curfew will help everyone get their much-needed rest after a long day of revelry.

In terms of alcohol, you are allowed to bring a reasonable amount for personal consumption. 1 case of beer cans or box of wine is permitted per camper (21+).

Glass bottles of ANY kind (including alcohol) are not allowed.

When it comes to open flames, Coachella strictly prohibits them to ensure the safety of all campers. This means no campfires or fire pits are allowed. You can, however, bring a small portable propane stove for cooking your meals.

Make sure not to bring prohibited items into the camping area. Some banned items include professional cameras, drones, remote control vehicles, drugs, and drug paraphernalia. Prescription medications must be in properly labeled containers that match the holder's ID.
---
Showering at Coachella: How it Works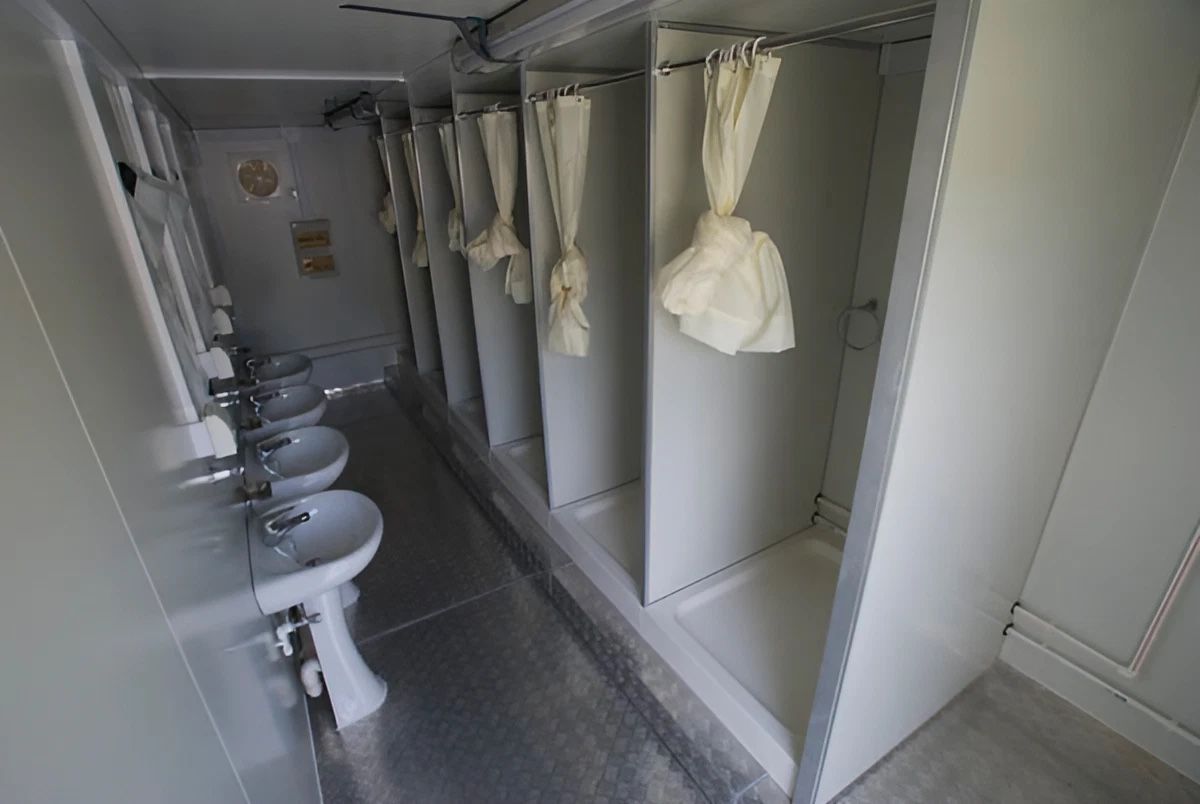 Yes, there ARE showers at Coachella!
The shower facilities are located in designated areas throughout the festival grounds. These areas are typically marked on the festival map, and are easily accessible to all attendees.
The showers themselves are housed in large, temporary structures (typically trailers) that are set up specifically for the festival. Inside each structure, there are rows of individual shower stalls that are separated by curtains for privacy.
To use the showers, festival-goers must purchase a shower pass. These passes can be purchased on-site at the festival itself. The passes typically cost around $10-$15, and allow the holder to take one shower.
Each shower stall is equipped with a button that activates the water flow, and the water temperature can be adjusted to the user's liking.
While the shower facilities at Coachella are certainly not luxurious, they do provide a much-needed respite from the heat and dust of the festival.
💡
The lines for the showers can be VERY long, especially during peak hours!!! Be prepared for this. PRO TIP: Try to get your showers done in the early morning, between 6-8, as they are much less crowded during these times.
---
Coachella Car Camping Tips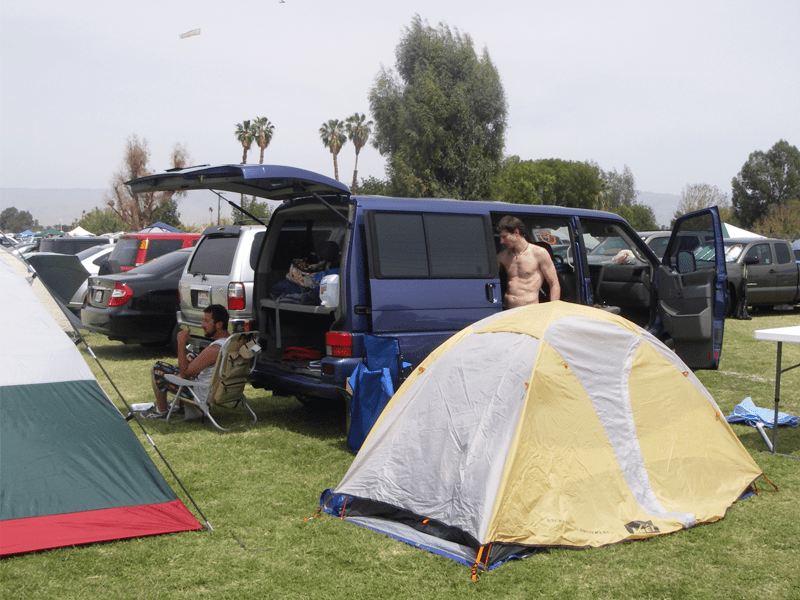 Arrive prepared! Car camping at Coachella allows you the convenience of parking your vehicle alongside your campsite, giving you ample space (10'X30') to construct a comfortable camp setup. Be sure to bring a straight-legged EZ-Up for shade and protection against the elements. Don't forget to secure it with plastic stakes and a mallet, as metal stakes are prohibited and will be confiscated by security.

Use sunscreen. The desert sun can be relentless, so sunscreen is a must. Apply it liberally and frequently throughout the day.

Water, water, water! It's critical to stay hydrated, so bring enough bottled water and/or take advantage of the water refill stations within the festival grounds. Carry a reusable water bottle with you for easy refills as well.

Bring an ample supply of food. For your meals, pack food and drinks that can be easily stored and consumed. Bring non-perishable items or things that won't spoil in the desert heat (protein bars, canned tuna, peanut butter, etc.). Also, keep in mind the festival's regulations and restrictions when packing food and beverages.
Use earplugs! A good night's rest is crucial to fully enjoy the festival, so pack earplugs to block out surrounding noise and ensure restful sleep. It's also a good idea to bring extra blankets or padding for comfort, as the desert ground can be hard and uneven.

Make yourself at home. Take advantage of the camping hub located within the festival grounds. This centralized area provides amenities such as showers, restrooms, and additional water refill stations. Participate in the activities offered at the camping hub to enhance your overall Coachella experience and connect with fellow campers.
---
Frequently Asked Questions
What car camping essentials should I bring to Coachella?
To ensure a comfortable and enjoyable experience, try to bring as many of the following essentials as possible…
A canopy or shade structure to stay cool and block the sun at your campsite. HIGHLY recommended!
A camping stove to cook your meals (must use propane canisters only)
Appropriately sized cooler for storing food and drinks
Folding chairs and tables for seating and surface space
Sleeping gear, such as a tent, sleeping bag, or air mattress
Reusable water bottles and hydration packs
Flashlights or lanterns for nighttime visibility
Sunscreen, hats, and sunglasses for sun protection
Ponchos (in the event of rain)
Earplugs for quality sleep during loud festival hours
How much does car camping cost at Coachella?
Car camping costs for Coachella may vary year to year, and depends on which passes you buy. Be sure to check the official festival website for the most up-to-date pricing information on car camping passes.
Do they have showers at Coachella?
Yes, showers are available at Coachella. They usually run anywhere from $10-$15.
💡
Be sure to bring towels, as Coachella does not supply them!
Do they have locker rentals at Coachella?
Yes, lockers are available to rent, and you can reserve them on the Coachella website. The lockers are located inside the venue, and are good all weekend. They have medium, large, and extra large lockers, and they're priced at $79-$99 plus fees.
How can I purchase a car camping pass for Coachella?
To purchase a car camping pass for Coachella, visit the festival's official website.
What is the size limit for car camping spaces at Coachella?
Car camping spaces at Coachella typically measure approximately 10'x30' feet. Check the festival's website for any updates or changes to space dimensions for the current event year.
Is a tent required at the Coachella campground?
No, it is not. But unless you'll be sleeping in your car, it is highly recommended for comfort and privacy reasons.
Can you sleep in your car at Coachella?
Yes, sleeping in your car is permitted. This is a great option if the weather is bad, your forgot to bring a sleeping bag and tent, or maybe just because it's more comfortable for you.
Can I bring food and drinks to Coachella, including alcohol?
All of the above is fine to bring to the festival. I recommend buying a good quality cooler to store everything. It will not only make life easier from a packing standpoint, but the cooler will keep your drinks cold and any foods fresh.
Campers (21+) and vehicles are allowed to bring 1 case of beer cans or a box of wine.
💡
Glass bottles of any kind are not allowed at Coachella.
Is there a general store or a place to buy essentials at Coachella?
Yes, there are many options at the festival to buy needed items. There are little sheds/kiosks located throughout, that sell everything from water, to food, sunglasses, etc. Do keep in mind however that prices can be insanely expensive. If you're on a budget, I'd recommend taking as much stuff as you can, to avoid having your wallet drained.
What's the minimum age requirement to attend Coachella?
All attendees must be 18 years or older. If they are not, they must be accompanied by a legal guardian who is.
Is car camping at Coachella safe?
Security has a very big presence at the festival, so it's rare that any major crime takes place. However, lots of people are drinking, acting rowdy, etc., so, always be on guard and watch your back, as well as your belongings. The likelihood of being victimized at Coachella is tiny, but do take sensible, common-sense precautions…especially when it comes to any valuables.
Are Coachella car camping passes transferable, or can they be sold?
The answer to both questions is yes. Anyone is free to give away or sell their camping passes, if they so choose.
What is a Coachella car camping companion pass?
While anyone with a general festival admission wristband can enter the main campground, guests you bring that have separate vehicles cannot park there without an actual car camping pass. They will need to buy their own car camping pass to park in the main campground.
If they do not wish to do this, they can purchase a car camping companion pass instead, which allows parking in a separate, designated companion camping section. These sell for $199 plus fees.
Companion passes are very limited in quantity, so be sure to purchase them in advance.
Can campers leave the car camping area early during Coachella?
There is a general "no in & out" policy when it comes to car camping at the festival, as this practice causes huge headaches, traffic congestion, and safety concerns.
Of course, if you need to leave early for an emergency or some other critical reason, make sure to alert security personnel, and be sure to follow the instructions provided by event staff and be aware of any restrictions or guidelines in place. Also, once you do leave, it is very difficult - if not impossible to get back in, especially at your prior spot.
Are generators allowed at Coachella?
No, generators are not allowed at the festival.
Are backpacks allowed at Coachella?
Yes, backpacks are allowed, provided they aren't overly large or bulky.
How many people can I have at my campsite?
There is no limit. As many as can fit comfortably is permitted.
Can I stay at the Coachella campsite between festival weekend shows?
No camping is allowed during the week between the two weekend events.
How many tents can fit in a car camping spot at Coachella?
It obviously depends up the size and dimensions of the tents, but 2-3 should be able to fit pretty easily.
Are dogs allowed at Coachella?
No dogs - or any other pets - are permitted at Coachella.
Is smoking or vaping allowed at Coachella?
Yes, but only in designated smoking areas at the festival.
Are RVs and motorhomes allowed at Coachella?
No, they are not. Same goes for U-Haul trucks. Only cars, SUVs, vans, etc.
Can I tent camp in a car camping spot at Coachella without a vehicle?
No, this is not permitted. A car camping spot must have a car parked on it. You cannot have a tent only.
Are there metal detector checkpoints at Coachella?
Yes, festival attendees must pass thru several security checkpoints. Aside from walk-through metal detectors, there are also bag checks, and other requirements.
---
Final Thoughts
While car camping at Coachella is more like glamping, the bottom line is that it's a blast!
Whether you choose a standard car camping pass, or opt for a preferred camping pass (or even a companion pass), really doesn't matter much at the end of the day, as it's the EXPERIENCE of attending the festival that counts.
My most important suggestions are that you plan throughly before getting there, and be sure not to forgot the important Coachella essentials that I covered earlier.
Now that you're armed with the right information, attending the festival will be a piece of cake!
LIVE WISELY, LIVE WELL!