Complete Guide: How to Cook Food When Living in a Car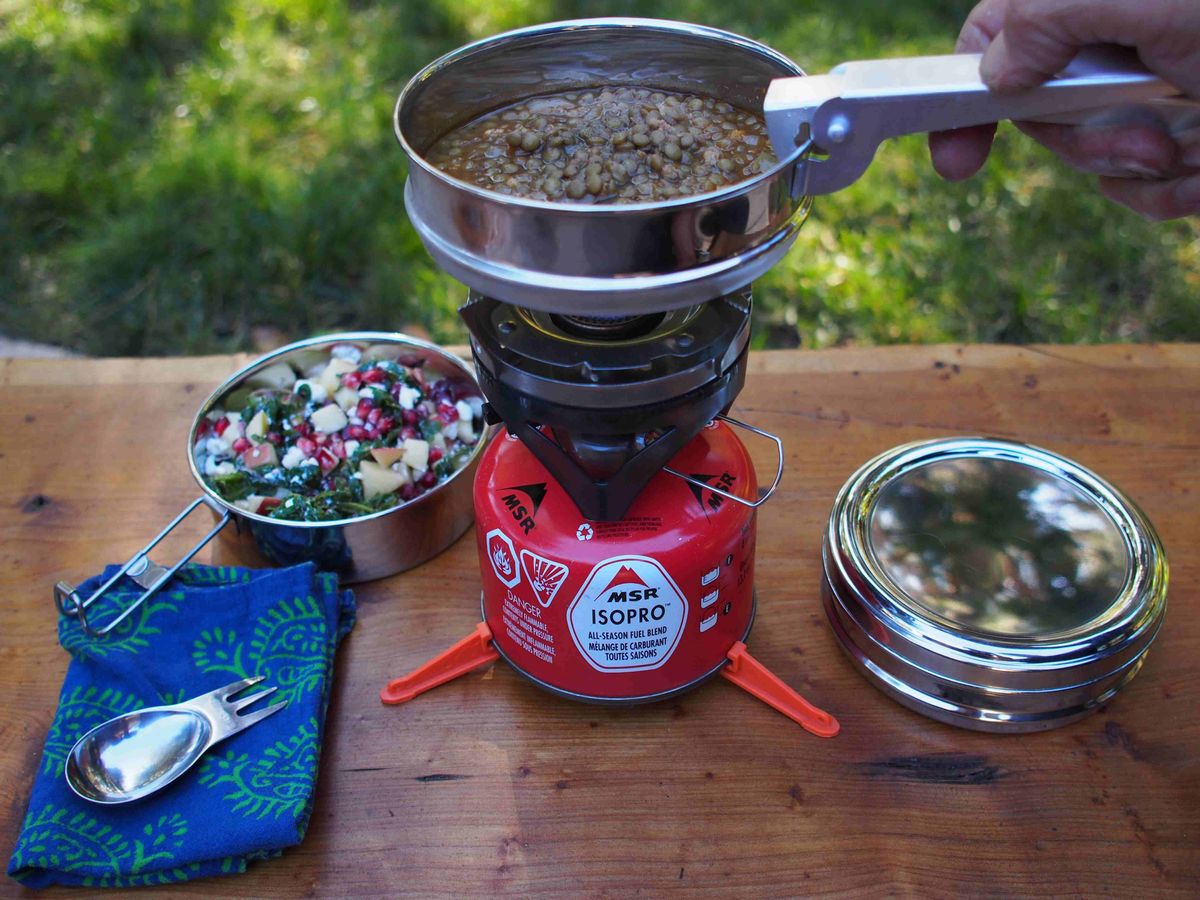 If you want to know how to cook food when living in a car, I'm going to cover all the bases from A to Z in this complete guide.
Follow my pointers and you'll be able to whip up everything from simple meals to gourmet dishes…all from the comfort of your vehicle!
I live in a car full-time, so you'll get real-world cooking advice, not a bunch of useless information.
Let's get this party started…
Knowing How to Cook Food When Living in a Car is Essential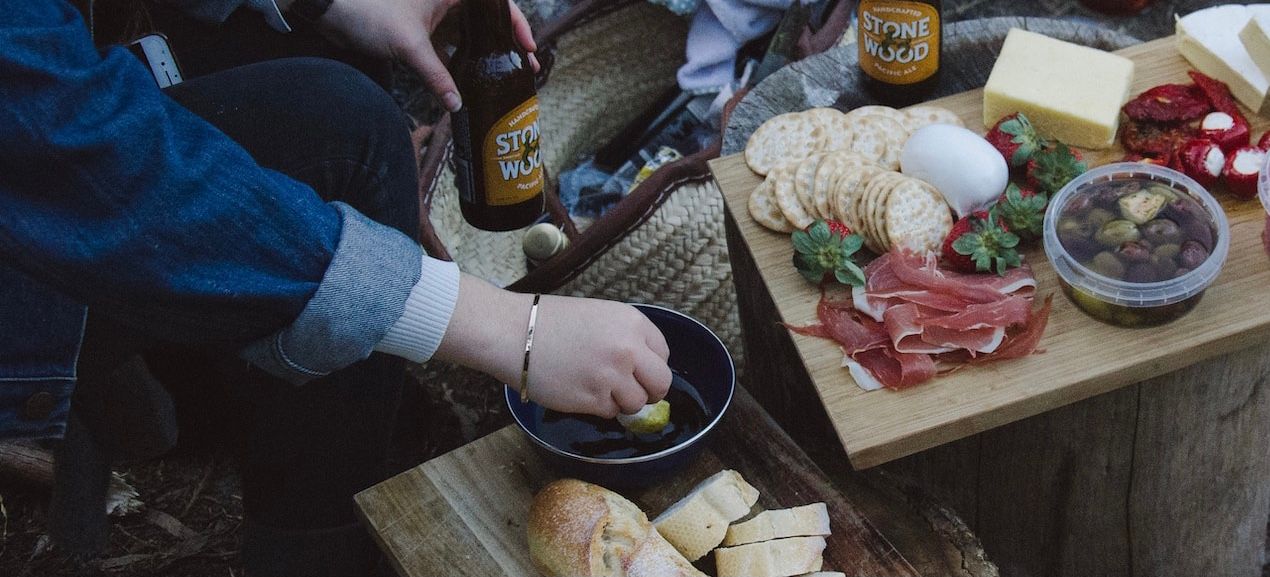 As a nomad, eating well on-the-go can be difficult, especially if you are trying to maintain a budget-friendly lifestyle.
Consuming a lot of overly-processed fast food isn't only expensive, but it's terrible for your body. It is essential that you learn how to cook while on the road.
Aside from the monetary and health benefits, preparing your own food gives you the flexibility to cook meals according to your taste, preferences and dietary needs.
I love peanut butter & jelly sandwiches as much as the next guy, but nothing beats a delicious, nutritious hot meal when you're starving!
---
Challenges of Cooking Food in a Car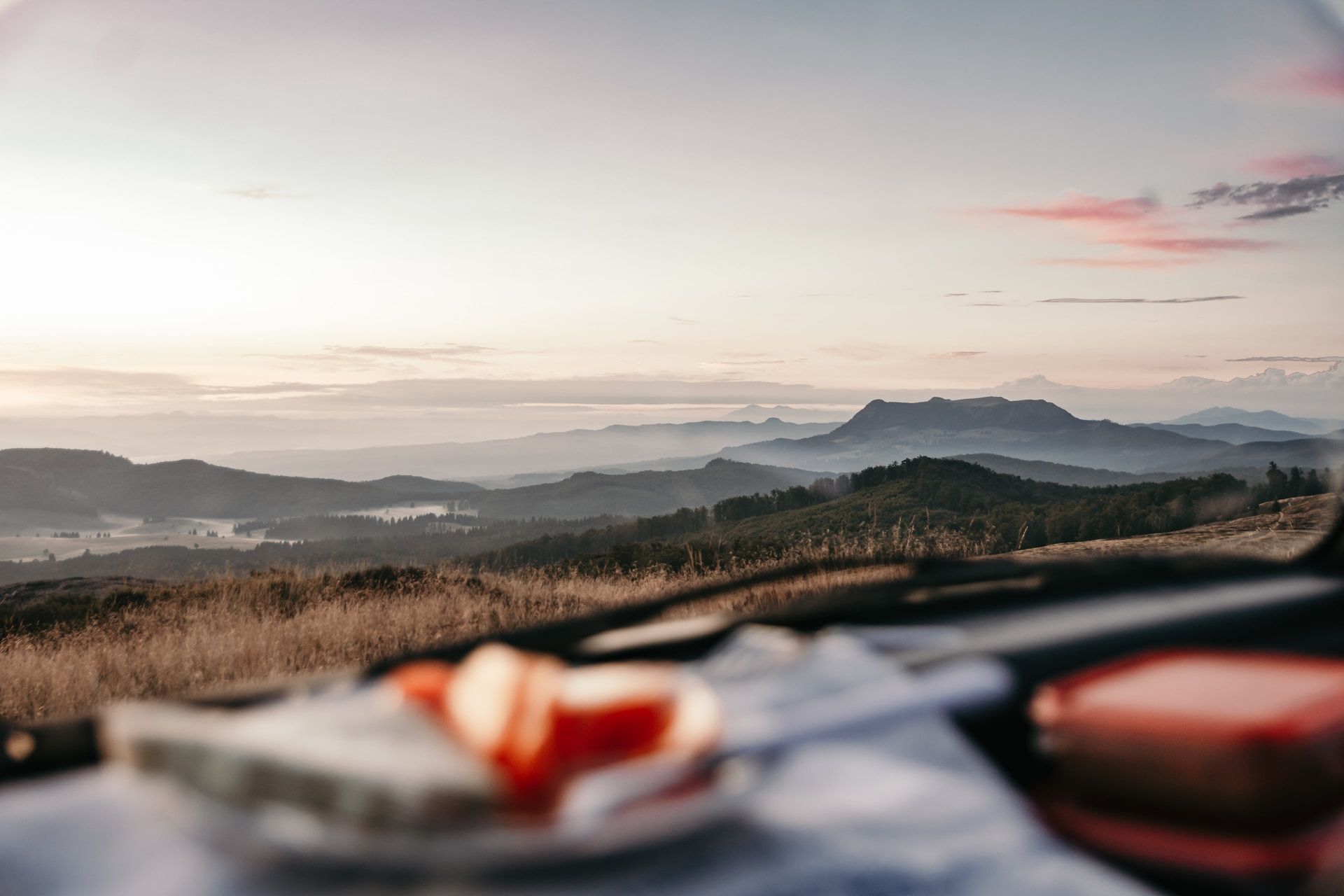 Cooking while living in a car comes with its own set of challenges, including limited space, uneven surfaces, and the need to conserve energy and water.
While these challenges may seem overwhelming, with the right preparation and equipment, cooking on the road can be just as enjoyable as preparing meals in a traditional kitchen.
One of the biggest headaches of cooking in a car is the limited size. You will need to be creative with your storage solutions, using every inch of available space to store food, utensils, and equipment.
Another issue is the uneven surfaces in a car, which can make cooking and meal prep difficult. It is important to have a stable surface to cook on.
Additionally, conserving energy is crucial when cooking in a car. You should definitely invest in a portable stove that runs on propane, butane, or alcohol, as these require no electrical power to operate.
Alternative devices such as crock pots or pressure cookers are safer to operate inside of a vehicle, but these must be plugged in to a power source because they pull a lot of watts when being used.
---
Safety Precautions When Cooking in a Car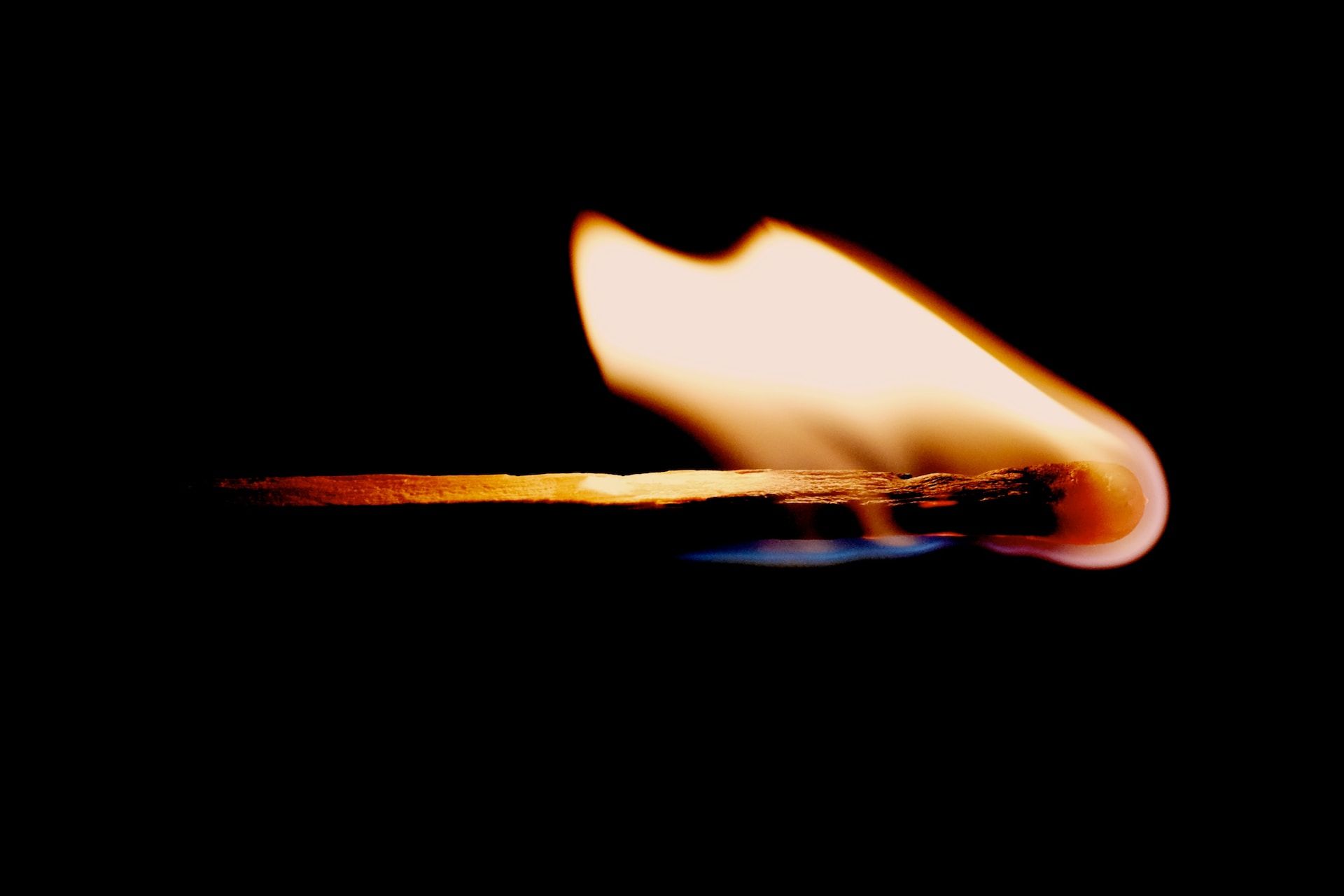 I DO NOT recommend using any cooking device that has an open flame within a car. The risk of fire and injury is too great. Unless you have a van or similarly large vehicle, follow the advice below instead.
If you plan on using a portable propane, butane or alcohol stove (as many nomads do), a much safer and sensible approach is to set up a small folding table next to your car, and do your cooking on it. You can use any flat surface as long as it's not flammable: a bench or table in a park, a milk crate, small bucket, etc.
On days when the weather is bad and you can't prepare food outside, there ARE some excellent alternatives to portable cooking devices that use open flames, and are much safer to use inside of a car.
Slow cookers and pressure cookers are perfect for this. These options pose less risks when being used directly inside of a vehicle, due to being flameless. I'll cover each of these in greater detail a few paragraphs down.
No matter what type of device you're using, always make sure your cooker is stable and on a flat surface to prevent it from tipping over. Further, never leave your cooker unattended while cooking.
It is also important to be aware of the risks associated with foodborne illnesses. Make sure to wash your hands frequently, use clean utensils and equipment, and store food at the appropriate temperature to prevent spoilage and contamination.
💡
A portable fire extinguisher to keep in your car is a wise investment. An emergency can happen at anytime, and it's always best to be prepared. You can buy these online for $20-$30.
---
Meal Planning and Prep

Meal planning and prep are important when cooking on the road. Not only does it save time and energy, but it also allows you to make sure you have enough food for the week ahead, and reduces the need to eat out or purchase food on the go.
Start by creating a weekly meal plan based on your preferences, dietary restrictions, and available space.
Next, make a list of all the ingredients you will need and purchase them in advance. Prepping ingredients in advance, such as chopping vegetables or marinating meat, can save time and make meal prep easier on the road.
One-pot meals, such as soups, stews, and casseroles, are a great option for cooking in a car as they require minimal equipment and can be made in large batches for leftovers. Slow cookers and pressure cookers are great for making this type of food.
---
Food Storage and Organization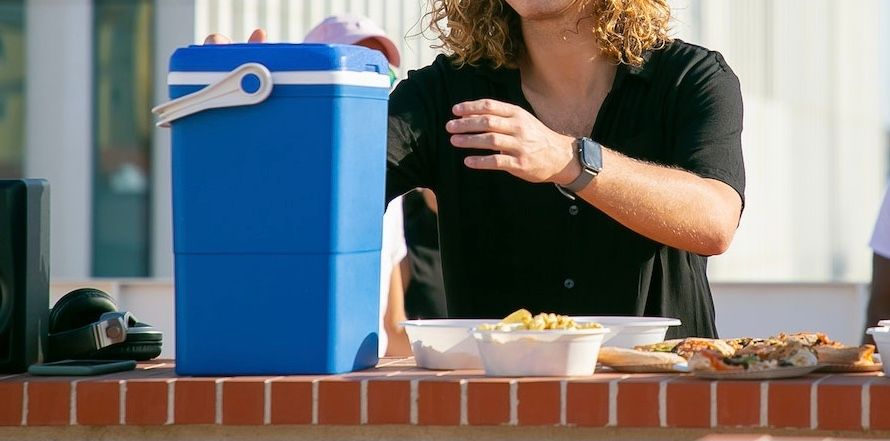 Proper food storage and organization are crucial when living in a vehicle. Not only does it help prevent spoilage and contamination, but it also makes meal prep and planning easier.
Invest in a good quality cooler or refrigerator that is energy-efficient and has enough space to store all your food. Pack your cooler or refrigerator strategically, placing perishable items such as meat and dairy at the bottom where they will stay cooler for longer.
Use storage containers, tins and Ziploc bags inside of your cooler/fridge to keep food organized and prevent spillage.
If you are storing non-perishable items such as canned or dry goods, make sure to label them and keep them separate for easy access.
Finally, dispose of any waste or spoiled food properly to prevent odors, leaks and pests.
---
Best Car Cooking Appliances - Food Warmers, Pressure Cookers & Portable Stoves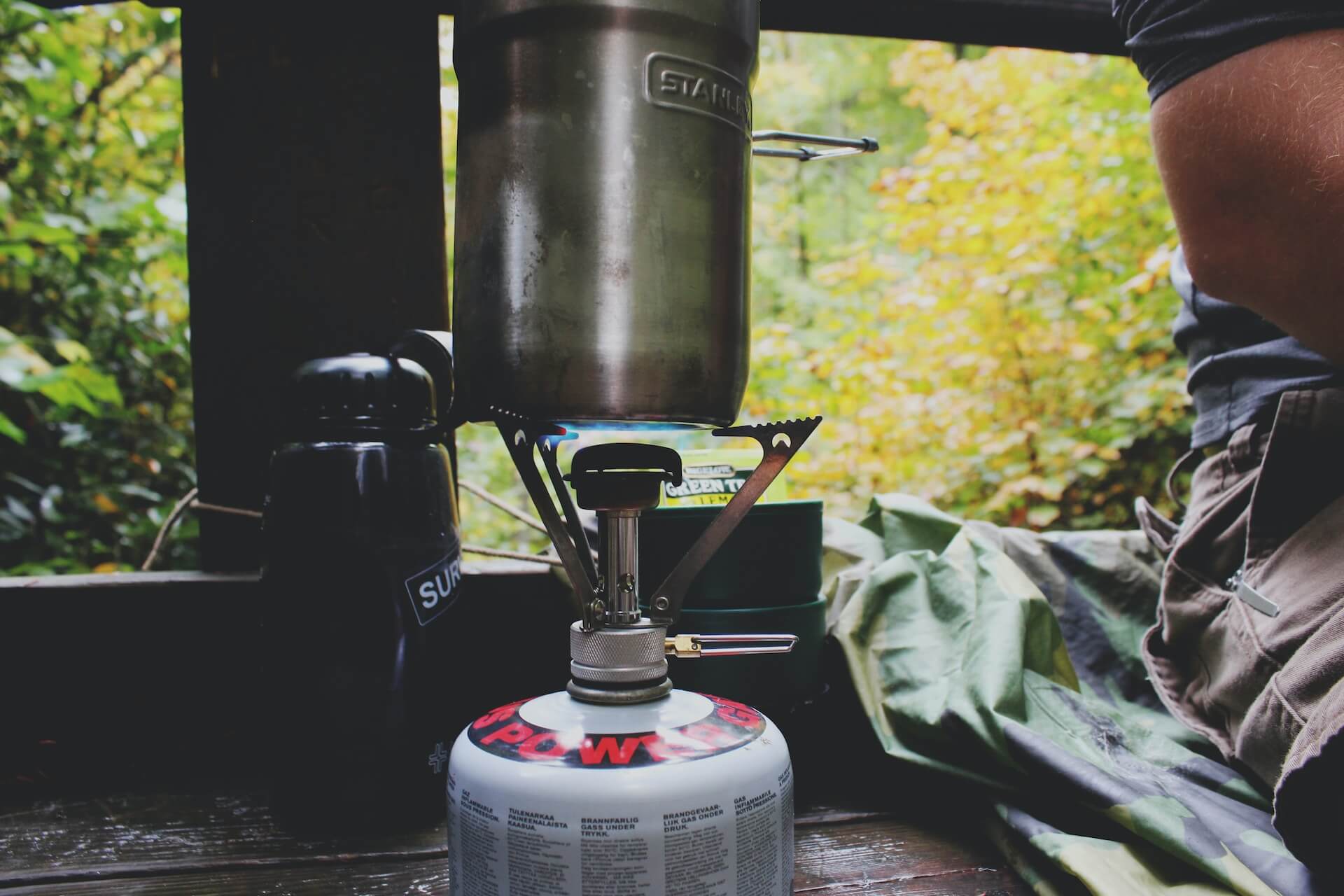 Investing in the right equipment can make food easy to cook, and the process more enjoyable. There are several options available for making food in a car. Your precise needs, budget and other factors will determine which you should opt for.
Portable camping stoves that run on propane, butane and sometimes alcohol, are the most popular choices for nomads. They are easy to use, energy-efficient, decrease cook time, and don't take up much space.
On the other hand, electric slow cookers & pressure cookers are also great options, but they are quite big and bulky.
In addition, you must have a way to power these devices, which require a lot of electricity. Most nomads power these appliances by using a portable power station, or by plugging them into an inverter, which is connected to your car's battery.
Let's examine each of these more in-depth…
For your convenience, I will break the cooking devices up into 2 groups: Propane/butane stoves, and pressure cookers & slow cookers.
Propane Stoves for Nomads & Vehicle-Dwellers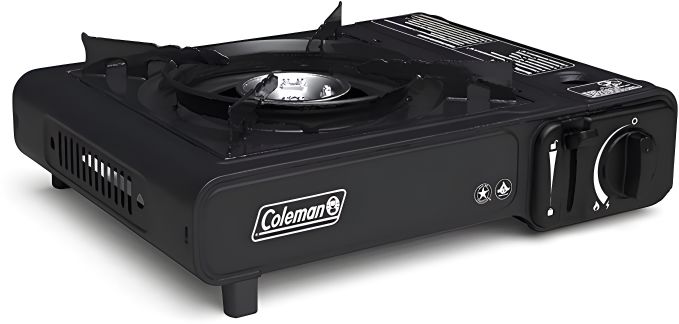 Coleman Butane Camping Stove
This is about as basic as it gets, a simple one-burner camping stove which runs on butane. Propane options are available, too.
These types of camping stoves come in a wide variety of sizes, styles, prices, etc., but nothing fancy is necessary, as they will all operate about the same.
I use a one-burner stove like this myself, and it's more than enough for my simple needs. But if you desire more cooking space, you can purchase a two-burner model.
What I like best about this type of stove is that it sits nice and flat with a sturdy base. So it will not tip over like other stoves that are taller with a small burner on top.
Another great thing about this style stove is that the burner size is similar in size to a regular household stove, and you'll have no problem cooking with larger pots and pans.
There is no Piezo push-button (which fires the stove up when pressed), though that's to be expected for the lower price point, and isn't a dealbreaker as a simple lighter or match will do the trick instead.
Check Amazon's Price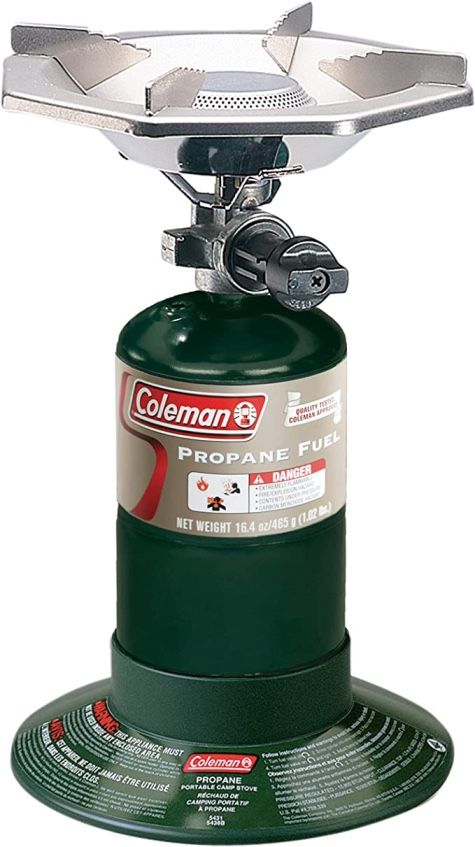 Coleman Propane Camping Stove
This is another great option for budget-minded nomads, especially those who are tight on storage space.
The smaller, vertical design of this propane stove makes it easier to stow in a vehicle, versus the bigger full-burner camping stoves.
If you really want (or need) to decrease clutter in your car and free up more room, this type of stove is the ticket.
The only minor drawbacks to this style stove are...
Since the base isn't as wide as a full-burner option, stoves like this are more prone to toppling over, especially if a heavier object is awkwardly placed atop the burner.
Also, balancing larger pots and pans or heavier cookware atop the burner can sometimes be tricky.
There is no Piezo igniter, but again, that's normal in this price range.
I like Coleman products because they are no-frills, get the job done, and usually last many years if maintained well. But there are literally hundreds of different brands to choose from online. My advice though...
Is to keep things simple when it comes to camping stoves and not invest too much, as they all work roughly the same.
Check Amazon's Price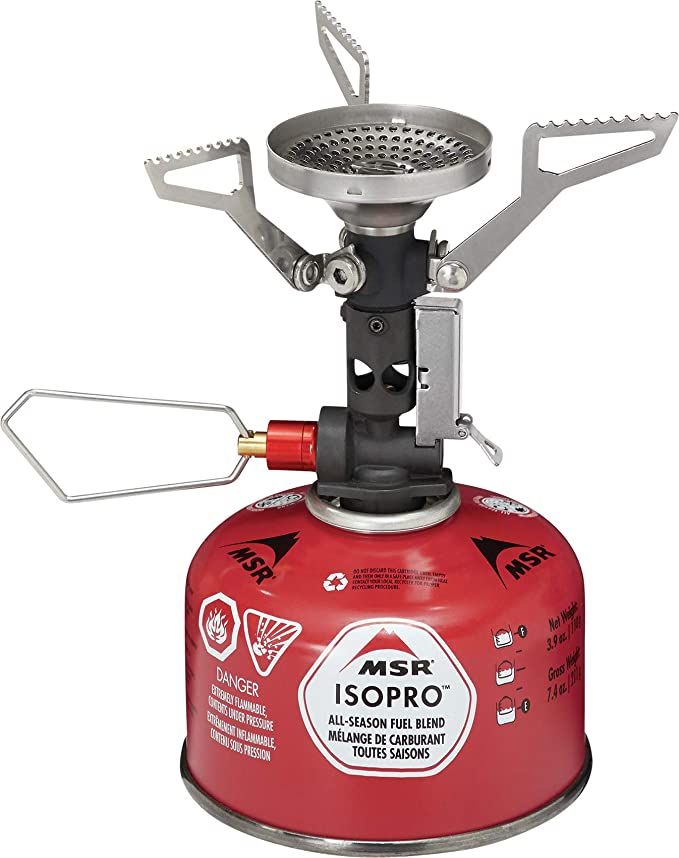 MSR PocketRocket Deluxe Camping Stove
Yes, this thing is tiny! And it's another fantastic option for vehicle-dwellers who are extremely space challenged.
While this type of portable camping stove is more geared towards backpackers, many people who live in cars also use these due to their miniature size.
This particular stove actually offers a Piezo igniter, which is a great touch, but since the stove is a bit more pricey, you will be paying higher for this convenience.
While this design type of stove will cook anything you need just fine, some of the drawbacks are...
*The smaller fuel canisters will require that you buy them more often.
*These fuel canisters can sometimes be tougher to find in stores, especially if they are a butane & propane mix.
*The smaller stove size can make it very unstable when heavier items are placed atop the burner.
*The smaller burner size will have great difficulty holding/balancing full-sized pots and pans.
*With these types of micro stoves, the fuel canisters usually aren't included. The burner mechanism that screws into the canister is what you'll actually be paying for.
All of this being said, if you are just too cramped on space in your vehicle, this would be an option to consider.
Check Amazon's Price
The vast majority of nomads use propane/butane stoves similar to the above. They are fairly inexpensive, work well for cooking, take up very little space, and most importantly, they do not require a significant power source outside of a fuel canister. These are your best bets.
But if you want a device that cooks without a flame, I'll share a few options. Make sure to read my notes under each product. Certain devices may need to be powered by an inverter or portable power station.
Pressure Cookers & Slow Cookers for Nomads & Vehicle-Dwellers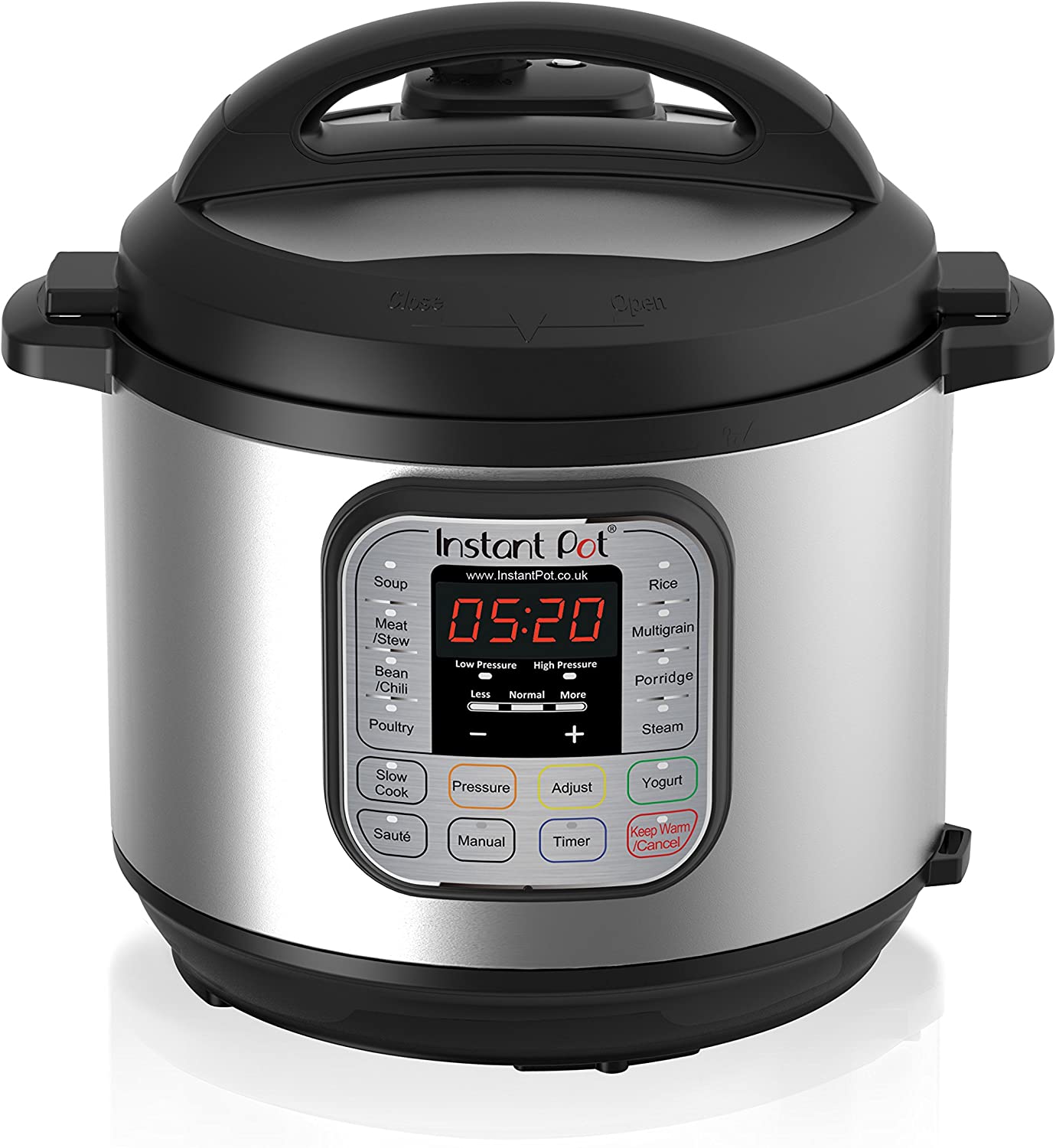 Instant Pot Duo (6 Quart)
Pressure cookers are amazing devices, since you can throw a bunch of ingredients inside, input your desired settings, and then go about your business while they cook everything perfectly.
A growing number of nomads have started using these in recent years, and the Instant Pot is one of the most popular brands out there.
Here are some pluses of using a pressure cooker in a vehicle...
*Totally flameless. Much safer if used directly in a vehicle.
*Ease-of-use. Just put your ingredients inside and let it cook.
*Reduces clean up time. Eliminates the need for washing extra pots, pans, and other cookware.
*Can cook a large variety of foods.
*Can prepare large quantities of food.
And here are some minuses...
*Very bulky. Will take up a lot of room in a vehicle.
*Requires an inverter to be used in a car due to the heavy power draw.
*Expensive.
*Slower cooking time.
*May not cook certain foods exactly to your liking.
Check Amazon's Price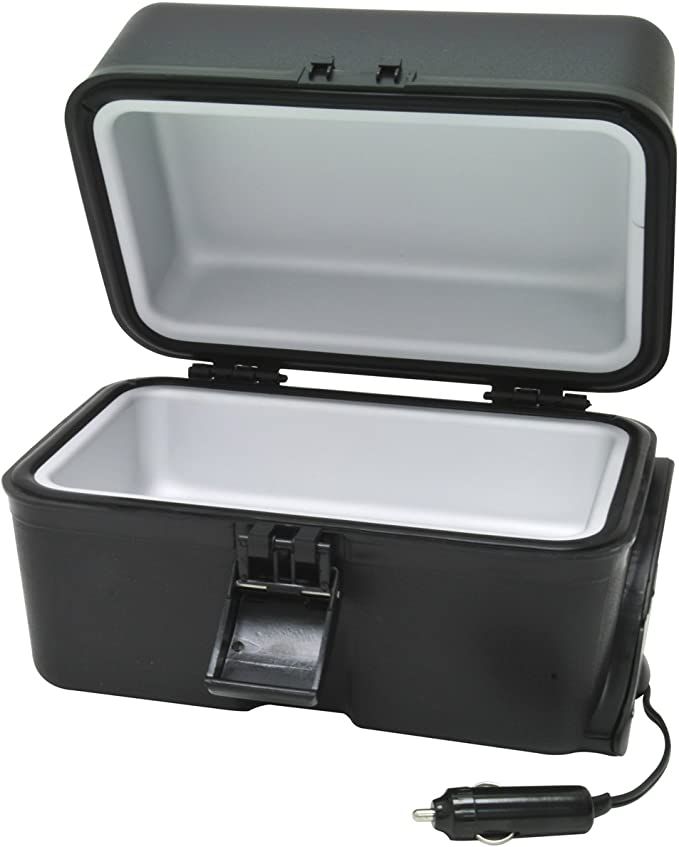 RoadPro 12v Cooking/Warming Oven
RoadPro products have been around for many years, and are quite popular with long-haul truckers, nomads and vehicle-dwellers.
They make a variety of 12v appliances, including this handy "lunchbox oven."
This oven will heat foods up to 300 degrees F! And in case you're wondering, yes, it can COOK food in addition to just heating it.
Of course, this device will not replace a real oven, nor will it cook foods as fast, but it can still get the job done nicely depending on the dish.
This oven is best used with a portable power station, as it draws 120-140 watts of power.
If you're seeking a flameless cooking device, this one is tough to beat.
Product pluses...
*Flameless, and very safe to use inside of a vehicle.
*With a 300 degree cooking temp, it can heat/cook many items pretty fast.
*Fairly large, can easily fit a meal for 2 people.
*Easy to operate.
*Easy to clean.
Product minuses...
*Bulky.
*Frozen foods can take several hours to heat/cook.
*Build quality can be spotty.
Check Amazon's Price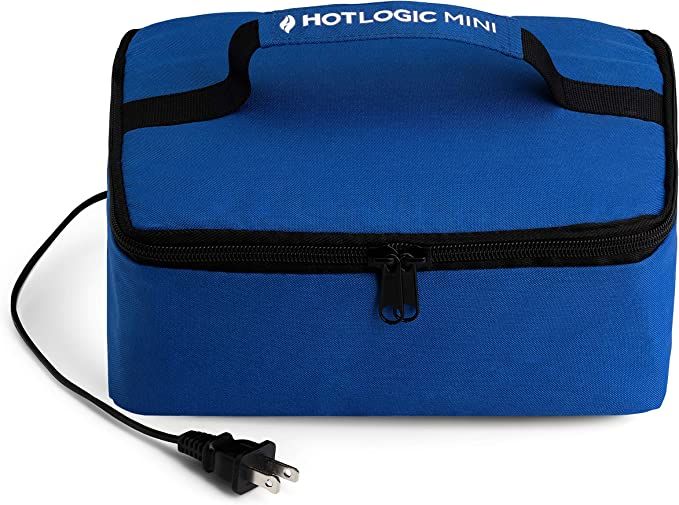 HotLogic Mini Portable Oven
I actually use a HotLogic myself and love it! In spite of its smaller size and plain design, it's actually pretty versatile, and can do a lot of things well in the cooking department.
Similar to the RoadPro above, it excels at both heating up cold foods, keeping hot foods hot, and even cooking.
The really nice thing about the HotLogic is that it can be plugged into your vehicle's 12v port as it only draws about 45 watts, so it requires no inverter or portable power station to operate.
All small 12v ovens struggle with frozen foods to some degree. Either they will take many hours to cook, or they may not cook well at all.
The HotLogic draws less watts than the RoadPro. It can only heat/cook up to about 170 degrees, versus RoadPro's 300 degrees. So cooking certain foods will take longer.
Making soups, stews, rice dishes, vegetables, and similar types of fare are the strong suit of the HotLogic. All can be ready within 30-40 minutes, at most.
It can even cook thinner cuts of poultry, meats, etc., but just as with frozen foods, it's going to take a while, and is definitely slower than the RoadPro.
Product pluses...
*Inexpensive.
*Can cook a wide array of food dishes.
*Lightweight.
*Easy to use.
*Can be powered via 12v port.
Product minuses...
*Struggles with frozen foods - extremely long to cook.
*Certain dishes can sometimes turn out soggy.
*No power indicator or settings, just a plug to turn it on.
Check Amazon's Price
---
Recommended Equipment for a Mobile Kitchen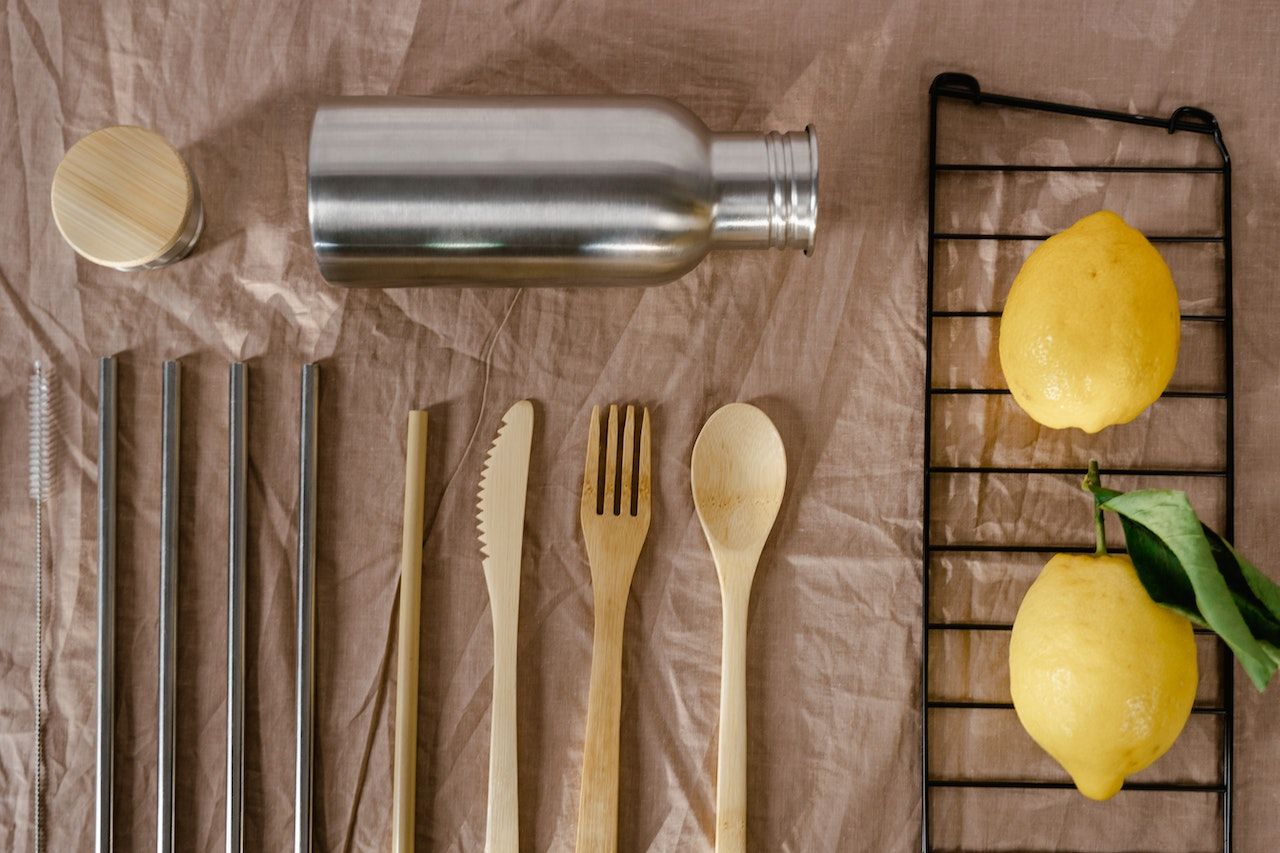 Aside from a device to cook your food, there are several other essential pieces of equipment that will make preparing meals on the road much easier. These include:
Cooking utensils, such as a spatula, tongs and strainer
Eating utensils (consider buying a spork, which is a combination spoon & fork, as it will save you from constantly spending on plastic ware)
Beverage mug
Water jug
Can opener
Cutting board and knife
A good quality pot & pan
Storage containers and Ziploc bags
Dish soap and sponges for washing dishes
Paper towels
Propane or butane canisters (if you'll be using a stove, as opposed to crock pot or pressure cooker)
[Don't forget spices, cooking oils, and other condiments!]
---
Top 5 Hacks for Cooking Inside of a Car
Buy pre-chopped vegetables: Buying these pre-chopped (either frozen or fresh) can save you time and effort. You can find a variety of pre-chopped options at most grocery stores, and they're usually reasonably priced.
Cook in bulk: Cooking in bulk is a great way to save time and money. You can prepare several meals at once and store them in your fridge, freezer or cooler for noshing on later.
Use a thermos: Instead of firing up your cooking device to reheat things, which wastes cooking fuel & time, store any food or leftovers in a larger thermos. They can keep liquids (and even solids) warm for up to 8 to 10 hours.
Use liners for pressure cookers and cooking lunch boxes: Cleaning up after making a meal is always a chore, especially within the tight confines of a vehicle. Using liners, foil & baking pans when preparing food inside of these appliances makes tidying up a breeze.
Try one-pot meals & recipes: Breaking out a bunch of pots, pans and other gadgets every day can be a hassle. One-pot meals are super simple to make, and will save a bunch of time and frustration. Just throw in your ingredients, and wait until your grub is done.
---
How Do You Pack Your Cooler or Refrigerator When Living in a Car?
Always place perishable items such as meat and dairy at the bottom where they will stay cooler for longer. Use Tupperware or plastic baggies to store leftovers, remain organized, and prevent spillage or leaks.
Another tip is to keep foods that you plan on preparing/using soon (within the next day or two) on the top. This way you don't have to constantly rifle through everything to get to something on the bottom, or have to repeatedly take items out and put them back inside.
Finally, consider investing in a fridge or cooler that has multiple compartments, allowing you to separate different types of food. This will make meal prep and planning much easier on the road. The ability to refrigerate items properly will save you a lot time and frustration.
What are some Healthy Foods to Eat in a Car?
You can eat healthy in a car very easily! Here are just some of the nutritious foods that can be enjoyed in a vehicle…
Salads
Soups
Stews
Sandwiches
Pasta dishes
Rice & veggies
Wraps with chicken, tuna, beef or vegetables
Eggs of all kinds (hard boiled, over easy, omelets, etc.)
Potato dishes (boiled or steamed)
Trail mix
Protein/energy bars
Yogurt
Oatmeal
Cereal
Fresh fruits & vegetables
Seafood dishes
Any kind of poultry or meat
You're only limited by your imagination. Experiment with cooking new & exciting recipes and having fun with the process. Homemade food is made with love, and is good for your soul.
How Can I Eat Cheap in a Car?
Eating cheap in a vehicle is VERY doable! I know this because I only spend about $70 per week on food, and I eat like a king. Matter of fact, if I chose to cut out some luxuries (snacks, juices, etc.) I can easily knock this down to $40-$50!
If you live full-time in a vehicle, as a general rule, food is probably going to be your biggest monthly expense along with car insurance and fuel. But compared to most average Americans, spending a couple hundred dollars per month on groceries is chump change.
How Do You Wash Dishes While Living in a Car?
Start by filling a large bowl or basin with warm, soapy water. Use a sponge or dishcloth to wash the dishes, making sure to rinse them thoroughly with clean water.
If you are in an area with limited water access, consider using biodegradable soap and collecting greywater in a separate container for disposal.
Alternatively, buy a portable camping sink or use a collapsible basin for easy washing and disposal. These are pretty inexpensive and can be purchased at most places online.
How Do You Make Coffee in a Car?
For many people, coffee is an essential part of their morning routine. Luckily, making coffee on the road is easy and can be done with minimal equipment.
One of the easiest ways to make coffee on the road is with a French press or AeroPress. Simply boil some water, add coffee grounds to any of these devices, pour in the hot water, and let it steep for a few minutes. Press down the plunger to separate the coffee grounds from the coffee and enjoy!
Another possibility is using a full-sized plug-in coffee maker, but this should only be used as a last resort option.
💡
Plug-in coffee makers are huge power hogs! Using one with a portable power station will quickly deplete its charge, so do so sparingly for short periods. Or better yet, connect it to an inverter.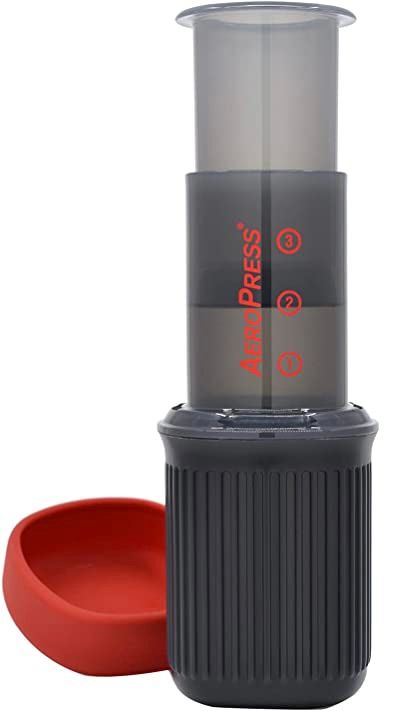 AeroPress Go Portable Coffee Kit
Make coffee, espresso & cold brews in under 60 seconds!
Check Amazon's Price
How Can I Boil Water or Heat Up Soup Without a Portable Stove?
If you don't have access to a cooking appliance, boiling water or heating up soups will be a bit more tricky, but still doable.
The best (and simplest) way is to use the microwave in a gas station or convenience store. Lots of nomads and van lifers do this if they run out of cooking fuel, or just prefer not to cook, and want a fast bite to eat.
They also sell the neat tumblers below, that plug into your 12v port and can boil water in just a few minutes! I haven't tried one of these personally, but many of my nomad friends swear by them.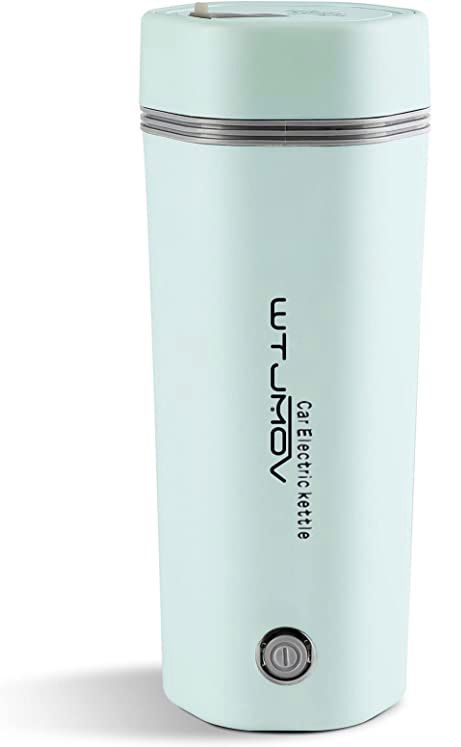 WTJMOV 12V Car Electric Travel Kettle
Check Amazon's Price
Can I Use My Car's Engine as a Cooking Method?
Yes, you can. Matter of fact, people have been cooking food on their engines for decades now. However, this really isn't a practical solution for everyday living, and should only be done as a goof, or if you truly have no other way to prepare a meal.
There are SO many modern day conveniences we have access to now, that cooking food on an engine compartment just doesn't make sense. But in case you're curious, here's how it works…
The food is cooked by utilizing your car engine's heat. This method usually takes a long time to work, and most people let the food cook while they're driving for many hours.
The exhaust manifold is the part of the engine that gets the hottest, so you can wrap your food in aluminum foil packets and place them on the manifold.
It's effective at cooking sausages, shrimp, chicken breasts…almost anything. Just make sure to wrap the food securely in foil and use a towel or hose clamp to hold it in place.
Another way to cook on your engine is to use a pot or pan. Place the pot or pan on the engine's hood and secure it with a hose clamp or bungee cords. You can cook a variety of one-pot meals using this method, including soups, stews, canned meats and chili. Just make sure to use a pot with a tight-fitting lid to avoid any spills.
Again, the vast majority of us are never going to have to do this, nor would we want to try. Though, if you do, it'll certainly work, in a pinch.
---
Community Resources: Finding Free Food at Community Kitchens or Food Banks
We are living in tough times indeed. And many of us - including nomads - are hurting financially.
If money is beyond tight and you're having difficulties buying food, finding local resources such as community kitchens or food banks can be a great way to supplement your meals on the road.
Community kitchens even offer cooking space where you can prepare meals and connect with other travelers. Food is often free or low-cost to those in need, making it a great option for strapped vehicle-dwellers.
Churches are also very charitable with food and providing good fare.
Research local resources in advance and make a plan to visit them during your travels. Not only will they provide additional food options, but they can also be a great way to become involved with the local community and learn about the culture and customs of the area.
---
Finals Thoughts
Life on the road can sometimes be challenging, and a healthy, well-prepared meal is a great pick-me-up!
While many people think a big camper or RV is required to cook like they do at home, nothing can be further from the truth. Eating good in a car or smaller vehicle is easily achievable.
I believe that consuming delicious, nutritious foods is one of the best parts of the nomad lifestyle. Especially when they are shared by groups of friends & family.
While it might at first seem awkward or silly cooking in or near a car, trust me, you'll get used to it, just like I did.
Practice the art of cooking as much as you can. On road trips, special occasions, for preparing nice brunches and dinners…make it a habit. It is a valuable skill that will serve you well in life...especially when living in your vehicle.
LIVE WISELY, LIVE WELL!