How to Live in a Car [Start Fast & Easy!]
Facing tough times and considering moving into a vehicle to save money?
Maybe you're seeking a new adventure in life, or perhaps you just want to travel and see the world cheaply?
If any of these sound familiar, buckle up, because I'm going to show you how to live in a car, start fast & easy!
You'll learn simple, bite-sized, actionable steps you can take to get out of the rat race as soon as possible, so you can embark on the journey of your dreams.
Let's jump right in, camper!
💡
Please follow my outline as closely as possible. While living in a car can provide a much richer, fulfilling existence, it is indeed a BIG leap to take. Don't rush ahead carelessly.
---
Step #1: How to Live in a Car - Important Questions to Ask Yourself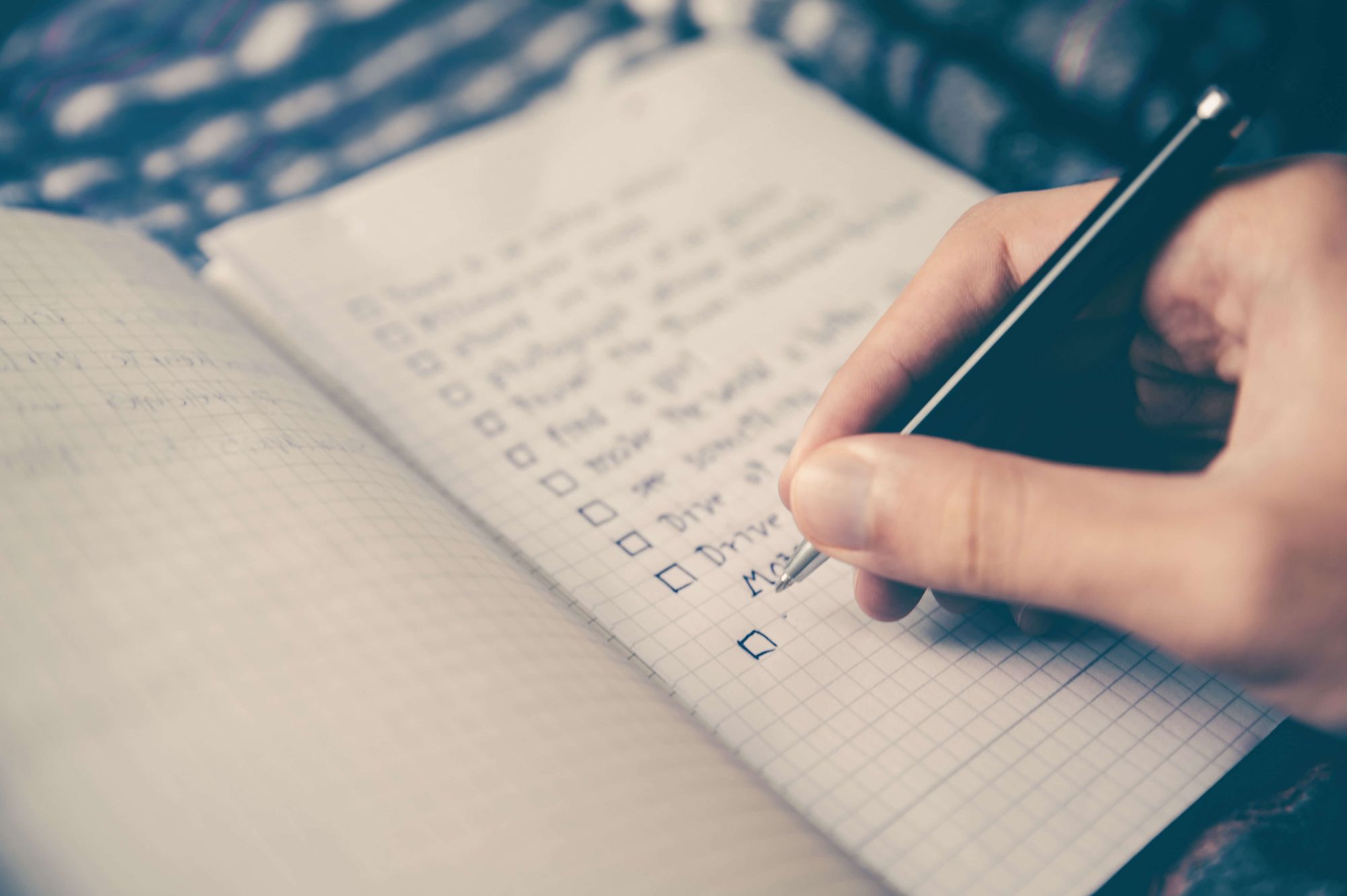 By far, this step is the most important, especially if you've never slept out of a vehicle before.
You need to begin by answering these three CRITICAL questions…
How far & often will you be traveling?

In what types of places will you be sleeping?

How will you support yourself on the road?
Let's explore each of these in greater detail…
How Far & Often will You be Traveling?
WEATHER: Will you "chase the weather" like many nomads do, and go to a colder destination in the summer, and a hotter one in the winter? Remaining warm and/or cool in extreme temperatures is vital for both safety and comfort.
FUEL & CAR REPAIRS: Do you plan on staying in a very small, limited region, perhaps even being stationary for long periods? Or do you prefer moving around often, and visiting many different places to your hearts content? If it's the latter, you'll obviously be driving longer distances and using more fuel. More fuel costs more money. It also means more wear & tear on your vehicle, which may eventually lead to unforeseen mechanical repairs.
ADDITIONAL GEAR: The more stationary you are - say confined to a certain state or region - the lighter and simpler your gear needs will be. But if you travel to differing locales often, you might need a larger array of items, like; clothing for many temperature types, heaters, electric blankets, a shovel for getting caught in snowstorms, a shade tarp if you'll be camping in the desert, etc.
In What Types of Places will You be Sleeping?
You only have two choices here, PAID and FREE. Let's take a look at each…
PAID: Private campgrounds and state parks, or booking reserved spots on websites like HIPCAMP, etc.
FREE: This is called "boondocking" or "stealth camping". Off-grid locations - usually public land - where hook-ups (water & electric) aren't present. BLM campsites, big box store parking lots, motel/hotel parking lots, highway rest areas, truck stops and residential street parking all fall under this category.
For more in-depth information about BLM land, take a look at the following article: BLM Car Camping, What You Need to Know.
💡
While paid camping spots are convenient and offer a host of useful amenities, if you're going to be sleeping in your car full-time, the costs can start adding up very fast! You may need to stay mostly in free locations depending on your budget.
How to Support Yourself and Make Money While Living in a Car?
While living out of a vehicle can be extremely inexpensive if done correctly, the reality is that it DOES still require regular income.
Without a lot of savings to survive off of or if you aren't collecting ssi, you will have to go to work every day, or figure out ways to support yourself.
This topic alone can fill a book, and what you do to earn income comes down to many factors, like; personality, skill-sets, physical fitness, etc. I'll keep it simple however by listing some of the most popular jobs that others in this lifestyle usually gravitate towards…
Sugar Beet Harvest - Seasonal
Mobile Mechanic/Handyman
Food Delivery (Ubereats, Door Dash, Postmates, etc.)
Campground Host
National Park Tour Guide
Customer Service Representative - Remote
Telemarketing - Remote
Creative Services (Logo Design, Video Editing, Writing, etc.) - Remote
Social Media Manager - Remote
Blogging - Remote
YouTuber - Remote
Once you've anwered these questions and you know how far & often you'll be traveling, what types of places you'll be sleeping in, and how to support yourself on the road, you're ready for the next step :)
---
Step #2: Choosing a Vehicle for Full-Time Living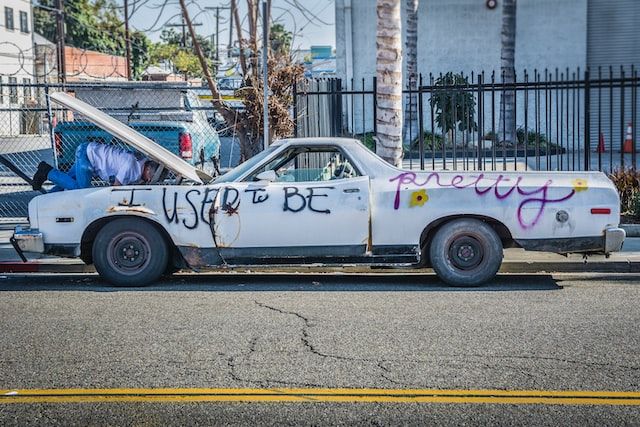 Take my advice…when first starting out as a vehicle dweller, if at all possible, USE WHATEVER VEHICLE YOU ALREADY HAVE! This will allow you to get out on the road as fast as possible, without using your money in the bank.
Almost any car, minivan or van can be converted into a comfortable living space, I've even seen people use Mini Coopers! And brands don't matter either. Toyota, Subaru…they can all work fine.
If you already own a vehicle you're happy with, feel free to skip this information and head down 2 sections to: TIPS ON HOW TO MAKE A SLEEPING PLATFORM. If not, let's continue below…
The choices you have available when it comes to buying a car are many; new, used, certified pre-owned, etc. Additionally, you can choose from a variety of makes and models. But by far, the #1 factor when choosing a car camping vehicle is…
DEPENDABILITY!
You absolutely must find a reliable vehicle with as few miles as possible. Of course, while your budget will ultimately dictate what you can and cannot afford, with enough shopping & canvassing, you should be able to purchase a reasonably good condition car.
💡
Do not be swayed 100% by how a car looks. Appearances mean little. Instead, focus closely on age, miles, engine/transmission performance and other key components.
Where to Buy a Vehicle That You Need to Live In
Where to purchase a car - new or used - is almost limitless in today's world, and again, will largely be dictated by your budget.
From major dealerships, used car lots, the hundreds of online auto buying websites, all the way to the classifieds in your local newspaper or Pennysaver, the choices are many.
If you'll be buying used - by far - the best way to purchase is via private party. You'll get the most bang-for-your-buck, and will reduce the odds of paying for a lemon that a shady dealer bought for next to nothing at an auction.
From experience, I recommend Craigslist and Facebook Marketplace. If you want to save time, these are excellent places to find cars via private party, but be sure to research heavily, and watch out for scams! Avoid car dealers (amateurs & professionals alike) who pretend to be private sellers, as both platforms are rife with these hucksters.
💡
It is paramount that you (or a mechanic) FULLY inspect whatever vehicle you're considering. While pricey, car inspection services like
Lemon Squad
&
POMCAR
can handle these inspections for you, if you aren't mechanically inclined or the vehicle is too far away to see in-person.
Living in a Small Space - What Car Size is Best
The next factor when buying a car is size. In general, the bigger the better.
Put simply, the larger your vehicle is, the more comfortable it will be to live in. Additionally, you'll have the advantage of greater space for your necessities.
As I said earlier, while virtually any sized car can be made habitable, the bigger the footprint you have, the more options you will have for comfort and convenience.
Remember, aside from creating a sleeping area, you'll also need room to store your essentials, like; clothes, food, car supplies, personal paperwork, and so forth.
Hatchbacks, SUV's, minivans and similar vehicles are fantastic options that feature tons of room. Keep in mind however, that due to the popularity of car camping, these vehicles are highly sought after, and aside from commanding a premium price, might also be tougher to find. Further…
The larger the vehicle, the more you'll pay in fuel costs. And the less you'll get in MPG (miles per gallon). This is why most vehicle dwellers avoid an RV or a sprinter van. But finding a happy medium is definitely possible, and I strongly suggest going with something that's bigger, not smaller.
Once you've done your research and have a car, the next step is the fun part…turning your vehicle into an official vehicle dweller!
---
Tips on How to Make a Simple Sleeping Platform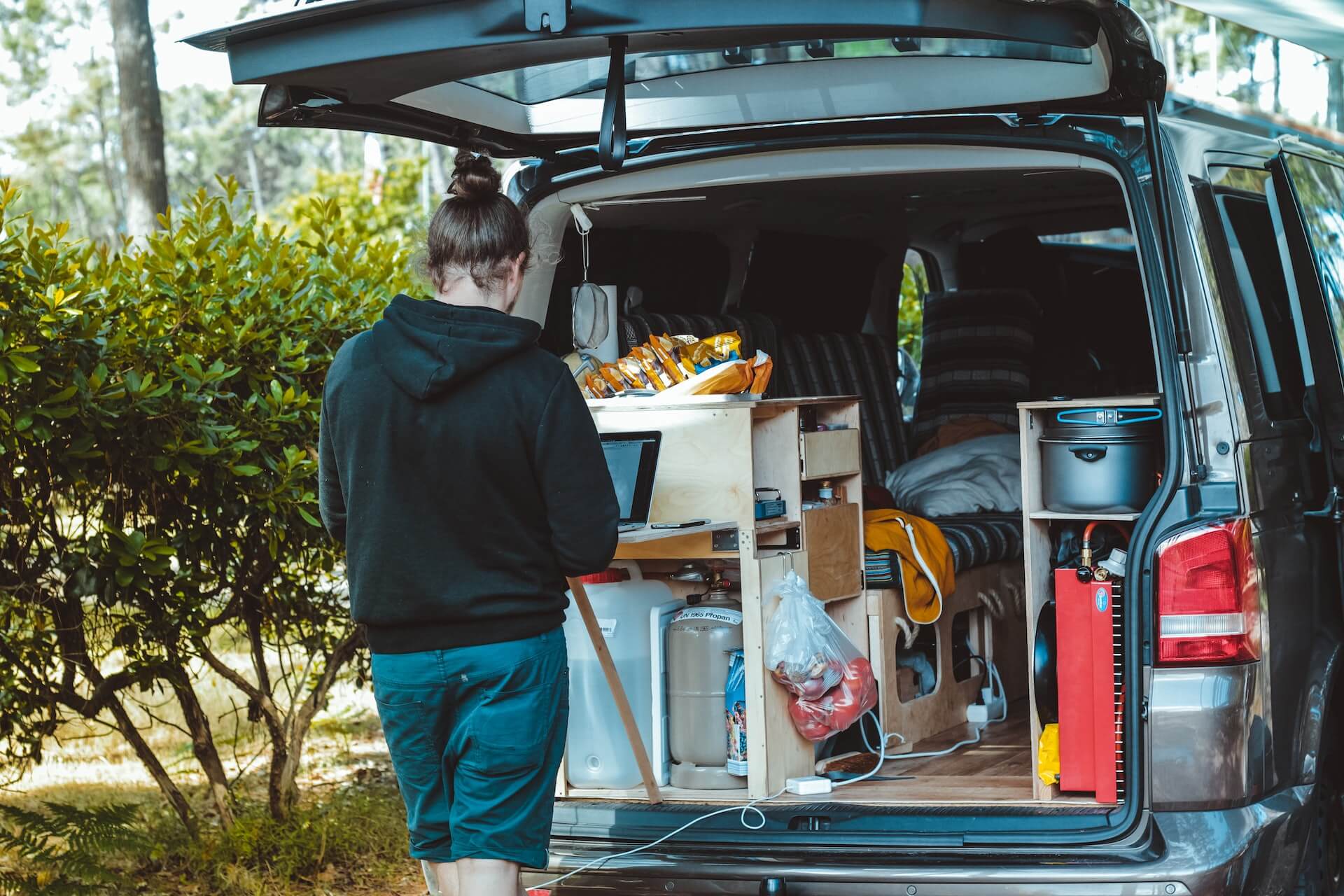 While this article cannot possibly detail specific plans on how to convert every make & model automobile into a camping worthy dream machine, the general pointers I'll share below will be applicable to practically any car out there with some imagination and ingenuity.
💡
Secret - - - while most cars look small from the outside, with the proper interior set-up, creating a comfortable sleeping area along with room for your other belongings is easily achievable. The trick is…
You'll have to fold at least one seat (front row, passenger row, or both) forwards or backwards to make this happen.
Again, since every vehicle is completely different, there's no one-size-fits-all formula here. You need to examine every nook & cranny of your car and ponder the possibilities.
Think of your vehicle's inside space as a puzzle. Your objective is to make everything fit together as neatly and cozy as possible, as this will be your new home on wheels. A fun project indeed!
A few tips...
Not all seats fold flush (flat). In most cases, a simple, inexpensive piece of plywood can be laid over the seats to create a solid, level sleeping platform.

If using a plywood sheet of wood as a sleeping platform, make sure to sand the edges well to prevent splinters and sharp edges. Or, wrap the edges with duct tape to make them smooth and safe.
Depending on how small or large your vehicle is, you might be able to have a dedicated, permanent sleeping area, or you may need to set-up & break down your bed every day, in order to make room for your other belongings. This is where experimentation, imagination and thinking outside the box come in handy.
Study the following pictures for inspiration on making a sleeping platform…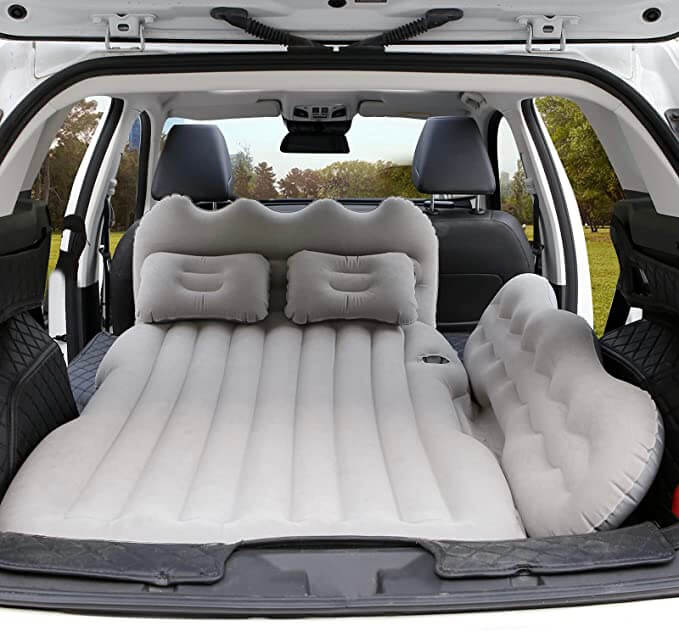 GOLDEN RULES FOR LIVING IN A SMALL VEHICLE
The less "stuff" you can live with, the better.
You must use EVERY inch of space that the vehicle offers.
While car living is amazing in so many ways, there are challenges involved. One of them is the amount of belongings you can own. I personally enjoy having (and storing) fewer things. But everyone is different.
You absolutely must downsize as much as possible. The more items you own, the harder it will be to find places to keep them in such a small space. One of the priorities when setting up your vehicle's living space will be choosing what's critically necessary, and getting rid of the rest.
Failure to do this will lead to a cluttered interior, which equates to minimized comfort. Further, finding things you'll need day-to-day in an overpacked area becomes extremely difficult.
💡
Selling unwanted items (eBay, Craigslist, yard sale, etc.) is a GREAT way to raise cash for your new vehicle dweller journey!
If you want to learn how to live in your car properly, utilizing every available square inch of space is a mandatory starting point.
There are a gazillion places to store things inside of a vehicle, which are often overlooked, like...
FRONT PASSENGER FLOORBOARD AREA
BACKSEAT FLOORBOARD AREAS
SEATING POCKETS
UNDER THE SEATS
GLOVE COMPARTMENT
CUBBY COMPARTMENTS ON DOORS
CENTER CONSOLE
Now, I'm NOT suggesting that you stuff every open area with unnecessary gear. Or keep buying crap just to fill up unused space. As I said earlier, the less you own the better organized you'll be. However…
We all have things we cannot survive without. And you surely have plenty of places to put things, if you need to.
THE VALUE OF CARGO CARRIERS
Okay, you've went through all of your belongings and got rid of everything that's not needed.

But what happens if you still have too many items and lack storage space?
Think of a cargo box! These wonders are like a walk-in closet for your vehicle!
Cargo boxes/carriers come in an array of different sizes, styles and price points. All have one thing in common though…
They drastically increase your storage capacity!
While a cargo box is by no means necessary, if you simply have too much clutter in your vehicle, or really desire more useable inside space, this is a fantastic solution.
💡
Avoid the soft-sided cargo carriers and opt for hard-sided only, WITH a locking mechanism. This will ensure your valuables are safe, secure and tamper-proof at all times.
---
STEP #3: Essentials Needed for Car Dwellers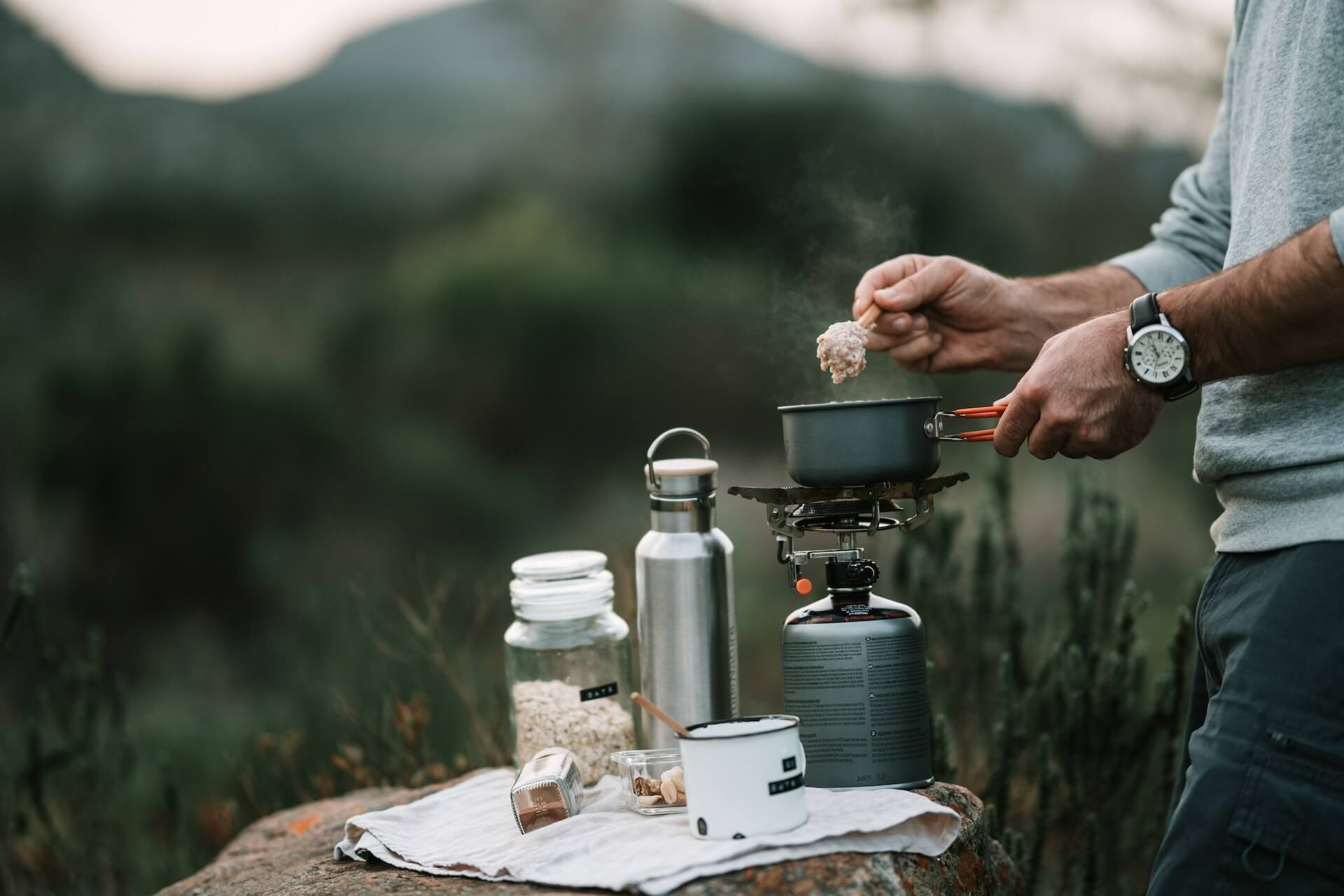 I'm going to make the next part really easy - and inexpensive!…
While there are an abundance of items that can make living in a car more convenient, this article promised an "easy way to start fast", so I'm going to outline the ABSOLUTE MINIMUM requirements you'll need to get on the road asap.
These things will cover about 90% of your needs, and you can survive really comfortably with these alone.
💡
Most of the items below - unless noted otherwise - can be bought on Amazon, or any other major retailer.
Items to Buy
MATTRESS - Sleep is vital. It's important that you purchase something that you'll be comfortable laying on for 365 days per year. Many nomads - including myself - use tri-fold matresses. They cost around $100 and fit perfectly in most cars. Even better, as the name suggests, these mattresses can be folded up if needed, which will provide you with added cabin room.
While almost any mattress will do, it's sometimes difficult finding a width that can squeeze into a car. If the tri-fold option mentioned doesn't work well, look for "narrow twin" or crib mattresses. These should be able to fit your vehicle just fine. Some people even sleep on memory foam mattress toppers.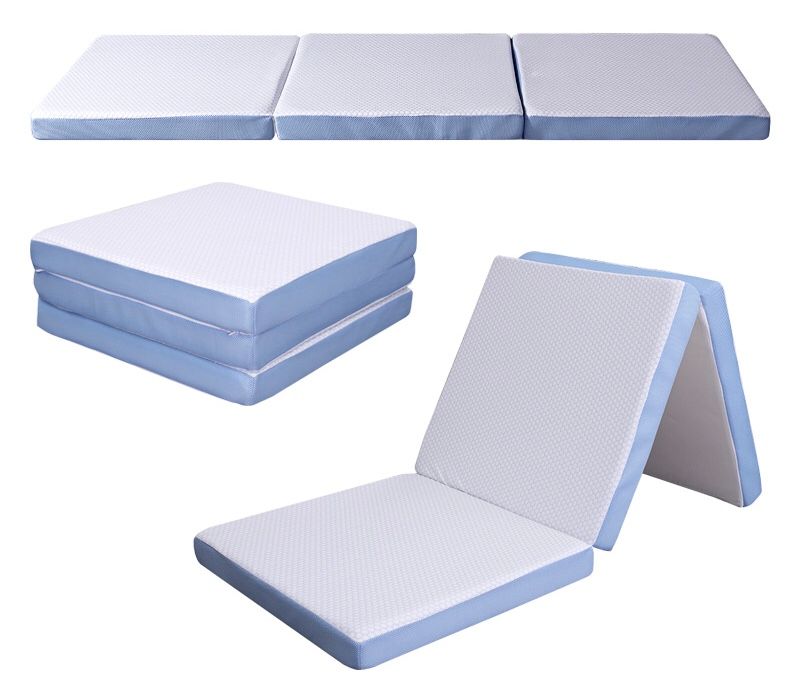 STORAGE CONTAINERS - Plastic storage containers are the lifeblood of most vehicle dwellers. These are used to stow food, clothes, toiletries, car-related supplies, important documents & paperwork, etc. Not only do they aid in storage, but they're also great for organization. Being able to sort items into separate bins is very handy and cuts down on having clutter everywhere.
Be prepared to buy several containers in various sizes, depending on your needs.
Try labeling the outside of your containers to note the contents of each bin, as it's relatively easy to forget where items are located.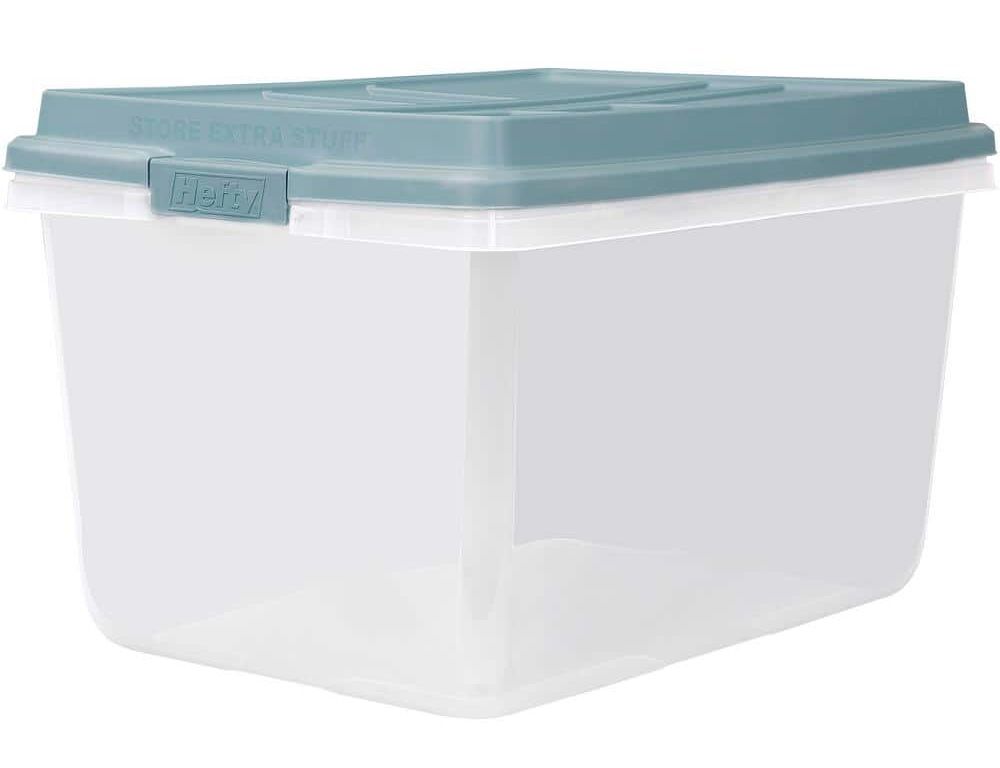 WINDOW COVERINGS/BLACKOUT SHADES - Whether living in a house or car, privacy is essential. Just like you'd have curtains or shades at home, so to should your vehicle.
Coverings are mandatory at night, or for any other time, when you don't want anyone peering into your personal space!
You can make these or buy them, but just be sure to have a set before heading off on your adventure.
Making window coverings (or blackout shades) is extremely easy, and a quick YouTube search will provide many tutorials.
If purchasing, I absolutely recommend Blinds4Cars.com in the U.K. They ship to the U.S. very quickly, and sell shades for virtually any make & model car out there. While they do come at a cost, you'll only need to buy these once, as they're really durable and made to last. Also...
These particular shades are perforated (with tiny holes), and will stay on while the windows are down, so you can still enjoy the fresh air in the warmer months while keeping bugs and other insects out of the car, too!
Some vehicle dwellers tint their windows instead of using coverings. But that's not a great solution. Aside from differing laws in states concerning tinted windows (and huge fines), any light emanating from within the vehicle at night will illuminate the inside cabin and allow others to see through the tinted glass.
If you purchase these through Blinds4Cars.com, and ONLY plan to use them as privacy covers, taping or gluing black felt to the front sides of the shades will cover the tiny perforations, and totally blackout your windows, preventing people from seeing inside your vehicle at night. Works like a charm!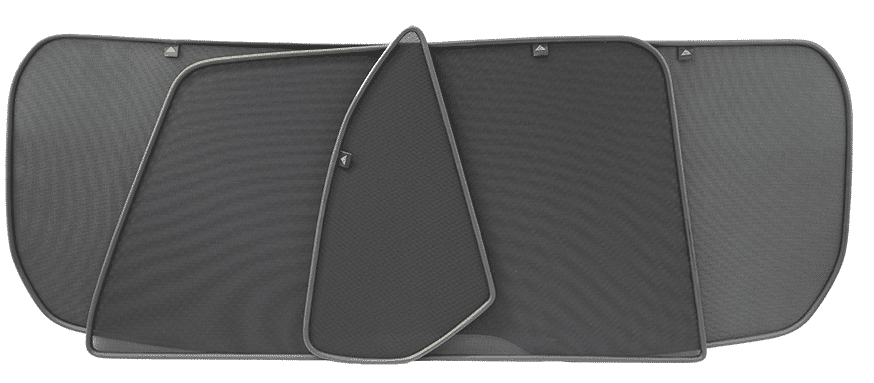 CAMPING STOVE - You will need to cook when living in your car, just like you do at home.
Aside from cooking being a great way to relax, a camping stove is also helpful to maintain a healthy diet (no fatty fast foods!) and living on a budget, as constantly eating out gets VERY expensive very fast.
A gas or butane stove is definitely a priority item.
These come in a wide array of styles, sizes & prices, but you needn't get anything expensive or fancy. Any simple one or two burner stove will do just fine.
I advise you to get a propane stove, as opposed to butane, because the propane canisters are MUCH easier to find in most big box stores, and tend to be cheaper also.
Don't forget to pick up a decent set of pots & pans, as well as eating utensils!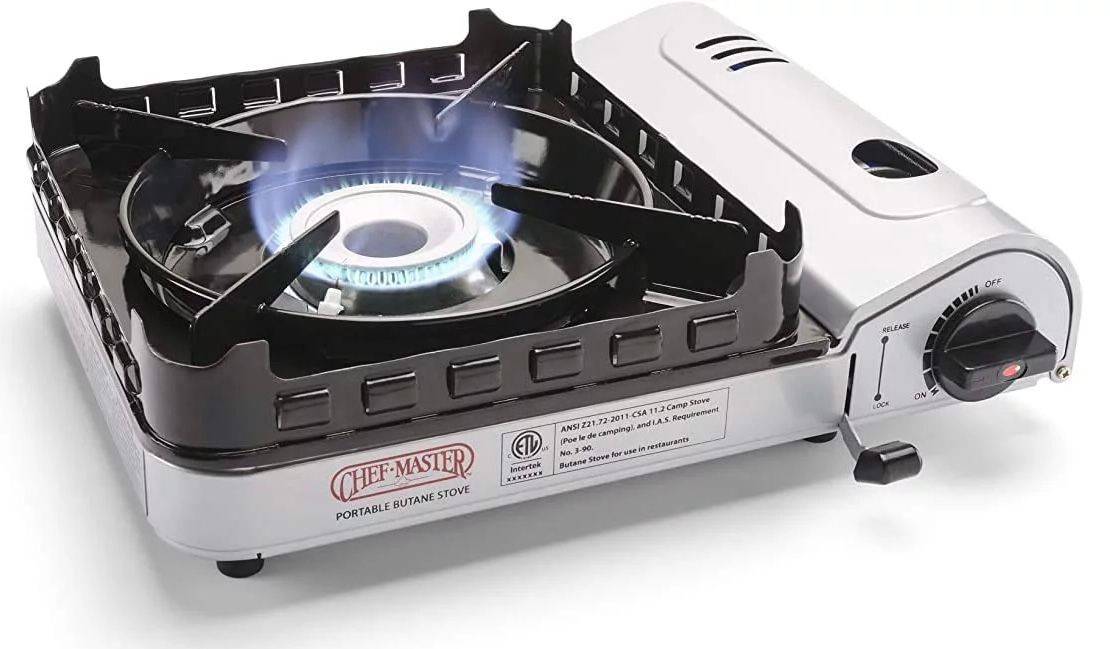 GYM MEMBERSHIP - You'll need a gym membership if you wish to shower while traveling. While there are other places to shower - truck stops, campgrounds, etc. - having a gym membership is the cheapest and most convenient option.
Planet Fitness and Anytime Fitness are probably going to be your best bets, as they each have thousands of locations across the U.S., with many of them open 24 hours.
Membership prices vary, but expect to pay about $25-$30 per month. And trust me, this is worth every single penny!
As an added bonus, showers aside, you can obviously use your membership to hit the gym and get your workouts in. Staying healthy & fit is wise, especially when living in a car.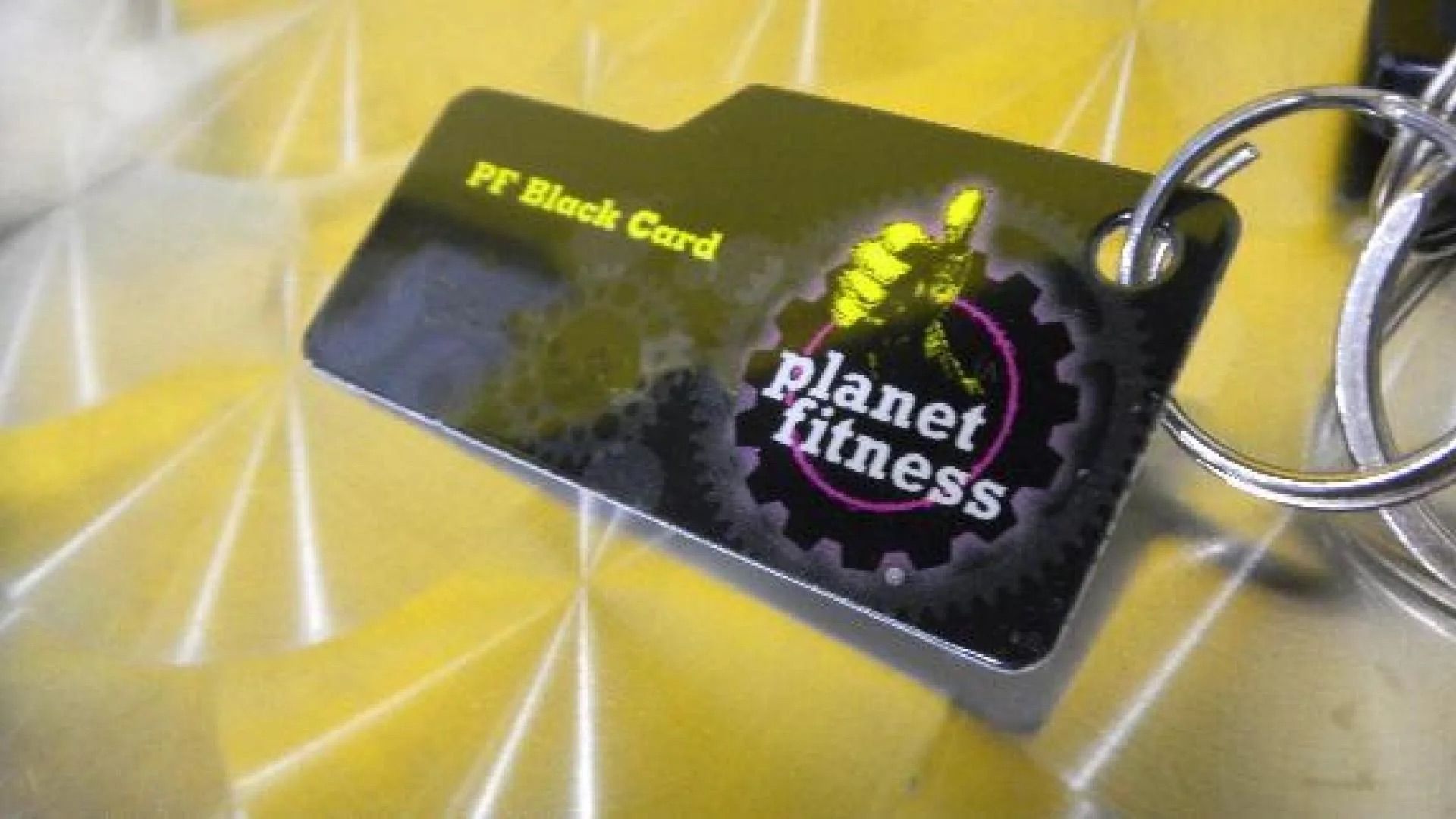 ROADSIDE ASSISTANCE MEMBERSHIP - Don't think about leaving home without this! Being on the road day in & day out takes a toll on your car. You must be prepared if or when a vehicle emergency happens.
A breakdown of your car, a flat tire, locking your keys inside, running out of gas, and a million other possibilities are always in the cards, so having a backup plan is critical.
I use Better World Club and LOVE them, but AAA and Good Sam are also fine options.
MAILBOX RENTAL - If you'll be giving up your home or apartment to become a full-time vehicle dweller, you're going to need some type of address that you're linked to.
Yes, most of our bills are handled electronically nowadays, and letters are almost a thing of the past. But certain businesses and/or governmental agencies will only send correspondence to a real mailbox, not an email inbox.
A mailbox rental - either virtual or physical - is vital. Most vehicle dwellers prefer virtual mailboxes because they're much cheaper, and you never have to pick up your mail personally.
PostScan Mail and iPostal1 are terrific options, but feel free to shop around if you'd like.
Expect to pay roughly $10-$20 per month for a reputable virtual mailbox service. Physical mailboxes usual range from $25-$50 per month.
Be EXTRA careful with using your mailbox (virtual or physical) for car insurance and certain governmental agency purposes (DMV, etc.). These places usually don't accept private mailbox rentals in place of a real, physical home address. It's best to use a friend or relative's residential address for these types of situations...especially when first getting into the nomadic lifestyle, for simplicity reasons.

UNLIMITED PHONE PLAN - It's crucial that you have a dependable, unlimited phone (and data) plan while living on the road.
Aside from staying in contact with friends and family, you might also need it if you choose to work digitally.
While there are a ton of providers out there, most vehicle dwellers go with either Verizon or Visible.
Not having used Verizon's service before, I cannot comment on it personally, but I've heard that it's quite reliable and has great coverage in even the most remote of locations. The downside (to me) is the price, which I believe starts at around $80 per month, depending upon what package and deal you choose.
I prefer Visible, as it's only $25 per month once you join one of their "parties", which is simple to do. Even better...
Visible includes a free, UNLIMITED mobile hotspot! I use this to access the internet when working, and it's worth the $25 per month alone.
The reason for the lower price is because: Verizon actually owns Visible, and they share their cell towers to provide service. Visible offers "non-prioritized" service, which means that during peak times of day when cell tower activity is peaked, Visible customers might see slower data speeds and more dropped calls. However...
For most casual to intermediate users, there should be little to no noticeable difference. If you're an extremely heavy data hog however, then Verizon might be the better solution.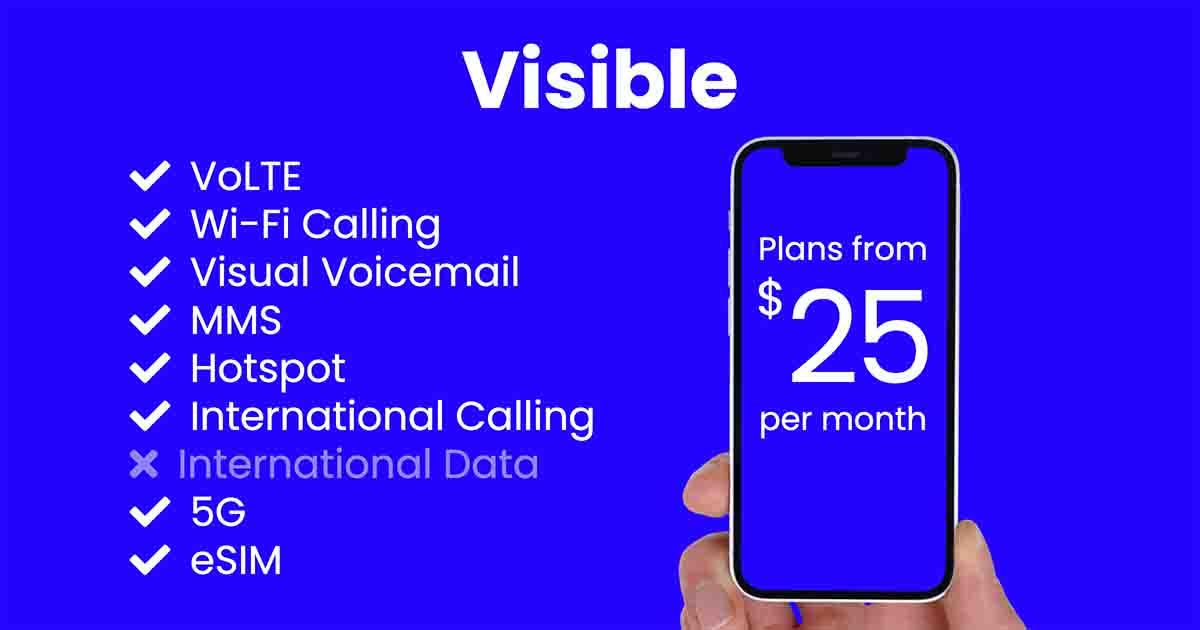 URINE CONTAINER - This last item is one you don't want to forget!
Without sounding crude, going to the bathroom is something you'll need to plan for. While number two will have to be done at a rest stop, Starbucks, fast food chain, etc., going number one - especially at night - is a much easier problem to solve.
Put simply, like all nomads do, you'll have to use a urine container of some sort.
For men, the solution that I recommend is to buy a half-gallon jug of juice, milk or some other beverage, and once it's consumed, use the jug as your dedicated urinal.
The best containers I've used are the 59oz bottles of Pure Leaf Iced Tea (photo below). Not only is the tea itself delicious, but the bottles have a certain cap design which makes accidental spills practially impossible. Try to find this or something with a similar cap setup. Certain orange juice containers also have the same cap design.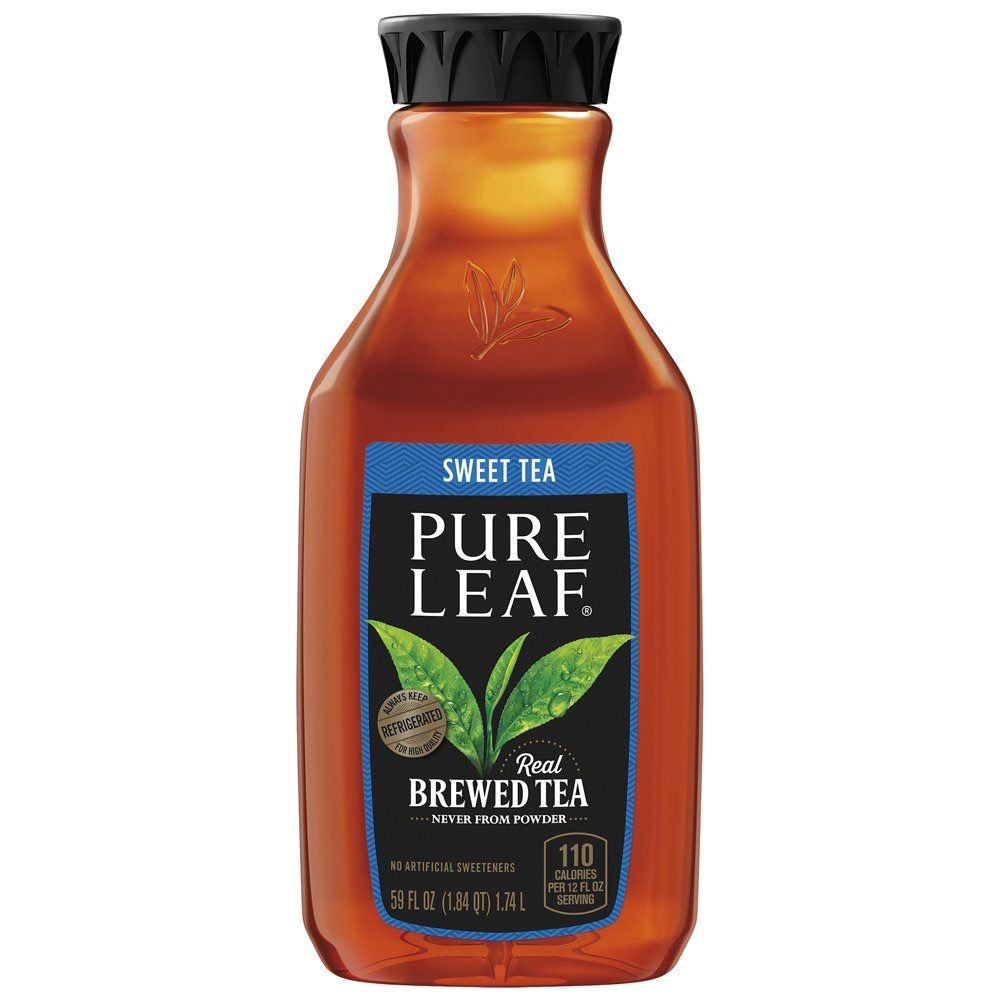 If you're a woman who lives in a car, a bottle alone isn't going to cut it. Fortunately, there are an assortment of products made for this very issue, like the female urinal pictured underneath. You can buy these in the $10-$20 range.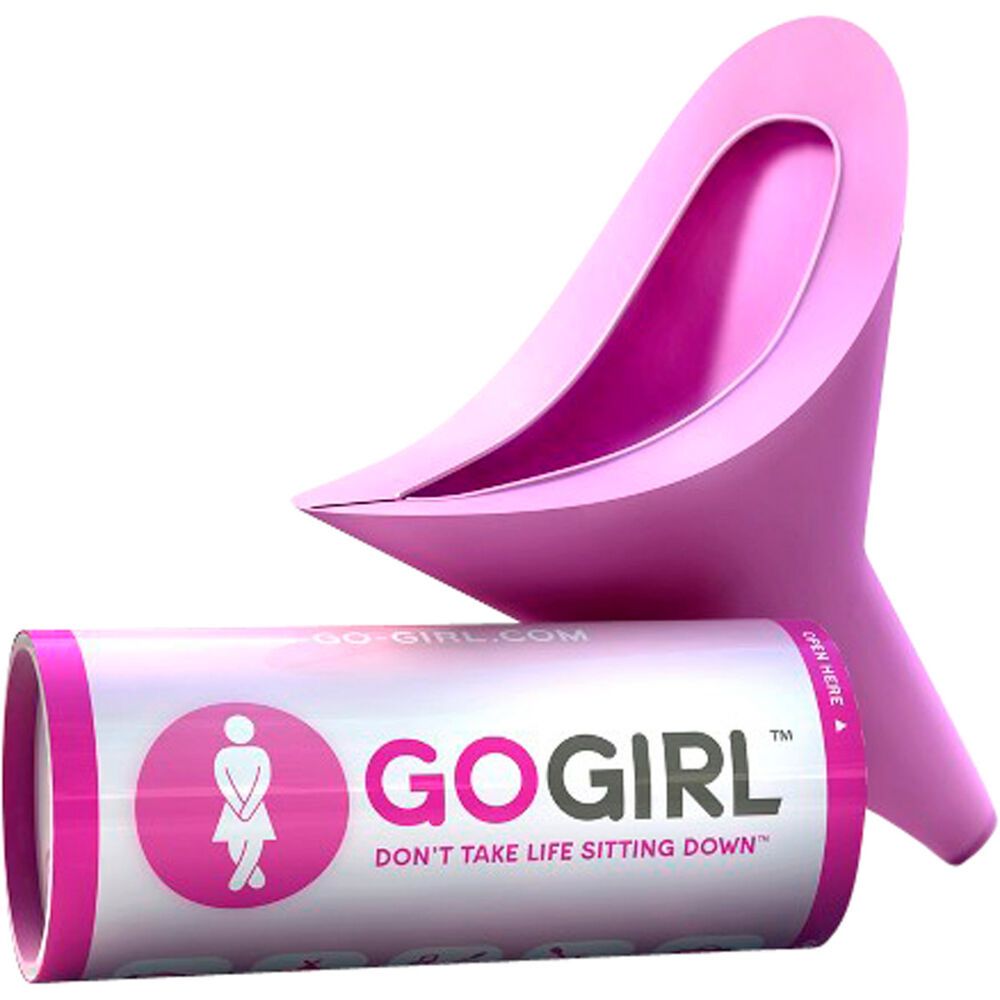 IMPORTANT - Whether you're male or female, don't store your liquid waste in a bottle or container that doesn't have a screw top lid. Trust me, snap cap lids do NOT seal well, and you will definitely encounter spills eventually. This is especially true of those medical urinal holders that most pharmacies sell!
---
OTHER IMPORTANT CONSIDERATIONS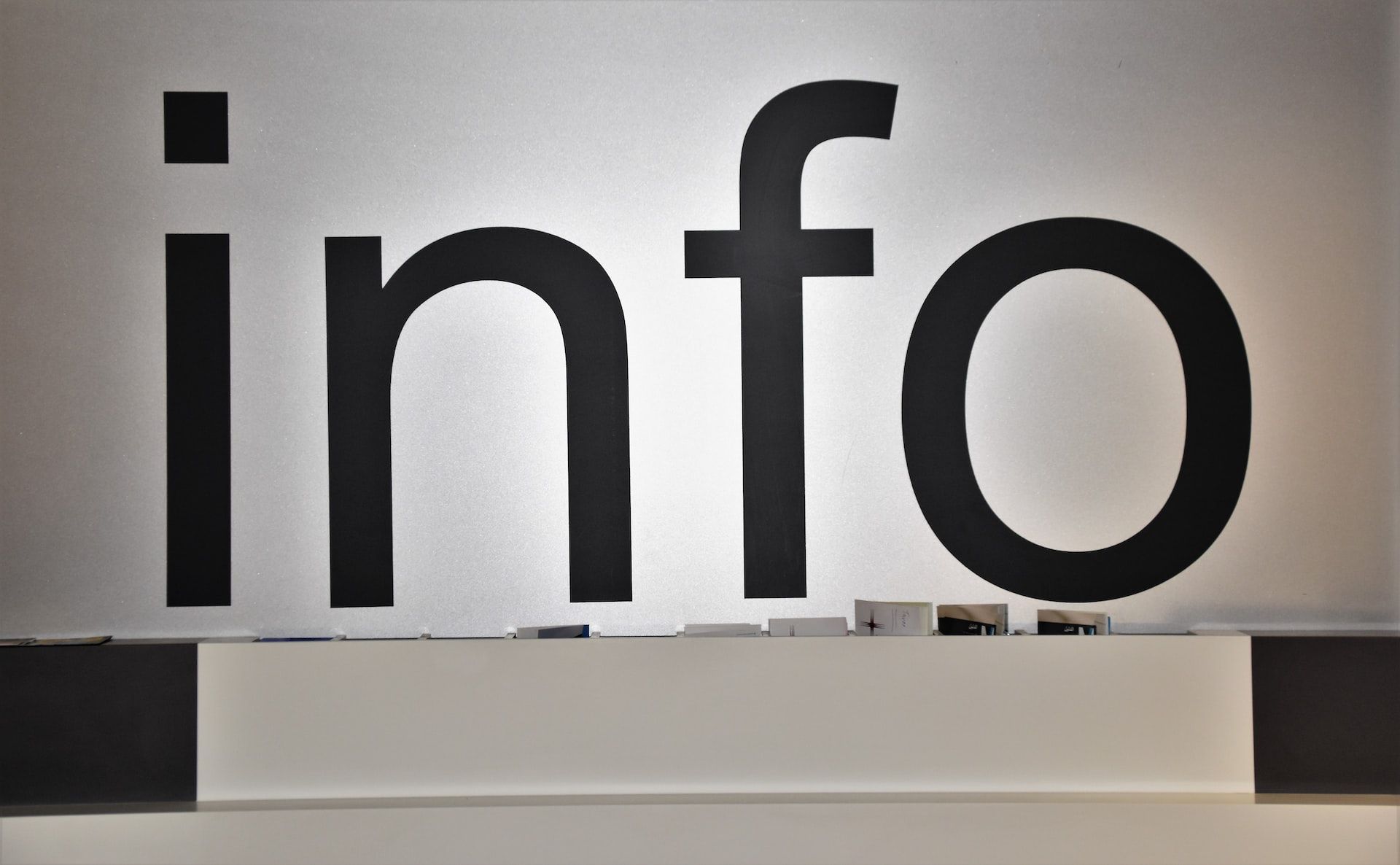 Charging Your Devices
Charging your electronics (phones, laptops, shavers, etc.) while living in a car will obviously be mandatory. And a wall outlet - or the convenience of a nearby Starbucks - to harness electricity isn't always close by.
The easiest (and cheapest) way to accomplish this when first starting out, will be to use your car's 12v cigarette port to get things powered up.
I do just this myself, and it works very well. But if you own more than one or two devices (as most of us do nowadays), then be prepared to juggle the charging of these items on a regular basis.
💡
When your car is shut off (during sleeping hours, while you're at work, and so forth), you may lose the ability of the 12v port, as many automobiles disable it as a safety feature. On the flip side, many vehicles' 12v outlets continue to draw power…even when the car isn't on. Which means if you accidentally leave something plugged in for several hours, you might get surprised by a dead car battery! Be VERY careful about this!!!
Again, I charge my laptop, phone and a few other items all from the 12v port without a power station. It CAN be done. However...
If charging your electronics via the car's 12v port isn't going to be practical or convenient for you, then your best bet will be purchasing a portable power station.
Portable Power Stations for Vehicle Dwellers
The issue with portable power stations is that many tend to be large, take up valuable space in a vehicle, are expensive, and most importantly, these power stations will eventually need to be recharged themselves, unless they're connected to a solar panel.
But if you absolutely cannot do without one, power stations will definitely make life SO much simpler! Just have a plan on how you'll provide constant power to the unit, OR, where & when you'll recharge it when the times comes.
Research is key when it comes to power stations! Read lots of reviews before purchasing.
Jackery, Bluetti, Anker, Yeti & EcoFlow are among the most well-known brands, but there are countless others (even off-brands) that are terrific too, and can also be more affordable.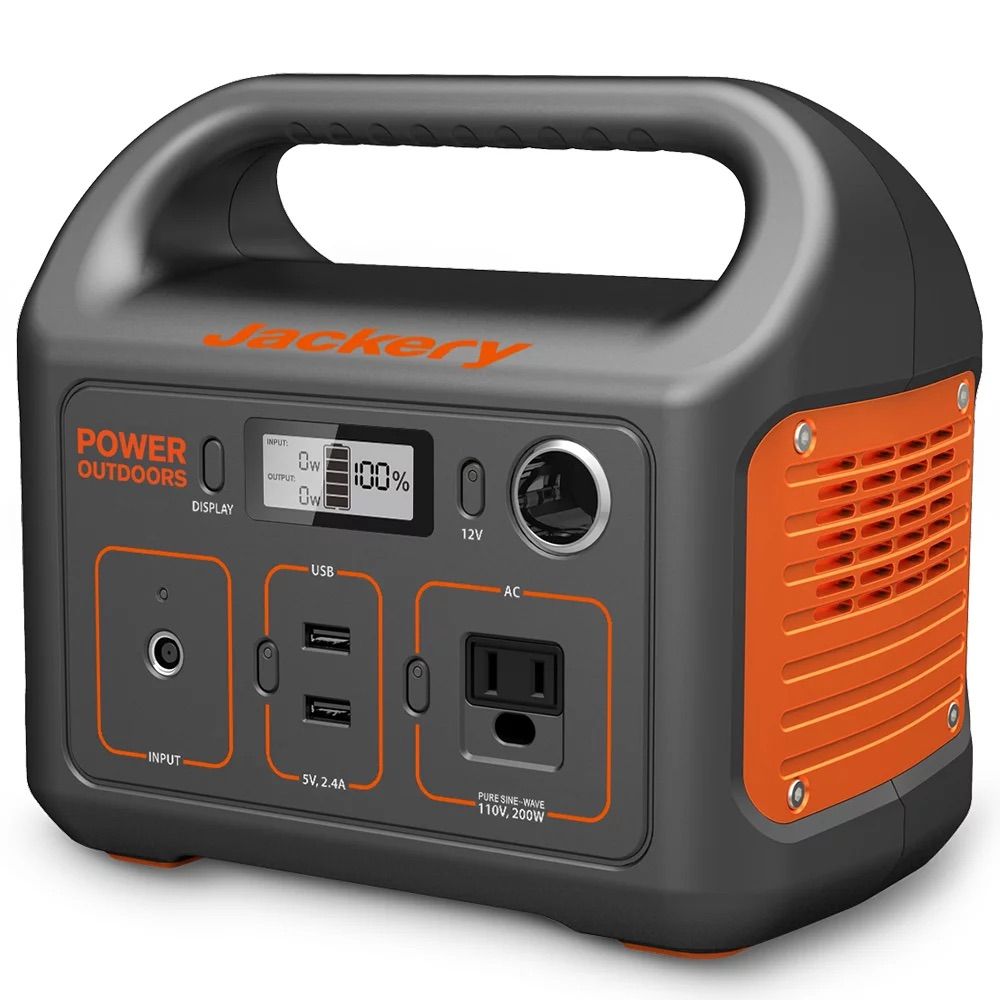 12v Car Refrigerators (Do You Really Need One?)
If you read this whole article, you might be wondering about food. Specifically, how to keep things cold, or perhaps even frozen. But I purposely left refrigeration out of the equation until now because...
It's really not needed.
Yes, it's awfully nice to have, but as I've already said many times, if your objective is to start living in your car as QUICKLY as possible, and within a smaller budget, a refrigerator will have to wait for a while.
💡
I've been living on the road full-time since April of 2022, and have gotten by more than fine without a refrigerator. While I do plan on getting one in the near future, this is absolutely NOT a necessary item by any means...moreso a luxury.
Not having a refrigerator WILL certainly limit the types of food you can store, and I realize that this isn't everyone's preferred way of living. But for those who are tight on cash and looking to hit the road asap, trust me, you can make it work...just like me.
The "trick" will be to eliminate buying anything that absolutely MUST be cold or it will turn bad, or go sour.
Things like eggs, milk, meat, cold cuts, fish, chicken and other perishables cannot be bought at all UNLESS you plan on cooking/eating them within a few hours of purchase, which I do fairly often.
Other items like cheese, yogurt, pre-made salads and similar foodstuffs CAN last for 2-3 days based on my experience, IF they're stored in a dark, cooler place away from direct sunlight or high heat. Don't think about pushing your luck longer with items like this! Rotten food is a waste of money, and can also lead to food poisoning.
There are PLENTY of healthy, delicious, affordable foods you can store without a refrigerator. Some of the staples I always have on hand are...
BEANS - Cheap and yummy. Any variety of canned beans goes well in soups, salads, or even eaten by themselves. Full of protein, too!

VEGGIES - Canned veggies last forever, and are good paired with anything, or just as a standalone meal. Spinach, corn, peas, string beans, mushrooms, etc. Try to find low sodium options as they're healthier for you.

POTATOES - Canned potatoes are another winner. They're filling, inexpensive, and they store for a long time.

FRUITS - Bananas, apples, peaches, pears, plums, grapes, canteloupe, etc. I prefer to buy these fresh, because they not only taste better, but they aren't packed in sugary juices containing high fructose corn syryp. Also, if stored properly, you can easily stretch these items for 5-7 days before they start going bad.

RICE - An amazing, versatile food. Goes with veggies, in soups, burritos (mixed with beans), or just eaten by itself. One cup can be cooked on a propane stove super fast.

PASTA - I LOVE pasta. Maybe too much. You can buy it for pennies, it never goes bad, and there are a gazillion recipes to use it with. Even just covered with a jar of cheap sauce it tastes great!

SOUP - Canned soup is a camper's best friend. It's super filling, costs almost nothing, can be stored for eons, and it's simple to warm up on a propane stove. I usually keep multiple cans of different kinds stocked. Ramen soup is also great because it's dirt cheap, very filling, and never spoils. Enjoy Ramen in moderation though, because these are packed with sodium!

PEANUT BUTTER - Peanut butter sandwiches are great, especially with jelly! Or spread some on an apple, carrot, celery stick, etc. Very nutritious and lasts a while without refrigeration.

RICE CAKES - These amazing snacks satisfy even the heartiest of hunger pangs. I like the plain or lightly salted varieties, because they don't have much sugar or salt, but whichever you buy, rice cakes are perfect when living in a car.

ENERGY BARS - Protein or energy bars are really delicious, and are loaded with protein, provided you buy the healthier options. KIND Bars & RX Bars are two of my most favorite brands.

MIXED NUTS - Almonds, cashews, peanuts, pistachio nuts, etc. are considered super foods! They're pricey, but they're great snacks that are a source of protein and other nutrients. Trail mix falls into this category also. Again, I usually opt for the low sodium options if available.

RAISINS, PRUNES & DRIED FRUITS - These are so good when you have a sweet tooth...or for any other time.

POPCORN - Perfect when getting those late night munchies, or when you just want a fast, simple snack to enjoy.

CRACKERS - Eat these alone, or put some canned cheese on top, peanut butter, jelly, etc. Great for bulking up soup dishes, too.
As you can see, there are a lot of food options you can store WITHOUT a refrigerator. And the items I just mentioned are only a few!
If you absolutely MUST have refrigeration however, and don't mind spending the cash for one, below are my recommendations...
A good quality fridge can be bought for $200-$400, and Amazon has hundreds of different types. Just remember what I mentioned earlier...
You need to figure out a way to power it continuously, or else it's going to be a waste of cash & space.
WAYS TO POWER YOUR REFRIGERATOR
Via a portable power station

Via the 12v port in your car

Via an inverter connected to your car's engine
Let's look at these options individually...
FIRST OPTION: Running your fridge with a power station will work well, and many vehicle dwellers use this method. But the drawbacks are that power stations run down fairly quick, and you'll then have to find a place to charge the power station. This is very inconveient.
Another option is to charge your power station throughout the day via solar panels. Aside from the added cost of the panels, solar charging is very slow, and highly dependent upon the weather. Lastly, finding places to affix the panels to on a car is another extremely challenging task.
SECOND OPTION: Powering your fridge via your car's 12v port is another solution, but whenever you turn off your car, you'll lose charging capabilities, as no current will be running. Conversely, even if your car's 12v port stays on while the car is turned off, you then run the risk of killing the vehicle's battery.
On top of this, you won't have access to charge your other devices (phone, etc.) while the fridge is plugged into the 12v port.
THIRD OPTION: The last option is hooking up an inverter to your car's engine. This is another method lots of nomads employ. While it works efficiently, you have to factor in the price of the inverter, having someone reliable hook it up for you (if you cannot do it yourself), and dealing with ugly wiring that you'll need to hide in your cabin space.
You also have to be EXTREMELY cautious about leaving the inverter turned on while the car isn't running, as it can deaden a battery in a jiffy.
All of these methods work. But you have to figure out which works the best for YOU, and your situation.
Once you've decided how you'll power your fridge, it's time to choose one. All of the models pictured below are very popular, but make sure you research fully before buying!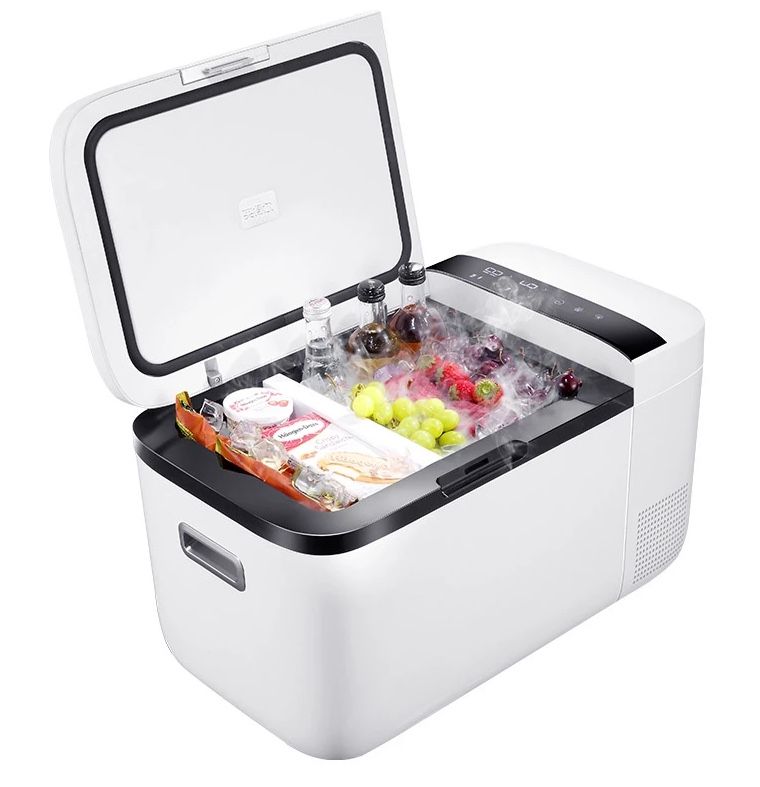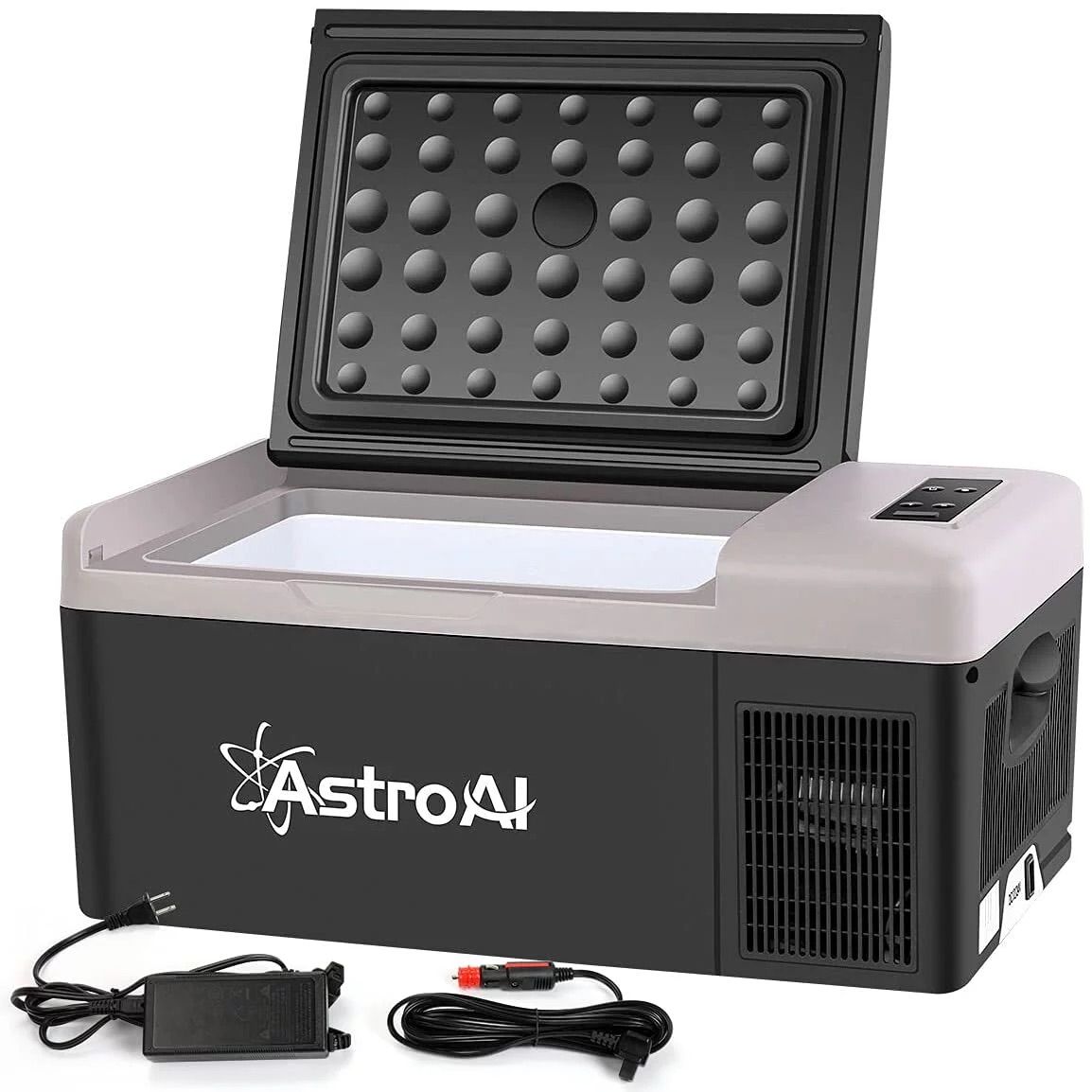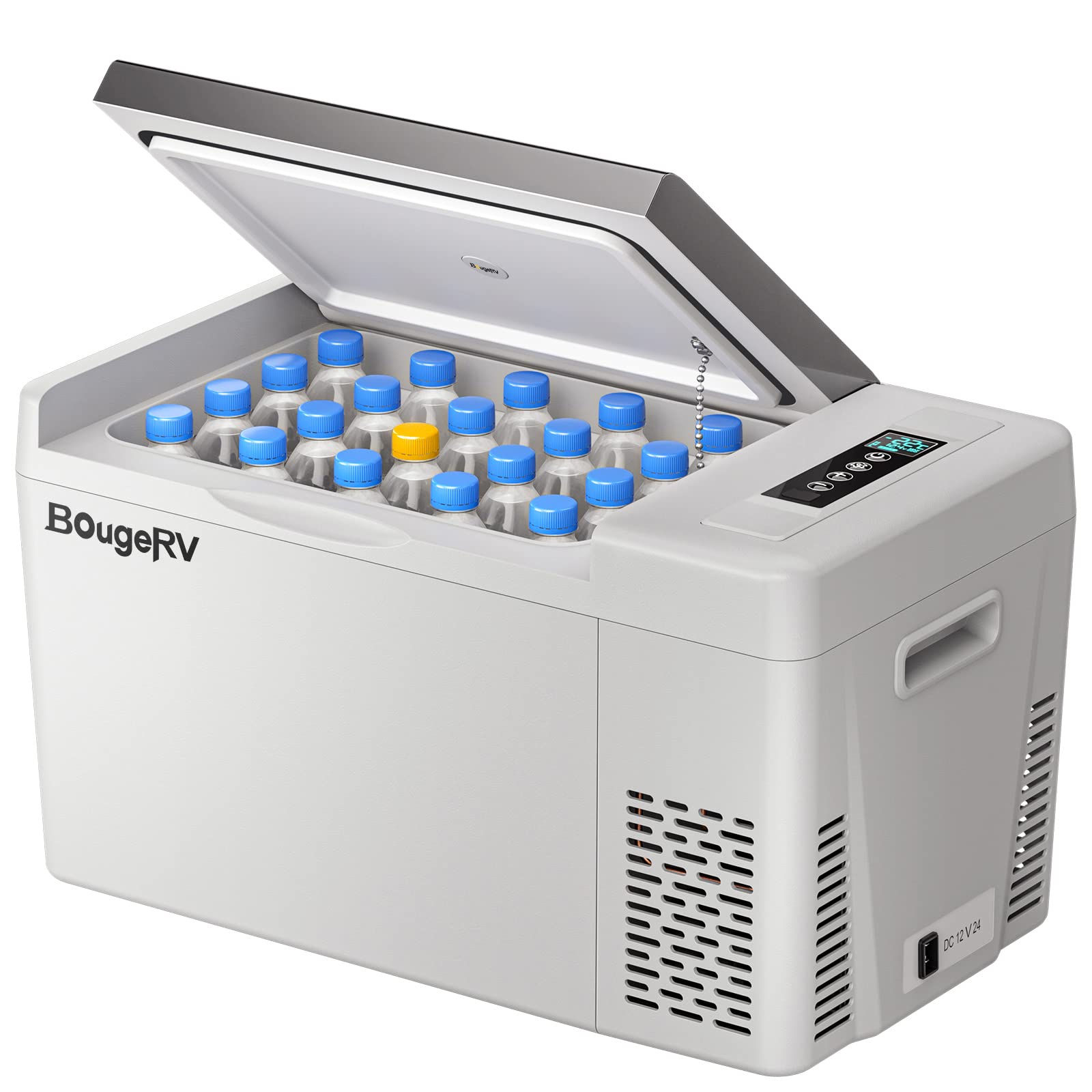 ---
How to Live in Your Car FAQ's
Is Living in a Car Stressful?
At times, yes. People who live in their cars have stress, just like those in houses or apartments do. Individuals who live in their vehicles might have different types of stress, but it's all the same at the end of the day.
How Can You Stay Warm in a Car when it's Cold?
If you choose to live in a car, having a plan on staying warm in colder weather should be a top priority. Read my article: Stay Warm in a Car with No Heat
Is it Legal to Live in Your Car?
Yes, living in a car or any other vehicle is perfectly legal. Matter of fact, it originally started with van dwellers in the 1960's & 70's. However, there are many places that do not permit sleeping in a car overnight. Find out more information here: Is it Legal to Live in Your Car? [Avoid these Mistakes]
How Can I Save Money While Living in a Car?
By eliminating your rent or mortgage payment, you will be off to a great start. I have saved a small fortune while living out of my vehicle, all on a very small salary.
In addition to having no rent or mortgage, you will have zero property taxes to pay, no renters insurance or home repairs, etc. Further, your utility expenses will be gone when living in a car, too. This is only the tip of the iceberg. Read more here: How Much Money Can You Save Living in a Car?
Is Staying Safe While Living in a Car Possible?
It's not only possible, but thousands of vehicle dwellers do so every day. Here is some practical safety advice if you're living in a vehicle…
Always park your car in a safe location such as a well-lit area and avoid parking in secluded or unsafe areas.
Always lock your doors and windows and consider installing an alarm system if you don't already have one.
Avoid drawing attention to the fact that you are living in your car by keeping a low profile and avoiding noisy activities at night.
Be sure to have emergency contacts and a plan in case of any emergency situations.
What are the Top Reasons to Live in a Car?
To travel cheaply and see more of the world.
To reduce the stress and monotony of your everyday life.
To save money or escape a living situation that you can't afford.
To meet new people and join a growing community of other vehicle dwellers.
How to Live in a Car and Wash Your Clothes?
If you want to wash your clothes and do laundry on the road, you have many options…
Visit any coin operated laundromat and clean your clothes yourself, or get wash & fold service
Bring your laundry to a friend or relative's place that has a washer & dryer
Use a bucket and washboard to wash clothes yourself.
Which Businesses are Car Living Friendly?
There are many businesses that are welcoming of vehicle dwellers, and allow overnight parking. Some of the bigger ones that offer a nightly place to park are…
Cracker Barrel
Cabela's
Home Depot
*Walmart
Larger Casinos
Truck Stops
Welcome Centers
Many Walmart locations no longer allow overnight parking, but lots still do. You MUST look for posted signs to know for sure, or just make a friendly call to the store manager and ask. It is good to do this anyway, no matter the store, just to be on the safe side.
---
Final Thoughts about Living in a Car
Becoming a full-time vehicle dweller is an amazing journey to embark on. And I assure you, almost ANYONE can do it, provided they have the right knowledge!
If you're dreaming of living this wonderful lifestyle (even part-time or occasionally), I advise you to read this article many times, so that the information is clear to you and sinks in.
Living out of a car - whether by choice or necessity - takes a big commitment. The better armed you are with information, the easier your transition will be from home to vehicle.
While the instructions I've shared will carry you very far, I cannot stress enough how important it is to also perform your own independent research, and explore ALL of your options before making any life-changing decisions.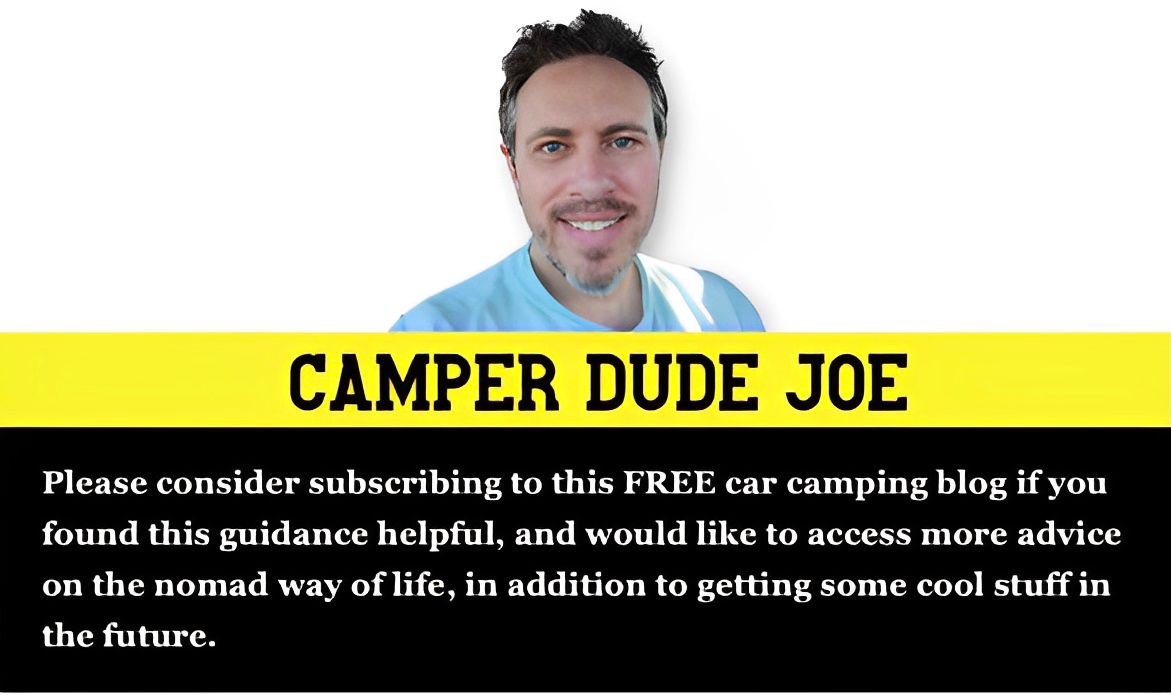 LIVE WISELY, LIVE WELL!