Free Info Guide: Camping for Disabled Adults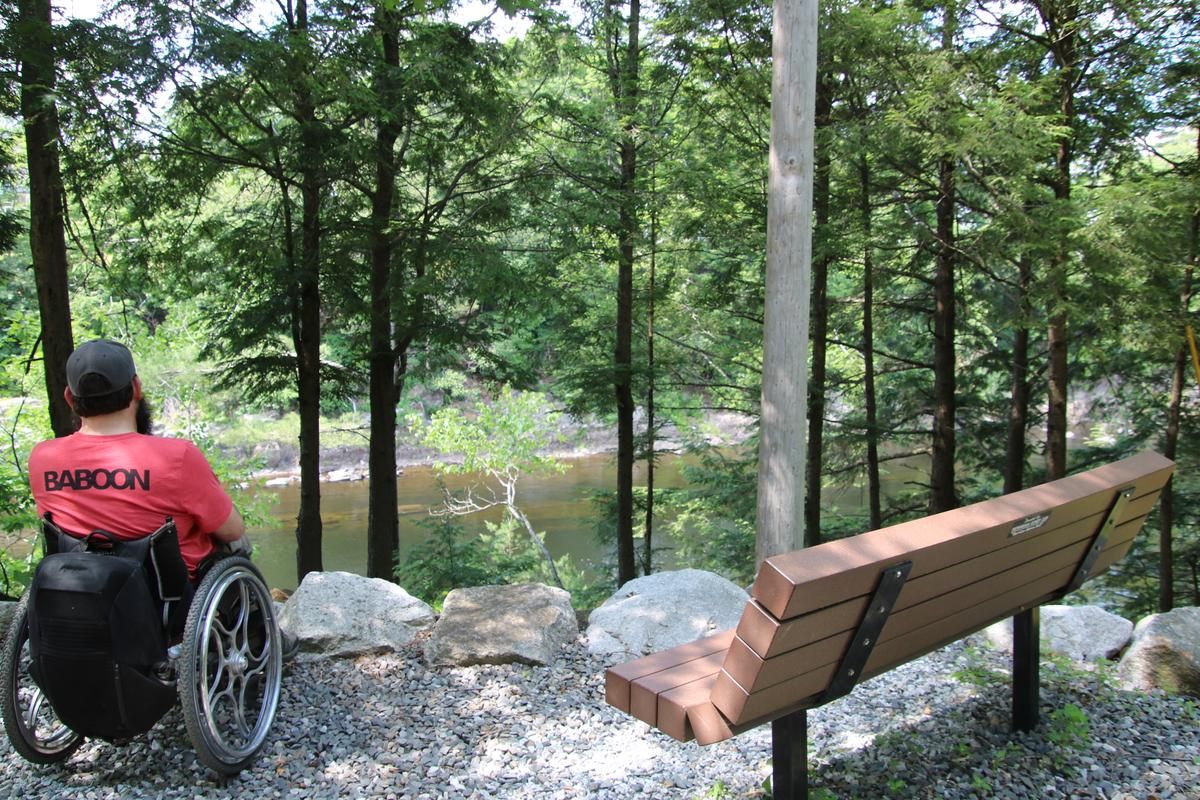 After suffering a massive stroke in late 2020, I truly never thought I'd walk again…much less go camping. Yet…
Almost 3 years later, I'm not only living independently, but I'm also a full-time car camper who makes his home in a Toyota Prius. Yes, I live in my car, and I love it!
Great news: there are MANY options when it comes to camping for disabled adults, and I'm going to share a bunch of possibilities so you too can enjoy the great outdoors.
Let's dive in to the camping tips!
---
Understanding Accessibility for Disabled Adults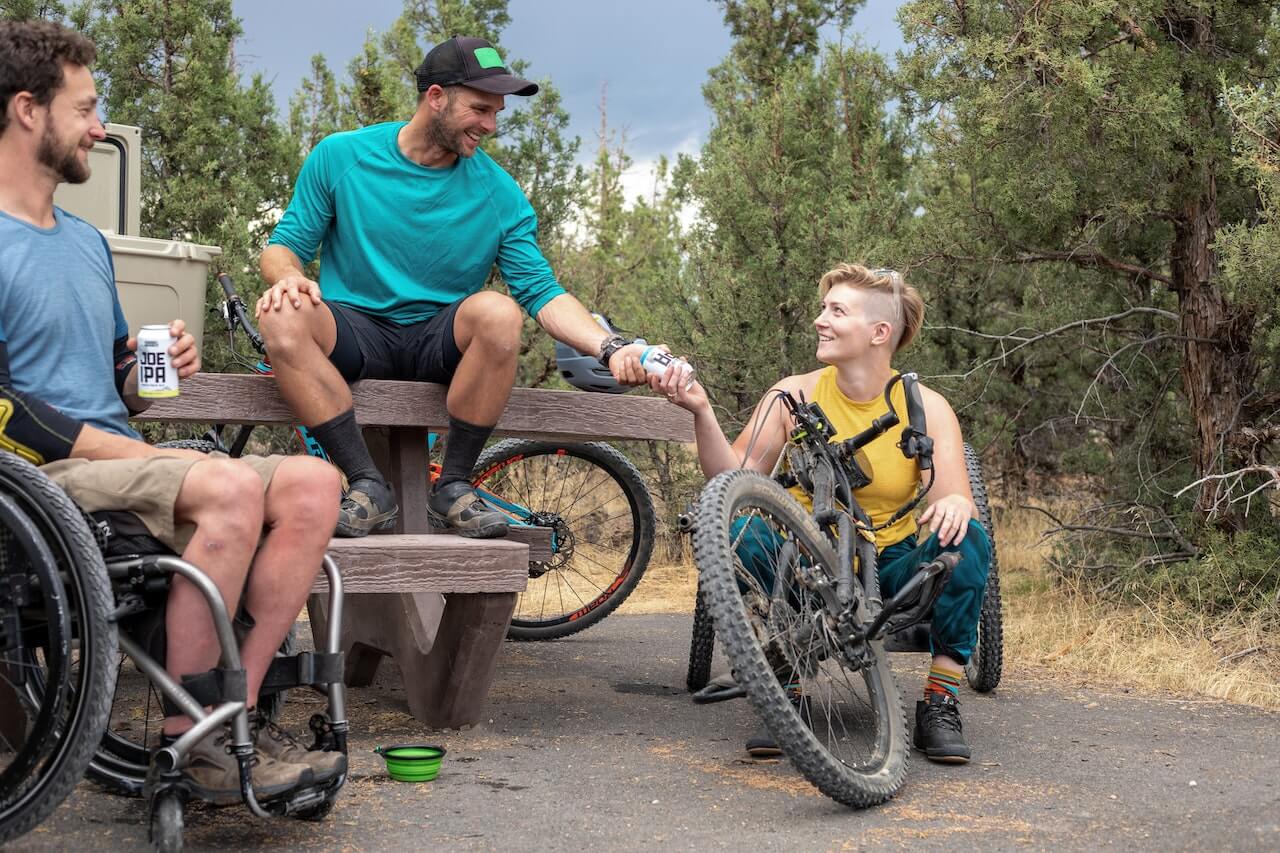 Types of Disabilities
If you're disabled yourself, or are planning a trip with someone who is, it's important to consider the specific obstacles that may encountered when camping, based upon the type of disability at hand. For example…
Disabilities can be physical, mental, or a combination of both. Some common disabilities include mobility issues, vision and hearing impairments, mental health conditions, and cognitive impairments.
Each of these will require different needs, as well as proper planning to ensure a comfortable camping experience.
Making Camping Accessible
Making a campsite accessible for disabled adults involves several key components:
Wheelchair access: Ensure that pathways and facilities are wide enough for wheelchairs and have smooth surfaces to facilitate easy movement. If possible, choose campsites with paved or boardwalk trails that are wheelchair-friendly.

Assistive devices: Does the campground provide options for assistive devices, such as ramps, grab bars, or tall doors, that will help with mobility and accessibility?

Adjustable amenities: It's important to consider the placement of amenities like picnic tables, benches, and restrooms. Make sure they are wheelchair-accessible and can accommodate other assistive devices as needed. Offer movable or height-adjustable fixtures when possible.

Joint care: For individuals with joint issues or arthritis, provide cushioned seating and sleeping surfaces to make their camping experience more comfortable.
Look for sleeping bags with extra padding, camping mattresses, and supportive chairs designed specifically for people with joint pain.
Managing mental health: For campers with mental health issues or cognitive impairments, it's crucial to create a safe and predictable environment.
Offer visual cues and clear signage to make navigating the campsite easier, and establish quiet areas or designated quiet times for those who need a peaceful retreat. Provide schedules and routines to help them feel more secure and in control of their surroundings.
By considering the needs of disabled adults and implementing these accessibility features, you can create a more inclusive and enjoyable camping experience for everyone involved.
---
Selecting the Right Campground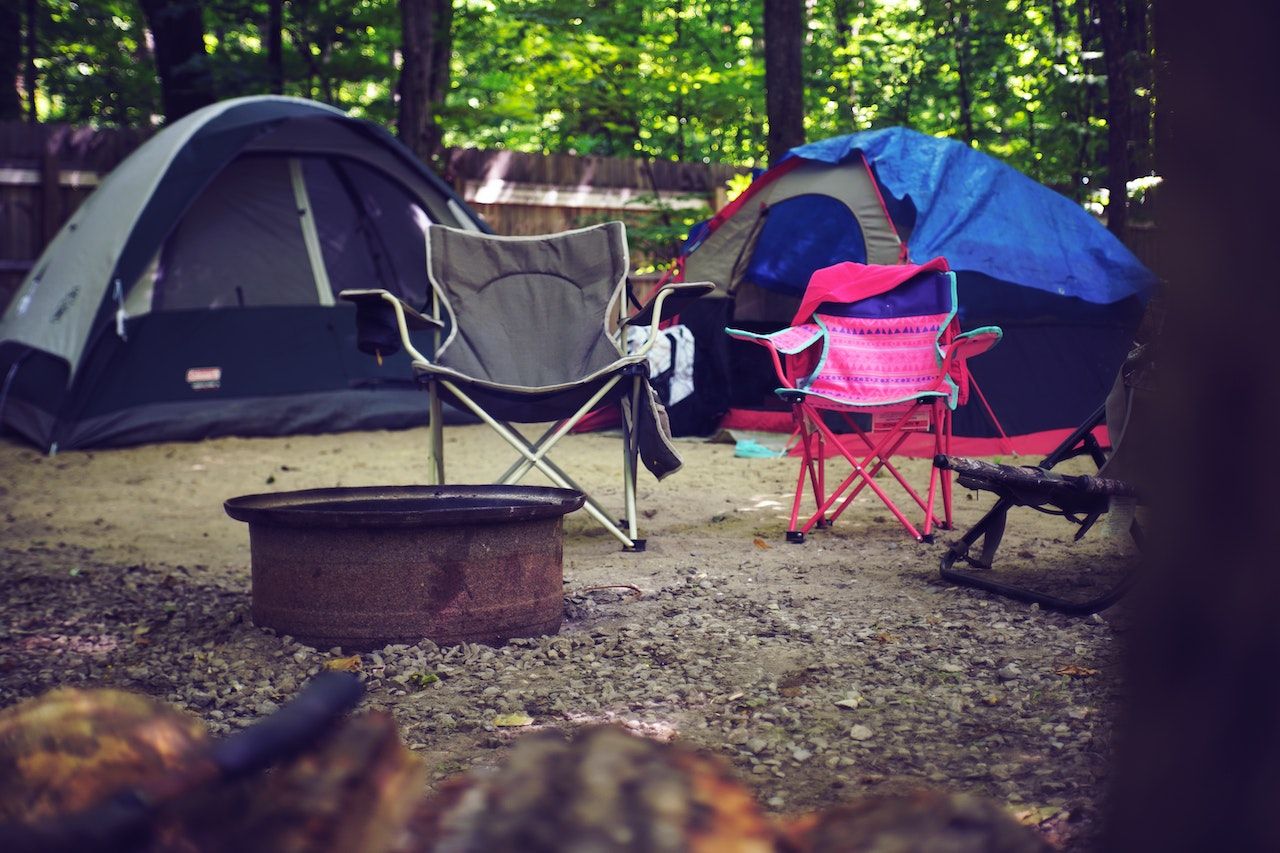 National Parks and Forests
When planning your camping excursion, considering national parks, national forests, and national wildlife refuges could be a great option for finding accessible campsites. Many state parks even offer campsites for the disabled.
These sites often offer a variety of amenities such as paved surfaces, which helps make mobility easier. Keep in mind that accessibility standards might vary across different locations.
To find accessible campsites in national parks and forests, start by visiting the respective website, like the National Park Service or the US Forest Service.
Browse through their list of campgrounds, look for information on accessibility, and make sure to call ahead to confirm availability and any specific requirements.
Here are a few points to consider while selecting a campsite in national parks and forests:
Look for campgrounds with paved surfaces for easy mobility

Assess the location's proximity to restrooms, showers, and other facilities to ensure they're easily accessible and suit your needs

Check the availability of electric hookups if needed for equipment like power chairs or medical devices
Private Campgrounds
Private campgrounds are also great options for disabled adults, as they often prioritize accessibility and offer a variety of services tailored to your needs.
Most private campgrounds usually have at least a few handicap accessible sites.
To find these campgrounds, you can search for keywords like "accessible campsites" or "disabled camping" along with your desired location in a search engine.
When choosing a private campground, consider the following:
Research the location's accessibility features, such as paved surfaces or special equipment

Evaluate the campsite's overall value, taking into account any additional fees or costs for accessibility features

Read reviews from other campers with disabilities to get a firsthand account of their experience at the campground

Reach out to the campground to discuss your specific needs and any accommodations they offer
By carefully selecting the right campsite, either in national parks and forests or private campgrounds, you can ensure a comfortable, enjoyable, and accessible camping experience.
Remember to do thorough research, communicate with the campground staff, and go prepared with your essential equipment for a successful camping adventure.
---
Adaptive Camping Equipment and Accommodations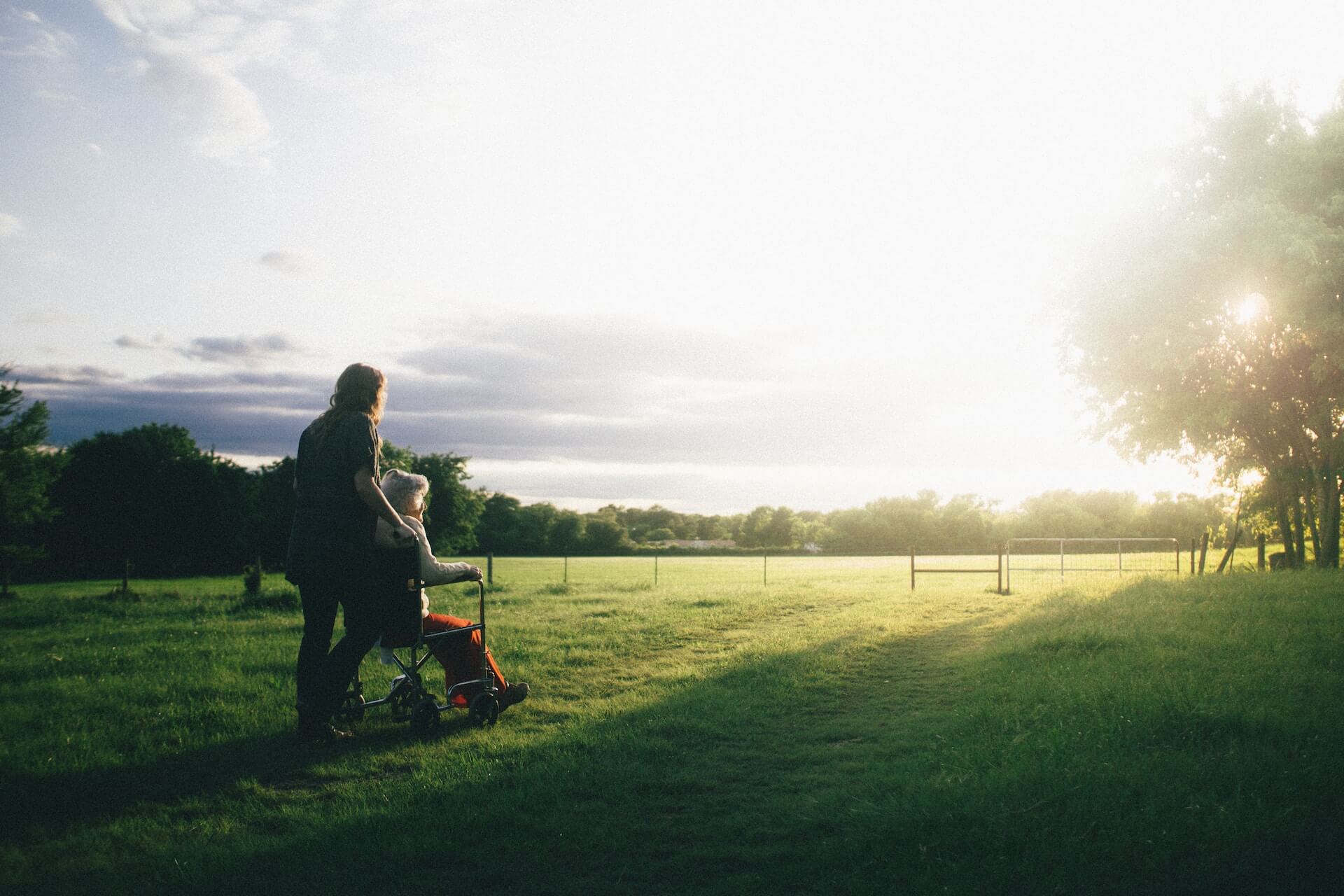 Tents and Sleeping Arrangements
When it comes to choosing tents and sleeping arrangements for your camping excursion, it's important to think about your specific needs in terms of mobility and accessibility.
A tent with a wide, easy-to-access entrance will make it much easier for someone using a wheelchair or other mobility aids to enter and exit comfortably.
You may want to consider renting yurts or bell tents, as they often have larger entrance areas and are more spacious inside, allowing for better maneuverability.
When selecting a sleeping system, consider options that are comfortable, supportive, and easily adjustable. Air mattresses and sleeping pads can often be customized to accommodate your unique needs, providing additional support where necessary.
Further, ensure that your sleep setup is placed on a level and firm surface to minimize any potential hazards.
Bathrooms and Sanitation
One of the essential aspects of an enjoyable camping experience is ensuring access to inclusive and accessible bathroom facilities.
When selecting a campground, make sure it has handicap-accessible bathrooms that meet ADA standards. These facilities usually include features like wheelchair ramps, wider stalls, and grab bars for safety and convenience.
However, if you find yourself camping in an area that doesn't offer accessible bathrooms, you might consider investing in portable sanitation options.
Many portable toilet options on the market cater to individuals with limited mobility, including raised toilet seats and portable commodes with grab bars.
Additionally, look for campgrounds with shower facilities that accommodate wheelchairs and have adjustable showerheads for ease of use.
Remember, as you plan your camping trip, keep accessibility and adaptability strongly in mind. By having the right equipment and accommodations adapted to your needs, your outing will be that much more enjoyable and stress-free.
---
Activities for Everyone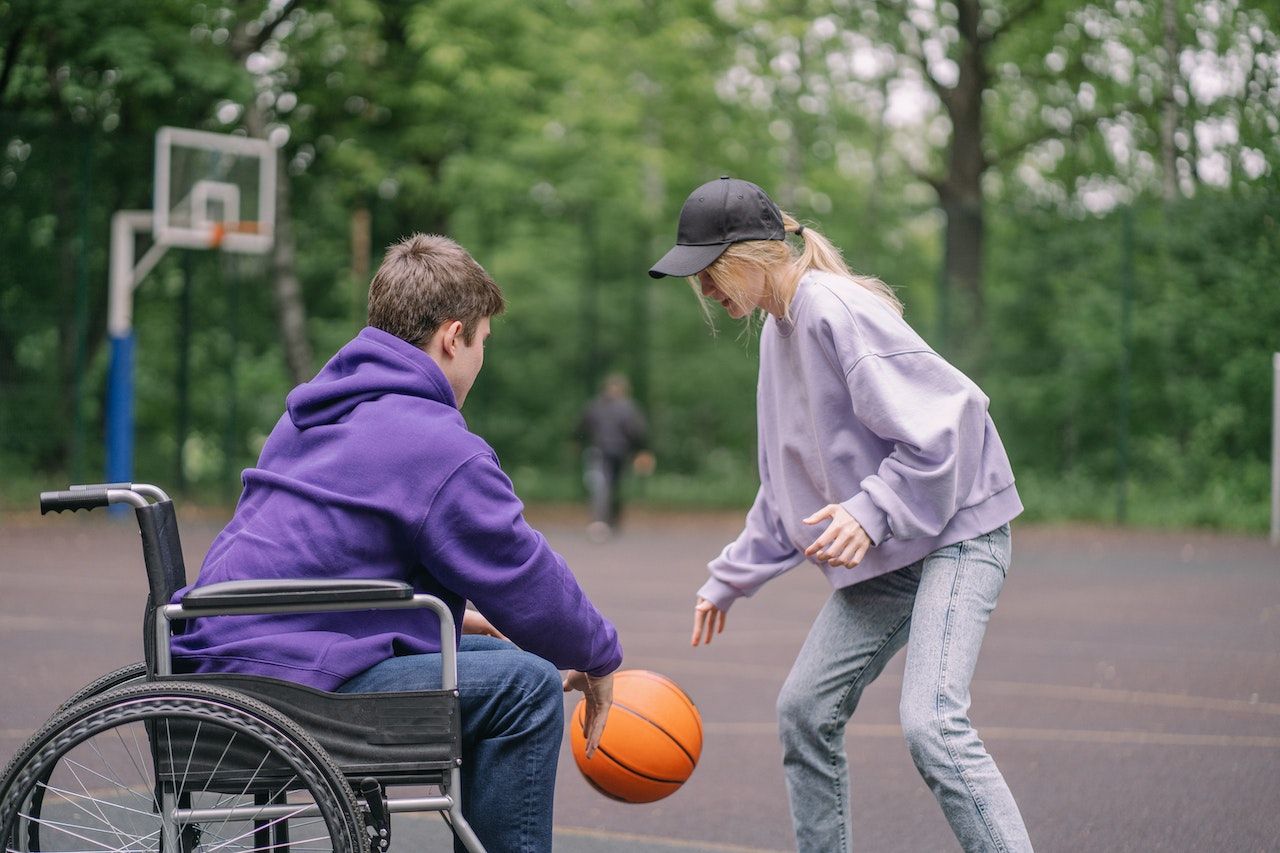 Outdoor Pursuits
When planning camping excursions, you can find parks and campgrounds that offer an assortment of accessible activities for those with disabilities.
In your search, consider Easterseals camping and recreation programs, which are designed specifically for children and adults with disabilities, offering accessible spaces where everyone is valued, respected, and accepted.
A variety of outdoor pursuits are available for everyone to enjoy, including adaptive camping sports like wheelchair basketball or tennis.
Another option for fun outdoor activities is participating in handicap-friendly day camps that focus on accessible pursuits, such as archery, fishing, or even sailing, depending on the camp and its location.
Arts and Crafts
Camping for disabled adults involves more than just physically demanding activities. One example is arts and crafts projects that are focused on recreation and relaxation.
Some accessible community programs may offer creative outlets like painting, pottery, and textile work that are tailored for individuals with disabilities.
When planning your camping adventure, look for programs or facilities that accommodate diverse abilities and interests.
Campgrounds - or nearby community centers - might have accessible workshops, so be sure to inquire about any available arts and crafts opportunities during your trip.
The key is to choose a campground and/or itinerary that includes a good mix of activities to be enjoyed.
Plan an ample amount of physically-geared recreation, coupled with projects that are more slow-paced and mentally stimulating. This will not only help prevent boredom and overexertion, but it will also provide overburdened caregivers with much needed breaks from time-to-time.
---
Planning Your Camping Trip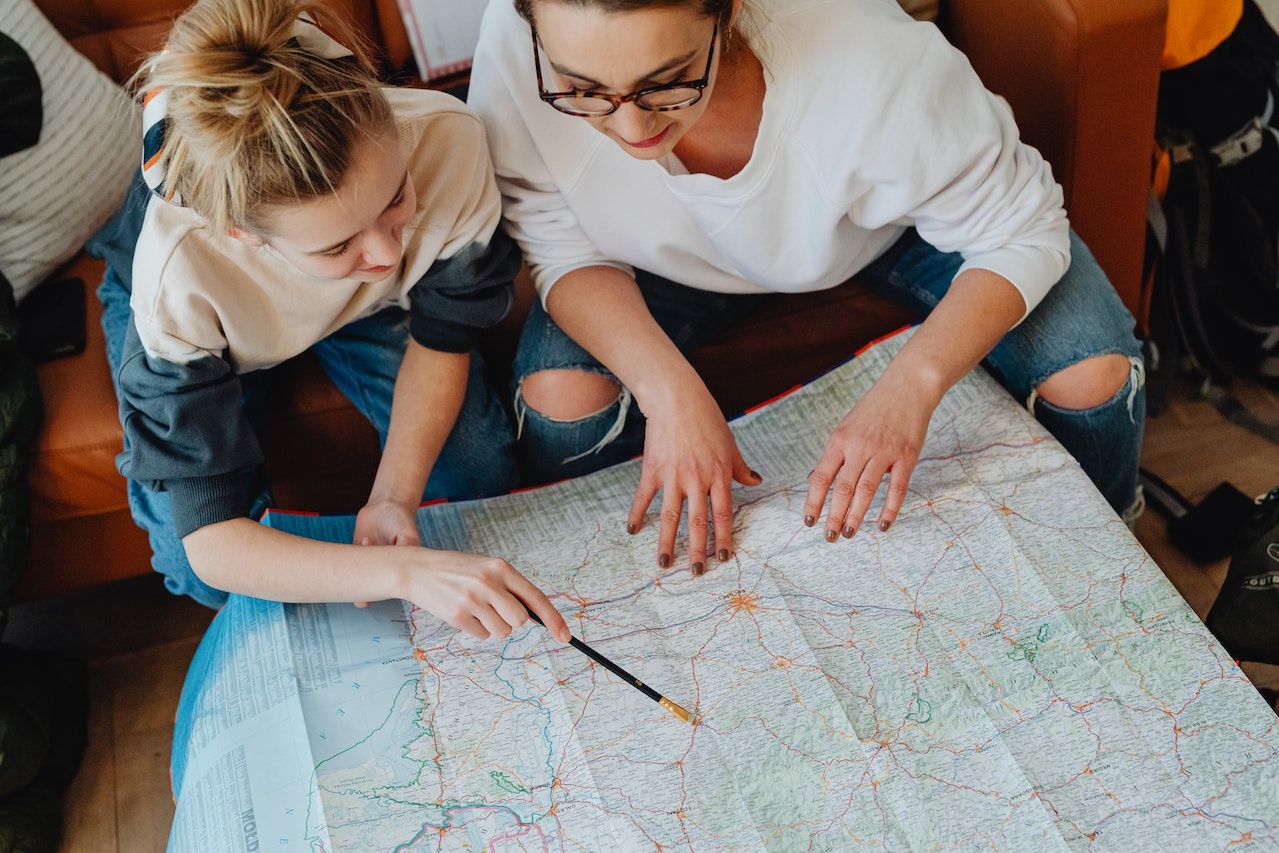 Safety and Health Considerations
Whenever planning a camping adventure, always keep safety and accessibility at the forefront of your mind.
Make sure to choose a campsite that provides access to medical facilities if needed. Ensure that there are accessible trails, restrooms, and other amenities on-site.
Before embarking on your trip, consult your healthcare provider for personalized advice on managing your health while camping, and be prepared to handle any emergencies that may arise.
Always remember needed medications when traveling! Store these in a waterproof Ziploc bag to keep them safe and handy.
Packing Tips
When packing for your camping trip, consider the following tips to ensure an easy, no fuss process:
Be sure to pack clothes that are appropriate for the location and climate. This includes any adaptive clothing that's needed.

Choose bedding that provides appropriate support and comfort for your needs.

Use a checklist to ensure you don't forget important items.
If you'll be buying camping gear for your trip, consider the following handicap-friendly options:
| Equipment | | Purpose | | |
| --- | --- | --- | --- | --- |
| Spacious tent with tall doors | | Easy entry and exit without crawling or stooping | | |
| Portable wheelchair ramps | | Access to elevated surfaces | | |
| Foldable camping chairs | | Comfortable seating around the campfire or picnic area | | |
Rights and Resources for Disabled Campers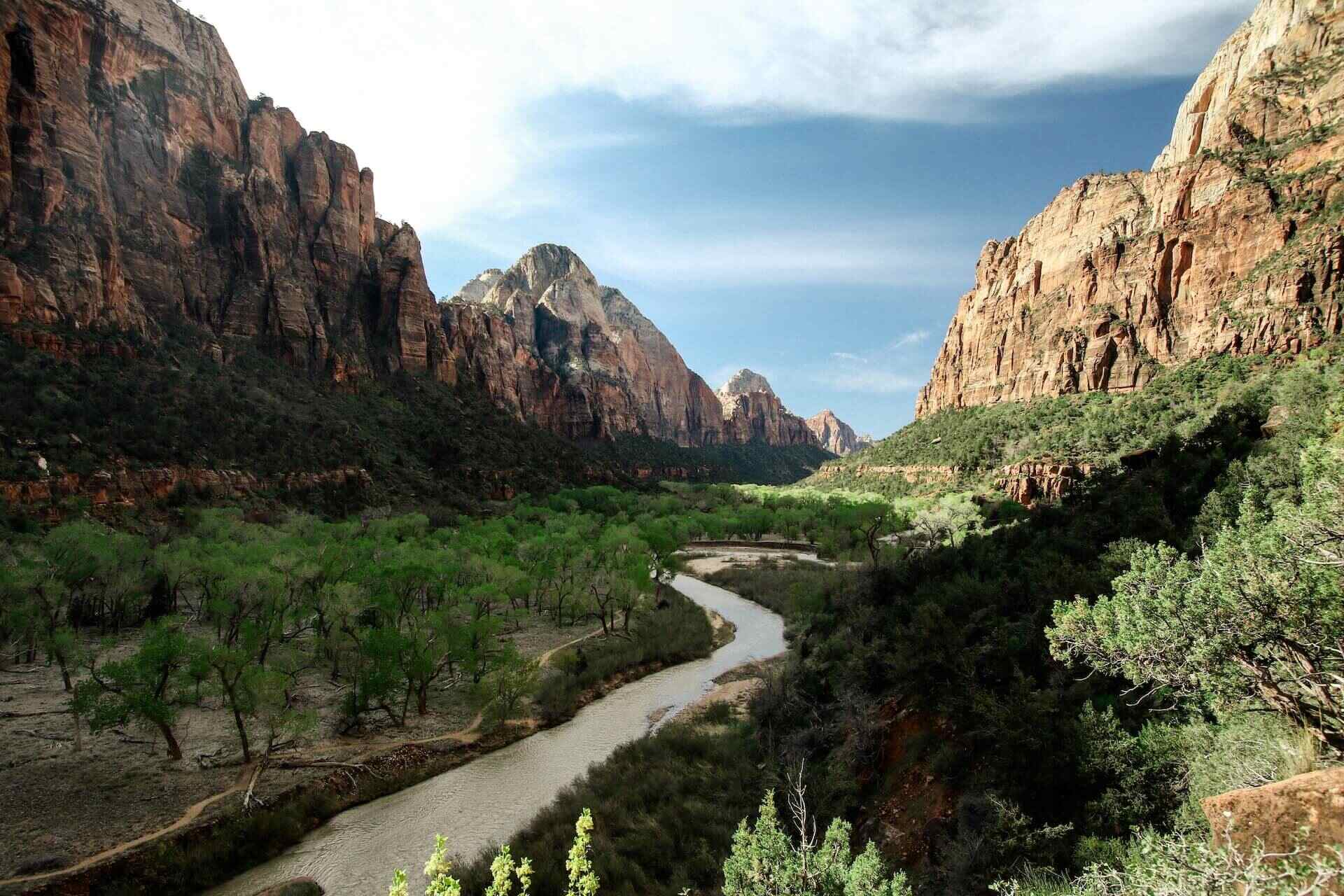 National Park Passes
As a camper with a disability, you have the right to access public and private campgrounds, thanks to the Americans with Disabilities Act (ADA).
If you or a loved one has a visible disability, sensory impairment, or a chronic illness that affects your major life activities, you may be eligible for a Lifetime Pass. The Lifetime Pass grants you access to over 2,000 federal recreation sites, including national parks.
In order to obtain the Lifetime Pass, you must provide documentation of your disability. This can include Social Security Disability Income (SSDI) or Supplemental Security Income (SSI) benefits, a state agency letter or vocational rehabilitation agency letter verifying your disability, among other identification methods.
There is a small processing fee ($10), and you must provide a valid photo ID.
Keep in mind that only the pass holder gets free admission to federal recreation sites, but discounts for campsites and facilities may be available for both the pass holder and accompanying visitors.
Building a Support Network
When camping with a disability, it's essential to build a support network. This can include family, friends, or even professional caregivers, depending on your specific needs. Your support network should be aware of your:
Medical conditions

Medications needed

Special equipment requirements

Emergency contact information
It's also crucial to familiarize yourself with the campsite's facilities and terrain, as well as any accessibility accommodations. Before you visit, reach out to the campsite or park for information on:
Wheelchair access

Facilities for campers with visual impairments

Closest medical facilities

Availability of personal assistance services or adaptive equipment
By knowing your rights, obtaining a Lifetime Pass for federal recreation sites, and building a strong support network, you'll be better prepared for an enjoyable camping experience tailored to your needs.
Always remember to plan ahead, communicate openly with your support network, and never hesitate to seek information about resources specific to your disability.
---
Accessible Travel Options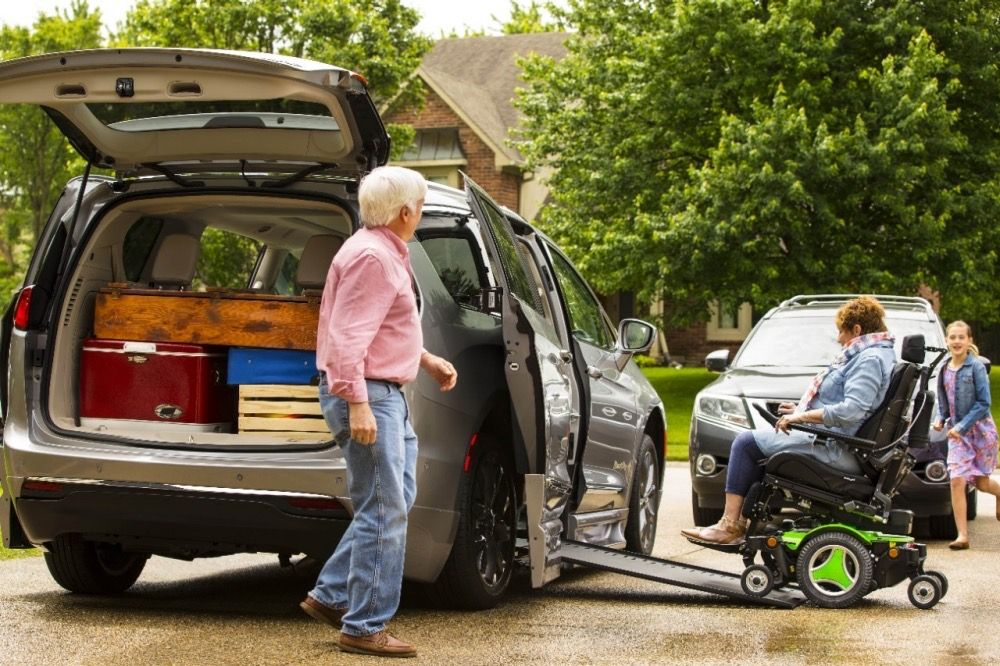 Hotels and Lodging
When planning a camping trip for disabled adults - if you won't be staying at a campground - it's essential to find hotels and lodging that are accessible and disability-friendly.
Many hotels offer rooms specifically designed for guests with disabilities, featuring lower sinks, grab bars, roll-in showers, and wide doorways.
On the flip side, if you prefer a more immersive camping experience, consider searching for wheelchair-accessible sites through platforms like Hipcamp, which offers options such as tent camping, RV sites, cabins, and yurts. Some of these sites may be located on host's farms, wineries, or other natural acreage.
Whether you have a permanent disability yourself, or a loved one does, you likely understand the importance of finding a comfortable and accessible place to stay while exploring new destinations and making new friends.
When selecting a campsite, prioritize those that offer accessible features such as:
Paved trails or boardwalks

Wheelchair accessible restrooms and shower facilities

Level tent pads or platform tents

Close proximity to parking areas and facilities
Transportation
Transportation is another critical aspect of accessible travel. Researching and arranging for wheelchair-friendly transportation options ahead of your trip will help ensure a smooth and enjoyable experience.
Here are some transportation options to consider:
Accessible RVs and motorhomes: If you're considering renting an RV for your camping trip, look for models specifically designed for wheelchair access.
For example, the Newmar Bay Star 3811 is an accessible RV option that features a gasoline engine and various accessibility features for wheelchair users.
Paratransit services: Some cities offer paratransit services as an alternative to fixed-route public transportation. These services provide door-to-door or curb-to-curb transportation for disabled individuals who are unable to use regular public transit.
Wheelchair-accessible Van Rentals: In my opinion, if you don't already own a wheelchair-accessible vehicle, this is probably your best option.
Vans of various shapes and sizes can be rented nationwide, and these will be perfect for a camping adventure. They will have enough room to store all of your belongings, as well as passengers.
Of course, the biggest benefits will be convenience and safety. Not having to rely on paratransit services or taxis is a big plus. And getting around in a van will be much easier than in an RV...not to mention cheaper.
Two excellent companies that offer wheelchair-accessible vans are BraunAbility and Wheelchair Getaways.
---
Final Thoughts
I hope the information I've shared helps you plan a great camping adventure!
As you've seen, there are MANY options available for disabled adults who wish to enjoy the outdoors.
When planning your trip, don't hesitate to consult with various organizations and resources that support people with disabilities.
As I mentioned earlier, Easterseals is a prominent provider of recreation and camping services specifically designed to cater to the unique needs of disabled individuals.
By taking advantage of their knowledge and expertise (or any similar organizations), you can greatly enhance your overall camping experience and make lasting memories while enjoying the beauty of nature.
Bottom line: before embarking on your trip, spend time researching accessible campgrounds and recreational areas.
A wide range of public spaces, such as those managed by the Department of Environmental Conservation and National Parks service, offer accommodations specifically designed for handicap-friendly camping.
These may include wheelchair-friendly trails, accessible fishing spots, and designated camping areas with suitable facilities.
See you out on the trails :)
LIVE WISELY, LIVE WELL!