Recommended Gear for Beginner Nomads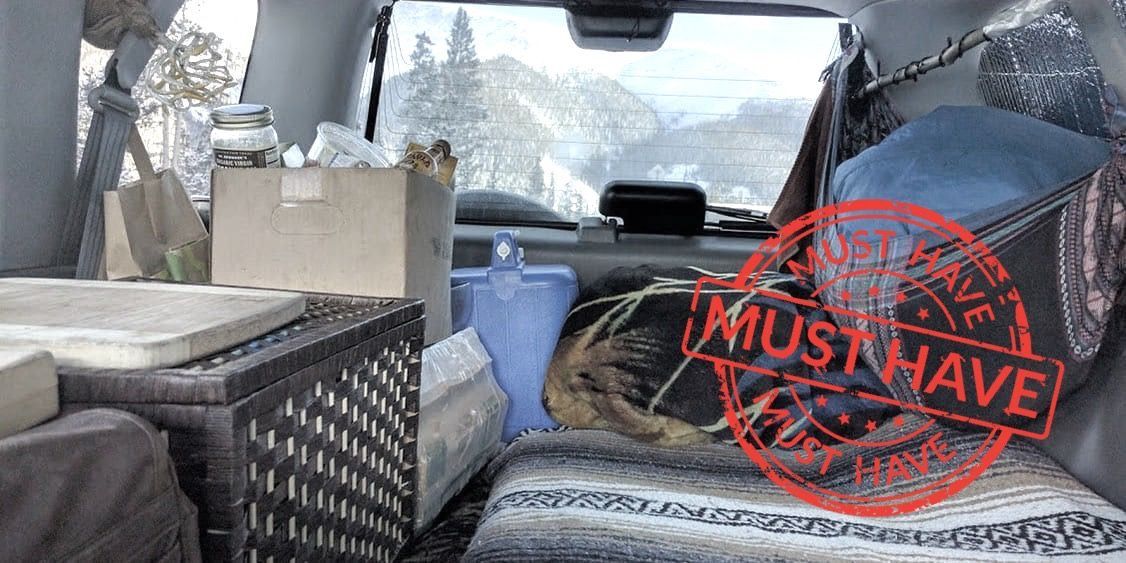 I get at least a couple of emails per month from nomads who are prepping for their journey. Many of these emails ask for my opinions on assorted nomad gear, how I'd rate certain items, etc. But here's the thing…
I'm not comfortable doing that. I only recommend items that I either use myself, and/or have some type of direct experience with.
Further, you honestly don't need that much stuff when you're first starting out, just the basics. Everything else you can buy as you go, little by little. Of course, if you have the extra money to get everything upfront that's fine, but it's by no means necessary.
So this will be my official list of gear that I believe every nomad should own.
---
Must-have Essentials to Get Right Away
Feel free to shop around if you'd like, as there are many brands of the gear I'm listing. Again, I'm simply sharing what I personally use or have some experience with. I can vouch for these items 100%.
Camping Stove
While you could get by in the beginning stages of your journey without a camping stove - just as I did for about 6 months - I wouldn't advise it, as you'll wind up wasting money on fast food and depriving yourself of healthy, home cooked meals.
For how little these cost, you're far better off getting one from the start.
I own both a propane/butane stove, as well as a HotLogic. I prefer the HotLogic, but that's just a personal preference. You do not need both. Choose one or the other.
---
Mattress
Since you'll be spending a lot of your time sleeping in your vehicle, a comfortable mattress is definitely mandatory from the outset.
You shouldn't spend a lot of money on one, either. Just make sure it'll fit within the dimensions of your bed area.
There are an infinite number of mattress types out there, but I strongly recommend the tri-fold variety. There's a reason why so many nomads use them ;)
This is the one that I started out with. It's VERY comfy & durable, and I'll be buying another soon, as the crib mattress I'm using now can't compare to it.
I like that these mattresses can be folded up into a smaller unit if not being used 👌
---
Window Covers
Whether you'll be sleeping at campgrounds or stealth camping in public places, you WILL want to protect your privacy. Window covers are an immediate need.
If you're short on cash you can make these yourself. They're a bit of a pain to get done, but once they're complete they should last for a while. Here is how I made my window covers…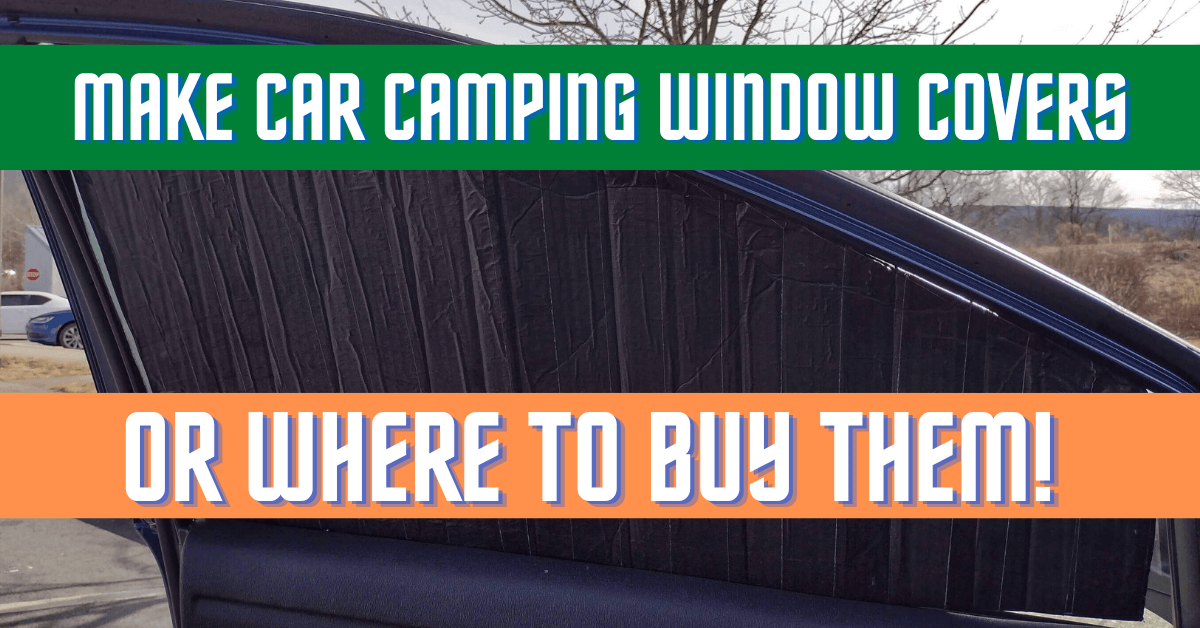 If you prefer buying them, these are the 2 companies that I recommend. I purchased a back-up set to my handmade ones from Blinds4Cars and they are excellent.
The shades that these companies sell do not totally black out your windows. Instead, they are basically screens. However, you can easily cover them with black felt or Reflectix for total privacy, which is what many nomads do. During the warmer months you can remove the felt so fresh air can circulate in your vehicle, which is a nice bonus!
---
Portable Power Bank
Keeping your electronics charged in your car is critical. Whether it be a phone, laptop, 12v oven or vacuum, etc., you're going to be using a lot of power.
You can try only using your vehicle's 12v port, but this is a giant hassle if you have more than a few devices, and will require constant juggling.
It helps to have an actual power station, but even some of the cheaper, low watt-hour units typically start at around $175-$200. And that might be money that you don't have.
So I recommend getting something like the following, which I use. While it's not capable of powering a 12v fridge, coffee maker, or other higher draw devices, it will be good enough to get you started and works well for phones, tablets, and similar items.
---
Steering Wheel Tray
These are dirt cheap, but are worth a million bucks! I use mine to prepare my meals on, to eat on, as a desk when working, for writing, etc.
Get one and thank me later.
---
Windshield Sun Reflector
Another dirt cheap must-have, which actually serves two important purposes…
First, it'll block the sun from entering your vehicle and turning it into a sauna. Second, you can use it at night or any other time as a privacy shield.
---
Shower Slippers
Living on the road means using a wide variety of showers; at gyms, campgrounds, truck stops, etc. Lots of these places tend to be on the funky side - and I don't mean cool or hip!
Shower slippers are something many nomads overlook, however, a good pair is worth their weight in gold. You will DEFINITELY want foot protection when using public showers!
These are the slippers I use. They're anti-slip, comfortable, well-made, and they dry super fast. Inexpensive, too.
---
Knapsack or Duffel Bag
Any kind will do, so don't spend a ton on one. Needed as a shower bag, but also very handy when going on hikes, transporting smaller items from your car, etc. This is what I own…
---
Storage Containers
You can bring these from home if you have any, but they will be needed. The best kind are clear (so you can see the inside contents), heavy-duty containers that have strong latches. Bonus points if they're stackable.
Use these to store your clothes, dry food, cooking gear, etc. Here are the ones that I have…
That does it for the must-have essentials. If you just get only these items you'll have more than enough to live beyond comfortably in your vehicle.
I didn't mention other needed items like blankets, pillows, cookware, cutlery, charging cables, etc. because these are all common-sense items, and you can probably avoid spending money on this stuff by bringing many of these from home, or from a friend who has extras.
---
Important, but Not Urgent Items
Once you've been on the road for at least a few months and are starting to get comfortable and develop your routine, you'll have a MUCH better sense of what works for your situation, and what can be improved.
At this point, you've hopefully started saving up some cash and should be looking to add some products that might make your life a bit easier. These are some of those items…
---
Power Station
I have made do for almost 2 years now without a large power station (so it is possible) - but - I have a Prius, which is basically like a generator on wheels.
Further, my car is running (and burning gas) for 22-23 hours per day. Filling up my tank isn't too pricey, though…especially when compared to paying rent on an apartment or house!
If you don't have a hybrid like me however, running your car day & night to power your devices isn't the most sensible or economical solution. Instead…
A good quality power station is going to be your best friend.
I've been researching these for years, and while there are a ton of quality ones out there, a unit with a LiFePO4 battery AND a fast recharge time is best, in my opinion. Pass-through charging is also important.
LiFePO4 batteries are not only safer, but they typically have thousands of recharge cycles before losing their maximum capacity, versus non-LiFePO4 batteries, that usually have only a few hundred.
The power station that ticks all of these boxes, and the one I will be getting soon (which several of my friends also own) is the EcoFlow River 2.
It not only has a LiFePO4 battery, but it can be fast-charged via a wall outlet in just 1 hour! It'll fully-charge from your vehicle's 12v port in about 2.5 hours!
The River 2 is a 256 Wh unit, which is more than enough for my needs, as it'll only be used to charge my iPad, phones, etc. My fridge is powered by my car.
You can also opt to purchase a higher Wh unit.
---
Inverter
To be clear, you do NOT need both a power station AND an inverter. This would be overkill for 99% of people. Either or is more than enough and comes down to personal preference.
Many nomads like using an inverter better, but I'm not a fan of these for several reasons:
Can be difficult to install if you're not tech savvy (may need to hire a mechanic)

Creates excess wiring which will need to be hidden in your vehicle

May need to drill a port hole in your car

Can deplete your battery if you accidentally leave the inverter running when the car is off
All of that being said, inverters work just as well (and maybe even better) than portable power stations. Here's why:
No manual charging necessary - the inverter is powered by your vehicle's battery

No bulky power stations to store in your car, which take up valuable space

Can be cheaper than buying a power station (especially if you install it yourself)

Depending on the model, an inverter can provide more power than an actual power station
Several of my nomad buddies swear by Krieger inverters, as they're affordably priced, dependable, and are well-made.
These can be purchased in assorted wattage levels.
---
Solar Panel
If you'll be using a power station instead of an inverter, charging it is going to be required. Yet, some people don't like doing this or may not always have the time.
This is where solar panels come in.
By hooking a solar panel (or several) up to your power station, it will get recharged by the sun, provided the weather is cooperating. This can greatly reduce - and sometimes eliminate - the time it takes to recharge the power station.
For most cars, only one solar panel will be able to fit on the roof - and this will be good enough to help replenish your power station. However, I have seen some people squeeze two on there. If you have a larger vehicle like a minivan or SUV, then placing multiple solar panels will be more doable.
The vast majority of nomads use flexible panels on their cars, as they're cheaper, lighter, and thinner than the hard-sided variety.
There are a lot of good brands out there, but most of my friends use Renogy solar panels, and I've personally seen how good they are. They make quality products and offer excellent customer service.
You can purchase solar panels (including Renogy) in different wattages. The higher the wattage output, the faster your power station will be recharged (under optimal conditions). You'll see the pricing options for higher wattages beneath the listing.
---
12v Refrigerator
Unlike 10 or 15 years ago, when you'd be taking a huge gamble by purchasing anything other than an expensive Dometic or ICECO, 12v fridges are now dirt cheap due to stiff competition and overseas manufacturers.
You can get a really good quality fridge for $200-$300, and it should last for several years. Of course, if you need a larger size, one that also has a separate freezer (dual zone), or any other variables, then expect to pay a tiny bit more.
Bottom line: I wouldn't spend more than $400 on a fridge, at most.
The most important consideration (aside from how you'll power it) when buying a fridge is the dimensions. Make sure it will fit in the desired spot in your car before purchasing.
I own an off-brand fridge made by a company called Kuppet. It works flawlessly - and I got it for $95 at Walmart! - but their customer service is non-existent, so I cannot recommend it fully. Instead…
BougeRV and Alpicool are two popular brands with great reviews and good customer support.
---
Rooftop Cargo Box
Living in a car is tough at times due to it being a much smaller space. Therefore, the whole goal is to reduce the inner contents of your vehicle, which will help create bigger lounging & sleeping areas.
The more stuff you have in your car, the more constricted and uncomfortable you'll be.
Rooftop cargo boxes are the perfect solutions, as you can put a lot of your possessions into these carriers, which are affixed to the roof of your car.
They come in both soft & hard-sided varieties, in a wide array of sizes & styles. While some of the bigger, well-known brands like Thule and Yakima can cost upwards of $600 or more, there are a bunch of off-brands that are significantly less expensive, and still work just as well.
Two brands that I definitely recommend are JEGS (hard-sided) and BAGMATE (soft-sided).
---
Final Thoughts
We made it to the end! While this might seem like a lot of stuff, it's really not. Remember…
Compared to living in a house or apartment, once you're in a car, these will pretty much be most of your major belongings. And believe me, you will not only get used to owning less stuff, but it's actually very liberating and makes life much easier.
Also, as I said at the beginning, you don't need to buy all of this gear from the outset. That's why I intentionally broke the list down into two segments.
Items on the first segment should be purchased before you start living in a vehicle, as they're the most critical. Everything listed in this group are must-haves if you wish to live comfortably.
Don't skimp on the must-haves. While you definitely want to live cheaply on the road, depriving yourself of basic living essentials is not the way to accomplish this.
Gear from the second segment can be gotten once you've saved up some money or have been on the road for a few months. These items will make life much easier, but they aren't totally necessary right away…or even at all, as many nomads find ways to survive without them.
If you're ever stuck on something and have a question, don't fret! Leave a comment and I'll try to respond as soon as I can.
LIVE WISELY, LIVE WELL!