Work in Your Car [My $25 Nomad Office on Wheels]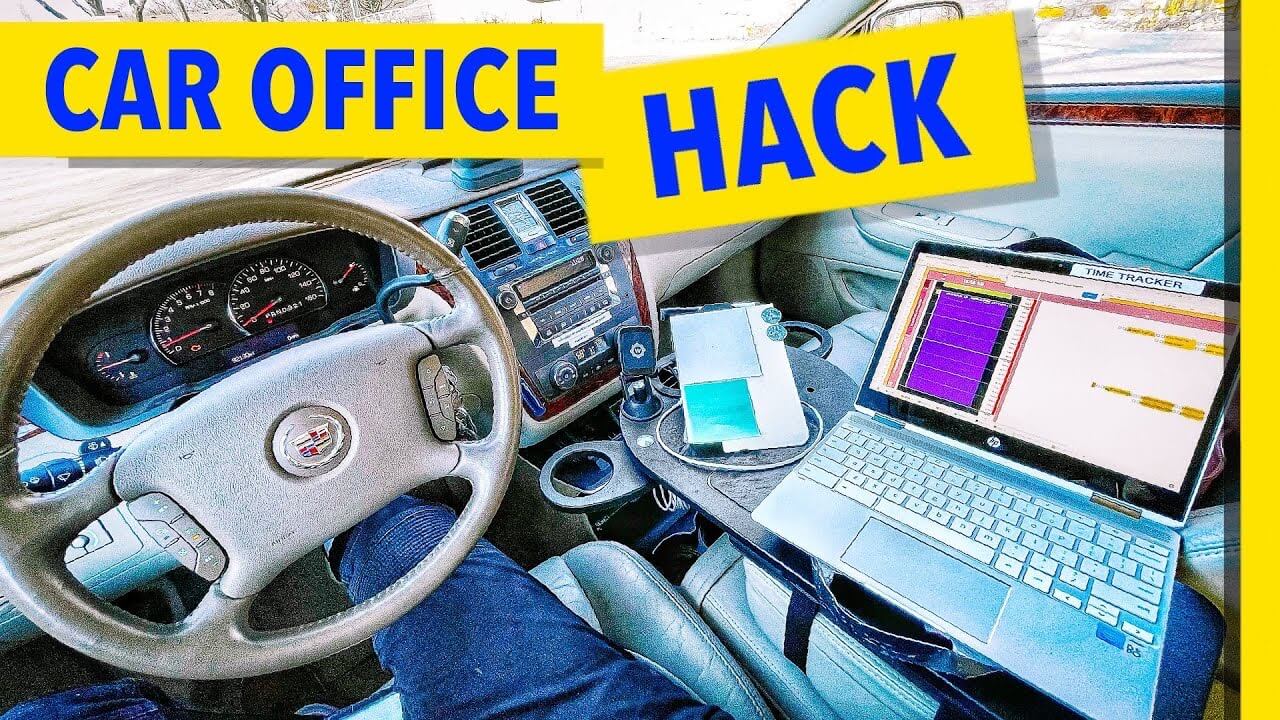 If you're planning to live in your car (or you already are), you might be wondering if it's REALLY possible to also work in your car, whether for yourself, or for an outside company.
Thousands of nomads - including myself - work in a car on a daily basis. With the right set-up, along with a few inexpensive pieces of gear, anyone can create a fully-functioning office on wheels.
Even better, your mobile workstation can be assembled and broken down in just a few minutes. Which means you can free up lots of space during sleeping hours, to have room for your bed, a pet, food, or any other necessities.
Here are the simple steps…
*Before you even begin setting up your vehicle's office, you need to think about LOCATION.
The proper working location should have two important things: a fairly quiet parking area and a strong cell signal/WI-FI.
FIND QUIET PARKING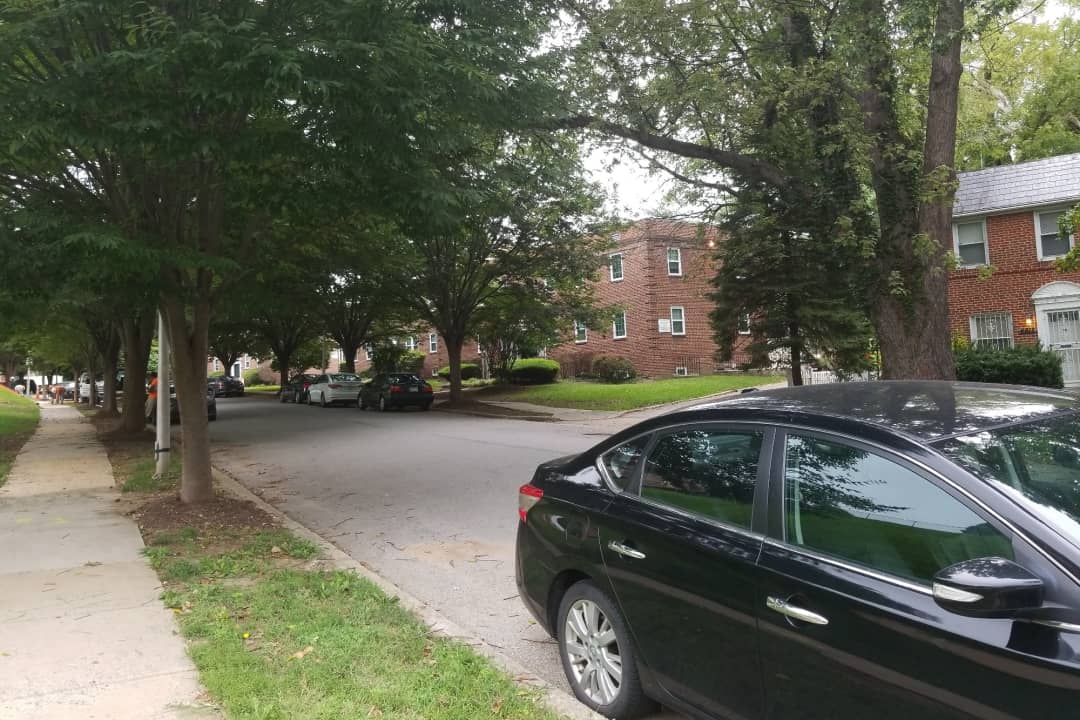 Finding an area that's as non-noisy as possible is of super importance. Generally speaking, the less activity going on around you, the better.
For example, I usually try (unless there are no other options) to avoid places like truck stops or parking directly in front of a fast food restaurant when working. High traffic locations like these are usually bustling with activity, and activity = noise.
Accomplishing work tasks like writing, sending emails, creating design materials, dealing with numbers, and especially having phone conversations, can at best, be very difficult in busy areas, and at worst, nearly impossible.
Some quieter places that I recommend are parking lots in any of the following: libraries, parks, recreation areas, lakes, ponds, fishing venues, nature trails & other wooded spots.
Obviously, cars are not sound-proof, and no location will be totally noise free, but the more you can minimize any distractions and hubbub, the more enjoyable - and productive - your work hours will be.
FIND A STRONG CELL SIGNAL/WI-FI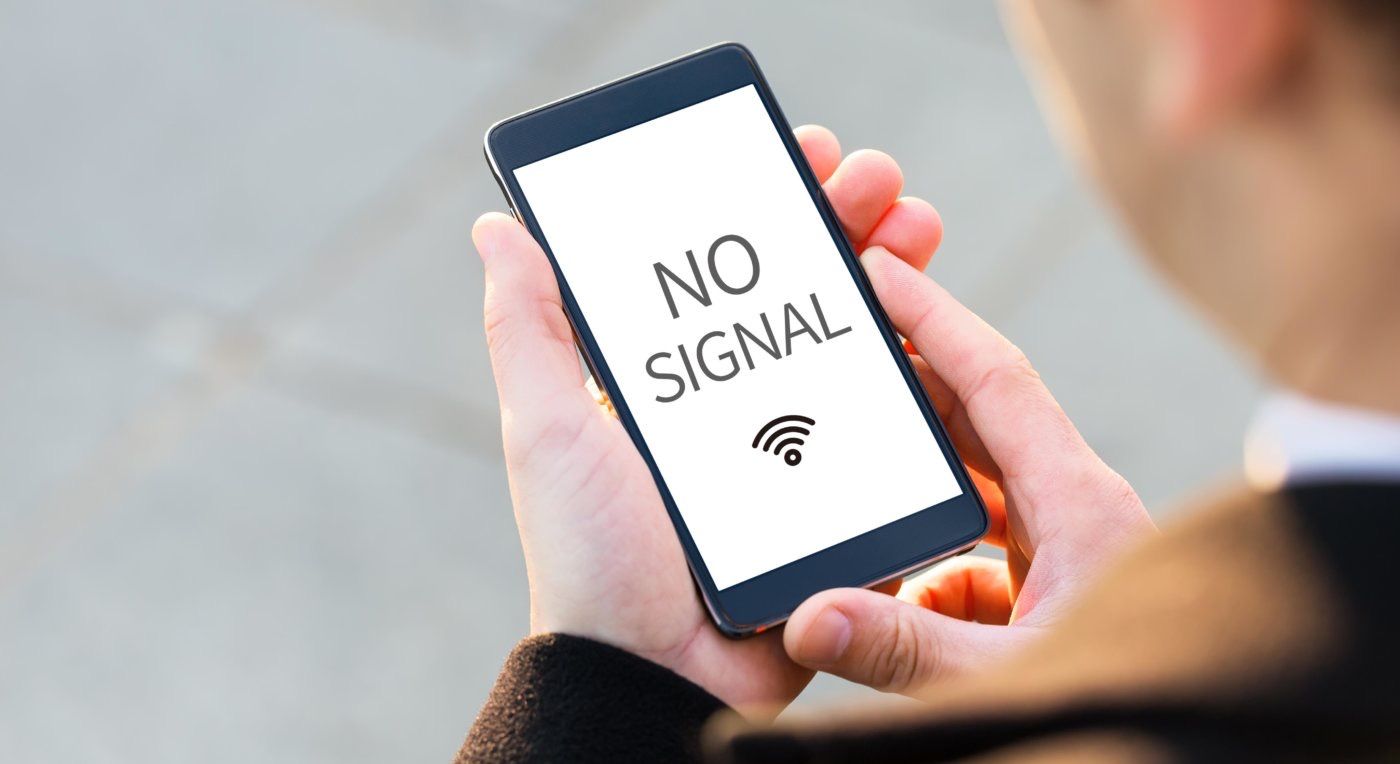 Getting a good cellular and/or WI-FI signal while working is critical. Without these, making calls, using the internet, watching videos, attending ZOOM meetings, and countless other priorities will not be doable.
Fortunately, in most urban places you won't have to worry about this much. However, if you happen to be somewhere that's way out in the sticks, or a similar location, you'll need to find a nearby area that you can drive to each day to get work done.
This can be anyplace from a small town, a strip mall, a highway rest stop, etc. The key thing will be to move to a more populated area that's closer to cell towers. Any shopping district or metropolitan center should work, just be sure not to choose a location that's too loud and chaotic (remember what I said earlier?).
What I've covered in this section is really crucial. Maximizing your labor during work hours is key. Even more so if you are employed by a company and your efforts are closely monitored. Having a quiet place with a proper cell/WI-FI signal to complete your job is not only professional, but it will allow you to get more done as you won't be distracted or burdened in any way.
MY STUPID SIMPLE $25 CAR OFFICE SET-UP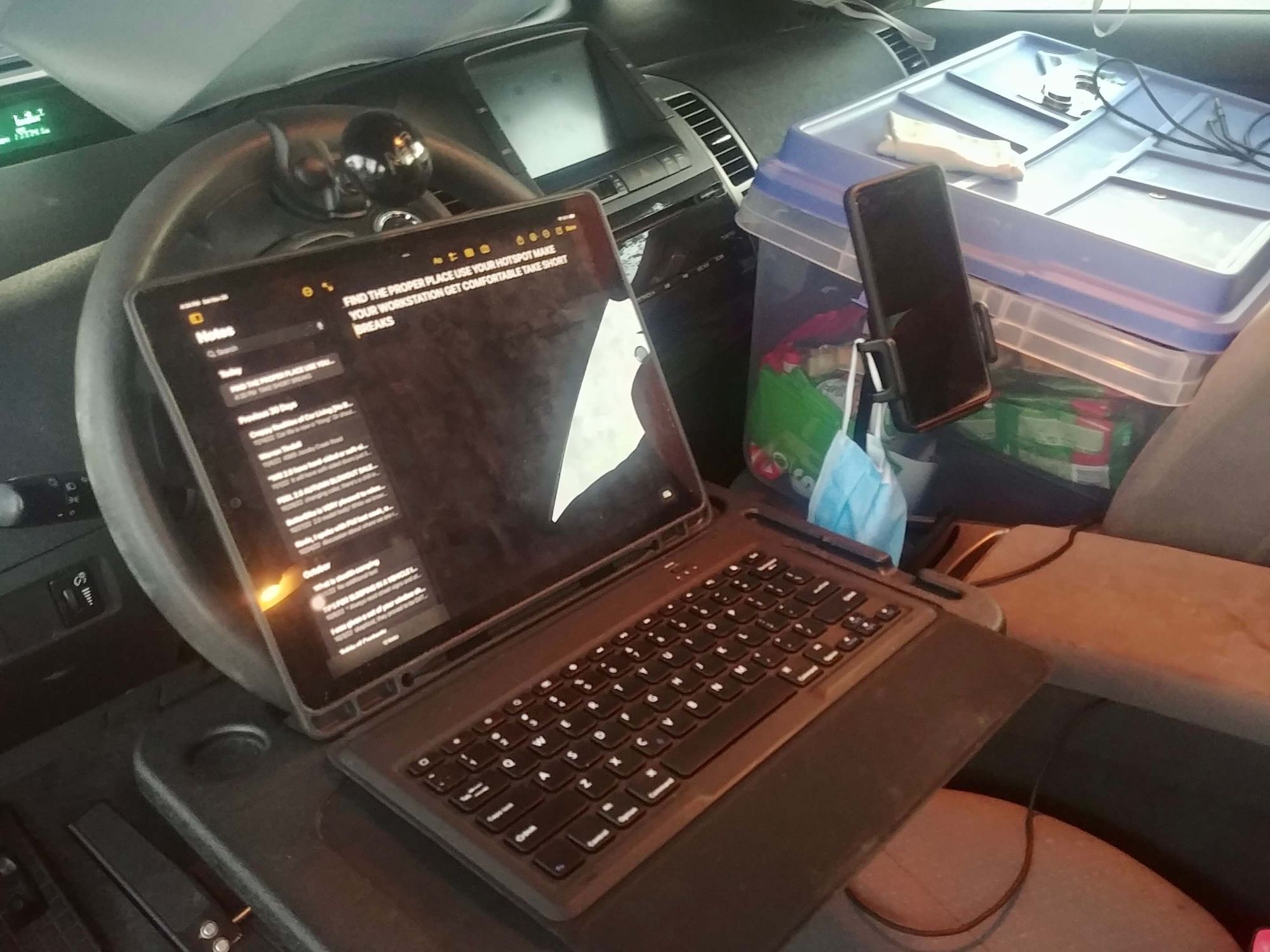 The photo above is my office set-up inside my Toyota Prius. This is what works best for ME. I say this because there are an infinite number of ways to create an office inside of a car. And all of them should be adequate. What it comes down to however, is which set-up will be best for YOUR particular needs.
I personally prefer the KISS principle: Keep It Simple Stupid. By keeping my set-up simple…
I require less stuff to make my office functional

It's easier to assemble and break down each day

Aside from one or two inexpensive items, there's nothing costly to buy
OFFICE WORKSTATION ITEMS YOU'LL NEED
2 REQUIRED (2 OPTIONAL)
DESK - REQUIREMENT: My work "desk" is just a cheap, plastic steering wheel tray that I bought on Amazon. These cost anywhere from $10-$15. You don't need anything fancy or pricey. There's a million varieties being sold online, but they all serve the same purpose. Not only does this tray act as my office desk, but I also use it as a table anytime I eat in the car.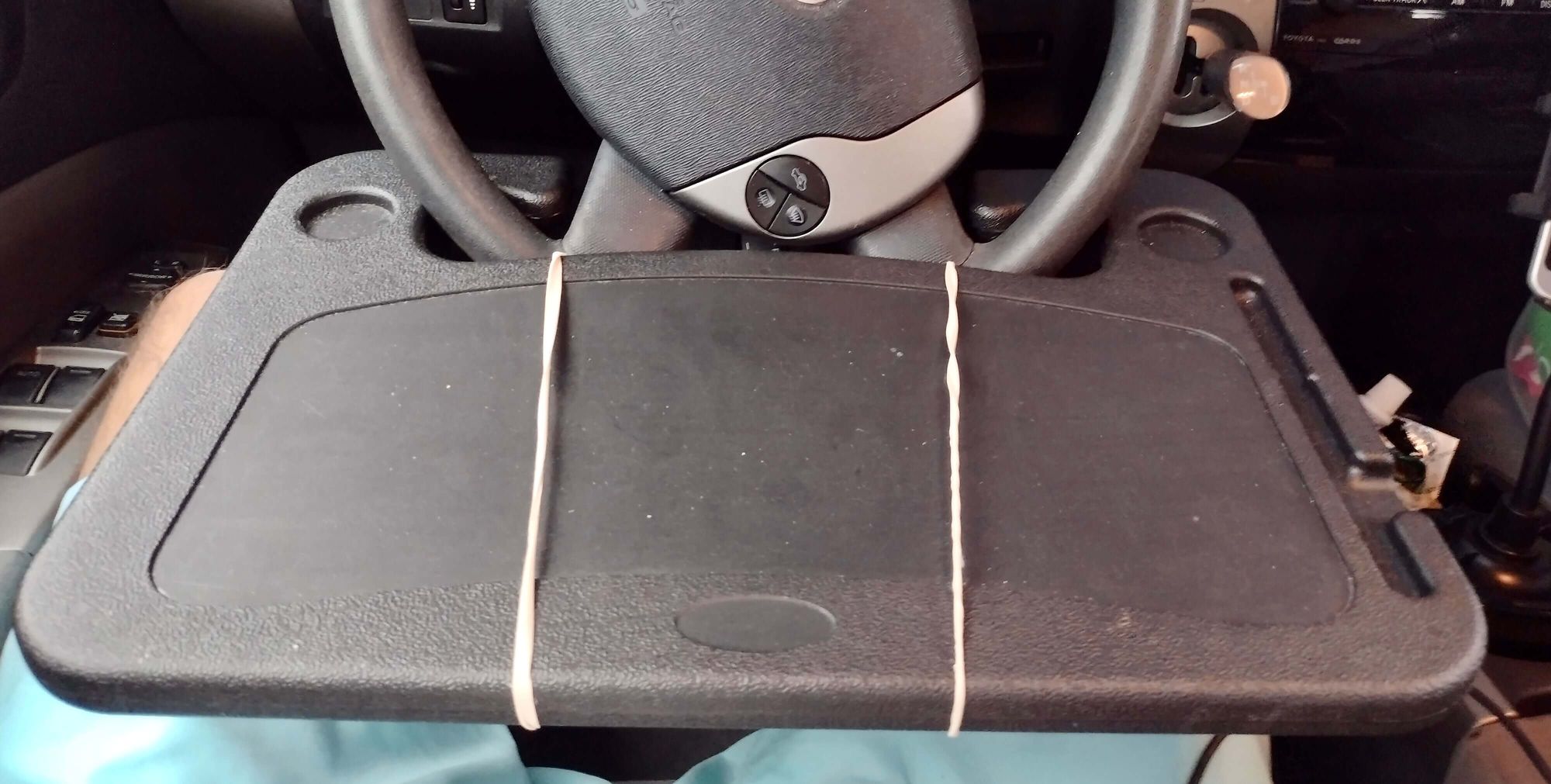 As you can see in the picture, the tray has two cut-outs which attach to your steering wheel. Once attached, the tray is VERY sturdy, and you can easily rest a heavy laptop, tablet or other device on it. My iPad Pro is 12.9" and weights a ton. The tray supports it just fine.
*The rubber bands provide traction. So my iPad doesn't slip while working.
PHONE HOLDER/TRIPOD - REQUIREMENT: My phone set-up is equally simple. It's a basic, cheap cup holder phone stand that I purchased in Five Below for $5.

This gizmo slides right into the cup holder between your seats, and you insert your phone into the cradle on top. Your phone can be positioned in portrait mode or landscape mode. As an added bonus, there's a flexible arm that you bend in countless ways, so you can position your phone at just the right height or viewing angle.
Using this holder allows me to be hands-free when on a phone call. It also acts as a tripod of sorts, which is perfect when on ZOOM calls, etc. Scrolling around on the internet using one hand is awfully nice, too.
SUN SHADE - OPTIONAL: I usually cover my windshield with a sun shade when working. Not only does this prevent any annoying sun glare from blinding my eyes, but it also acts as a privacy curtain, preventing strangers from peering at me through the windshield.
Get these at any big box store for about $5.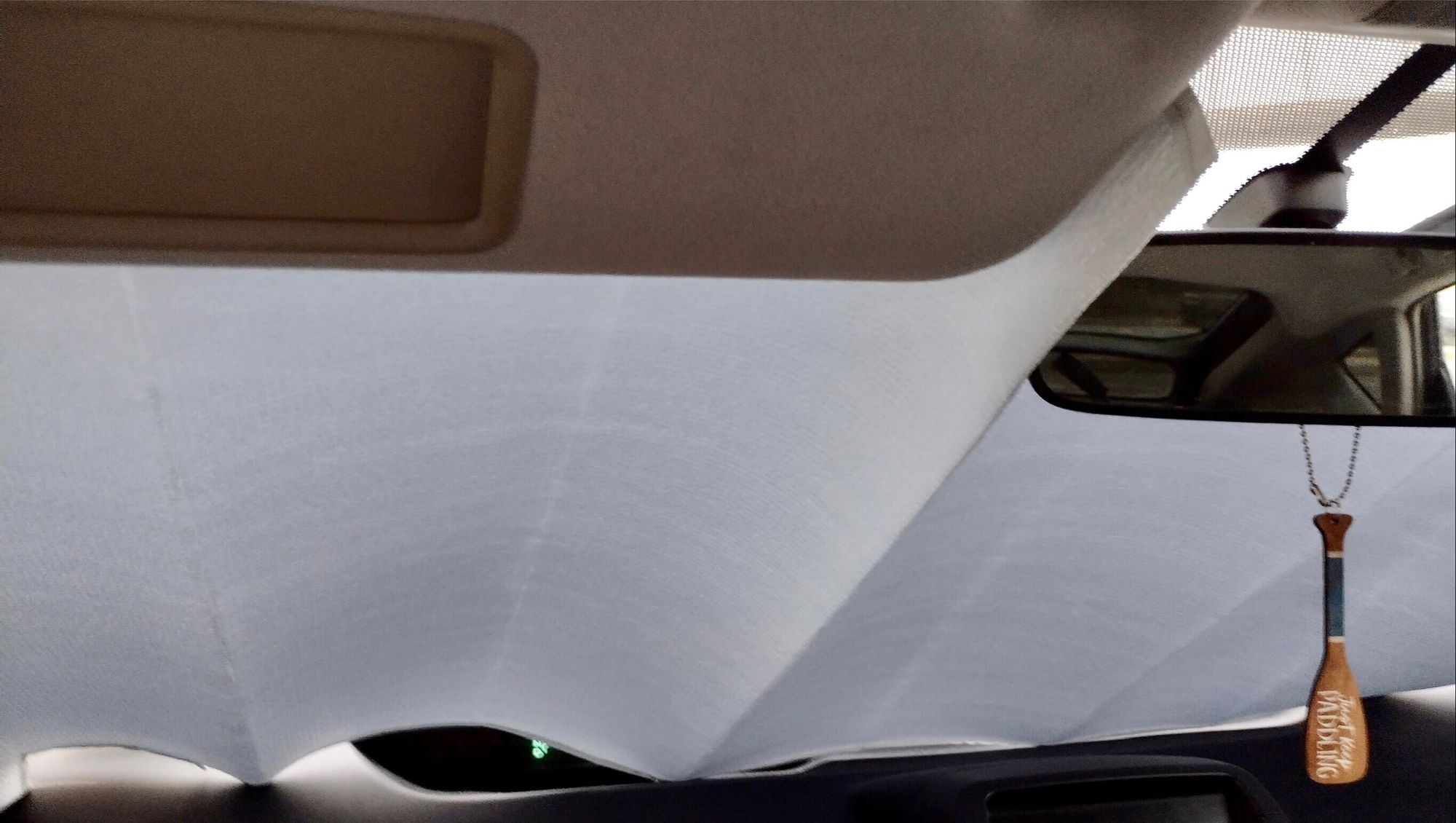 WINDOW COVERS - OPTIONAL: I do the same thing with my windows covers - which you can make yourself or buy online. I pop one in on the driver side window (where I sit when working) and also the passenger side window. These further block any bright sun glare, and also give me additional privacy from nosy onlookers.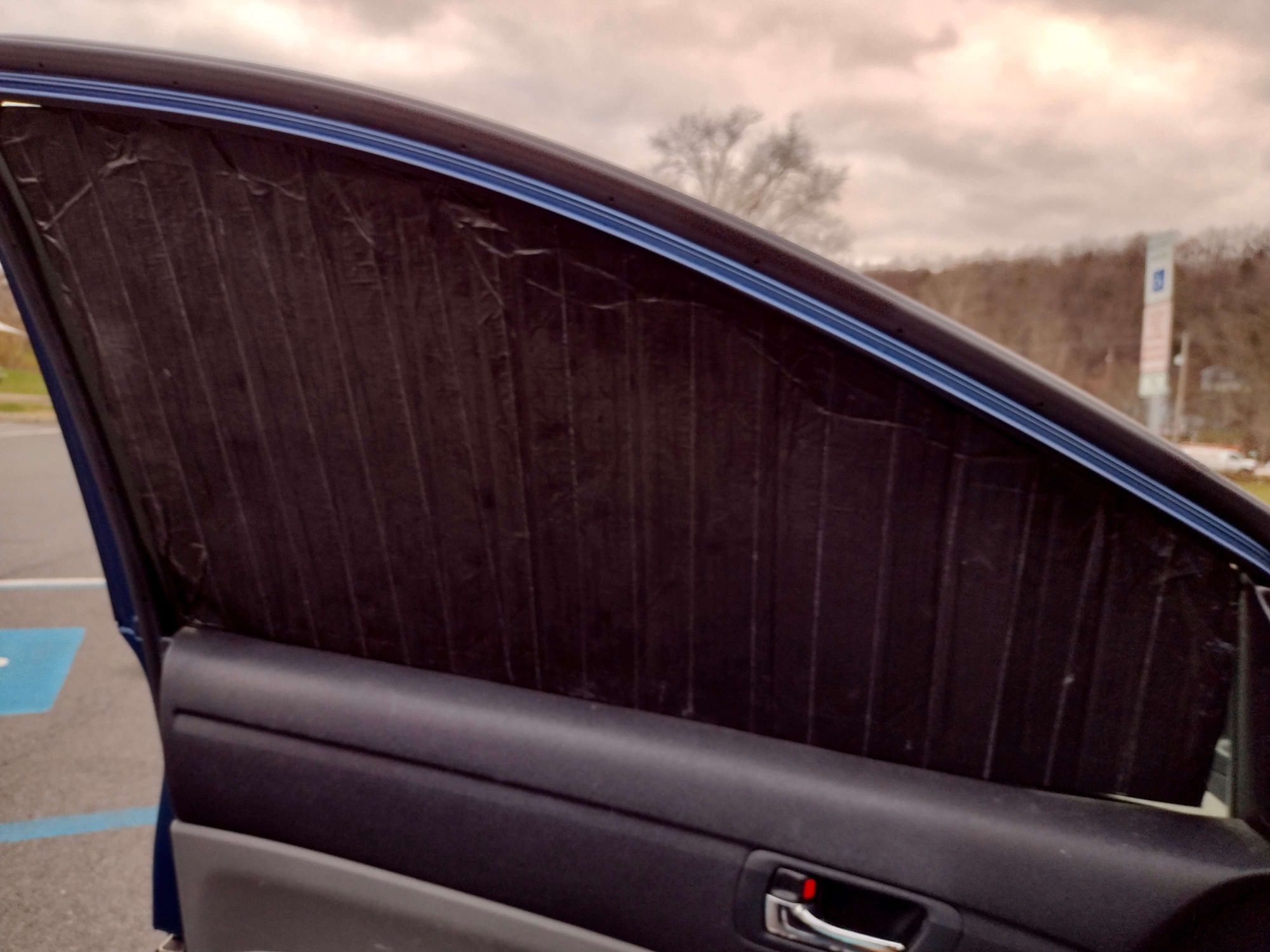 GET COMFORTABLE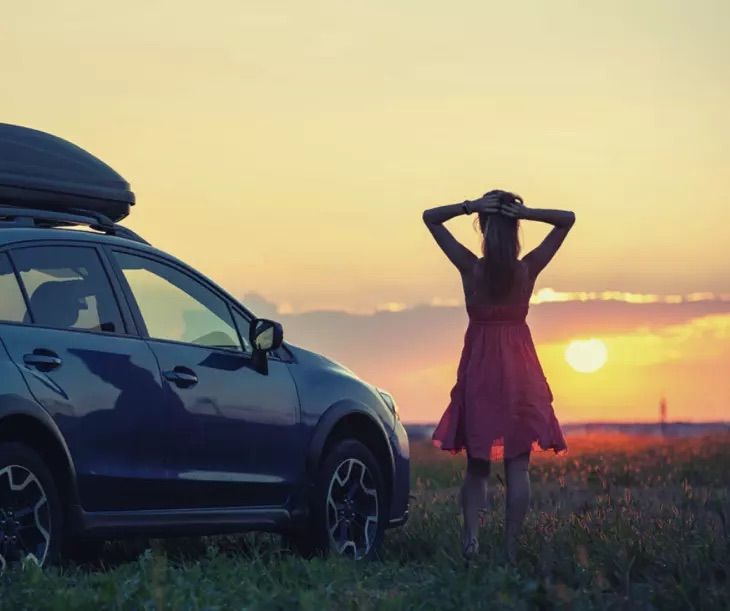 While convenient, sitting in a car for multiple hours all day while working isn't the most pleasurable situation. If you plan on using your vehicle as your office space, I advise you to practice the followings tips to ensure greater comfort.
Use a seat pad and/or back pad - These items will help reduce lower back and buttock pain, which is very common when staying seated in one position for prolonged periods.

Use a seat warming pad and/or cooling pad - Depending on the season, it can get really hot or cold in a vehicle. Having a cooling/warming pad will make working in extreme temperatures much more tolerable. They sell products like this for both tushies and backs.

Enjoy the fresh air - The inside of a car can get awfully stuffy. In both summer AND winter. Crack the windows for a few minutes every hour to let fresh air inside the cabin. Your lungs (and skin) will thank you for it.

Stretch, stretch, stretch - Ever wonder why stand-up office desks are so popular now? Because it's been proven that sitting for long stretches is terrible for your body, and productivity. Make it a habit to get outside your vehicle and stretch all of your limbs for 5-7 minutes each hour. This will keep you alert, focused & energized for your entire work shift.

Take breaks - Just as when working in a real office, short breaks are vital for staying sane and shaking up the monotony of the day. Shoot for a 20-30 minute break every 3 hours.

Get nourishment - Don't forget to eat! Working in a car doesn't mean you can skip meals. Food is the energy which our bodies run on. Make sure to eat a hearty lunch each day, or at least several nutritious snacks every few hours during your shifts.

Stay hydrated - Drinking lots of water is healthy no matter what, but especially for those who work in a vehicle. The inside of cars are very dry, stuffy environments. It's critical that you stay well hydrated…especially during the hotter months.
---
FINAL THOUGHTS
Based on my time on the road, I can definitively say that the best solutions are oftentimes the simplest.
Working out of your car IS doable, and you don't have to spend a fortune on a large, fancy office set-up.
While the office set-up I shared is really simple, it gets the job done just fine!
I work full-time for 2 companies, and also have a side hustle. And I perform all of my duties from the same place that I live in - my vehicle. You can do the same!
LIVE WISELY, LIVE WELL!