6 INCREDIBLE Car Camper Conversion Kits! [+DIY Ideas]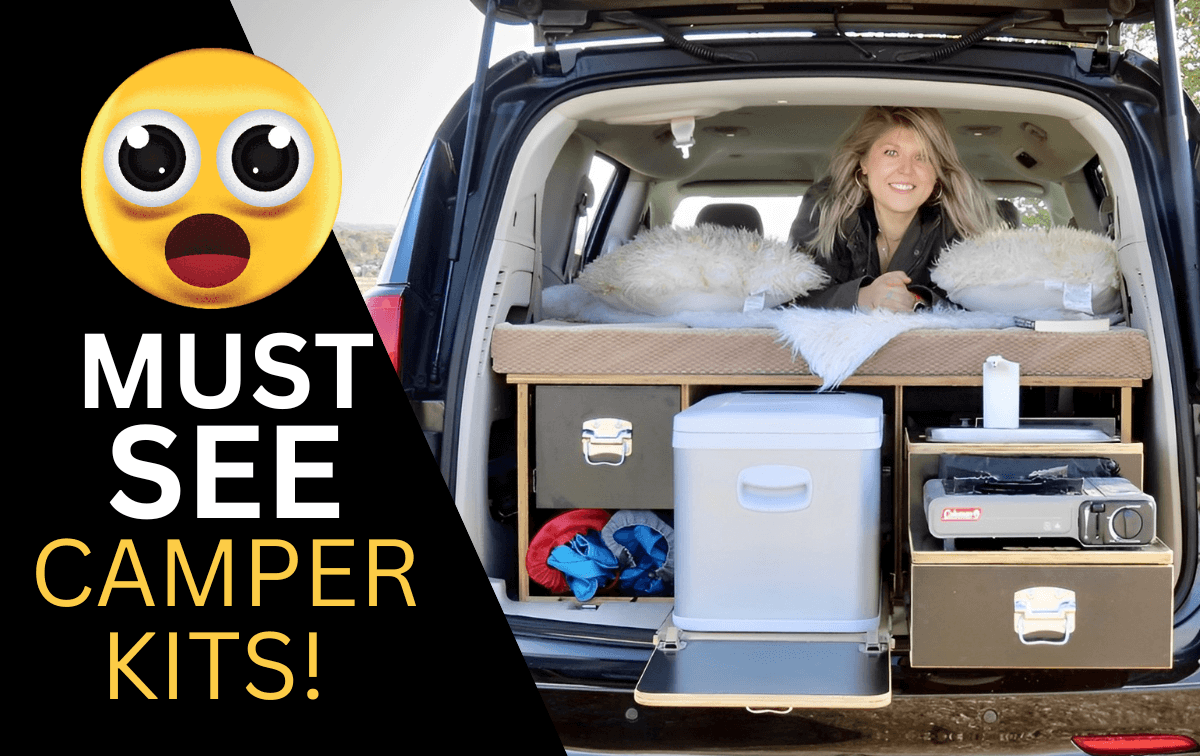 Are you looking to convert a car, minivan or SUV into a camper?
Want to keep some of the comforts of home while living in a vehicle?
If so, these 12 amazing car camping conversion kits are worth checking out!
I've researched the included companies at length, interviewed the founders, and have compiled a bunch of important information to make your life much easier.
Here they are, in no particular order…
💡
If you're on a very limited budget, I've also included some easy DIY ideas & options towards the bottom of this article. Answers to popular FAQ's, too.
---
Car Camper Conversion Kit Companies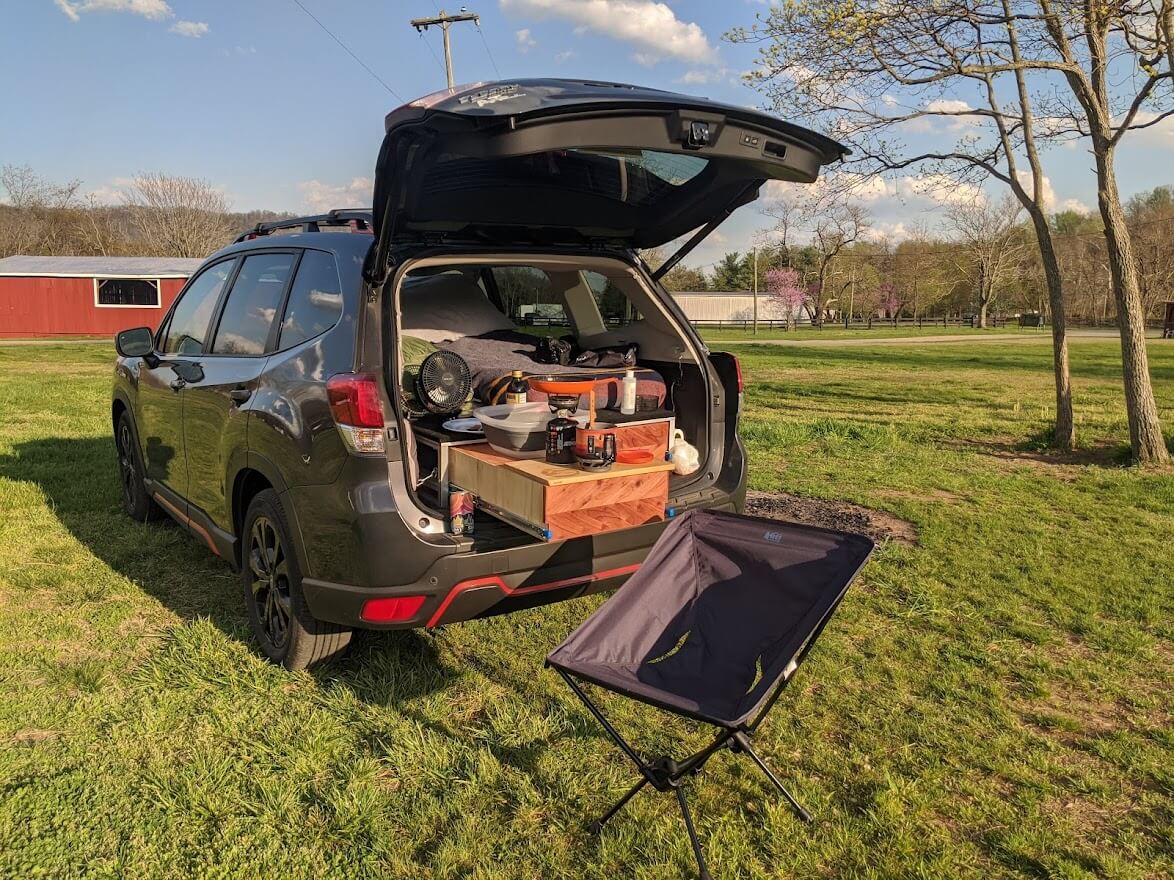 Founder: Anthony Gordon
Location: Chico, CA
Started by a nomad himself, Anthony Gordon, Compass Camper was born when vanlife turned into Subaru-life, and his desire to take the comforts of a van and adapt it toward a hatchback struck.
The practicality, capability, stealthiness, and fuel-efficiency of hatchbacks and SUV's - such as the Subaru Outback - sparked the inception of the company.
Having built the first kit himself in his garage, the idea was that he could leave it in the car for everyday life, without losing any functionality of the vehicle.
"I wanted something that I could forget about in my trunk, all while increasing my storage organization and capacity" said Anthony. "Plus, having access to a comfortable bed platform".
His experience of constructing campers in cargo trailers & vans, coupled with years of building know-how acquired on a local vegetable farm, all culminated in him deciding to make these kits & campers for others.
After over a year of non-stop build-outs, the design and simplicity of the Compass Camper has proven to be a great solution for nomads on the road, whether they are occasional campers, or full-timers.
Kits Available For: Hatchbacks & SUV's
Custom-sized Conversion Kits: Yes
Custom Vehicle Conversion Build-outs: No
Order Lead Time for Pre-fabricated Kits: 8-10 weeks
What Sets Them Apart: "The use of aluminum for the framing of the conversion kits offers an exceptional strength to weight ratio. The heavy duty drawers with the slide out table extension allows for easy and plentiful counter space.
The custom wood mosaic drawer face option provides an artistic flare, especially when combined with the customizable black framing.
The split bed extension option allows for one of the back seats to be up and usable, while the other side's bed platform is extended, great for a solo traveler. With security and stability in mind, the entire trunk-area frame is firmly attached to the vehicle's own anchor points.
All Compass Campers have a retractable bed extension to easily allow use of your back seats."
---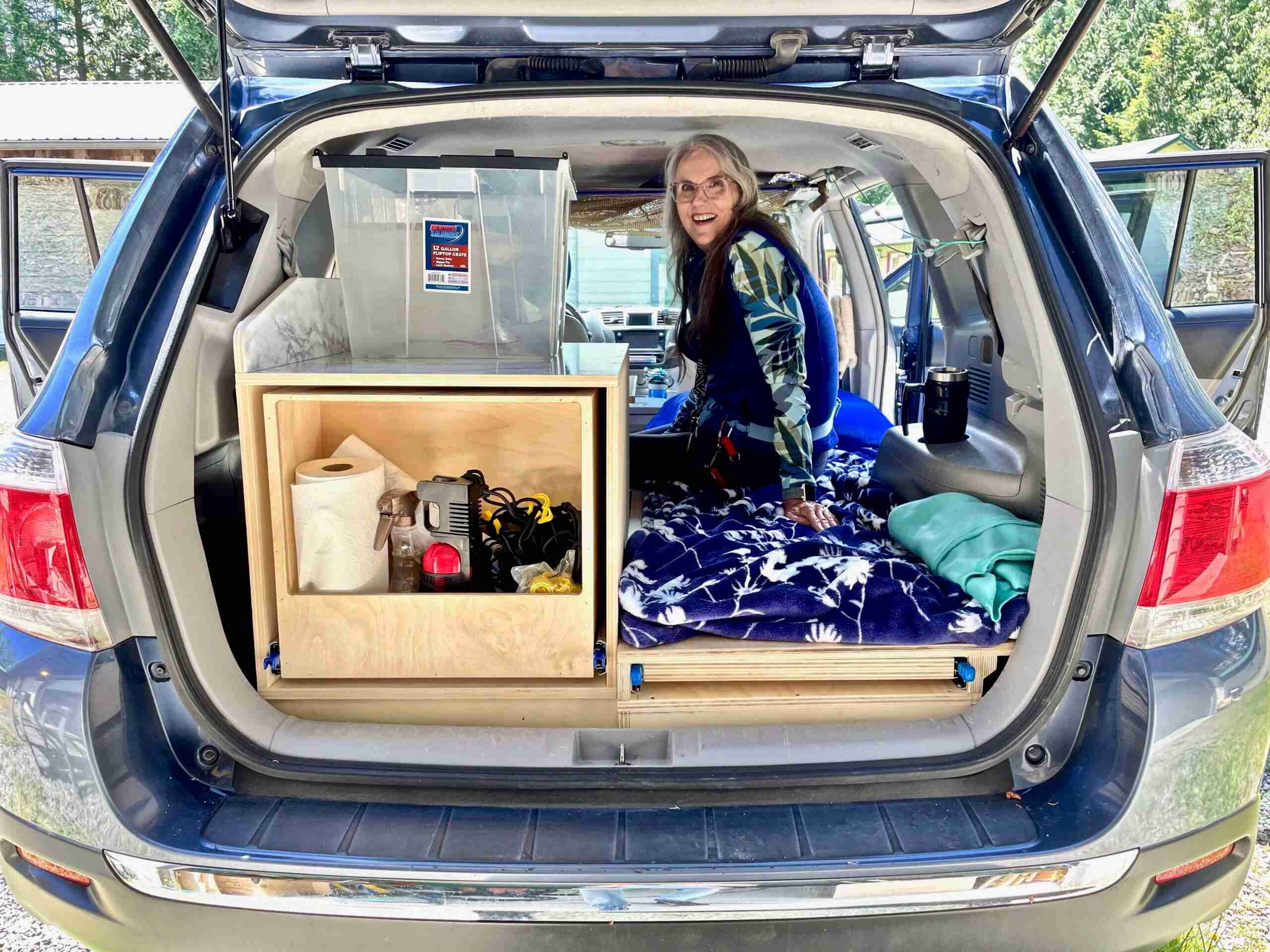 Founders: Martin Nerbovig & Steve Moore
Location: Port Townsend, WA
It all started with two friends, a dream of adventure, and a little technical know-how.
Having long wanted to spend more time traveling and exploring the northern reaches of the continent, Camp N Car co-founder Steve Moore hatched the plan to buy a Honda Element, trick it out and live life on the road for a while.
Sharing his plan with lifelong friend and Camp N Car co-owner Martin Nerbovig, they decided to work together on a sweet custom unit for Steve. After some 3D modeling work, CNC machining and no small amount of sandpaper later, Steve's build was complete and ready for adventure in Alaska.
The product proved inspiring to many, and would ultimately spark the idea to start Camp N Car after Steve returned from his journey in the north.
Kits Available For: Hatchbacks, Minivans, SUV's, Pickup Trucks, Vans & Sprinters
Custom-sized Conversion Kits: Yes (In-Person Only)
Custom Vehicle Conversion Build-outs: Yes
Order Lead Time for Pre-fabricated Kits: 1-2 weeks (before shipping)
What Sets Them Apart: "Camp N Car delivers world-class work to a growing niche of car camping enthusiasts from all walks of life. Whether you're looking for a basic bed platform or a full custom overhaul of your vehicle, Camp N Car works with you to make it happen.
Our USA-made DIY assembly kits can be shipped anywhere in the world and are engineered with top-tier materials to last a lifetime of adventure.
If a kit isn't for you and you need something special, then our custom shop can create just about any camper your heart desires. While some companies only deal with specific vehicles, Camp N Car is determined to work with whatever you have, to ensure that you can have a better night's sleep in your tiny home on wheels."
---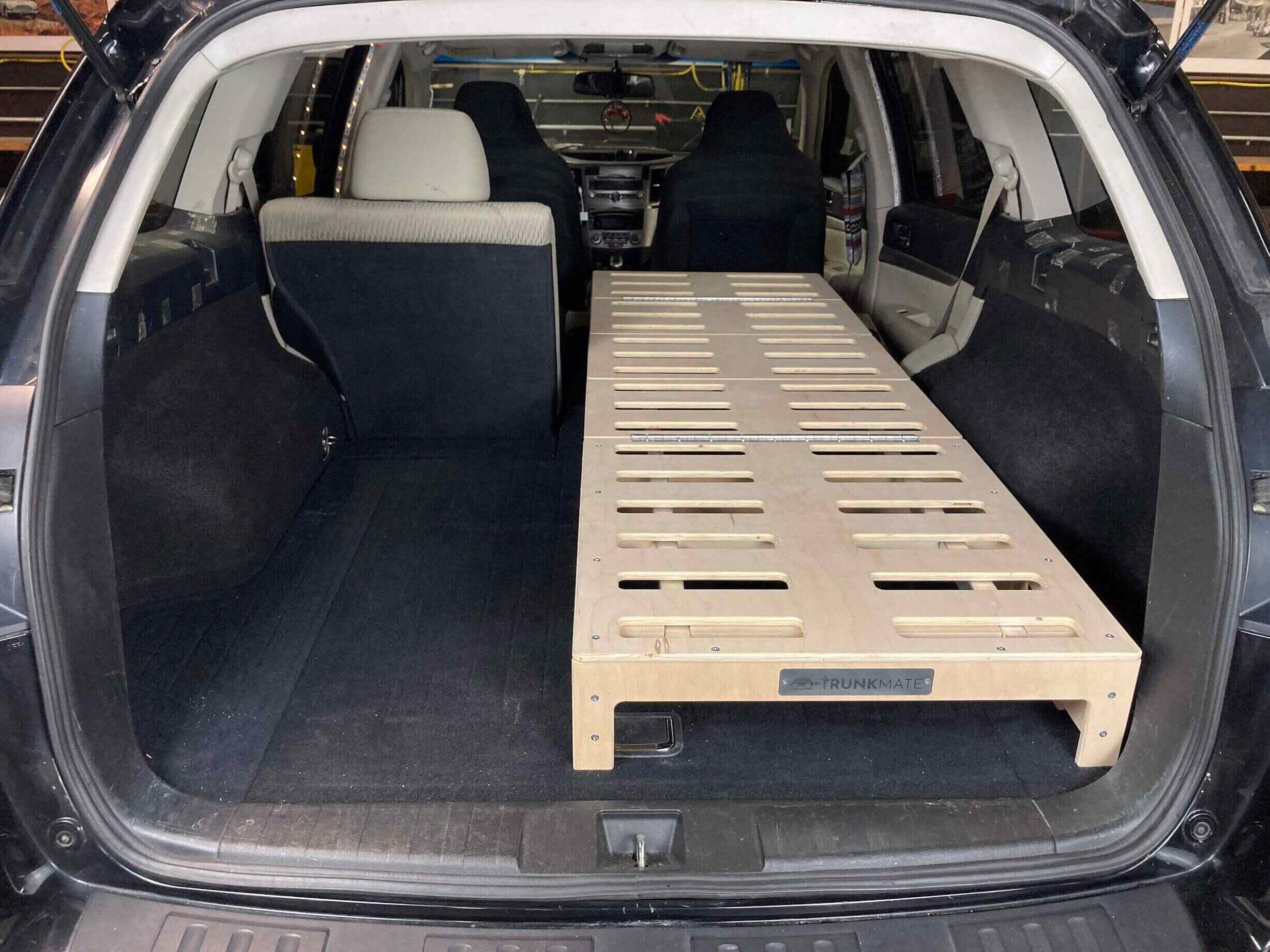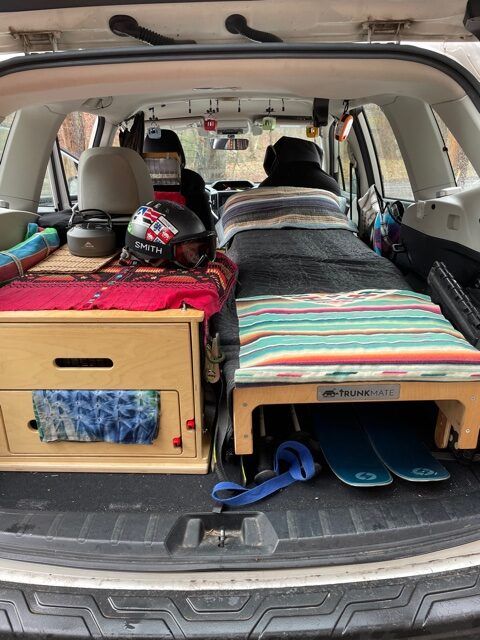 Founder: Grant Miller
Location: Costa Mesa, CA
The idea for TrunkMate first struck in Yosemite National Park. While working and living there, Grant started noticing the many creative ways people were coming up with to sleep in their cars and store their gear, and it got him excited about building his own little paradise-on-wheels.
Not wanting a permanent bed in his vehicle, he thought up a design for a sleeping platform that would collapse into the trunk when not in use, and offer storage space underneath. When it was finished, he hit the road and began living full-time in his SUV.
It was during this time on the road that he started receiving a lot of positive feedback about his little camper. Strangers would walk up to him and ask where he bought it, and random people would pass by and say "we gotta get one of those for our car!" under their breath. So he went back to his drawing board and determined to find a way to share his product with the world.
Dozens of iterations later, TrunkMate came to life in 2020, with a mission to make lightweight, portable camper kits accessible to people who don't have the time or expertise to build one from scratch.
Kits Available For: Hatchbacks, Crossovers, Wagons, Minivans & SUV's
Custom-sized Conversion Kits: No
Custom Vehicle Conversion Build-outs: No
Order Lead Time for Pre-fabricated Kits: None. Orders leave the warehouse next day
What Sets Them Apart: "We have the most lightweight, portable car camping platforms on the market.
Our kits feature a collapsible bed which stows completely into the trunk of your car, so you can have your back seats free for passengers and extra gear when you aren't sleeping. Underneath the bed is a dedicated storage space for your gear.
We have sizes for every vehicle, from the spacious minivan and SUV down to the smaller crossovers and hatchbacks. No vehicle modifications are required."
---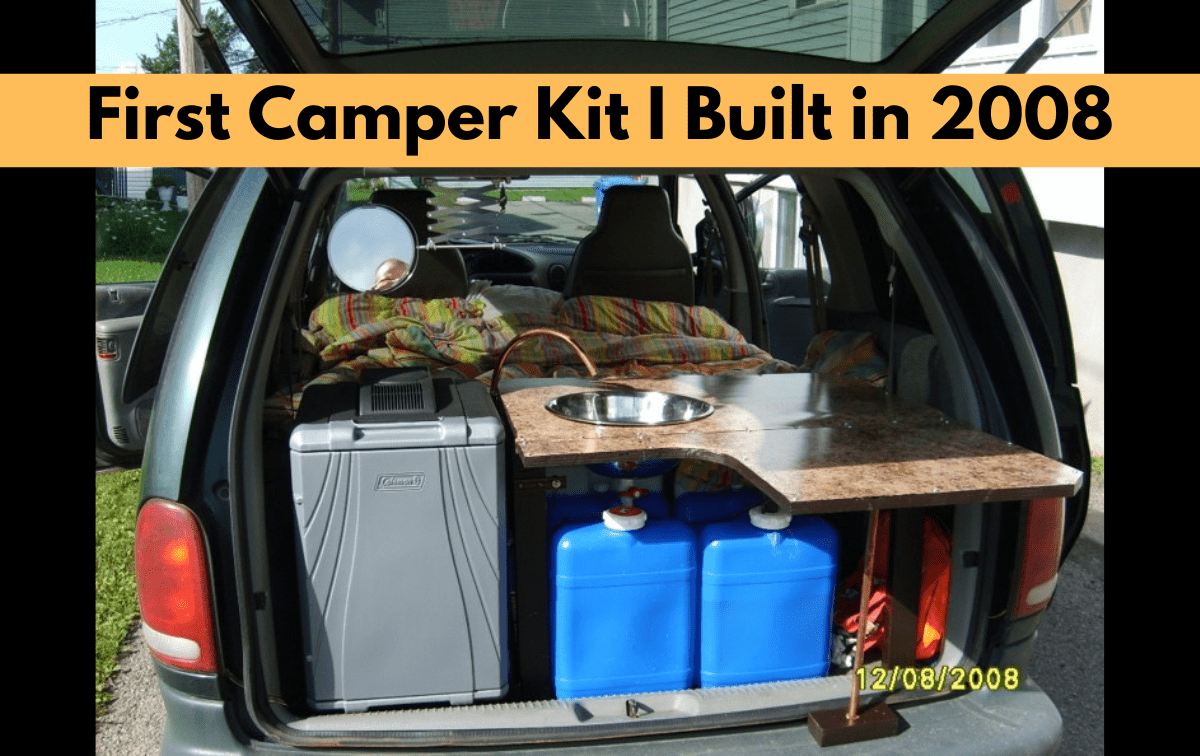 Founder: Jean-Pierre Pigeon
Location: Les Cèdres, Québec, Canada
Freeway Camper Kit officially formed in Jean-Pierre's garage about 6 six ago. What initially began as a 'non-official' hobby project soon became something bigger, and eventually grew into what the company is today.
But the big idea of a camping kit happened way back in 2008, after he purchased a minivan to use as a winter car. Since it was only summer, and the vehicle wasn't being used, he decided to make it into a camper van to use on his yearly vacation.
He built the first Freeway Camper Kit in the driveway of his apartment unit using some basic tools and a skill saw. It was a pretty basic set-up, but he knew he was on to something.
10 years later he decided to work on another project, with the goal of making a new & improved camper conversion kit. At the time, there was only 1 or 2 companies manufacturing anything similar.
After a few months of hard labor, the first 'Sleeping Giant' camping kit was completed in his garage, and his business has been expanding ever since.
Kits Available For: Hatchbacks, Minivans & SUV's
Custom-sized Conversion Kits: Ocassionally (depending on the request)
Custom Vehicle Conversion Build-outs: No
Order Lead Time for Pre-fabricated Kits: 2.5-3 months (depending on time of year)
What Sets Them Apart: "I think Freeway offers innovative designs that are constructed in an artistic way. I see myself as an artist, and I think that leaks through in my work.
I was never into boxy, generic types of things. Being plain doesn't excite me, and I wanted to create pieces that not only please the eye, but that also feature functionality. Design innovation is important to me. For example…
Most conversion kits I offer come equipped with water systems that are usually only found in larger vans and RV's. Having access to water while living on the road is critical…water is life.
My newer kits are taking advantage of the larger minivan layouts, and they allow the rear passenger to use the included table during commuting. This is a big plus, especially if you have kids in the vehicle on longer trips!"
---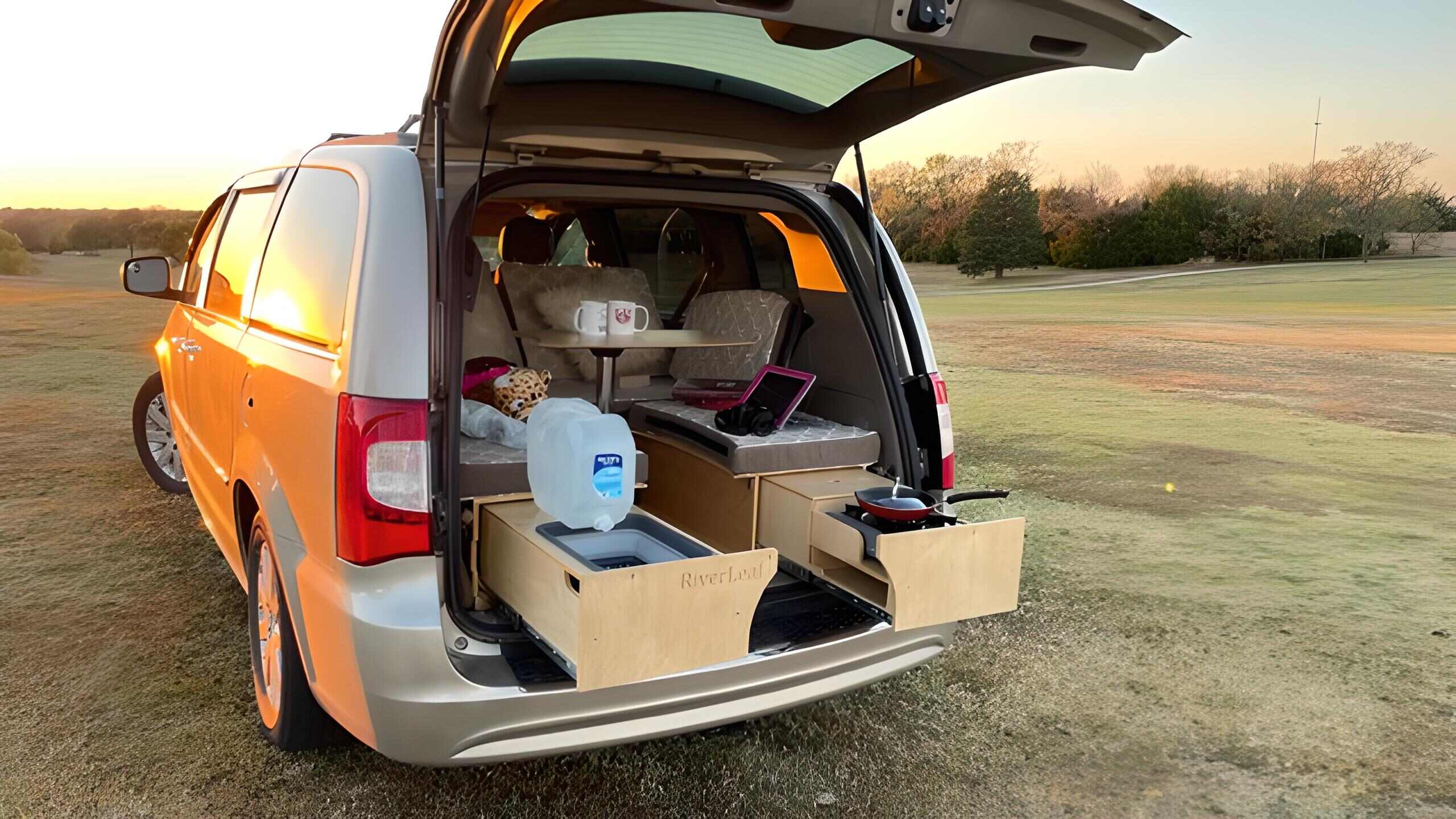 Founder: Kim Sanchez
Location: Coffeyville, KS
Traveling around the country on wheels, visiting this country's various National Parks is Kim Sanchez's passion. He owned a minivan and loved camping in it.
He built his first camper box in 2016 for his personal use. But there were no plans to make a business out of it until Jim Correll, Independence Community College Fabrication Laboratory Director, encouraged him to start reproducing it with the help of computerized machines to ensure a uniform quality of the product.
While the idea was a good one, he didn't have time to make it happen. It wasn't until 2020 when Covid hit and his schedule opened up that he was able to polish the design and make the computer programs for mass production.
At first, it seemed that opening a business during the pandemic might not be the best move, but it turned out that the timing to hit the market was perfect, because vanlife & car camping was catching on like wildfire. The rest, as they say, is history.
Kits Available For: Minivans & SUV's
Custom-sized Conversion Kits: Yes
Custom Vehicle Conversion Build-outs: No
Order Lead Time for Pre-fabricated Kits: 2 weeks (can be longer during summer)
What Sets Them Apart: "The idea of our design is to convert any vehicle quick, so our costumers can hit the road and be with nature in the shortest time possible.
We do not provide permanent van conversions. For most minivans owners the primary purpose is to transport their family everyday. With our camper box, the family transport car will become a multipurpose vehicle.
Now, anyone can convert a minivan into a camper on a whim and spend time under the trees for the weekend, and then turn it back to a family car instantly when done.
Yes, sleeping in a tent is doable, but nothing beats that sleeping-on-a-real-bed feel inside of the comfy confines of your car. Not to mention, our kit is equipped with a kitchen to enhance the camping experience, whether for individuals or families."
---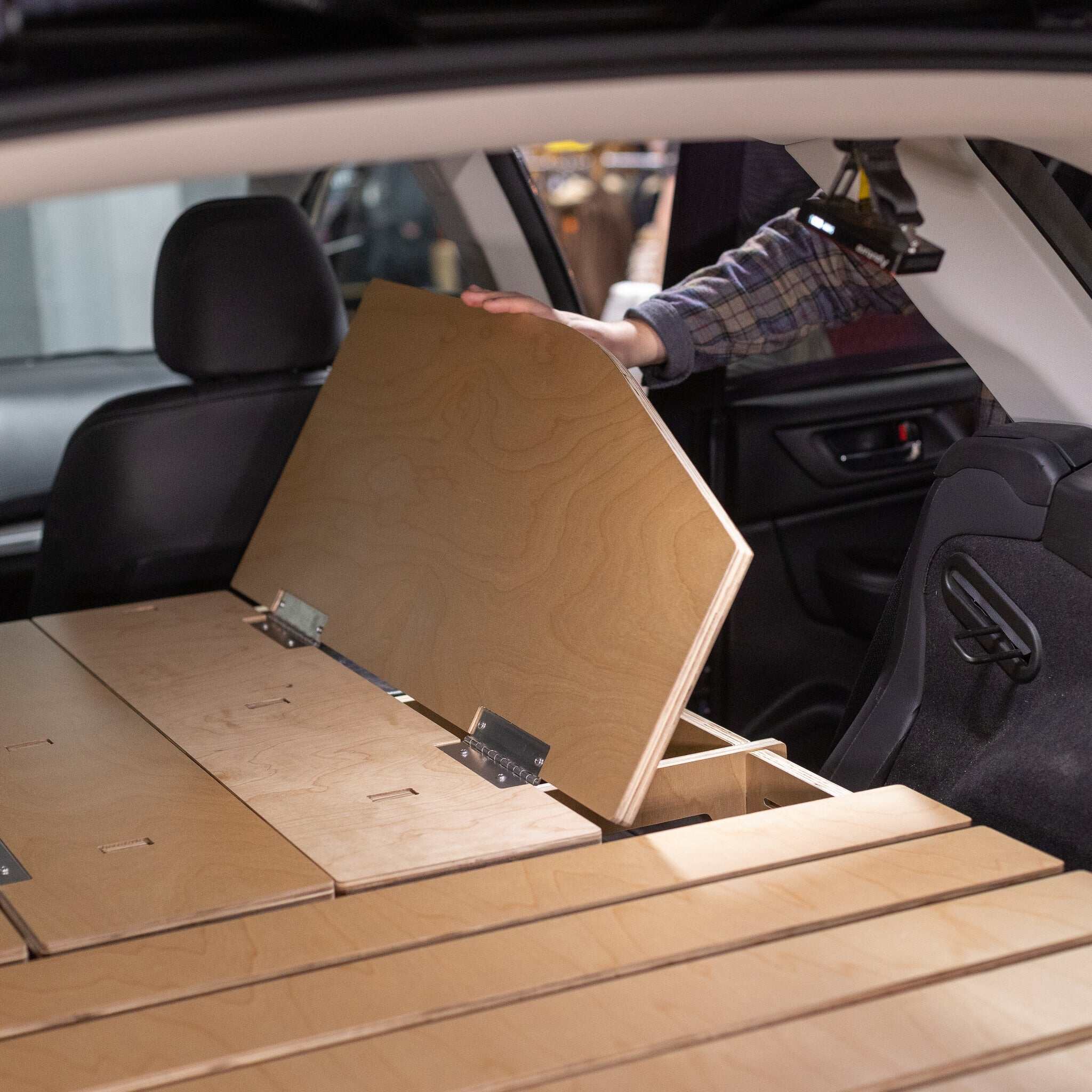 Founders: Nathan Bonslaver, Kevin Gulick, Robert Miller
Location: Reading, PA
One summer in college, Nathan and a friend set out on the great american road trip. Over two months and 10,000 miles, they saw 22 states, 15 national parks, climbed mountains, backpacked deserts, and surfed in California.
Their exploits were made possible by camping in a Subaru Outback for free on public lands. Living as nomads during that time opened their eyes to the freedom and low cost of adventure through car camping.
That following winter, Nathan teamed up with two other mechanical engineers from Penn State. Together, they spent the next few years on a mission to make car camping accessible to anyone.
Started out of a garage in Pennsylvania, CarToCamp now has manufacturing partners across the east coast and ships Sleeping Platforms everywhere in the 48 states.
Kits Available For: Hatchbacks, SUV's & Crossovers
Custom-sized Conversion Kits: No
Custom Vehicle Conversion Build-outs: No
Order Lead Time for Pre-fabricated Kits: 4-6 weeks
What Sets Them Apart: "CarToCamp's sleeping platforms are designed for both the full-time road tripper and the weekend warrior.
Our meticulous design makes the most of every square inch of storage space inside the vehicle, while also maximizing comfort.
When not in use, the sleeping platform can be quickly and easily stowed in the trunk of your vehicle.
Every sleeping platform ships for free, and can be assembled and installed without any tools required in just 25 minutes at home."
💡
DON'T FORGET...if you're buying any type of car camping conversion kit, you might need a comfortable sleeping pad to go with it! Check out my article here:
Best Sleeping Pads for Car Camping
Budget-Friendly, DIY Car Camper Conversion Ideas
These photos will inspire you to get started, even if you're short on cash or building experience!
DIY Car Camper Conversion Ideas
While van life has become a popular trend in recent years, anyone can do the same thing in a smaller vehicle. Converting a car, minivan or SUV into a full-time living space - complete with a bed platform - is easier (and cheaper) than you might think.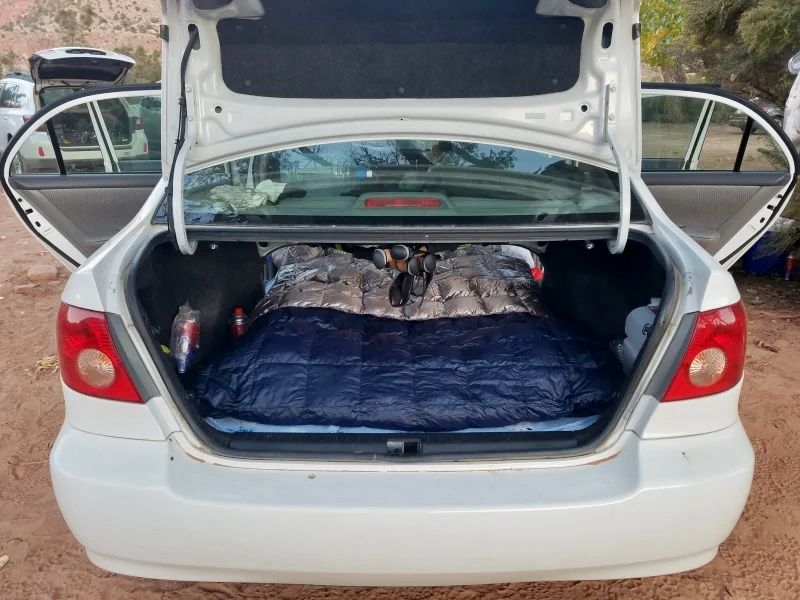 This ingenious conversion proves that, YES, you absolutely can turn any car into a camper...even a sedan!
By simply folding down the back row seats - or removing the upper portion of them - this person created a bedding area in the trunk that can fit 2 people.
Add in a couple of sleeping pads, a blanket and some pillows, and you have a crazy cheap, cozy place to lay your head at night.
You're only limited by your imagination!
---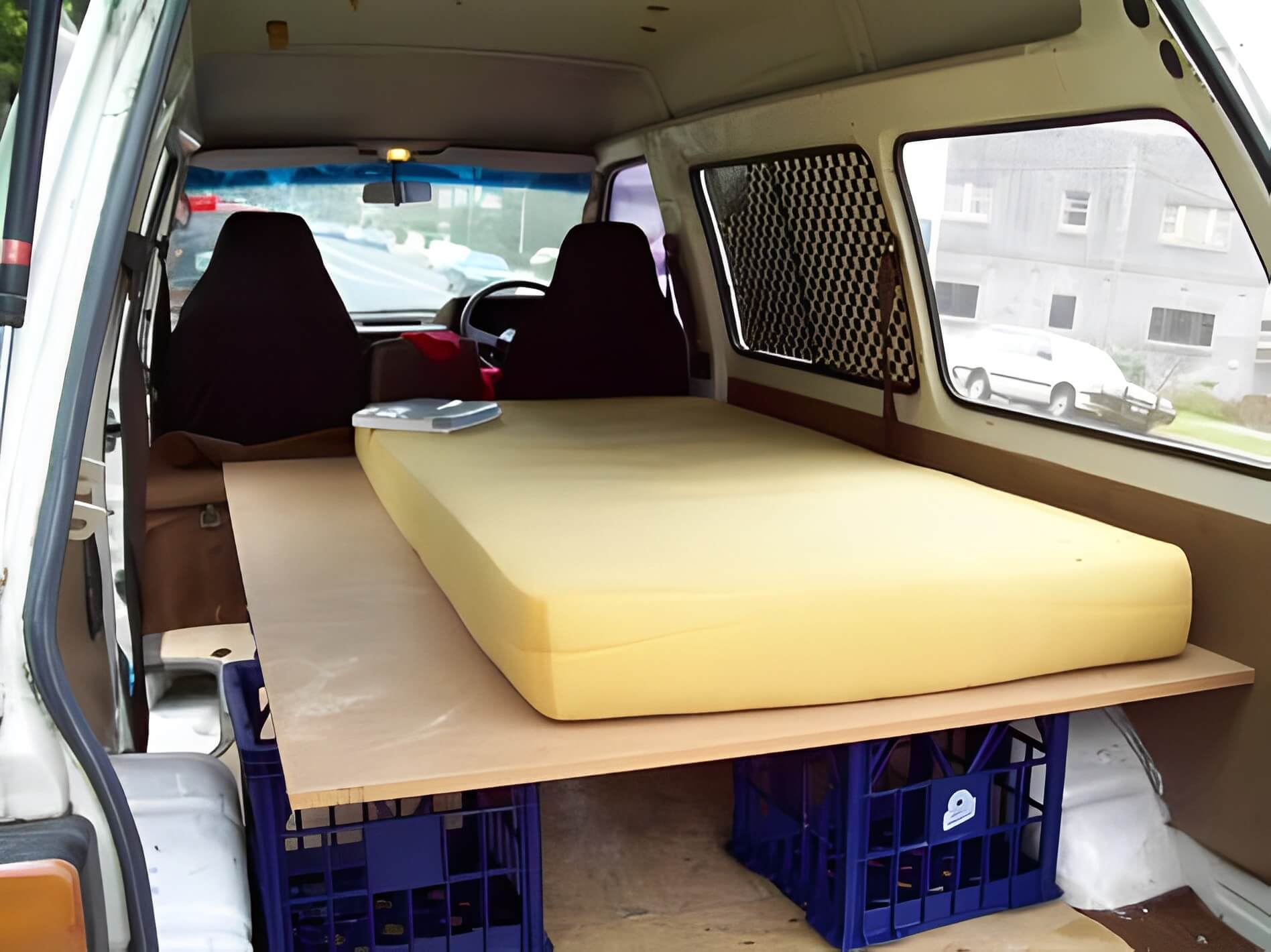 Even if you're not ready to commit to a full car camper conversion, you can still create a sleeping space in your vehicle with the most basic of items.
The owner of this camper took 4 plastic milk crates, added a piece of plywood, and placed an inexpensive foam mattress on top.
If your budget is tight or you're just starting out, a set-up like this will function just fine, and you won't go broke or need a degree in engineering to put it together.
---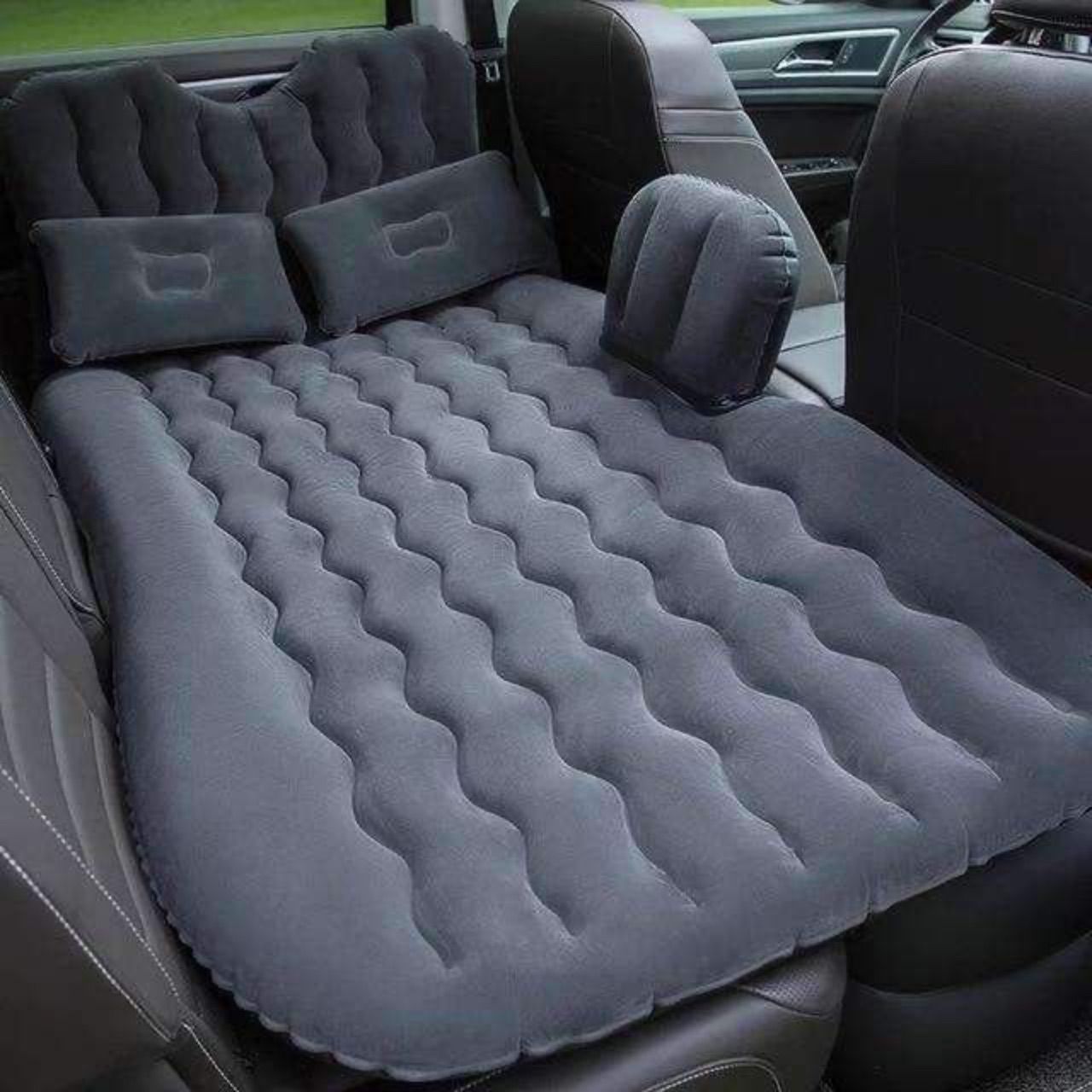 I call this the "NO EXCUSES" option. Many aspiring nomads complain about not having money to get started, no building skills, little spare time, and on, and on. Well...
This no-build set up leaves you with no excuses.
You can buy these car air mattresses anyplace online for about $50-$100, and get out on the road asap!
What's nice about this configuration is that it leaves the trunk of the vehicle completely untouched, so you'll have plenty of space to store all of your necessary camping gear: tent, sleeping bags, cooking equipment, and any other essentials for your trip.
---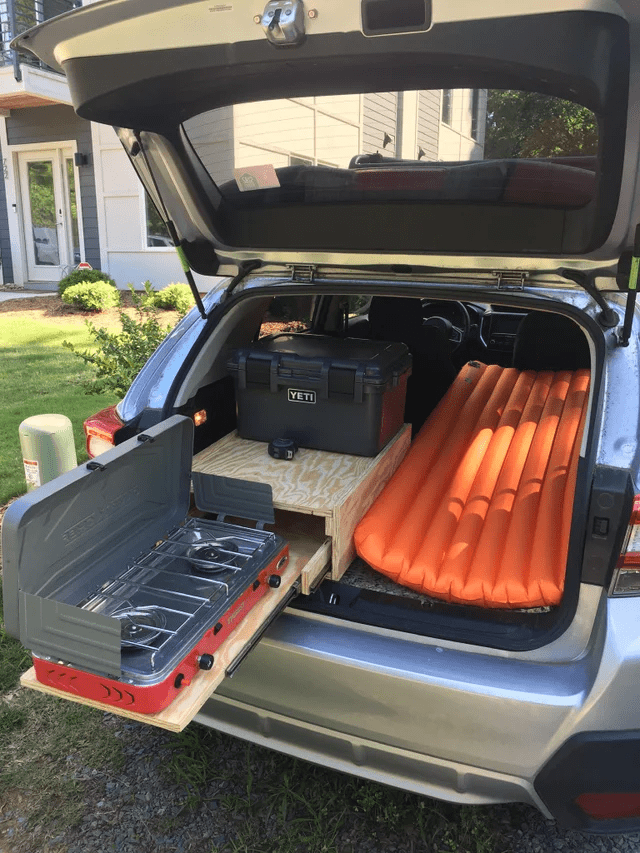 Here's yet another easy-as-pie DIY conversion.
Using an air mattress as a bed, and a wooden box constructed with a simple sliding draw mechanism to house a camping stove, this person was able to create both a kitchen AND sleeping area.
On top of the box they have an ice cooler, but you can also fit a nice sized 12v refrigerator there, a bin containing your clothes, or anything else you wish to stow.
Almost anyone with a cheap set of hand tools can make a similar wooden box in about 1 or 2 hours.
---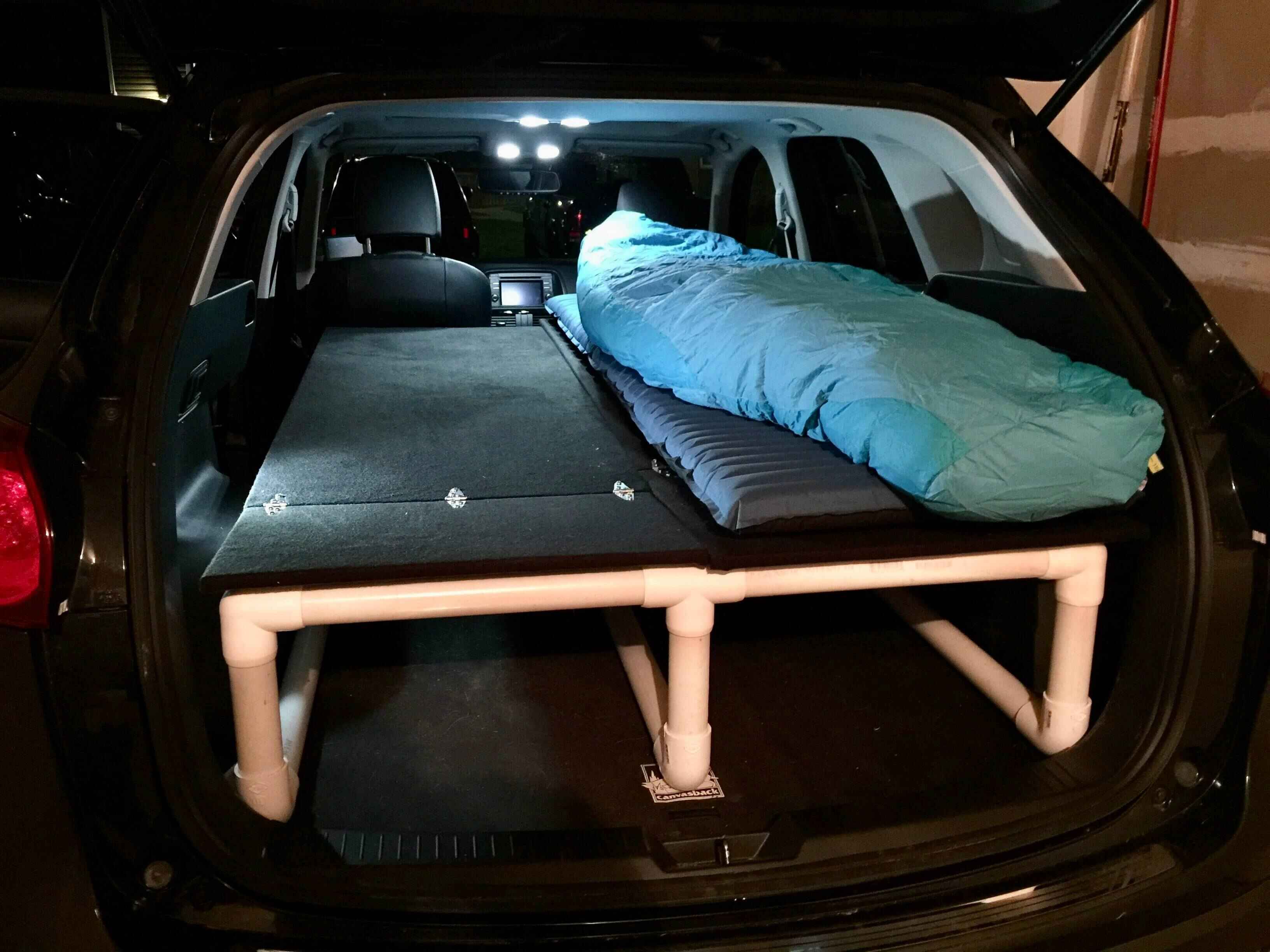 This one is really neat. The owner made a sleeping platform out of regular old PVC pipe. On top, he placed a piece of plywood covered with some sort of black felt.
Rounding it out is a sleeping pad and sleeping bag.
The platform itself can probably be built for $20 or $30. Dirt cheap solution.
As you can see, the ultimate takeaway from all of these builds is this...
Use whatever materials you have access to. Free or low-cost items will work just fine.
---
Important Advice on DIY Car Camper Conversions
If you're just starting out as a car camper or nomad, use whatever vehicle you have in the beginning. Avoid the temptation to buy a different/newer vehicle at first because you think it will make a better camper. Wait 6 months or so to see if you truly enjoy living in a car, before spending a lot of money to upgrade.

Don't worry about having the "perfect" set up. It doesn't exist. Only focus on the basic living essentials at the outset: sleeping area, having cookware, proper storage for your gear, etc. You'll be able to survive just fine with these alone, and can add to - or upgrade - as you go. This advice applies to conversion kits, or any other modifications you wish to make.

Don't try to keep up with the Jones'. We've all seen the gorgeous, picture-perfect car conversions or campers on social media, and it's tempting to want something similar. But everyone's situation is unique. Budget, construction ability, type of vehicle owned, and other factors are going to be different for each person. I can tell you from experience that much of what's shown on social media is NOT reality. Most nomads (including myself) live in very humble looking vehicles with basic conversions. Be you!

Ask for help. We all need a helping hand in life sometimes. If you want or need something built for your vehicle conversion, and it's above your ability, ask a family member, friend or neighbor for assistance. Don't be ashamed or embarrassed. Many people love tackling interesting projects like these...especially if you throw them a few bucks in return.

Join a supportive community. There are hundreds of online groups like Reddit, Facebook, etc., where nomads gather to discuss car conversions and similar related topics. Become a member and ask questions, see what others are doing, and get as much information as you can, as it will make your journey MUCH easier when starting out. Or join this blog and I'll try to help you as best as I can.
Car Camper Conversion FAQ's
Frequently Asked Questions...
How Much Does it Cost to Convert a Car Into a Camper?
While there is no set price, and you can spend as little or as much as you'd like, here are a few guidelines...
DIY Option #1: A vehicle can be converted into a simple, livable camper pretty easily, without having to spend more than $100 or $200. By folding down the car's seats and using a sleeping pad on top coupled with a blanket, you'll instantly have a bed area.
Add to that an inexpensive portable camping stove, cookware and food, and you'll have everything you need. All of your gear (cookware, clothes, food, etc.) can be kept in plastic storage bins.
DIY Option #2: If you (or someone you know) is handy with basic tools, a no-frills sleeping platform can be built very cheaply. Some people even use discarded wooden pallets to construct these, as they're free!
You can build a killer sleeping platform with basic slideouts for $300-$400 (at most). It might not look the prettiest, but that doesn't matter, as long as it provides a great sleep and can store your belongings.
Buying a Kit: Conversion kits for cars vary widely in cost, depending on their complexity. A bare bones single-person sleeping platform might be $400-$800.
If you need slideouts included for cooking equipment, a fridge and other components, you're probably looking in the range of $1,000-$2,000+. Same goes for sleeping platforms that can accomate 2 people. Larger, full-scale kits for SUV's box trucks and vans can exceed $4,000+.
The advantages of buying a kit are that you'll save time, the construction is going to be of a better quality, and it should provide you with many years of usage.
What are the Pluses of Removable Camper Conversion Kits?
Many nomads use their vehicles for more than just camping or outdoors recreation. They might need their vehicles for work purposes; deliveries, visiting clients, etc.
Or they might have families, and cannot keep large components in the vehicle. Being able to transport the kids to school, to sporting activities and other necessities is important.
In cases like these, removable conversion kits are ultra convenient options. The ability to fold them up - or to remove them entirely - creates much needed space in a jiffy.
Another plus is repairs. If you need to fix or alter something on a conversion kit, doing so within the tight confines of a vehicle is difficult. Being able to remove the kit so it can be worked on in a shop or garage is a big advantage.
Finally, leaving pricey items in your vehicle is never good. Paying $700 for a beautiful sleeping platform only to risk having it stolen isn't too smart. When you're not camping, the option to remove a kit is a giant bonus.
How Hard is it to Convert a Car into a Camper?
It entirely depends of how fancy you want to get. For a very simple, entry-level set-up (think folded seats & a sleeping pad), literally anyone can do this very, very easily.
Even building a cookie-cutter wooden sleeping platform isn't that challenging, provided you have some basic tools and the time.
Once you start getting into more complex conversions that feature collapsible components, custom-fit vehicle mounted cabinets and things of this nature, you should be at a moderate to advanced carpentry level, or know someone who is.
When converting a vehicle with a more sophisticated set-up, it sometimes involves modifying the car by drilling holes, cutting sections out, dealing with wiring, etc. These types of conversions should be left to professionals, or someone who's more experienced. You don't want to risk ruining your vehicle with shoddy work.
What about Electrical Power when Converting My Car?
The vast amount of nomads living in a vehicle prefer to keep it simple, and they get their power in 1 of 3 ways...
By using a portable power station like a Jackery, Bluetti, Anker, EcoFlow, etc.
By hooking up an inverter to their vehicle's car battery.
By adding a solar panel to the roof of the vehicle that connects to a portable power station.
Most of these options are fairly easy for the average person to implement, but I'd advise hiring a professional for hooking up an inverter to the battery.
Simple set-ups like these can power most of your essentials: 12v fridge, laptop, phone, camera, etc.
Larger, more intricate conversions - usually done in vans, skoolies, box trucks, Sprinters or RV's - generally require more elaborate electrical installations. But most car-dwellers don't have to worry about this.
Best Cars for Camper Conversions?
Camping can be done in almost any type of vehicle - including SUVs, vans, and even sedans. They make car camper conversion kits that fit inside most of the major brands.
Some popular options include the Toyota Sienna, Subaru Forester and Toyota Prius. While car camper conversion kits are well worth the investment, not everyone has the extra money to buy one.
If this sounds like you, skip purchasing a car camper conversion kit and create one yourself in any type of vehicle that you can afford!
Car Camper Conversions for Disabled Drivers?
There are many disabled nomads on the road today...including myself. Do NOT let a disability hold you back.
The great news is, there are lots of vehicles that can be converted into a handicap accessible camper, either by purchasing a kit, or doing it yourself. But your specific type of physical disability will dictate what kind of vehicle you get, and the car camping conversions that are possible. For example...
If you're confined to a wheelchair, then a minivan with a ramp is probably going to be your best option. The conversion will have to be built around this.
On the other hand, if you have a minor to moderate disability like a limp or a missing a limb, then your range of vehicle choices and kits are much, much greater.
You need to think all of this through carefully before the purchasing and converting stage. Be realistic about your strengths & weaknesses, as you don't want to waste money on a vehicle that's not right for you, or that can't be converted to accommodate your disability.
Car Conversions with Toilets - Possible?
While I have seen toilets in cars before, and it's obviously possible, it's not really practical, nor would I advise doing it.
For starters, you would have to remove at least one of the seats to fit a toilet, and this takes a lot of work. On top of this, you would lose valuable space that can be used for other things like; sitting, sleeping, storing your gear, etc.
There's only so much room in a car, and you shouldn't waste any of it unless absolutely necessary.
Another important point to consider would be the odors. And they wouldn't be pleasant!
Having a toilet to go #2 in a car presents many challenges. Why deal with them when there are a gazillion free public rest rooms to use?!
And as far as making #1, a bottle or urinal is your best friend, and all nomads use this method...no toilet necessary.
Converted Car Campers Versus Vans or Box Trucks - Which is Better?
There's no such thing as "better". Instead, it comes down to your individual wants and needs. For example, I myself live in a Prius. While it doesn't have as much room as a larger truck, I'm okay with that because I get great gas mileage and have access to cheap, on-demand air conditioning & heat...which most vans or trucks can't offer. Your wishlist might be different.
You MUST weigh the pros & cons of each vehicle.
Where to Buy a Converted Car Camper?
Your best bets to find converted car campers for sale are: Craigslist, Facebook Marketplace, or any reputable forum that's related to car camping or the nomad lifestyle.
Craigslist (in my opinion) has too many shady dealers and scammers. This doesn't mean you can't find a great car conversion camper there, but it can feel like navigating a minefield at times. Be patient when searching on here, and make sure to do your research on the vehicles and sellers.
I've found Facebook Marketplace to be of a much better quality when it comes to buying & selling transactions. You still must be cautious, as this platform also has its fair share of scam artists, but in general, you're able to research the sellers more thoroughly, as you can inspect their facebook page to see if anything looks fishy or suspicious.
One of the best places to find converted car campers is on forums that are car camping or nomad related. There are many people that look to sell their vehicles for a variety of reasons; they're buying another vehicle, they're in need of quick cash, they're no longer living the nomad lifestyle, etc. Again, doing your due diligence is super important, but if you take your time and wait for the right deal to pop up, you just might find a great camper car.
ALWAYS be sure to have a knowledgable mechanic inpect a vehicle BEFORE purchasing! Even if you are not close enough, pay for a mobile inspection service like POMCAR or Lemon Squad to do this for you. They aren't perfect and tend to be pricey, but they'll prevent you from buying a lemon more times than not.
---
Final Thoughts
Turning a car into a comfortable camper doesn't have to be complicated or costly.
There are many kit builders (including the ones in this article) that have very reasonable prices, especially if you just need a standard sleeping platform.
And if you cannot afford these options, as I've shown, it is really simple to make one yourself very quickly using cheap - or even free - materials.
Living out of a vehicle while traveling and seeing the world is a life-changing experience. You can join in on the adventure, too. But don't let excuses or a lack of funds hold you back.
Get started any way that you can. Dreams aren't meant to be delayed.
LIVE WISELY, LIVE WELL!