Car Camping Ventilation: Cool Items for Sleeping in a Car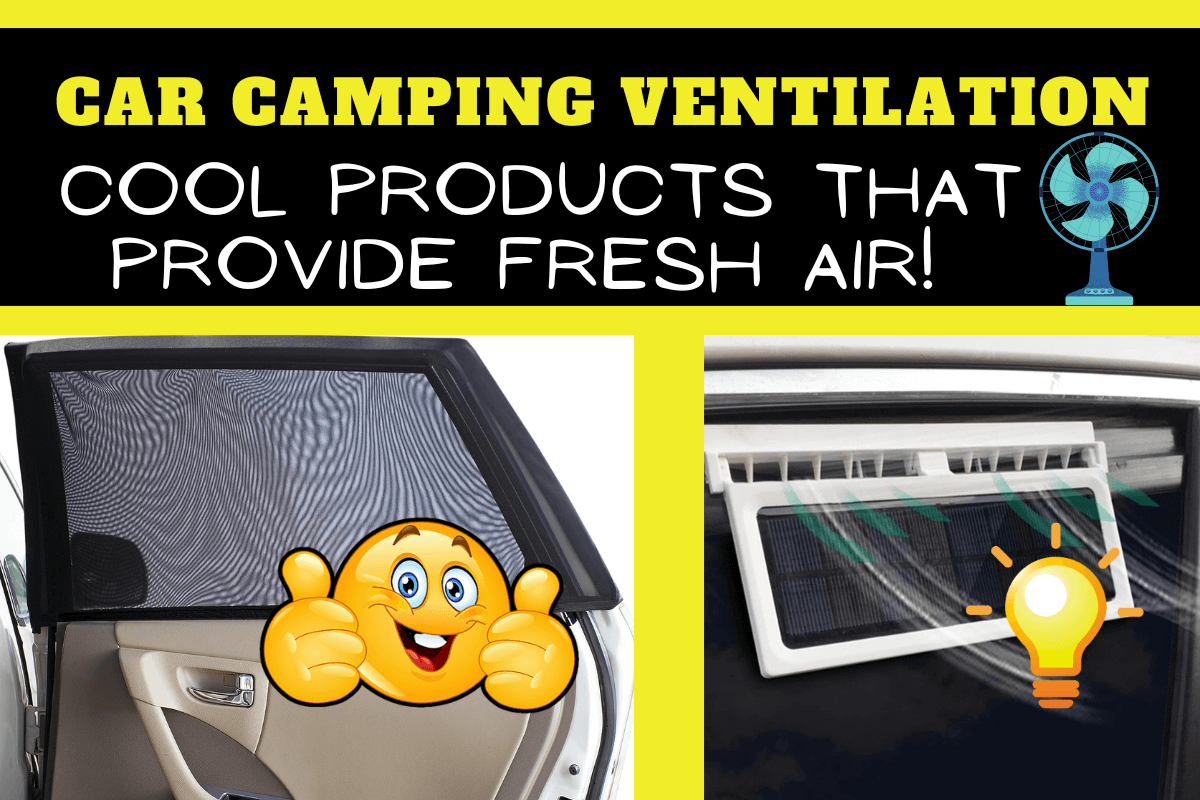 Let me be blunt, sleeping in your car with no cross breeze or moving air SUCKS.
Even in the winter with the windows closed, it can be pretty uncomfortable. And during the warmer months it's pure torture!
This is a problem that must be solved, and cracking a window or two isn't the best remedy.
Don't fret! These easy car camping ventilation hacks will not only make you feel cooler, but some of these ingenious products will also keep the bugs out AND give you privacy.
I've used most of the following products, and they are GREAT at increasing ventilation while sleeping in a car.
Let's get into the solutions…
As an Amazon associate I may earn from any purchases you make, at no extra cost to you.
Key Takeaways: Ventilation is paramount for car campers sleeping in a vehicle with the windows up, but you also want to keep bugs out and retain your privacy. Window screens and window socks are perfect for situations like this, as they will not only help with circulation, but will also provide a nice cross-breeze. Fans are a big help, too.
---
Car Window Socks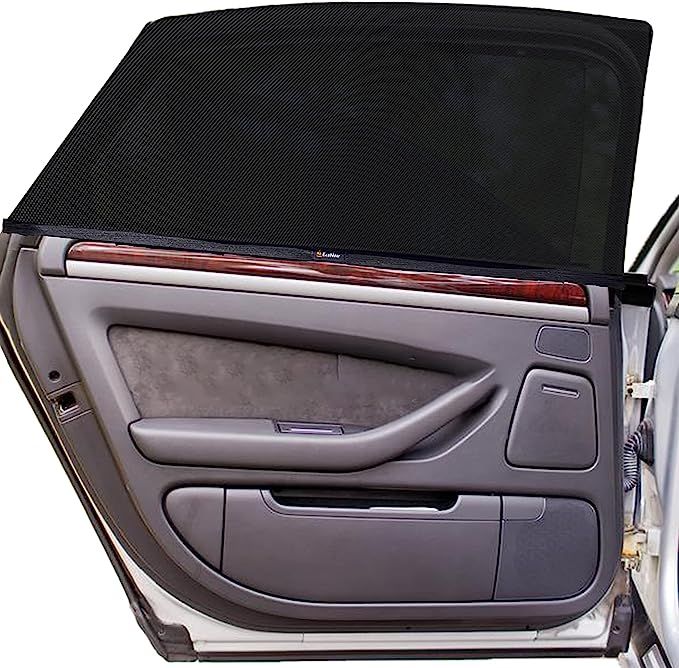 EcoNour Car Window Screens for Camping (Pack of 2) | 100% Protection from Bugs | Breathable Mesh | Perfect for Privacy
Check Amazon's Price
These things are awesome! Yes, they are literally like socks for your car's windows.
They are made out of a thin mesh material, and once you slip them over window frame, they literally block out harsh sunlight and provide instant shade during the daytime. Even better…
They are SUPERB for privacy! But the best part is that you can use these with the windows up or down.
Using these when the windows are down will give you all of the benefits mentioned above, PLUS allow more ventilation to enter your car. If you install these on both the passenger and driver sides, a nice cross-breeze brings quick relief from heat & stale air.
ADDED BONUS: If using these with the windows open, they're also fantastic at keeping out bugs and other critters!
These come in various sizes. Be sure to buy the right size for your vehicle!
Pros:
Easy to store (requires little space) when not in use
Allows lots of air flow
Prevents bugs from getting in the vehicle
Provides superior privacy
Great at blocking out the sun
Cons:
Material will get soaked if used when raining
Material can rip or tear
Sock sizes might not fit 100% precisely
---
Snap-In Car Window Shades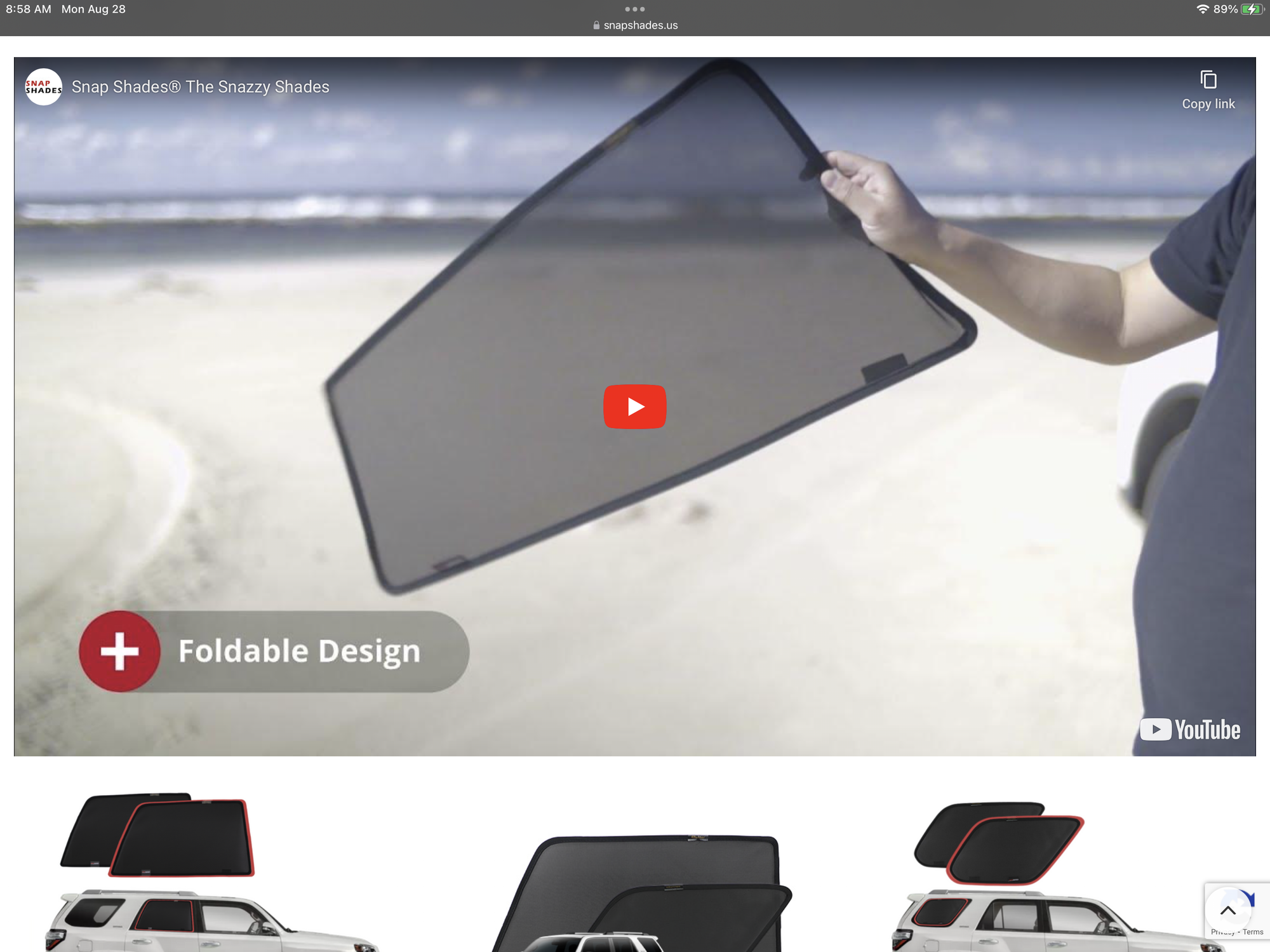 Visit Website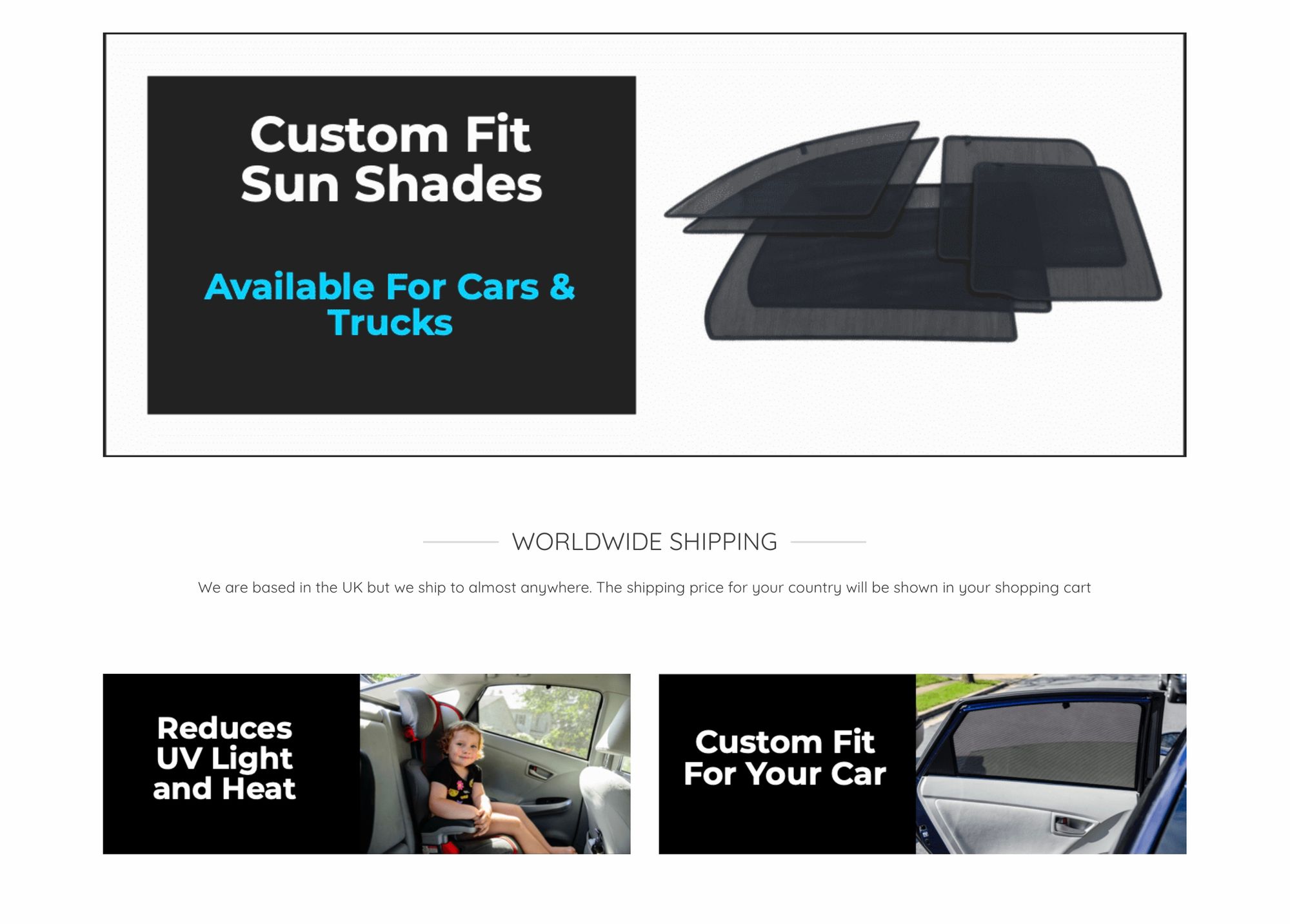 Visit Website
These serve the same purpose as window socks, but instead of being a fabric material that slips over your windows, these types of shades snap into the window frame itself. They are held in place by magnets or clips.
A lot of people prefer them because they can be easier & quicker to pop in & out.
I shared two separate companies, as both are known to offer excellent shades.
I tried a set of these that a friend had and they worked like a charm, but honestly, I prefer the window socks as they don't take up as much space when not being used.
💡
Once the shades are inserted into your window frames, you can take them out whenever you wish, or leave them in there all of the time.
Pros:
Easier & faster to put up than window socks
More durable than other solutions (harder to rip or tear)
Allows lots of air flow
Prevents bugs from getting in the vehicle
Provides superior privacy
Great at blocking out the sun
Cons:
Large & difficult to store when not in use
Can sometimes pop or fall out of the windows
---
12v Car Camping Fan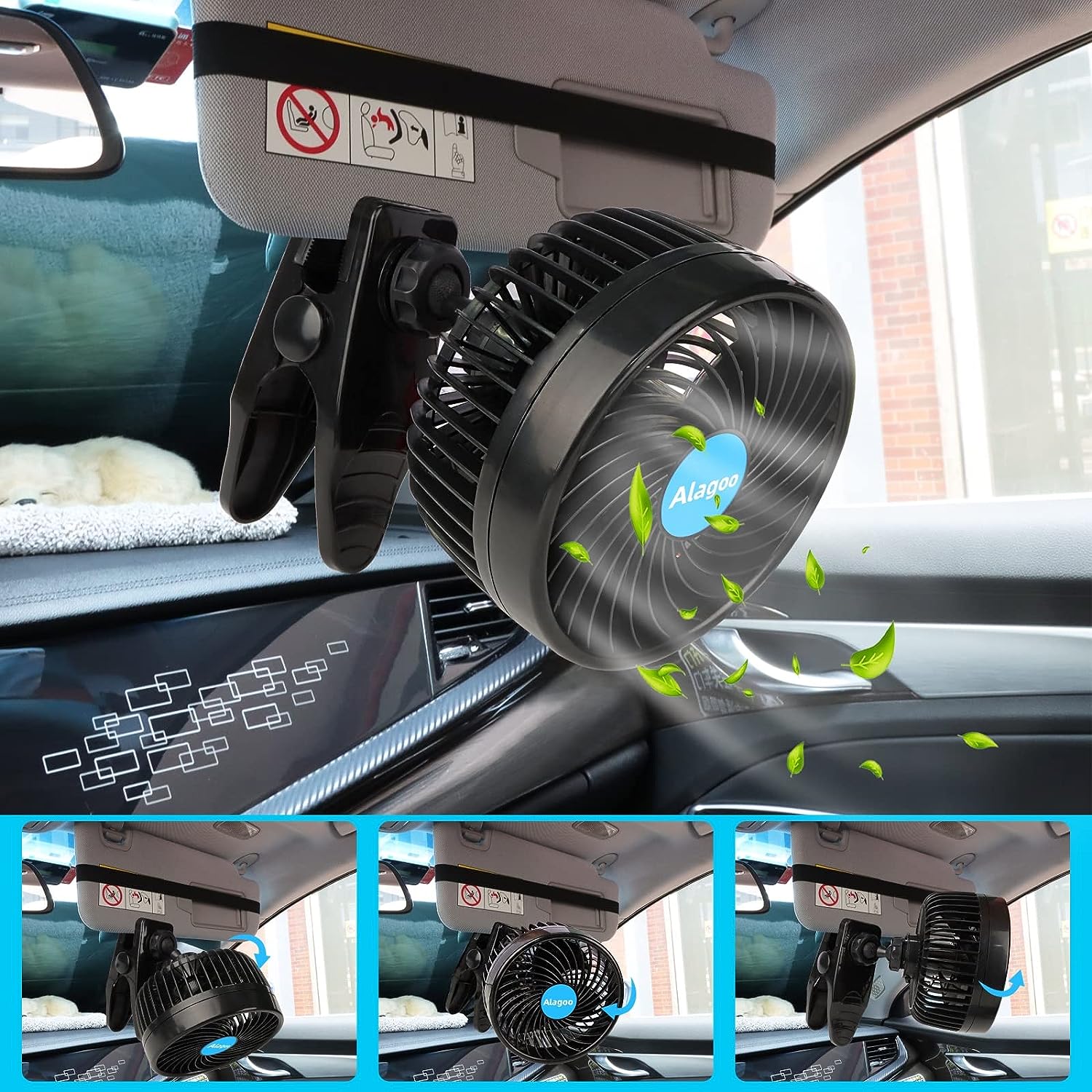 Alagoo 6"Car 12v Fan w/Heavy-Duty Clip
Check Amazon's Price
I owned this exact fan for 14 months until I accidentally broke it one day. It really works tremendously well!
It provides a lot of circulation inside the vehicle, and helps a bunch to eliminate stuffiness and stale air.
Pros:
Powerful fan with variable speed settings
Can be powered via your vehicle's 12v outlet
Can also be powered with any portable power station, as it only pulls 9 watts
Fully adjustable & comes with mounting clip
Cons:
If plugging into your car, the vehicle might need to be turned on to use
Not oscillating
---
Battery-Powered Car Fan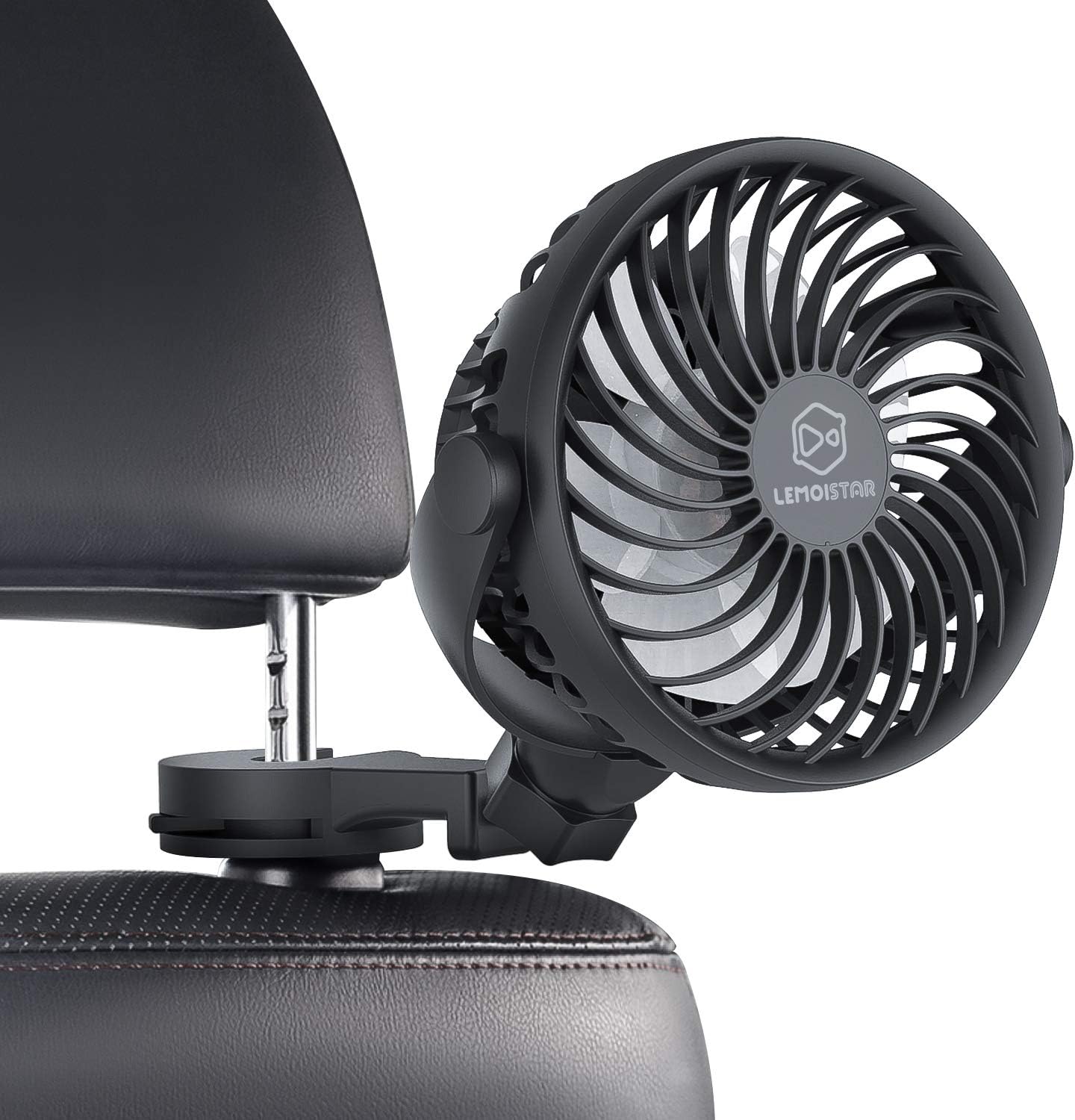 LEMOISTAR Battery Operated USB Car Fan w/ 4 Speed, 360 Degree Rotatable Head
Check Amazon's Price
This fan is a huge winner because it can be powered in a number of ways, with one of them being via a standard USB port. Which means that you can even operate the fan by plugging into a small power bank that's made for cell phones, as this device only pulls about 5 watts!
It comes with a convenient mounting clip which attaches to the headrest of your vehicle's seats, which is a nice bonus.
Pros:
Can be powered via your car's 12v outlet, by charging the fan via USB, or by connecting to a portable power bank/power station
Only pulls 5 watts
Fully adjustable & comes with mounting clip for headrest
Cons:
Depending on the setting used, run time can be shorter than desired
Not oscillating
---
Solar-Powered Car Window Fan & Vent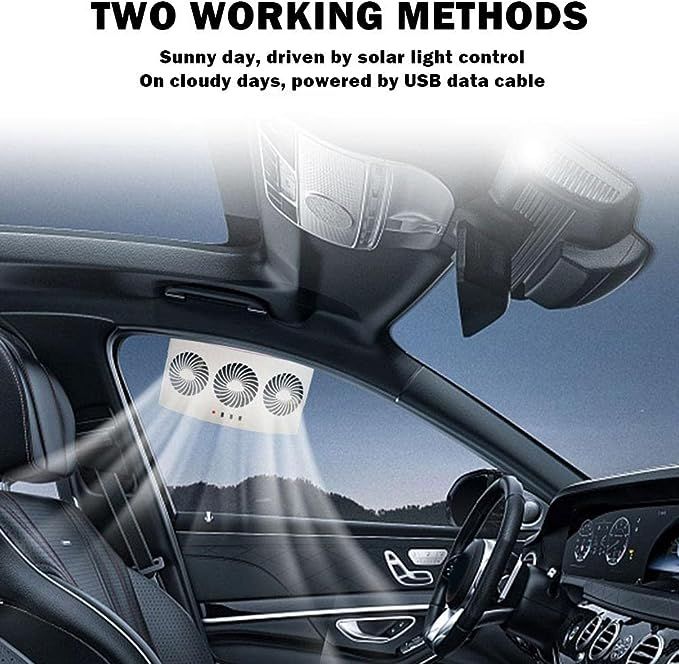 LIUZHIPENG Solar Powered Car Fan/Vent - Fits Both Front & Rear Windows
Check Amazon's Price
Okay, this item is somewhat controversial. I say that for two reasons…
First, I have never used this product, or any other like it. The reputation of these devices is quite spotty.
Two, the build quality on many of these units is usually poor, and they generally don't last a very long time.
All of that being said, since some people do claim that these are effective, I am including it here. But bottom line, don't expect fans like this to work as well as the others options I've listed. While some ventilation might be achievable, I wouldn't expect wonders from products like these.
Pros:
Can leave your windows up with this device installed and expect some ventilation
Solar powered, no batteries or charging necessary
Easy to install
Can also be powered by USB on cloudy days
Cons:
Build quality on these types of devices can be shoddy
Fans are known to be very weak
Ventilation effectiveness is questionable (results may vary)
---
Other Cooling Tips for Sleeping in a Stuffy Car
Tint Your Windows
Tinting your car's windows can be HUGELY beneficial in terms of beating the heat & sleeping in a vehicle.
Whenever the sun is out - even if it's not blazing hot - heat builds up in your car over the course of the day. This excess heat that's stored can be difficult to remove at night when you go to bed.
The best way to remove this heat is not to let it happen at all, which is where tinting comes in. It will be a great line of defense against a warm, stuffy car.
---
Open the Sunroof
Some people don't like leaving their windows down at night (even a little), as it makes them feel unsafe. If this sounds like you and your car has a sunroof, consider opening up it up at night…as long as rain or snow isn't expected!
Doing this will obviously bring an enormous amount of fresh air into your vehicle, which aids in air circulation that leads to more comfort.
Even better, they actually sell sunroof covers - similar to the window socks - that can be placed on top of open sunroofs to let fresh air in while keeping bugs out.
Using these types of covers will also make it less noticeable that your sunroof is open, which is a major plus.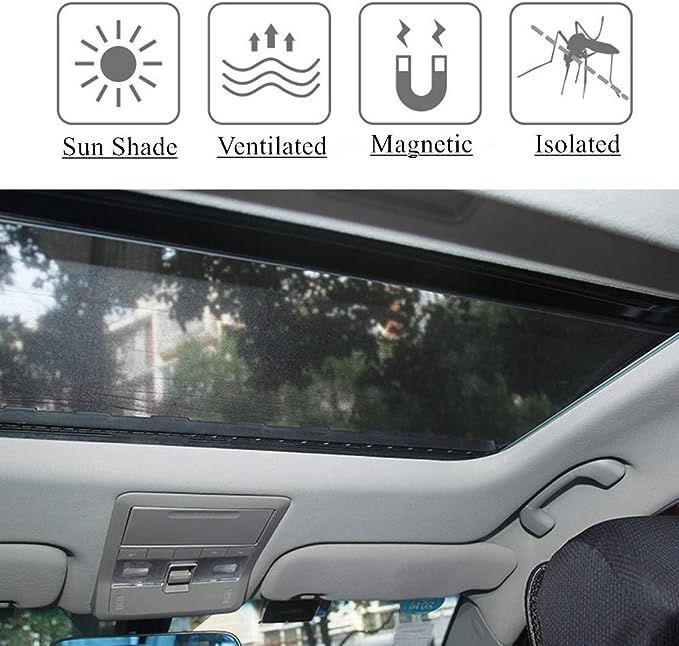 Kaskawise Magnetic Sunroof Screen - Protects from Bugs & UV Rays
Check Amazon's Price
---
Use a Gel-Infused Sleeping Pad
Sometimes the smallest things can make the biggest of differences. Gel-infused sleeping pads are one of these things.
These are INCREDIBLE at helping to cool down your body, regardless of the surrounding air temperature. And while they do tend to warm up after you've been laying on them for a while, the relief they provide can be sizable.
SECRET TIP: Don't laugh, but while the product below is made for pets, I have several nomad friends who use it to sleep on in their vehicles. Many other people do, as well. They are THAT good!
The pad has excellent reviews, doesn't require water, freezing, charging, or anything else. It stays cool to the touch for up to 3-4 hours, and to "reset it" you simply leave it alone for about 30 minutes, as it's cooling properties are pressure activated.
BONUS: If you'll be sleeping in a car with pets, this would be perfect for them.
---
Crack a Window
Yes, this one is obvious, but I can't leave it out at the finish line here. If you are in a vehicle that is totally uncomfortable due to heat, stale air, etc., then cracking a window or two must be done, even if it's raining, chilly outside, or whatever the situation.
And if you're concerned about safety, just lowering them by an inch or two can be more than enough to bring some relief.
Window Rain Guards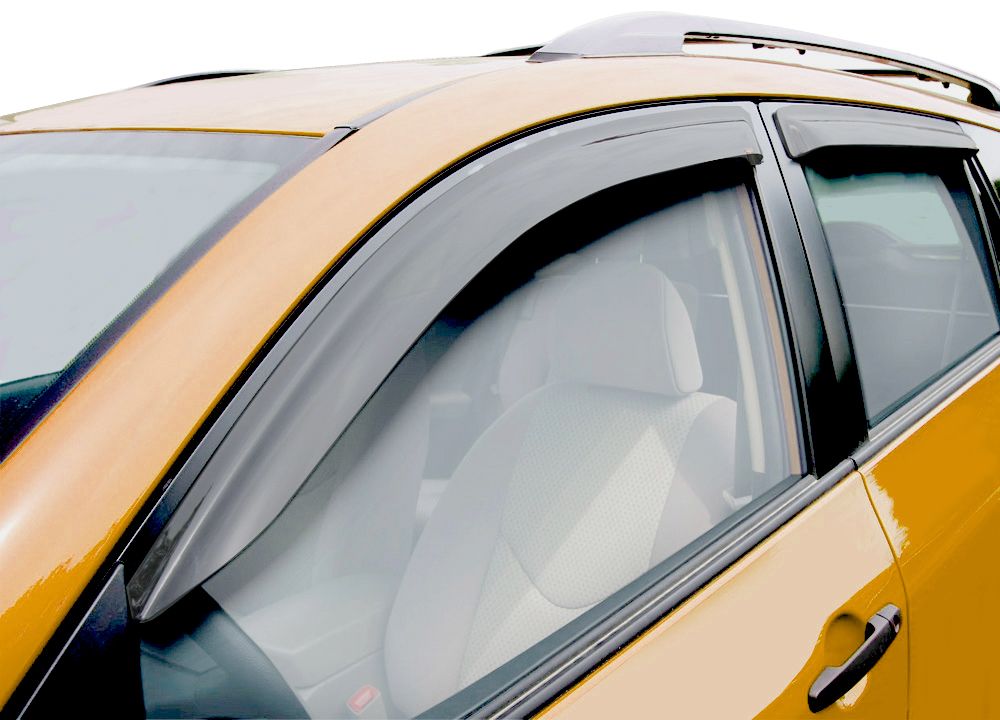 While I don't have them on my current car, I did use window rain guards prior to becoming a nomad, and they work flawlessly for windows that are slightly open. The pluses of these are…
Will prevent rain from getting inside the window/car
Hides the fact that your windows are open
Stops insects from flying in through the open windows
Easy to install
---
Final Thoughts
Part of being a prepared camper or nomad means having the right gear. Aside from basic camping essentials like sleeping bags and mattresses, using products that help ventilate stale air is a must when camping in your car. This is even more true if you live in a vehicle full-time.
Sleeping inside of your car with the windows closed is not only uncomfortable, but it can also be deadly if temperatures are very high. Fresh, moving air is vital to stay safe & prevent stuffiness!
I'm confident that these products will make your next car camping trip a better one. Give them a shot and bring the comfort on.
LIVE WISELY, LIVE WELL!