Sleep in a Prius [My Simple Camper Conversion!]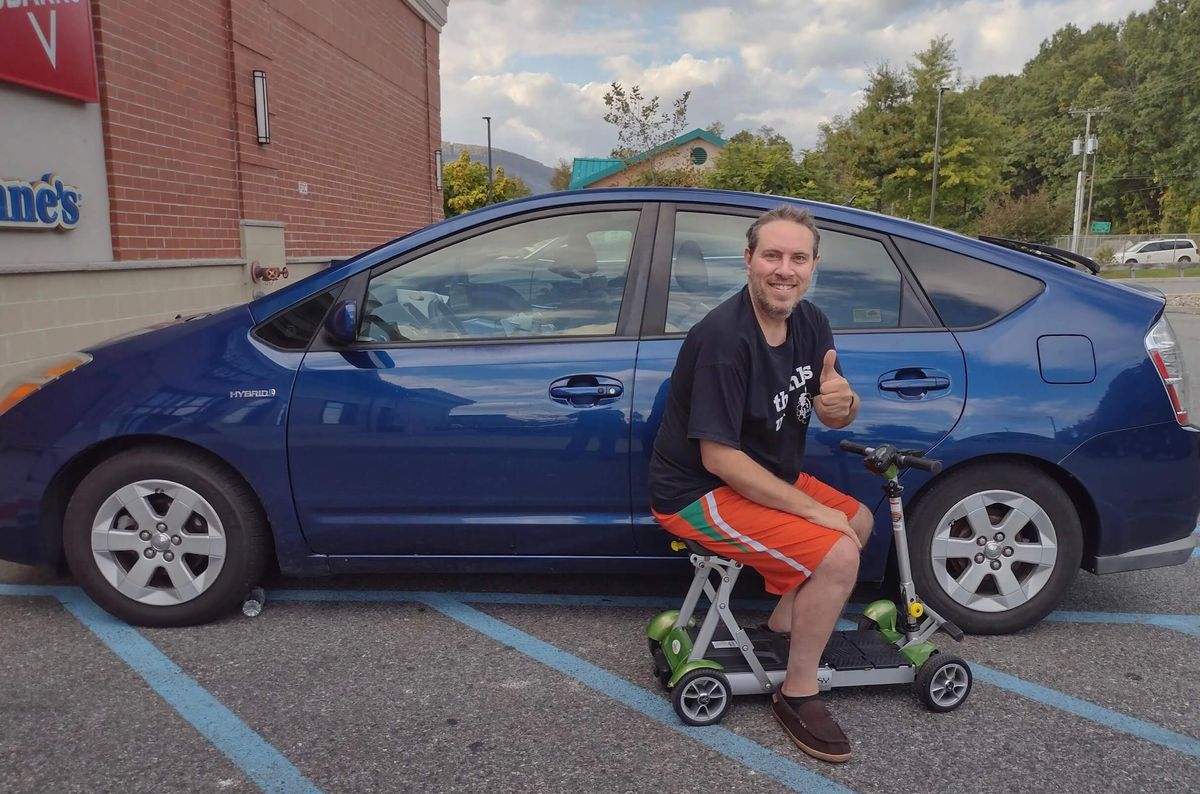 Yes, I'm a huge Prius fan. And not just because I own one.
I've also been sleeping in a Prius for the past 15 months. It has EVERYTHING that someone needs to live comfortably. Of course…
There definitely are a few drawbacks, which I'm going to cover in this article. But equally as important, I'll point out all of the reasons why Prius' are - in my opinion - one of the most convenient and adaptable car camping vehicles.
Finally, I'll share photos my exact Prius camping interior living set-up. This will hopefully inspire you to do something similar. If I can do it - and I'm a stroke survivor who cannot walk too well - you have no excuses!
Let's get rolling!
---
KEY TAKEAWAY: While there's no such thing as the "perfect" home-on-wheels, sleeping in the Prius (and camping in a Prius) is super easy, offers plenty of space, and is an ideal glamping solution. Even better, you don't need to invest a great deal of money on a conversion kit or other expensive build-outs.
---
Sleeping in a Prius: My Backstory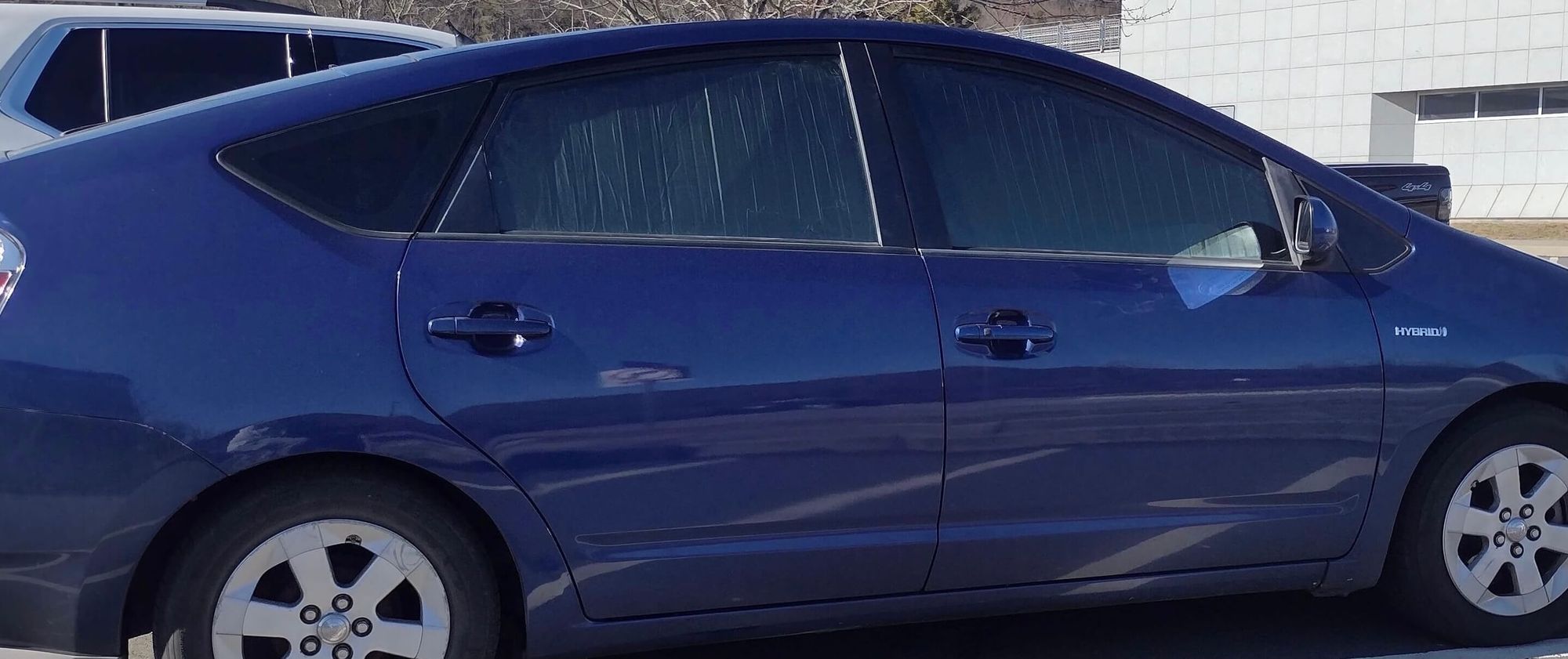 This is my 2008 Toyota Prius hatchback. I nicknamed him Elvis because he's cool. He's also blue, like the Elvis song "Blue Suede Shoes."
I bought Elvis in late 2021 on Facebook Marketplace, from an elderly couple in New Hampshire who were the original owners. It had about 160,000 miles at the time and was in excellent condition.
You can get some great deals on Facebook Marketplace, but you MUST use caution, as there are a lot of scammers on there, in addition to shady dealers selling POS cars. Same goes for Craigslist.
I got Elvis inspected by a mobile car inspection company before the purchase. Even though these services are pricey, I HIGHLY advise that you do the same. You could also have a friend or relative who's good with mechanical stuff check out any vehicles that you're interested in.
💡
Pomcar
and
Lemon Squad
are the two companies I've used for inspections. Both did fairly good jobs, and were very thorough.
Since I lived in NJ at the time, I had the car shipped to me, and I hit the road full-time a couple of months later after prepping Elvis for the journey ahead.
---
Sleeping in a Prius: Back of the Car Set-up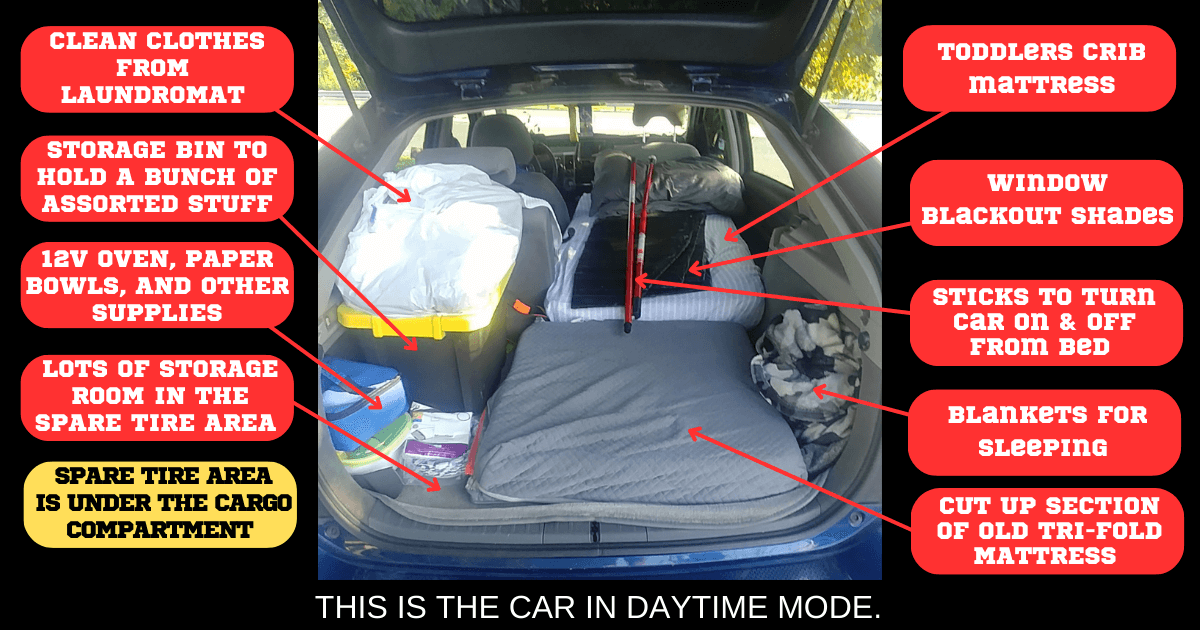 This is my bedroom/closet/bathroom 🤣 It stays converted as a bed 24/7/365. I do not fold my sleeping platform back up each day as many nomads do, because I have more than enough space this way.
My bed is a toddlers crib mattress. It's more comfortable than an inflatable air mattress or sleeping pad (to me) because it's an innerspring and has bounce to it.
The width is JUST the right size to be squeezed into place, but the length is obviously shorter. So I cut my old tri-fold mattress up and used one of the square sections to give support to my legs and feet. It looks funky, but it works!
💡
If you're just starting out in this lifestyle, or are only going on a short road trip, you don't have to spend money buying a mattress. Just use an old sleeping bag, or fold a blanket. Both of these will allow you to sleep comfortably throughout the night due to the cushioning they'll provide.
The black things lying on top of the mattress are my window blackout shades. If you'd like to make your own, here's my tutorial on that. The shades stay on the bed all day until I go to sleep, when I put them on. I'll also sometimes pop them in the windows during the day if it's super hot to block the sun.
The 2 red sticks you see resting on my pillows are regular broom handles. I use them to hit the lock button on the door at night, so I can reach from my bed. I also use them turn the car on & off from the bed, in addition to controlling the ac or heat, which I do quite often.
The box with the yellow lid on the left side of the photo contains a bunch of doodads like batteries, cooking tins for my HotLogic 12v oven, charging cables, etc. The bag on top contains my clothes. I get wash & fold every 3 to 4 weeks at a local laundromat. These are only my summer clothes.
Beneath the bed area is a huge compartment which holds the spare tire. Above the tire there's a LOT of room. It's basically like having a small closet. I keep my colder weather clothes in there and swap them out every winter. I also store important documents, a propane camping stove and other stuff.
There are also small, secret cubby holes built into the wall panels on both sides of the cargo area. I use these to stow extra toiletries and similar items.
Here's the car in sleeping mode, when I'm ready for bed…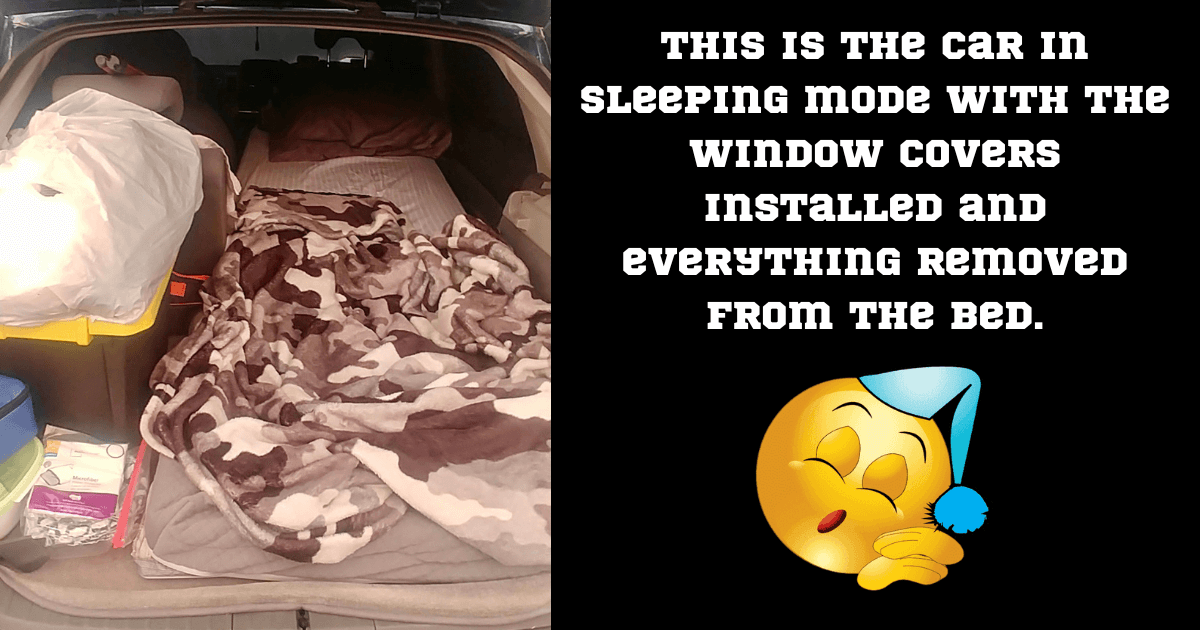 Under the Bed (Behind Passenger Front Seat)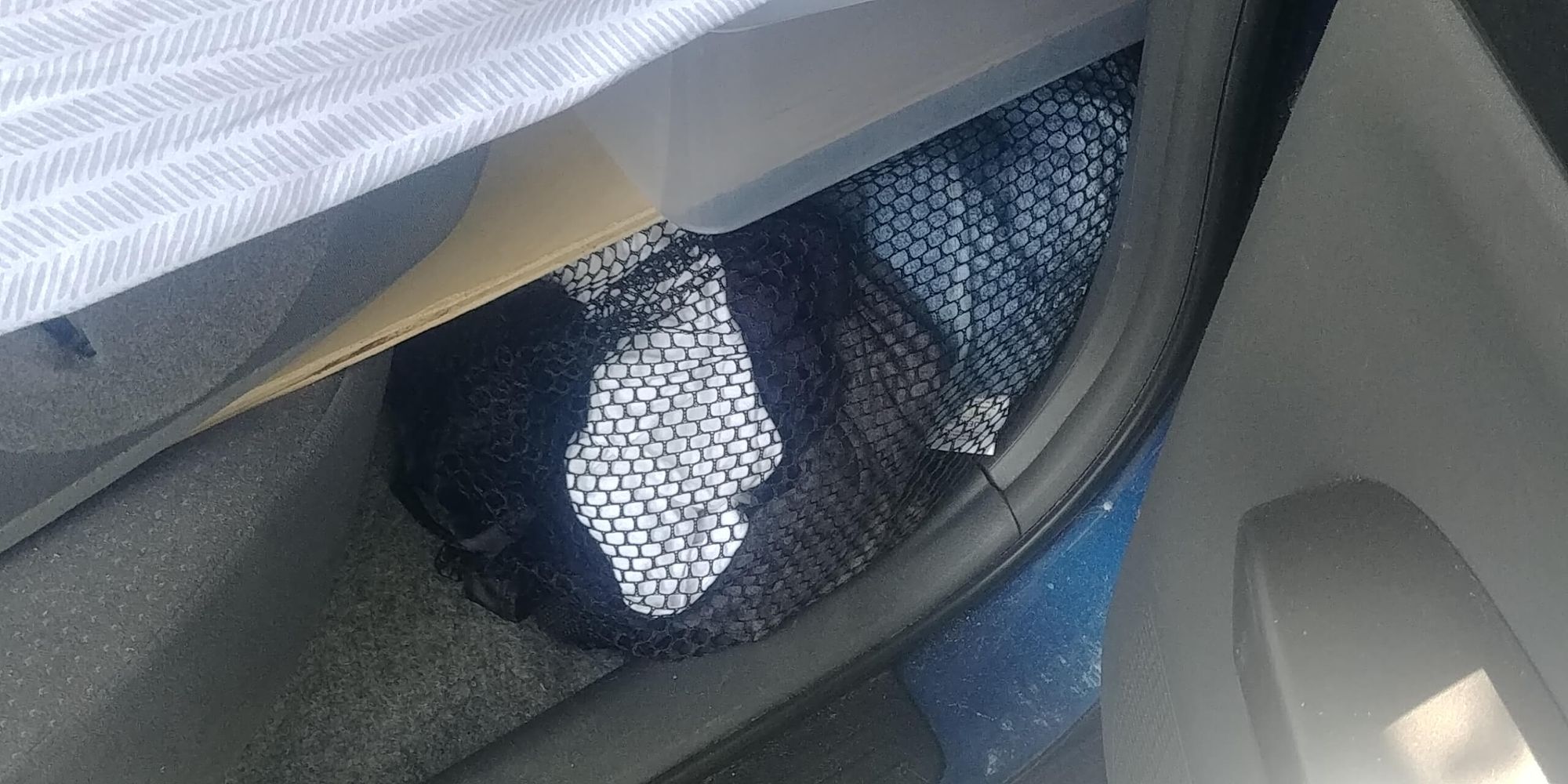 I store all of my dirty laundry here. In addition, I keep a jumper pack for my car, and some other things like Febreeze, a camping servingware set, etc.
Rear Seat Area - Driver's Side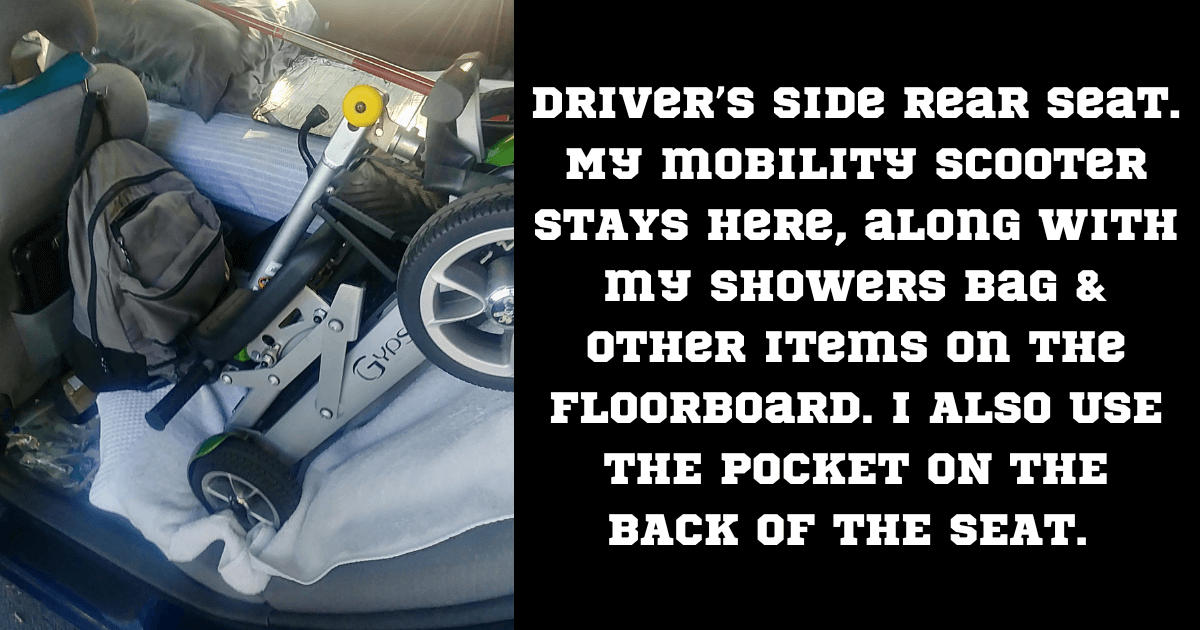 I keep my mobility scooter here. It is one of the BEST investments I ever made! It folds up smaller than a piece of carry-on luggage and I secure it to the seat using an elastic workout exercise band.
Directly in front of that, on the back of the driver's seat headrest, I attached a small hook, and hang my shower bag on it.
Behind the driver's seat there's a pocket where I store a bunch of documents and other paperwork.
On the flooring area behind the driver's seat I keep some medicines and other essentials. I will be putting my portable power station here instead though, once I purchase a new one.
Front Passenger Seat Flooring Area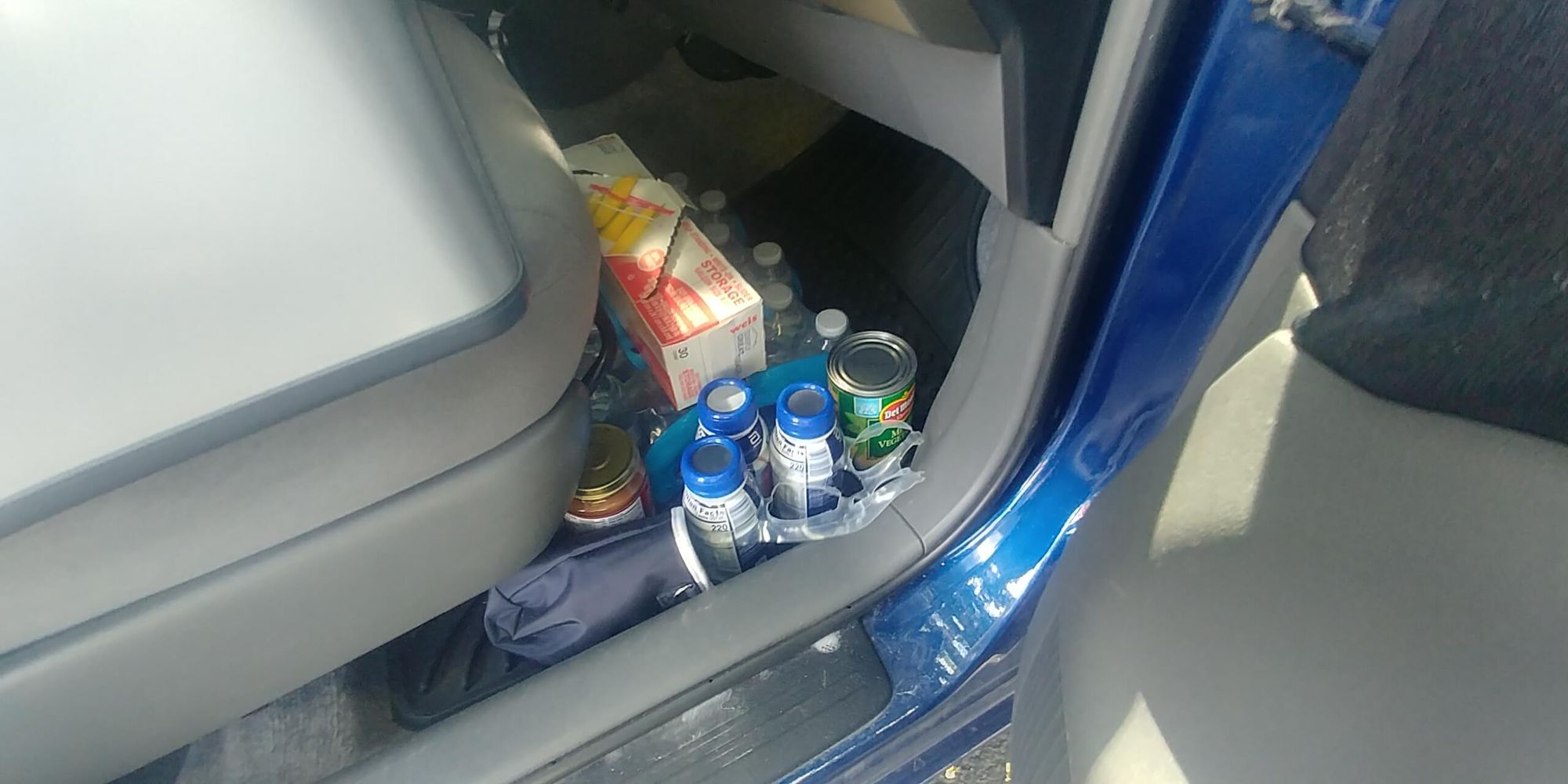 This is basically my pantry. I keep most of my dry foods here, like; canned soups & veggies, crackers, etc. I also store my water and protein shakes here, too.
Front Passenger Seat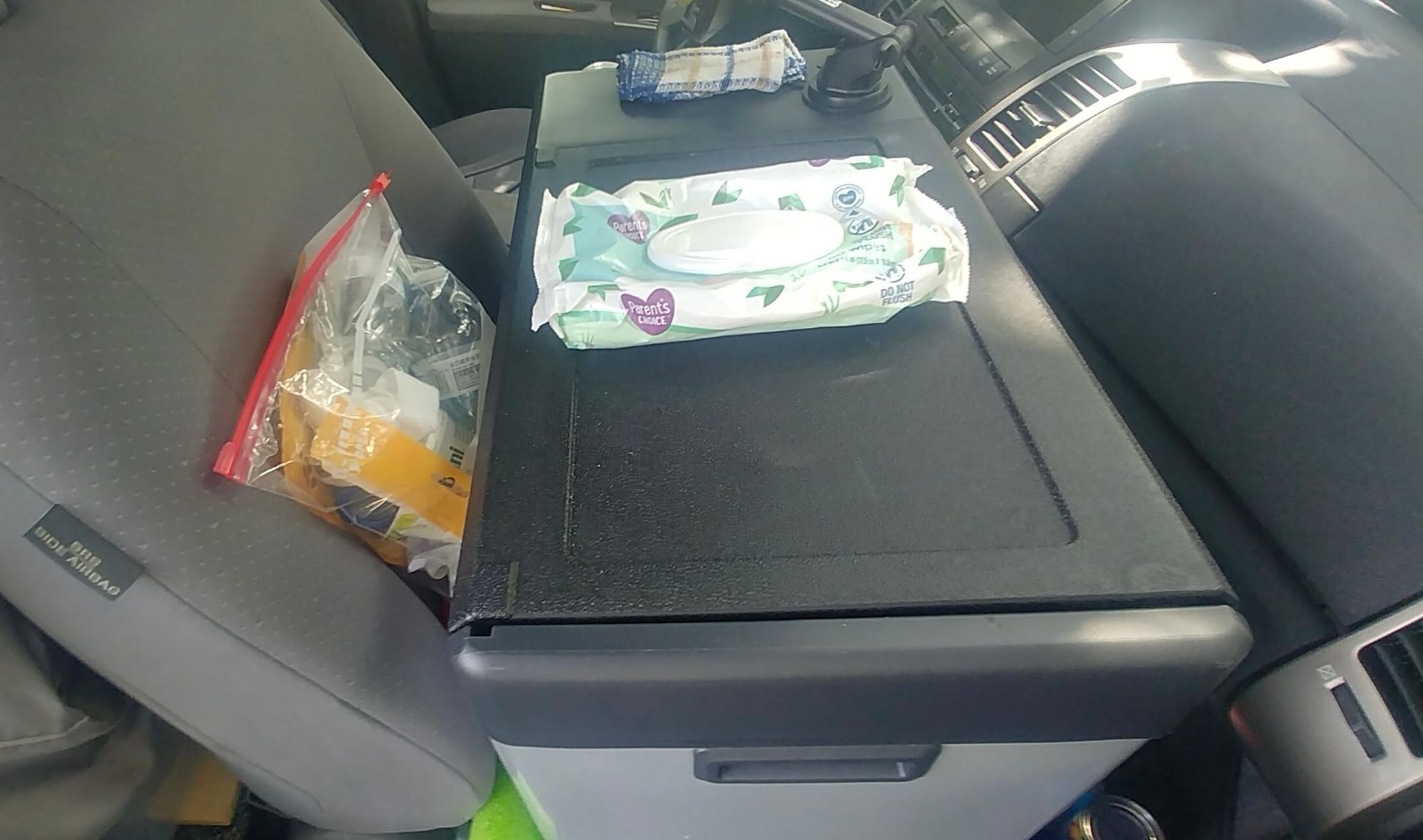 That big box you see on the seat is my 12v refrigerator. It was a steal!!! Got it for $99 at Walmart, and it's still going strong after 8 months. If you're interested, the brand is KUPPERT. Sadly though, they are a bit more pricey now. But if you want a reliable fridge, I recommend the brand.
There's a gap between the fridge and the seat, and I store my paper plates in there, as well as fruits, trash baggies, and other items. It can actually hold a bunch of stuff!
On the Side of the Fridge (and Other Areas)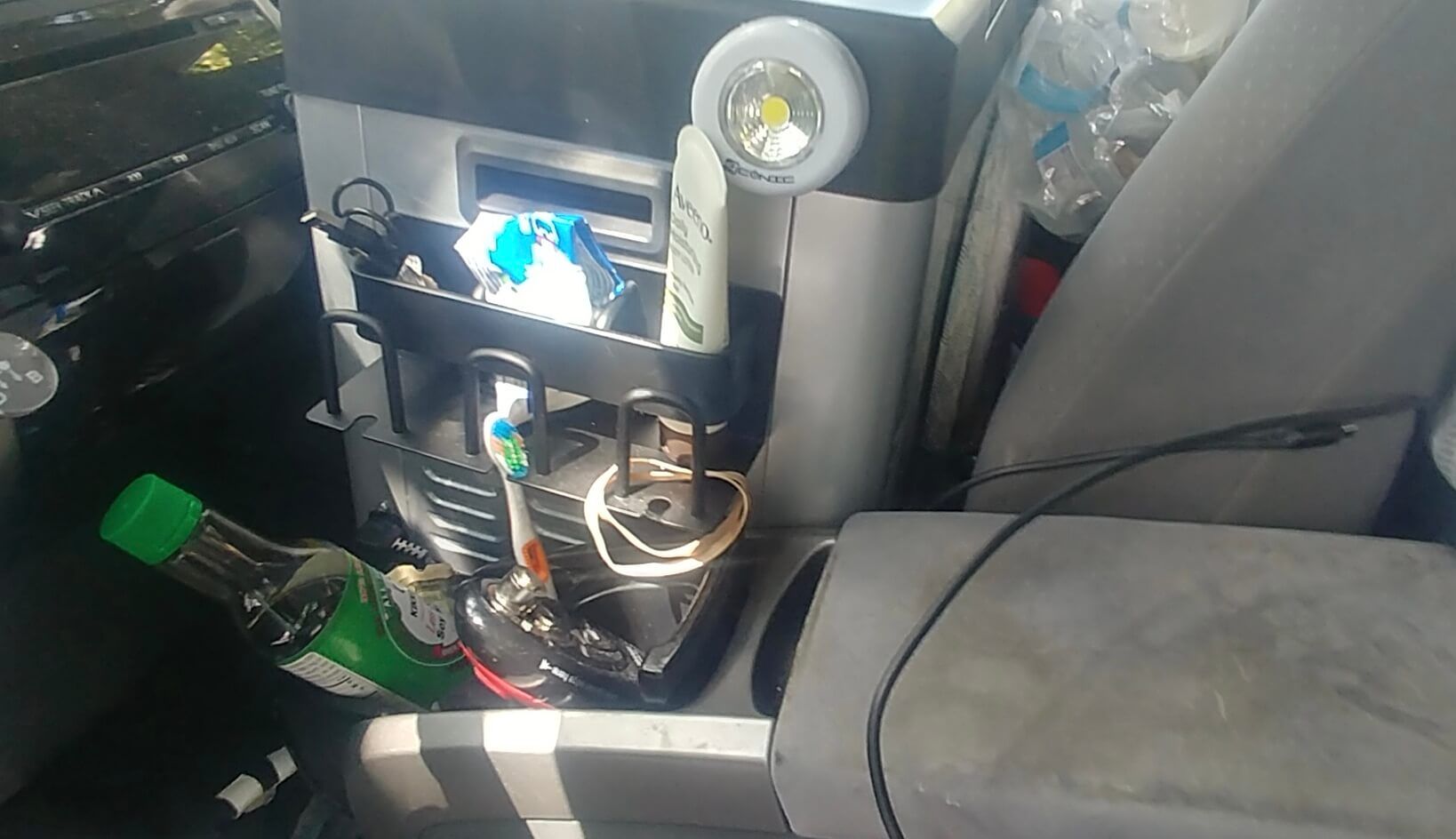 I bought the metal rack that's attached to the side of the fridge on Amazon for like $15. It rocks. It sticks with tape. I keep my charging cables in there, moisturizer, toothpaste, toothbrush, etc.
In the cup holders I store my condiments: soy sauce, bbq sauce, etc., as well as my electric can opener.
Center Console
The 12v cigarette port is located in here, and I use it to recharge the battery in my cell phone, iPad, and to power my HotLogic oven. It also stores a computer mouse for my iPad, and several other tidbits.
The 2nd generation Prius' have a second 12v cigarette port under the dashboard. My refrigerator is connected to it 24/7/365. Since my car is running almost all night & day, the fridge has continuous power. When I leave the car to go shopping, take a shower, etc., the fridge loses power, but it can keep the contents inside cold for many hours due to it's insulation.
Door Compartments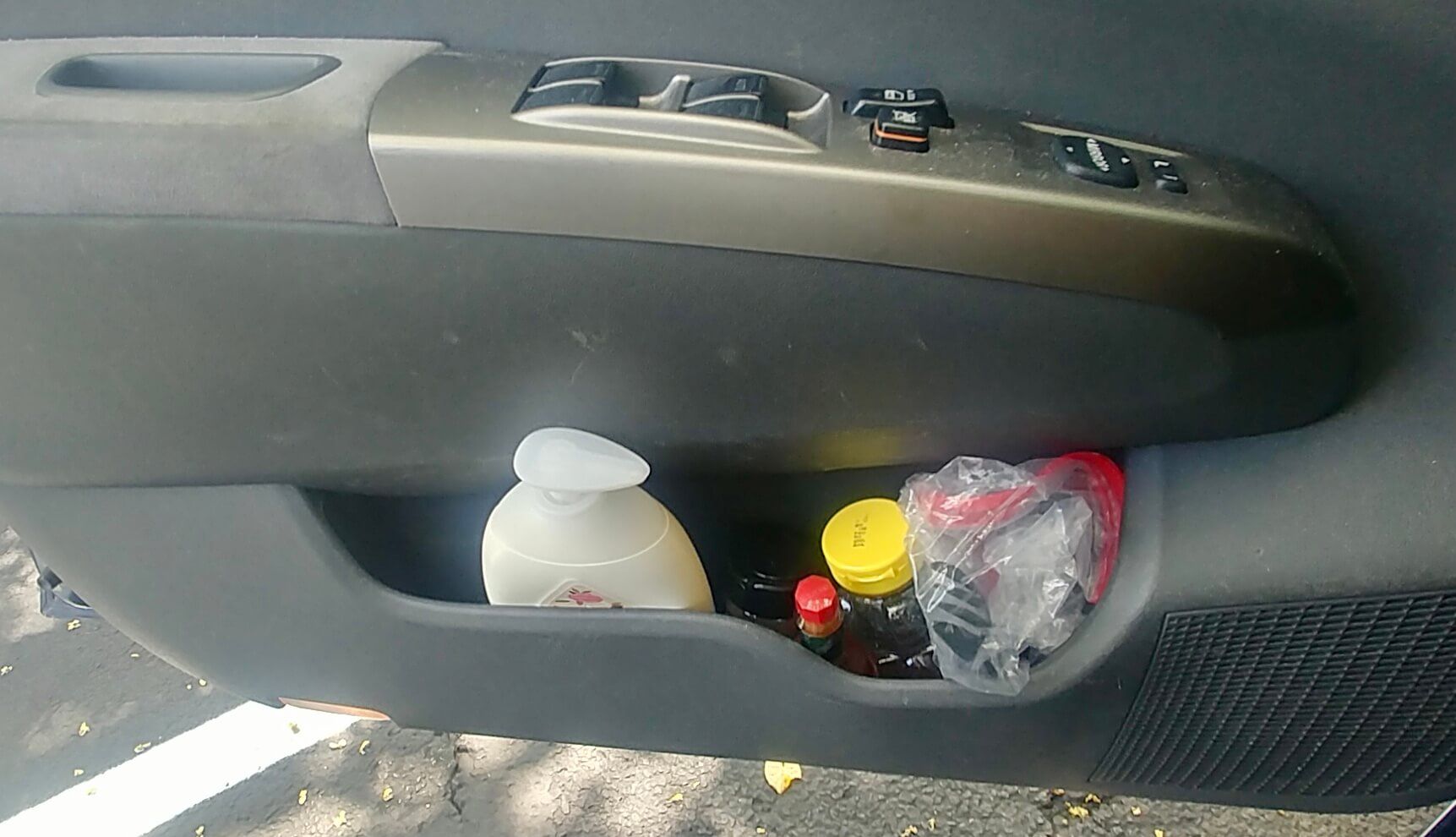 I utilize the storage compartments on both the front driver and passenger side doors to store an assortment of items like food supplies, first-aid kit, my sporks, etc.
---
Frequently Asked Questions
What makes Prius' so great as car campers or for living in?
They're well-built, dependable vehicles that get killer gas mileage and can be configured in a wide variety of ways. Further, sleeping in your Prius can be just as comfortable as home, provided you have the right set-up.
In addition to this, because Prius' are so fuel efficient, using the air conditioner or heater for extended periods while the car is running won't drain your wallet as much as other cars will. This is a HUGE plus when the weather is hotter or colder.
How can I make an easy, cheap sleeping platform in the car?
While there are a variety of methods for this, the absolute simplest way would be to fold both your front seat forward, and the back seat (passenger side is best, so you can leave the bed in position and still drive the car). This will create the base of your sleeping platform. To make it even & smooth, you can lay a piece of plywood on top, just like the photo below illustrates. Next…
Add some cushioning by laying a camping mat, sleeping bag, or air mattress on top. Finally, throw in some blankets and pillows and you'll have a sleeping area fit for a king or queen.
*If you aren't too tall (roughly 5'10" or under), you may not have to move the front seat forward or fold it at all. I myself don't, and have more than enough space to sleep. If this is the case, you can just fold your back seat down.
💡
There will probably be an open gap between the folded back seat and the front seat. To help support the wooden piece in this section, you can stick a bucket underneath, or build up a base of different items until they reach the height of the plywood sheet. This will provide an under base for the plywood to rest on.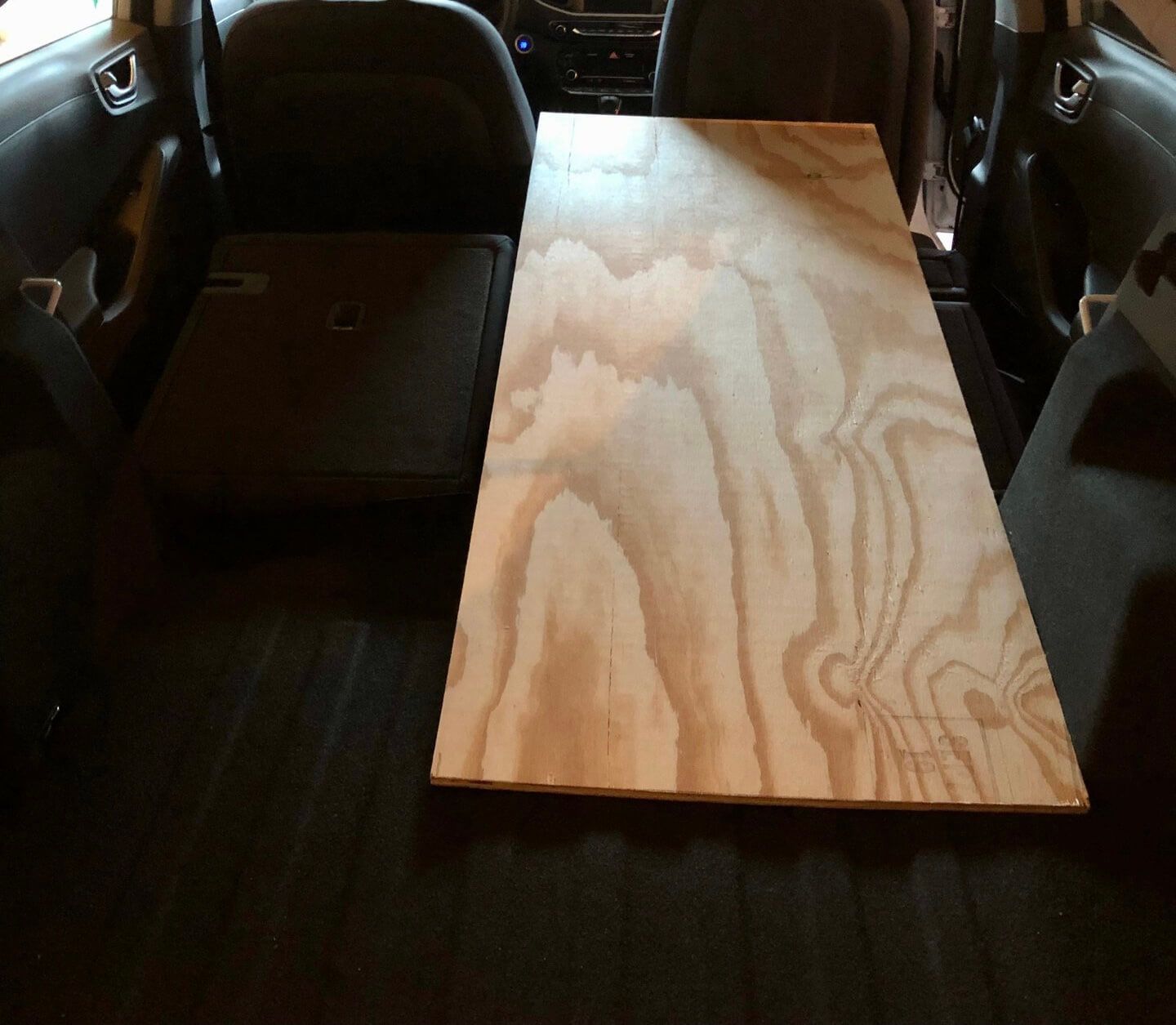 How roomy are Prius' inside?
If you're comparing them to other cars (especially hatchbacks), they are extremely roomy. Just to give you an idea…I'm 5'10" and have more than enough room to sleep at night. And this is without folding the front seat forward.
From the rear of the cargo area to the front of the front seat equals roughly 75" long!
I can also sit up while I'm in bed, which is a nice touch, although the headroom when doing this is very small.
Of course, if you compare these cars to vans, sprinters, and other larger vehicles - which wouldn't be fair - there's no way they can compete. You obviously can't stand up and walk around in a hatchback. If you're buying a vehicle and this is the deciding factor, then you're probably best going for a larger-sized rig. On the other hand…
If fuel-efficiency, 24/7 climate control, and the ability to go as stealth as possible are important to you, then a Prius might be a good fit.
Which Prius model is the best?
There really isn't a "best." They are all very good, especially when purchased new. When buying used the same thinking applies, but you're obviously better off getting the latest model that you can with the lowest miles. This will increase the odds of the car lasting longer. Whether it's a second generation Prius, a Prius V, an LE, XLE, etc., they will all fit your camping gear just fine, and provide great comfort while you're sleeping.
Are there any downsides to owning a Prius?
No car is perfect, and the Prius' certainly do have drawbacks. Here are some of the more significant ones…
The electric traction batteries go bad after a while. This can happen at any time. The car is not drivable with a bad battery. You can choose to buy a new one ($2,500-$3,000), or purchase a remanufactured one ($1,400-$2,000). While remanufactured is cheaper, and many people go this route, it's a gamble. The battery could last for years, or go kaput 6 months later.
Instrument clusters can fail. I actually had this happen to my Prius. The entire cluster would go off completely, then come back on…sometimes in a few hours, sometimes in a few days. This went on for months until I finally got it fixed. You can actually still operate the car while the cluster is not working, but the speedometer won't display, you won't know how much gas you have left, etc. So, you must be VERY careful if driving like this, which isn't recommended. Cost to fix the cluster is roughly $400-$600.
Gas gauge isn't accurate. Many Prius owners jokingly call it the "guess gauge", as it can oftentimes be way off on showing how much fuel is in the tank. Mine will actually go up & down by a half tank in the matter of minutes, but it usually corrects itself after a little while. Never wait to refuel when there's 2 bars left on the instrument cluster, as it's too risky. While you can fix this issue, it's complicated and pricey. The majority of people just deal with it, as it's an inconvenience you get used to, but the car still works fine.
Center display control center can fail. This is where you can control your air conditioning and heat, radio, GPS, etc. The screens commonly die and need to be replaced. Costs $500-$800 to repair.
Catalytic converter theft. Prius' are one of the most targeted cars for thieves, as stolen catalytic converters can be sold on the black market for up to $1,000. You must be very aware of where you park your car, especially for extended periods or overnight.
Hybrid repairs are expensive. While all car repairs are costly, it's even worse on hybrids (or electric plug-ins) like Prius'. Not only because the parts are more expensive, but also due to the fact that certified hybrid mechanics are very in-demand, and they don't work cheap. The labor cost for a hybrid repair can be astronomical if the issue is a larger, complicated one.
Keep in mind, these are only some of the things that can fail on a Prius. There are many other problems that can occur, which are also costly to repair.
As with any other vehicle, you might get lucky and find a trouble-free car, or you could get stuck with a clunker. I'm speaking about when buying used, as I'm assuming that's what many of my readers will do. On the other hand, if you can afford to buy new, your Prius should last for at least a good 10-15 years.
---
Final Thoughts
As you've seen, living in a Prius is very doable. Or even just using it occasionally for some outdoors adventure, as it's great for camping. It's MUCH cheaper than paying for a pricey campground, and WAY more homey than camping in a tent. That it can easily sleep 2 people comfortably is icing on the cake.
Another major plus is that it's incredibly stealthy. If set up the properly, you can sleep in your car in parking lots, rest areas, welcome centers, and a bunch of other FREE PLACES, and nobody will know the wiser.
Obviously, happy Prius owners like me may be biased, but when you consider how spacious the car is, its incredible gas mileage, and the fact that you can run the climate control (ac & heat) non-stop for only a few bucks per night, you can understand how the Prius is a great alternative to pricey RV's, Sprinter vans, and similar vehicles.
LIVE WISELY, LIVE WELL!